Elevate your office party experience in Manchester by exploring the city's vibrant nightlife from a new perspective – the skyline. The allure of rooftop bars in Manchester adds a touch of sophistication and glamour to your celebration.
As you plan your next corporate gathering, delve into the world of Manchester's rooftop bars, each offering a unique ambiance and panoramic views that make for an unforgettable event.
Manchester's craft beer scene is renowned, and what better way to toast to success than at one of the city's premier rooftop bars immersed in the craft beer culture. Sip on locally brewed specialties as you soak in the scenic vistas, creating an atmosphere where colleagues can unwind and connect amidst the city's dynamic beer landscape.
For a multifaceted experience that combines entertainment, culture, and stunning views, explore rooftop bars near Manchester's attractions. From historic landmarks to modern marvels, these venues provide a backdrop that resonates with the spirit of Manchester, creating a conversation-worthy setting for your office party.
Immerse yourself in the heart of Manchester's renowned nightlife, where rooftop bars take center stage. Whether your team revels in the pulsating beats of music or prefers a relaxed evening under the stars, these elevated spaces cater to diverse preferences, ensuring that your office party is a true reflection of your team's spirit.
Indulge in culinary delights that complement the breathtaking views by selecting rooftop bars located near Manchester's top restaurants and cafes.
From delectable appetizers to gourmet cuisine, these venues offer a gastronomic journey that elevates the overall experience, creating a festive atmosphere that lingers in the memory of your colleagues.
Manchester's allure as the perfect city for your office party is further accentuated by the sophistication of its rooftop bars. Each venue is a testament to the city's charm and provides an ideal setting for networking, team-building, and celebrating milestones.
As you plan your next corporate event, let the city's skyline become the backdrop for an office party that seamlessly blends business and pleasure.
In this article, we'll guide you through the best rooftop bars in Manchester, sharing insights into their unique offerings, ambiance, and why they stand out as prime choices for your office party.
From craft beer enthusiasts to those seeking a cultural experience, there's a rooftop venue in Manchester that caters to every taste, ensuring that your office party becomes an extraordinary and memorable affair.
The Ivy Roof Garden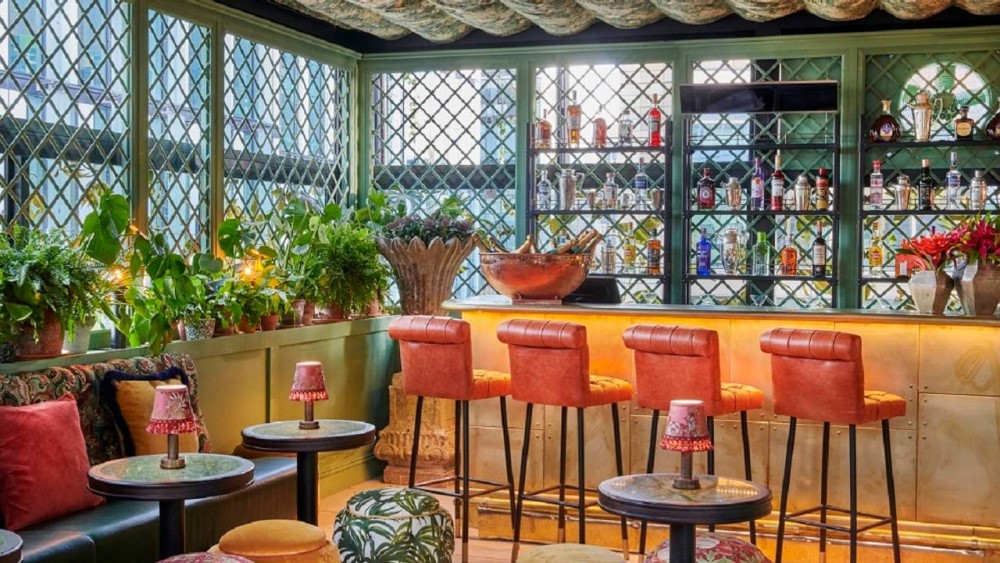 The Ivy Roof Garden is an exquisite rooftop bar in Manchester, UK. It offers a refined and lively atmosphere, perfect for gatherings in the workplace.
The Ivy Roof Garden boasts elegant decor and a well-planned layout that optimises space. The bar area is fully stocked with a wide range of beverages, including signature cocktails, beers and wines. The attentive staff promptly serve drinks.
A highlight of The Ivy Roof Garden is its scenic outdoor terrace. This spacious area provides stunning views of the city skyline, creating an ideal backdrop for office parties. The terrace is perfect for enjoying a drink or unwinding while taking in the view.
In addition to its stunning aesthetics, The Ivy Roof Garden offers a delightful menu featuring contemporary British cuisine. Their dishes are made with the finest ingredients, ensuring a memorable dining experience. From appetisers to desserts, there is something to please every palate.
The Ivy Roof Garden goes above and beyond in providing exceptional service to enhance the overall experience. The knowledgeable and attentive staff ensure that every need is met. They create a warm and welcoming atmosphere, making guests feel comfortable and truly enjoy themselves.
20 Stories
20 Stories is a well-liked rooftop bar in Manchester situated on the 19th floor of No.1 Spinningfields, providing awe-inspiring vistas of the city skyline. This fashionable bar offers a refined and elegant ambiance for locals and visitors.
The bar presents a spacious terrace where patrons can relish their drinks whilst taking in breathtaking panoramic views. 20 Stories creates a lavish atmosphere ideal for special occasions or social nights out with friends.
The bar provides a wide-ranging selection of cocktails, wines, spirits, and craft beers, guaranteeing something to suit every palate. The food menu showcases delectable dishes, including small plates, sharing platters, and main courses, all crafted with top-quality ingredients.
Table service is available, allowing guests to unwind and enjoy their experience without waiting at the bar. The staff, who are friendly and knowledgeable, offer recommendations and deliver exceptional service.
For corporate parties or special events, 20 Stories offers the option to hire the venue exclusively. This enables you to create a personalized and unforgettable experience.
To fully delight in the experience at 20 Stories, it is advisable to book a table in advance, particularly during peak times. This ensures a prime location to appreciate the stunning views and guarantees a seamless and enjoyable evening.
Cloud 23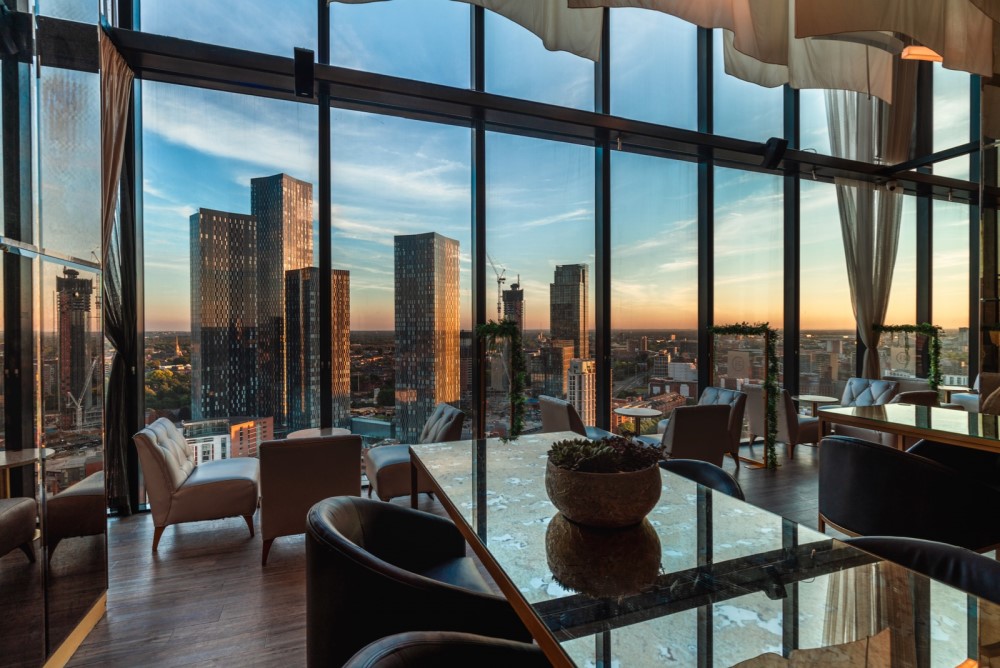 Cloud 23, which is located on the 23rd floor of the Hilton Manchester Deansgate, is a well-known rooftop bar in Manchester. It provides stunning panoramic views of the city's skyline, offering a distinct and memorable experience for office parties.
Cloud 23 boasts contemporary decor and an elegant atmosphere, making it ideal for corporate gatherings or celebrations. The bar features an extensive cocktail menu with innovative and expertly crafted drinks. Their knowledgeable mixologists create beverages that tantalise the taste buds and cater to all palates.
In addition to its impressive selection of drinks, Cloud 23 also offers a delectable food menu. They serve small bites, sharing platters, and more substantial dishes, catering to various appetites. Whether you desire a light snack or a full meal, Cloud 23 takes care of your culinary needs.
What sets Cloud 23 apart is its unmatched view of Manchester. The floor-to-ceiling windows showcase the city's skyline, creating an awe-inspiring backdrop for office parties. Whether you're enjoying a cocktail or a meal, the stunning vista enhances the overall experience and adds grandeur to any event.
For a truly unforgettable office party, consider hosting it at Cloud 23. With its stylish ambiance, exceptional food and drinks, and breathtaking views, it will leave a lasting impression on both your colleagues and clients.
Some other rooftop bars in Manchester that are worth exploring for office parties include 20 Stories, The Ivy Roof Garden, and The Refuge. Each of these venues offers a unique ambiance and culinary delights, ensuring a memorable and enjoyable experience for your team.
King Street Townhouse
King Street Townhouse is a splendid option for your office celebration in Manchester. This rooftop bar offers a stunning vista of the city and a refined ambiance that will leave a great impression on your colleagues.
The bar boasts a wide array of beverages, including cocktails and premium spirits. You can savor a refreshing G&T or treat yourself to a glass of exquisite wine while enjoying the panoramic view. The attentive and professional staff will ensure swift service of your drinks.
King Street Townhouse also provides a delectable food menu, offering a variety of canapés and gourmet dishes, guaranteeing a distinctive culinary experience.
The venue itself is exquisite, adorned with elegant decorations and comfortable seating. Whether you choose to be on the rooftop terrace or inside, you and your colleagues will be made to feel like VIPs throughout the evening.
If you are in pursuit of the ideal rooftop bar for your office celebration, look no further than King Street Townhouse. With its awe-inspiring views, exceptional beverages, and delightful atmosphere, it is guaranteed to leave a lasting impression on everyone in your team.
The Oast House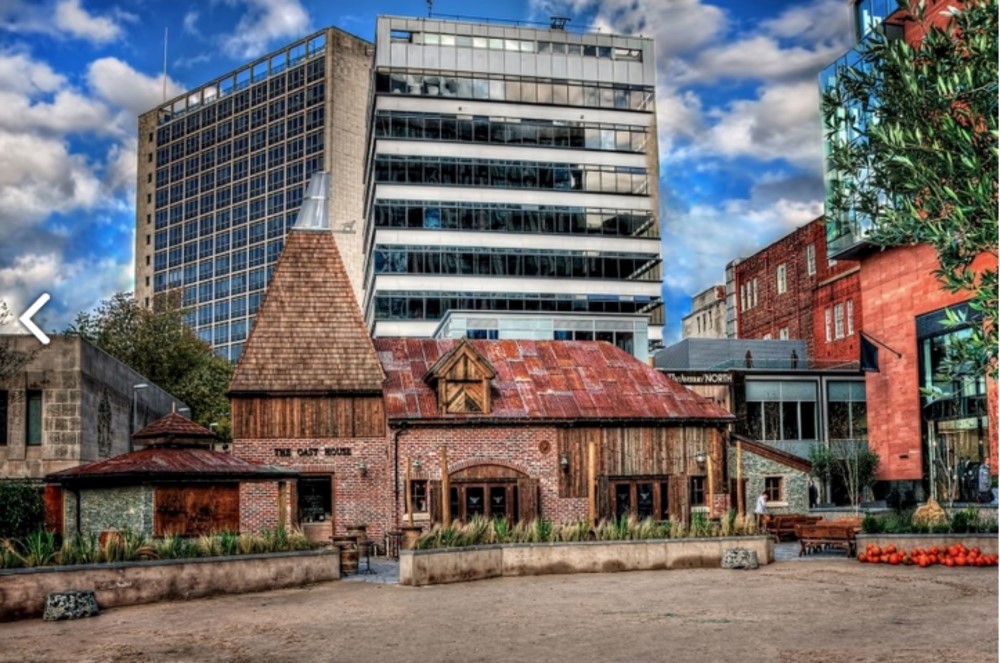 The Oast House is a popular rooftop bar in Manchester. Here is why it is exceptional:
1. Ambience: The Oast House possesses a lovely rustic ambiance with wooden beams, traditional furnishings, and open fireplaces, creating a comfortable and inviting atmosphere.
2. Outdoor Area: The spacious outdoor terrace is tastefully decorated with fairy lights and features a garden area with huts and seating. It is an ideal spot to enjoy a drink and absorb the lively atmosphere of the city.
3. Live Music: The Oast House is renowned for its live music performances, including acoustic sets and live bands, contributing to the animated vibe.
4. Food and Drinks: The menu offers delightful options such as hanging kebabs and hearty British dishes. There is an extensive selection of craft beers, ciders, cocktails, and ales.
If you are planning an office party at The Oast House, we suggest reserving a private area for a memorable experience. The amiable staff and cosy setting establish a relaxed atmosphere. Do not forget to try their signature drinks and enjoy the live music. The Oast House is the perfect destination for a joyous office celebration.
Brickhouse Social
Brickhouse Social is a rooftop bar in Manchester. It offers a unique experience for office parties.
1. Atmosphere: Brickhouse Social has a lively and energetic atmosphere perfect for socializing and celebrating with colleagues. The rooftop setting provides stunning views of the city skyline for a memorable backdrop.
2. Food and Drinks: The bar offers a wide selection of delicious food and refreshing drinks to suit every taste. From handcrafted cocktails to locally sourced pub grub, Brickhouse Social has something for everyone.
3. Entertainment: This venue goes beyond being a bar. It has arcade games, ping pong tables, and live music. Team members can enjoy friendly competitions or relax and unwind in the vibrant ambiance.
4. Flexibility: Brickhouse Social can accommodate small gatherings or larger office parties. The venue offers different areas that can be tailored to fit group size and preferences.
Pro-tip: Book in advance and check out their events calendar to make the most of your experience. They often host themed nights and special promotions for added fun. Capture and share the memorable moments with your colleagues!
Dakota Manchester
For those seeking sophistication paired with stunning vistas for their office party, Dakota Manchester's rooftop bar is the epitome of refined elegance. Situated in the heart of the city, Dakota offers a luxurious setting that is sure to impress your colleagues and clients alike.
Perched atop the striking Dakota Manchester hotel, the rooftop bar provides a glamorous escape from the city's hustle and bustle. The sleek and modern design of the space creates an atmosphere of refinement, making it an ideal choice for those looking to infuse a touch of class into their office celebrations.
Dakota stands out not just for its chic ambiance but also for its panoramic views of the Manchester skyline. As day turns to night, the cityscape transforms into a dazzling display of lights, providing a captivating backdrop for your festivities.
The rooftop terrace offers a comfortable and inviting space for guests to relax, mingle, and enjoy the company of their colleagues against the stunning urban panorama.
What sets Dakota apart is not only its stylish setting but also its commitment to excellence in its bar offerings. Crafted by skilled mixologists, the drink selection is a fusion of classic cocktails and innovative concoctions, ensuring there's something to suit every palate.
Whether your team prefers a sophisticated glass of champagne or a trendy craft cocktail, Dakota's rooftop bar has it covered.
In addition to its impressive drinks menu, Dakota Manchester's rooftop bar provides a delectable array of canapés and small bites, perfect for sharing and keeping the energy high throughout the evening.
The attentive staff at Dakota ensures that your office party is executed seamlessly, leaving you free to enjoy the festivities and create lasting memories with your colleagues.
Eclectic Hotel Group
The Eclectic Hotel Group is a well-known hospitality company that offers unique and distinctive hotel experiences. They have a collection of boutique hotels in various locations, with the aim of providing guests with exceptional service, luxurious accommodations, and memorable stays.
The hotels in the group are renowned for their eclectic and stylish designs, and each property possesses its own character and charm. Whether you choose to stay in a historic building or a modern establishment, the Eclectic Hotel Group ensures a one-of-a-kind experience.
One of the key features of the Eclectic Hotel Group is their meticulous attention to detail. They carefully curate every aspect of their hotels, from exquisitely decorated interiors to flawless service, in order to create a memorable and enjoyable stay for guests.
In addition to exceptional accommodations, the group also offers a variety of amenities and facilities. Guests can indulge in fine dining experiences at the group's restaurants, relax at luxurious spas, or enjoy unique entertainment options.
With a focus on delivering a personalized and tailored experience, the Eclectic Hotel Group ensures that every guest feels special and well taken care of. From the moment guests enter their hotels, they are greeted with warmth and attentive service.
When staying at an Eclectic Hotel Group property, guests can expect an unforgettable experience that combines comfort, style, and luxury. Whether traveling for business or leisure, the group's hotels provide the ideal setting for a memorable stay.
Flight Club Manchester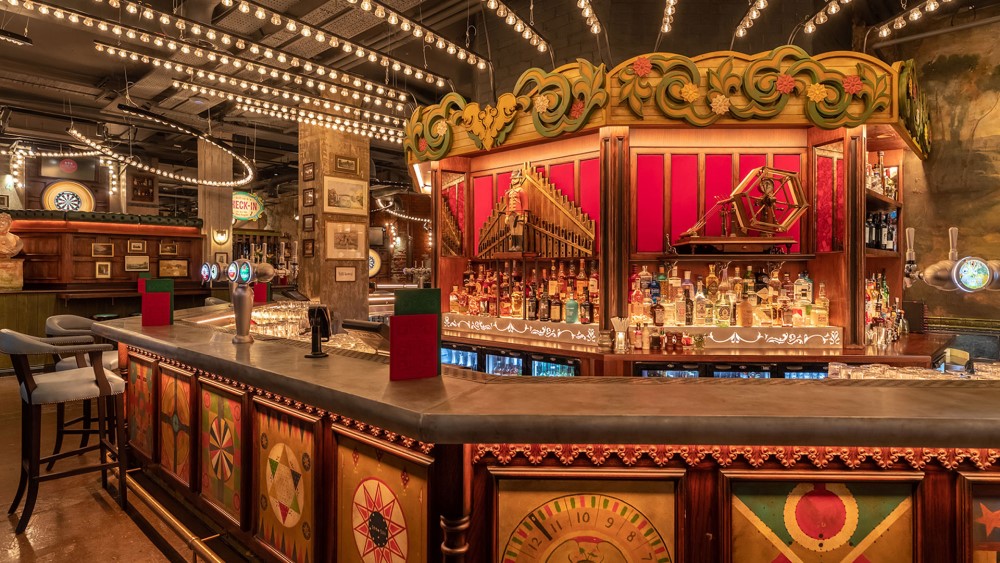 Flight Club Manchester is a popular destination for office parties and team-building activities. Here are some reasons why you should choose:
Unique experience: Flight Club Manchester offers interactive dartboards and a lively atmosphere, providing a fun and exciting experience for your office party.
Active entertainment: Enjoy playing darts in a competitive and engaging environment at Flight Club Manchester, promoting interaction among team members.
Group-friendly facilities: The spacious venue can accommodate large groups, with multiple areas available for private bookings. This ensures ample space for socializing and game enjoyment.
Great for team-building: Flight Club Manchester offers a variety of dart games that can be customized to meet your team-building objectives. The games foster collaboration, communication, and friendly competition among colleagues.
Food and drinks: Enjoy a wide selection of food and drinks at Flight Club Manchester to keep your team energized during the event. From appetizers to cocktails, there is something for everyone.
Central location: Flight Club Manchester is conveniently located in the city centre, making it easily accessible for your team members. Excellent public transportation connectivity ensures a hassle-free commute.
Consider Flight Club Manchester for a unique and enjoyable experience for your office party or team-building event.
The Refuge by Volta
The Refuge by Volta is a rooftop bar in Manchester, which offers a unique experience for office parties. Situated in the heart of the city, this bar provides a vibrant atmosphere with stunning views of Manchester's skyline.
At The Refuge by Volta, you can enjoy a wide selection of drinks, including craft cocktails, beers, and wines. The bar also offers a diverse menu of delicious food options, ranging from small plates to sharing platters. Whether you are looking for a light bite or a full meal, there is something for everyone.
The ambiance at The Refuge by Volta is lively and inviting, with comfortable seating areas for socialising and relaxing.
The bar is known for its attentive and friendly staff, ensuring that your office party is well taken care of. For larger office parties, The Refuge by Volta offers private event spaces that can accommodate groups of various sizes. This allows for a more intimate and personalised experience for you and your colleagues.
Pro-tip: Book your reservation in advance, especially for larger groups. The Refuge by Volta can get busy during peak times, so securing your spot will ensure a seamless and enjoyable office party experience.
If you are looking for a rooftop bar in Manchester to host your office party, The Refuge by Volta is the perfect choice. With its fantastic views, great food and drinks, and friendly atmosphere, it guarantees a memorable and fun-filled evening for you and your colleagues.