Manchester, the vibrant city in the UK, boasts a thriving nightlife scene that caters to all tastes and preferences. From trendy restaurants, bars and clubs to LGBTQ+ hotspots, upscale venues to student-friendly establishments, Manchester has it all. Let's take a closer look at the city's best bars and clubs, providing a guide for anyone looking to explore Manchester's exciting nightlife.
To truly experience the vibrant Manchester nightlife, it's important to know the best times to explore. Manchester comes alive on weekends, with Friday and Saturday nights being the most energetic and bustling. The city also hosts a variety of popular events and festivals throughout the year, celebrating music, arts, and cultural diversity.
While enjoying the Manchester nightlife, it's crucial to prioritize safety. Always stick with a group of friends, keep your belongings secure, and be mindful of your alcohol consumption. It's also advisable to use licensed taxis or public transportation to get around.
Manchester's bars and clubs offer a wide range of delightful cocktails and drinks to satisfy any discerning palate. From classic concoctions, craft beers, to innovative mixtures, you'll find an array of must-try drinks that embody Manchester's vibrant spirit.
With this guide to Manchester's best bars and clubs, along with tips on timing, safety, and drink recommendations, you'll be well-equipped to make the most of the city's unique and lively nightlife scene. So get ready to immerse yourself in the buzzing atmosphere and explore everything that Manchester's nightlife has to offer.
Sixes Manchester: Elevating Manchester's Nightlife Scene to New Heights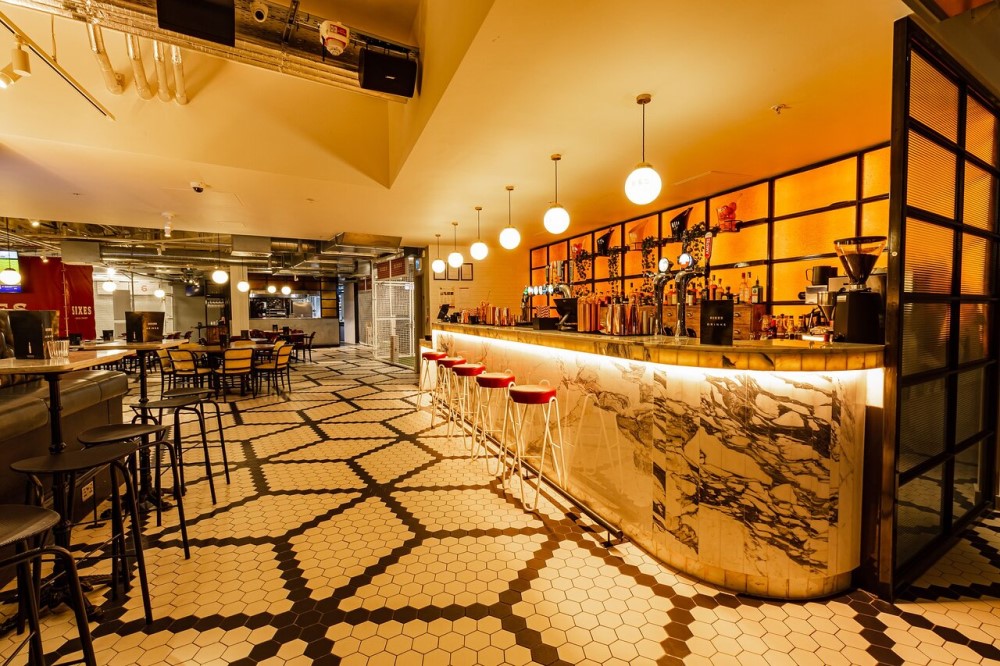 When it comes to Manchester's nightlife, the city offers a plethora of bars and clubs, each with its own unique charm. However, there's one establishment that's quickly risen to the forefront, capturing the hearts of locals and visitors alike – Sixes Manchester. This modern twist on the traditional game of cricket has redefined what it means to experience nightlife in this vibrant city.
What sets Sixes apart is its ability to seamlessly blend the thrill of cricket with the energy of a lively night out. It's not just another venue; it's an experience that challenges conventions and elevates the entire concept of nightlife.
At Sixes, the excitement is palpable as participants, regardless of their cricketing experience, are drawn into an adrenaline-packed, multiplayer batting challenge. This isn't your average cricket game; it's a dynamic fusion of cutting-edge sports technology and world-class hospitality. Here, it's not about cricket elitism; it's about the pure joy of competition and camaraderie.
The versatility of Sixes Manchester is truly unparalleled. Whether you're planning an intimate gathering with a few friends or a large-scale event for up to 400 guests, Sixes can accommodate your needs. The cricket nets beckon players to test their skills, aiming for numbered targets that accumulate high scores and create an electric atmosphere of friendly rivalry.
Yet, what truly sets Sixes apart is its culinary prowess. The menu is a testament to creativity and quality, offering a wide range of delectable options. From gourmet burgers that tantalize the taste buds to mouthwatering sharing plates designed for social enjoyment, and wood-fired pizzas that are as delightful as they are indulgent, Sixes leaves no culinary desire unfulfilled. And, of course, the bar is stocked with an impressive selection of beverages, ensuring that you'll find the perfect drink to complement your meal or toast to your victories on the pitch.
What makes Sixes Manchester one of the city's best nightlife spots isn't just the game or the cuisine—it's the complete package. Every booking includes a designated table where guests can savor their meals, enjoy their drinks, and soak in the electric atmosphere. It's where the excitement of the game merges seamlessly with the vibrant nightlife scene of Manchester.
The Northern Quarter: A Hub for Trendy Bars and Clubs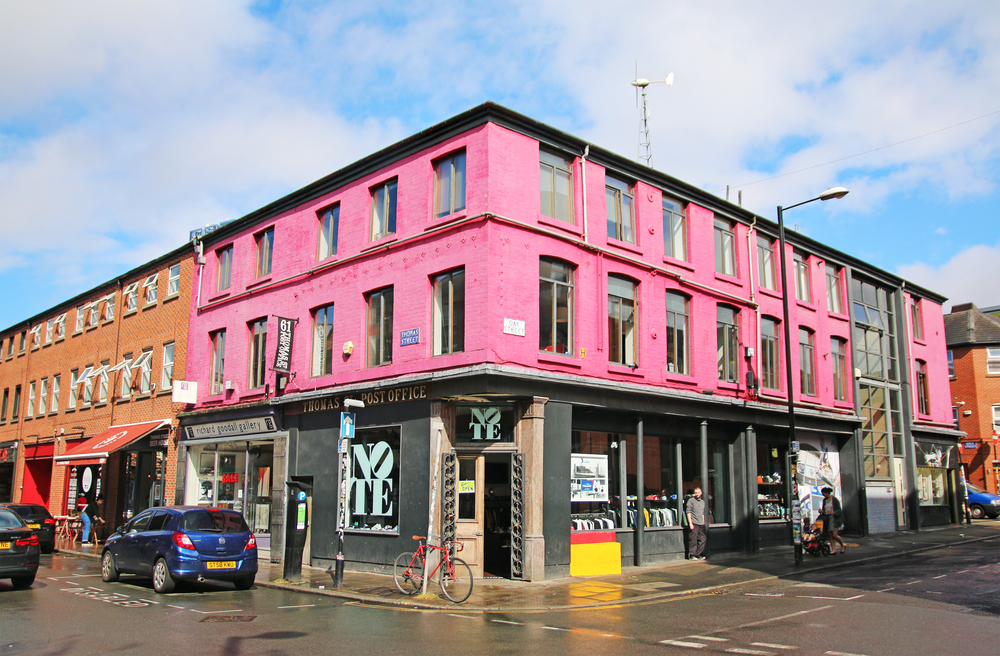 The Northern Quarter in Manchester truly lives up to its reputation as a hub for trendy bars and clubs. With a variety of options to suit different preferences and tastes, this vibrant neighborhood is a must-visit for those looking for a memorable nightlife experience.
The Northern Quarter is famous for its fashionable and stylish ambiance, creating the perfect atmosphere for a night out on the town.
One of the standout features of the bars and clubs in the Northern Quarter is the thriving live music scene. Local bands and musicians regularly take to the stage, providing a dynamic and engaging entertainment experience. In addition to the fantastic music, the bars in this area are also known for their unique cocktails and craft beers, ensuring that there is something to tantalize every palate.
As night falls, the Northern Quarter truly comes alive with an array of entertainment options. Whether you're a whiskey connoisseur or a fan of underground vibes and DJ sets, there are popular venues to suit every taste. For those looking for a stunning backdrop, the rooftop terrace at Tib Street Tavern offers breathtaking cityscape views. And if you're interested in immersing yourself in history, Band on the Wall is not to be missed, with its rich heritage and live music performances.
Discovering the Northern Quarter is like uncovering a treasure trove of unforgettable experiences. This neighborhood, situated in the heart of Manchester, is a fantastic destination for anyone seeking a night filled with energy, creativity, and excitement. Come explore and find your new favorite spot amidst the trendy bars and clubs that make the Northern Quarter truly unique.
Deansgate: Upscale Bars and Nightclubs
Deansgate in Manchester is renowned for its upscale bars and nightclubs, offering a dynamic and refined nightlife scene. When it comes to choosing a place to enjoy the evening, there are several significant establishments to consider.
There's DHQ Club, an exclusive nightclub that attracts a fashionable crowd. With its stylish interiors and top-notch DJs, it provides a sophisticated and lively atmosphere for indulging in dancing throughout the night.
If you prefer a more relaxed setting, The Living Room is an excellent choice. Renowned for its elegant decor, this bar is perfect for unwinding with a cocktail. Skilled mixologists craft a wide variety of drinks, including expertly crafted cocktails to suit your taste.
For breathtaking panoramic views of the city skyline, Cloud 23 is the place to be. Situated on the 23rd floor of the Beetham Tower, this upscale bar offers a stunning setting to enjoy a drink while admiring the scenery.
If you're in the mood for Latin-inspired fun, Revolución de Cuba is a must-visit. This vibrant bar brings the spirit of Havana to Deansgate with its lively atmosphere, live music, and extensive selection of cocktails.
Lastly, The Milton Club provides a luxurious experience for members seeking a sophisticated night out. With elegant interiors, top-class service, and regular celebrity guests, it guarantees a memorable evening.
When exploring Deansgate's refined bars and nightclubs, remember to dress appropriately and comply with any specific entry requirements or reservations. Whether you're looking for a glamorous night of dancing or a sophisticated evening of cocktails, Deansgate has something to offer for every nightlife enthusiast.
Canal Street: The Heart of Manchester's LGBTQ+ Nightlife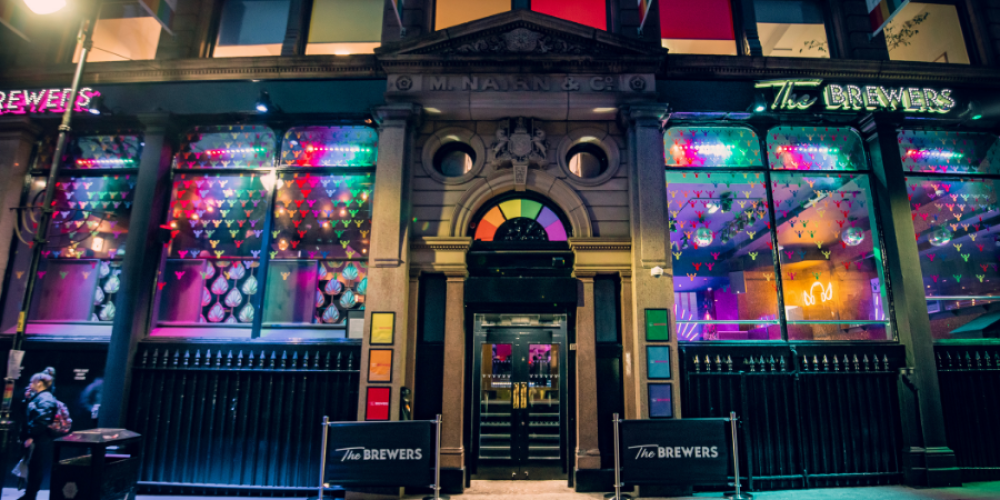 Canal Street, known as the heart of Manchester's LGBTQ+ nightlife, is a vibrant and inclusive center for the community. Its historical significance cannot be overlooked, as it has long been a focal point for LGBTQ+ individuals, creating a deep sense of belonging that has lasted for many decades.
One of the key aspects of Canal Street is the diverse range of establishments it offers. From bars and clubs to restaurants, there is something for everyone, catering specifically to the LGBTQ+ community and their unique tastes and preferences.
Moreover, Canal Street prides itself on its inclusive atmosphere. It provides a safe and welcoming space where individuals can freely express their identities and be accepted for who they truly are.
The street also boasts exciting events, such as Pride festivals, drag shows, and themed parties, which contribute to the area's vibrant and energetic atmosphere.
In addition to being a nightlife hub, Canal Street is also home to various LGBTQ+ support organizations. These organizations provide invaluable resources, advice, and a sense of community beyond the nightlife scene, further strengthening the bonds within the LGBTQ+ community.
When exploring Canal Street, it is essential to visit iconic venues like G-A-Y, Suburbia, and New York New York. These establishments play a vital role in ensuring that Canal Street remains the beating heart of Manchester's LGBTQ+ nightlife.
Printworks: Entertainment Complex with Bars and Clubs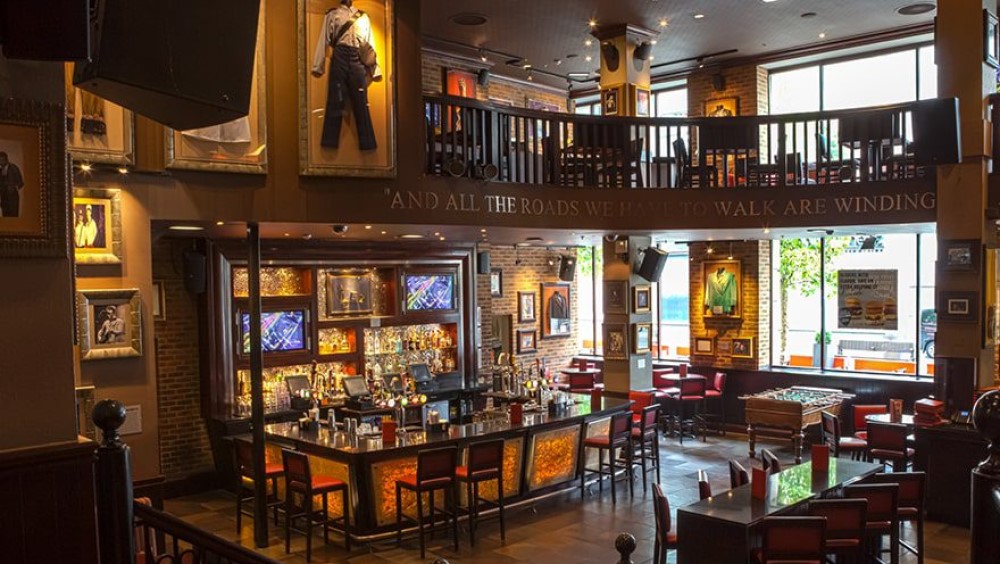 The Printworks in Manchester is an entertainment complex with a diverse range of bars and clubs. It is a highly sought-after destination for those seeking vibrant nightlife, boasting a selection of bars and clubs to cater to various preferences.
Visitors can indulge in a multitude of options, including bars offering a delightful array of cocktails, craft beers, and spirits. For those seeking live music or DJ sets, the Printworks also houses exceptional clubs.
One notable advantage of the Printworks is its prime location in Manchester city centre, ensuring convenient access for both the locals and tourists. Renowned for its lively atmosphere and vibrant crowds, it provides the perfect setting to mingle and revel in a good time.
The Printworks caters to the diverse needs of its visitors, whether they desire a laid-back evening with friends or an immersive night of entertainment and dancing. It is crucial to consume alcohol responsibly and remain aware of one's surroundings while visiting.
Embracing the bars and clubs at the Printworks promises a thrilling and unforgettable experience, offering a distinct taste of Manchester's vibrant nightlife.
Spinningfields: Chic Bars and Cocktail Lounges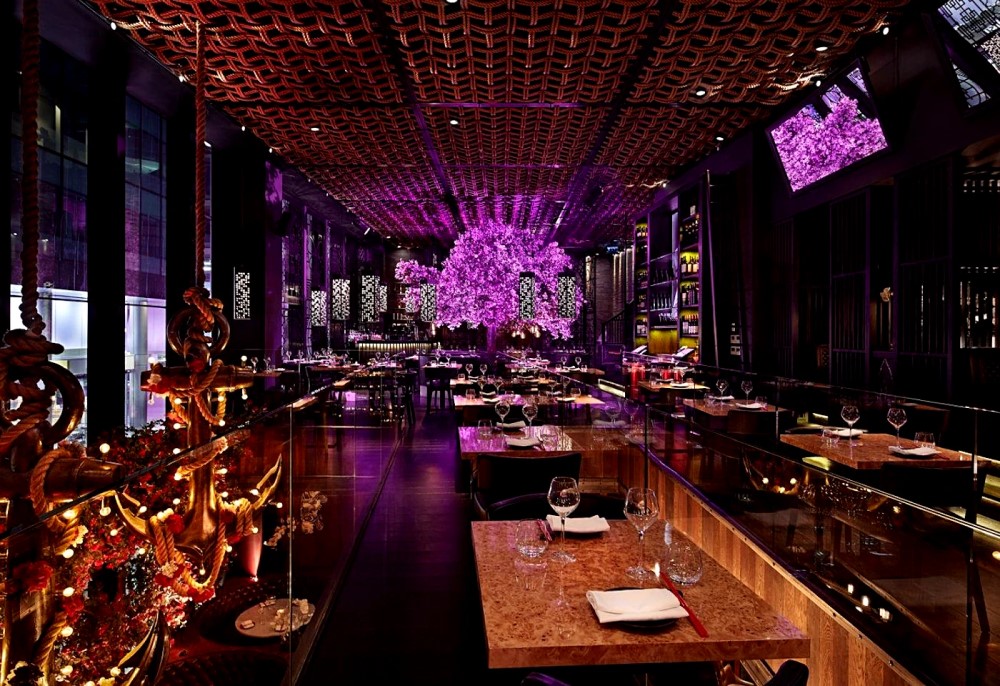 Spinningfields in Manchester is renowned for its chic bars and cocktail lounges. The area offers fashionable and trendy venues where you can enjoy a refined evening.
1. Spacious Bars: Spinningfields has numerous bars with abundant seating for socialising with friends. These stylish bars have trendy interiors and a chic atmosphere that caters to a discerning clientele.
2. Signature Cocktails: Spinningfields is renowned for its cocktail lounges, where skilled mixologists create unique and delightful beverages. These lounges provide an extensive menu of signature cocktails crafted with high-quality spirits and fresh ingredients.
3. Live Music: Some bars and lounges in Spinningfields host live music events, adding entertainment to your evening. You can enjoy the melodies of local musicians while savouring your favourite cocktails at the chic bars and cocktail lounges.
4. Outdoor Terrace: During the warmer months, many venues in Spinningfields open their outdoor terraces, allowing you to appreciate the beautiful Manchester weather while enjoying your preferred drink. These outdoor spaces at the chic bars and cocktail lounges create a relaxed and enjoyable atmosphere.
5. Exclusive Events: Spinningfields often hosts themed parties, DJ performances, and guest appearances, generating an exciting buzz in the area. These events attract a diverse crowd seeking a memorable evening at the chic bars and cocktail lounges.
Whether you desire post-work drinks or a place to celebrate, Spinningfields' chic bars and cocktail lounges provide a stylish and sophisticated setting for an evening out in Manchester.
The Warehouse Project: Iconic Venue for Electronic Music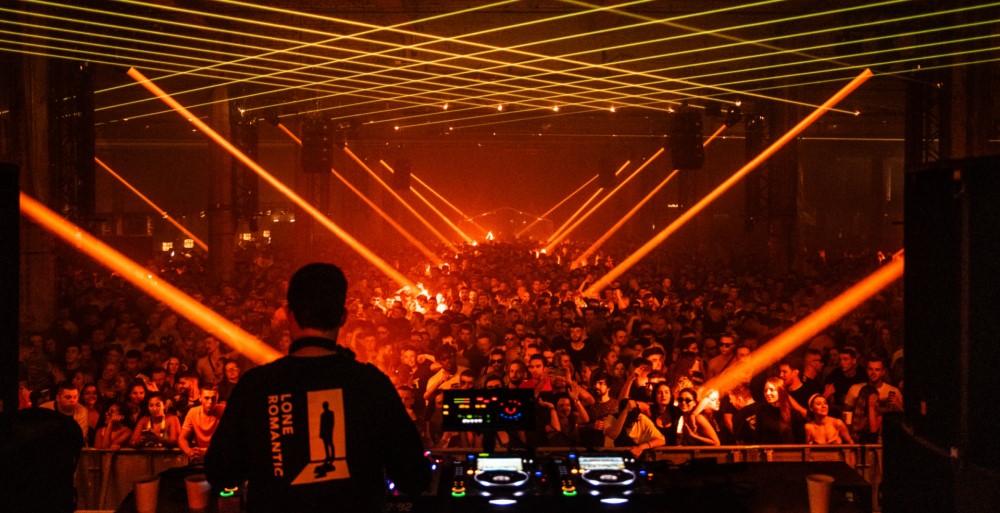 The Warehouse Project is an iconic venue for electronic music in Manchester. It appeals to music enthusiasts from all over the UK and beyond, providing a memorable experience for fans.
The Warehouse Project hosts famous DJs and live performances, showcasing a diverse range of genres. From techno to house, drum and bass to dubstep, there is something to suit every taste.
One distinctive feature of The Warehouse Project is its immersive and industrial environment. Situated in a converted warehouse, the venue exudes an underground atmosphere that amplifies the overall experience. The dimly lit spaces, pulsating lights, and booming sound systems create a thrilling ambiance.
When attending The Warehouse Project, be prepared for a night of uninterrupted dancing and entertainment. The venue opens late in the evening and continues until the early hours of the morning, ensuring a complete night of musical enjoyment.
To secure a spot, please visit The Warehouse Project's website or social media channels for event announcements and ticket information. Tickets sell out rapidly, so it is advisable to plan ahead.
The Warehouse Project is a must-visit destination for electronic music enthusiasts. It offers an iconic venue that showcases the finest talent in the industry. Whether you are a devoted fan or seeking an unforgettable night out, The Warehouse Project guarantees an immersive and memorable experience.
Oxford Road: Student-Friendly Bars and Clubs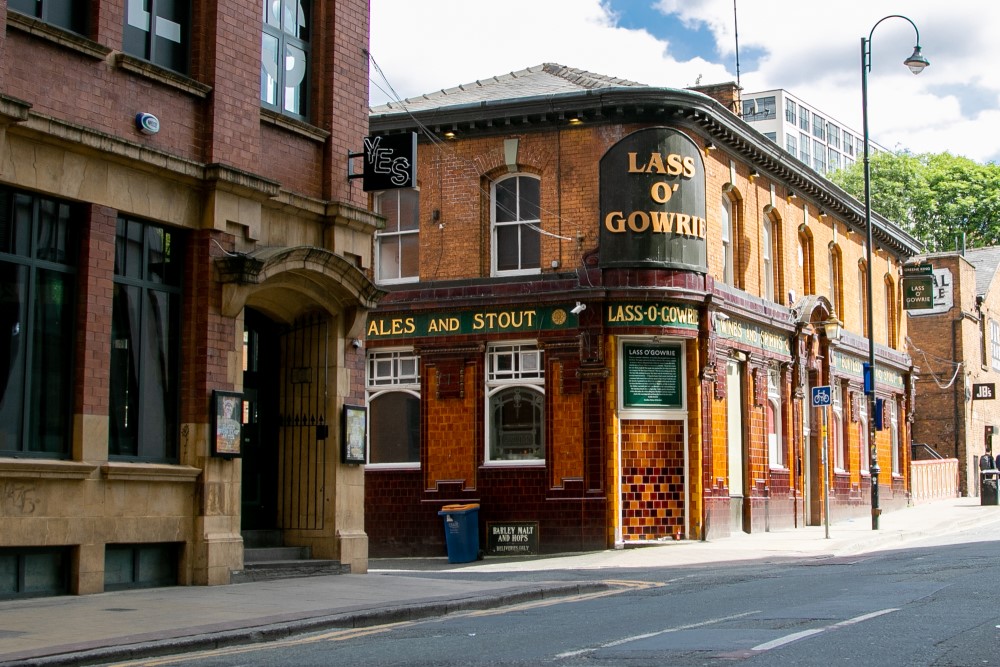 Oxford Road in Manchester is renowned for its student-friendly bars and clubs, providing a lively nightlife scene. There are several top choices for students in this area:
The Deaf Institute: A popular option among students, The Deaf Institute hosts live music concerts, club nights, and DJ sets, ensuring an entertaining experience.
Revolution: Known for its extensive range of cocktails, Revolution is a vibrant place suitable for special occasions or a night out with friends. This bar frequently offers student discounts, making it even more appealing.
The Font: The Font is a favorite among students due to its unique atmosphere and laid-back vibe. This bar offers a diverse selection of drinks at affordable prices, catering specifically to students. They have entertainment options like a pool table and board games.
Factory251: As one of the most popular nightclubs in Manchester, Factory251 arranges student nights and themed events, attracting students with different music tastes. With multiple dance floors playing various genres, it guarantees an unforgettable experience.
Rebellion: For fans of rock, metal, and alternative music, Rebellion is a must-visit venue. It showcases live bands and offers club nights dedicated to these genres, setting the stage for a distinctive experience for music-loving students.
These student-friendly bars and clubs on Oxford Road offer a wide range of choices for students in Manchester who want to enjoy a vibrant nightlife while studying.
Chinatown: Asian-Inspired Bars and Karaoke Clubs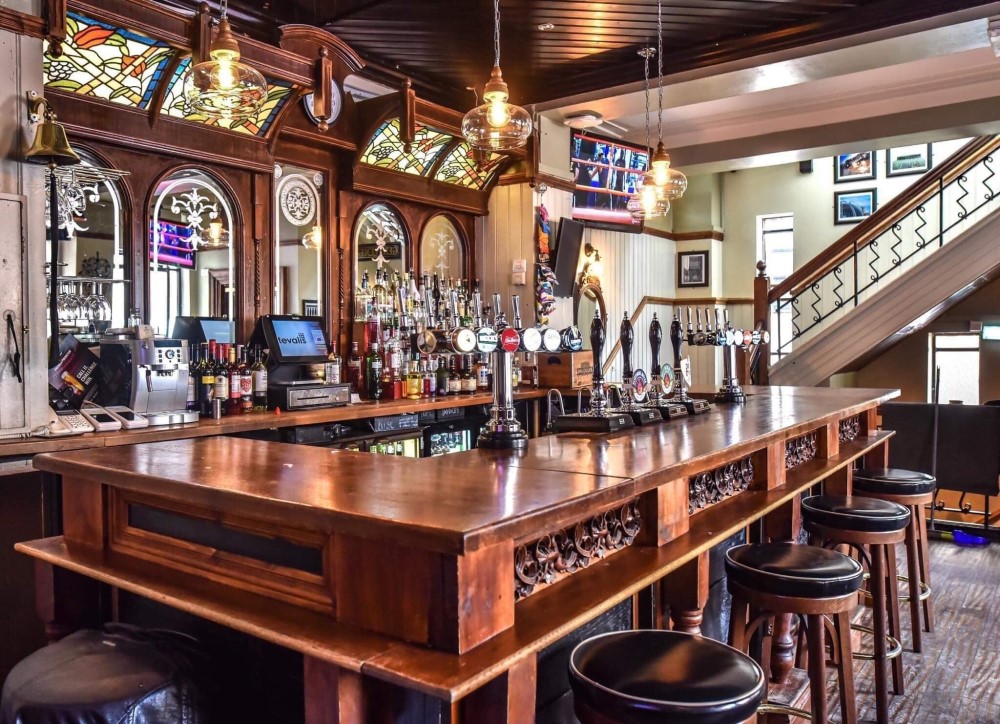 Chinatown in Manchester is widely recognized for its Asian-inspired bars and karaoke clubs. This area offers several notable attractions:
1. Asian-inspired bars: Chinatown is home to a variety of bars that provide a glimpse into Asian culture. These establishments showcase Asian-themed decorations, signature cocktails, and an extensive selection of Asian spirits and beers.
2. Karaoke clubs: The karaoke clubs in Chinatown are a must-visit for those who enjoy singing. Guests have the option to reserve a private room and experience hours of singing and merriment.
3. Asian cuisine: Chinatown offers a diverse range of delectable Asian cuisines. Visitors can indulge in Chinese, Japanese, Thai, and Korean restaurants that serve delicious options such as dim sum and sushi rolls.
4. Cultural experience: Chinatown provides a firsthand understanding of Asian culture and traditions. Exploring the vibrant arches, decorations, and lively streets of this neighborhood offers an insight into the multicultural community.
Fun Fact: Chinatown in Manchester is the second-largest Chinatown in the United Kingdom, reflecting the city's multicultural community.
Castlefield: Riverside Bars and Pubs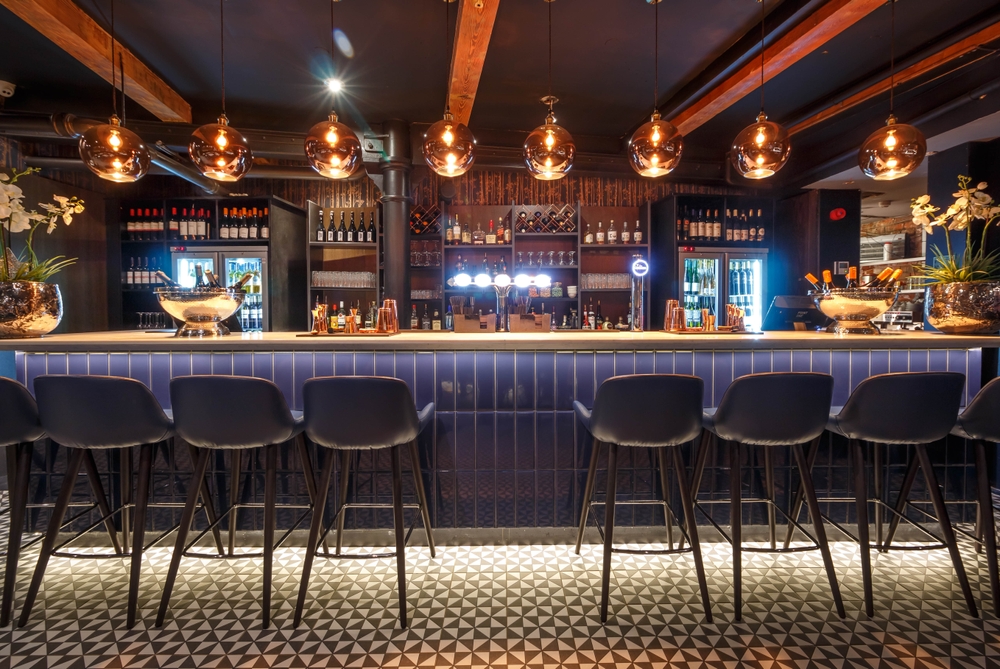 Castlefield is known for its exceptional variety of riverside bars and pubs. When it comes to finding the best options, here are a few choices worth considering:
The Wharf: This highly popular pub not only offers an impressive array of local and international beers, but also provides mesmerizing views of the canal.
Dukes 92: Situated in a beautifully restored Victorian warehouse, this vibrant bar presents a delightful culinary experience with mouth-watering food and innovative cocktails. The large outdoor terrace, overlooking the canal, adds an extra appeal.
Albert's Shed: Nestled within a converted 19th-century Victorian railway warehouse, this stylish bar and restaurant impresses with its selection of craft beers, wines, and cocktails.
Cornbrook Brewery Taproom: If you're a beer enthusiast, then the Cornbrook Brewery Taproom is an absolute must-visit. With an extensive range of locally brewed beers on tap, this taproom offers a warm and inviting atmosphere.
What Makes Manchester Nightlife Unique?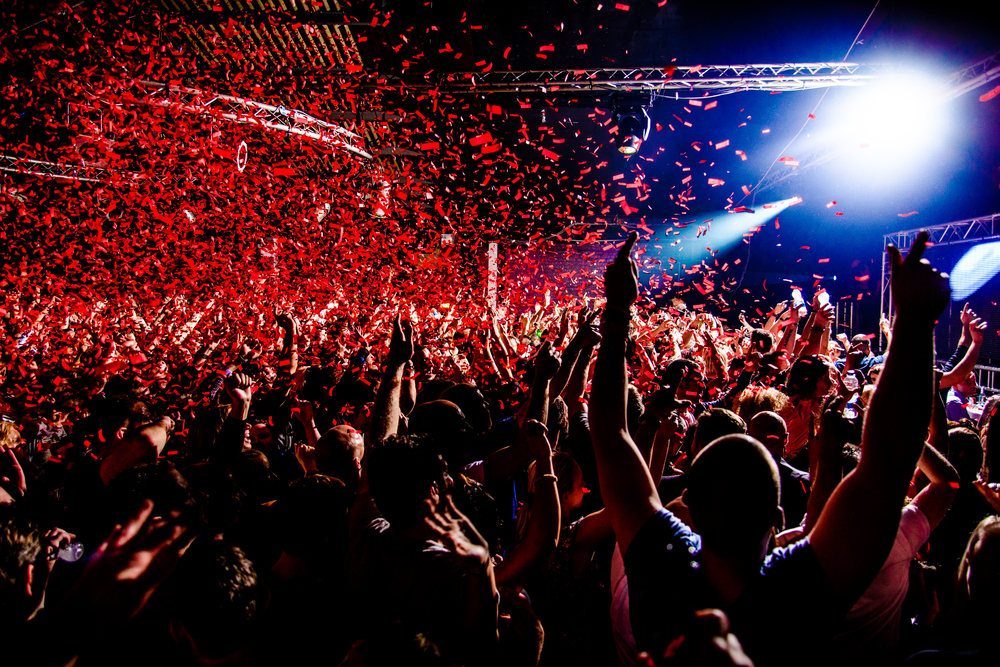 Manchester nightlife stands out for its exceptional range of venues, lively music culture, and welcoming atmosphere. What makes Manchester nightlife unique is its extensive selection of bars, pubs, clubs, and live music venues. From fashionable cocktail bars to underground clubs, there is something to suit everyone's taste. The city caters to diverse music genres, providing a platform for established and emerging artists.
Manchester boasts a legendary music scene, being the birthplace of iconic bands such as Oasis, The Smiths, and Joy Division. This rich music culture fosters a sense of community and a deep passion for music.
In terms of authenticity and character, Manchester nightlife is renowned for its genuine ambiance. The city effortlessly combines its industrial heritage with a modern touch, evident in venues like converted warehouses, quirky underground spaces, and traditional pubs.
Inclusivity is a key aspect of Manchester's nightlife. The city celebrates diversity, embracing individuals from all walks of life. This creates a vibrant melting pot of experiences.
What Are Some Popular Events and Festivals in Manchester?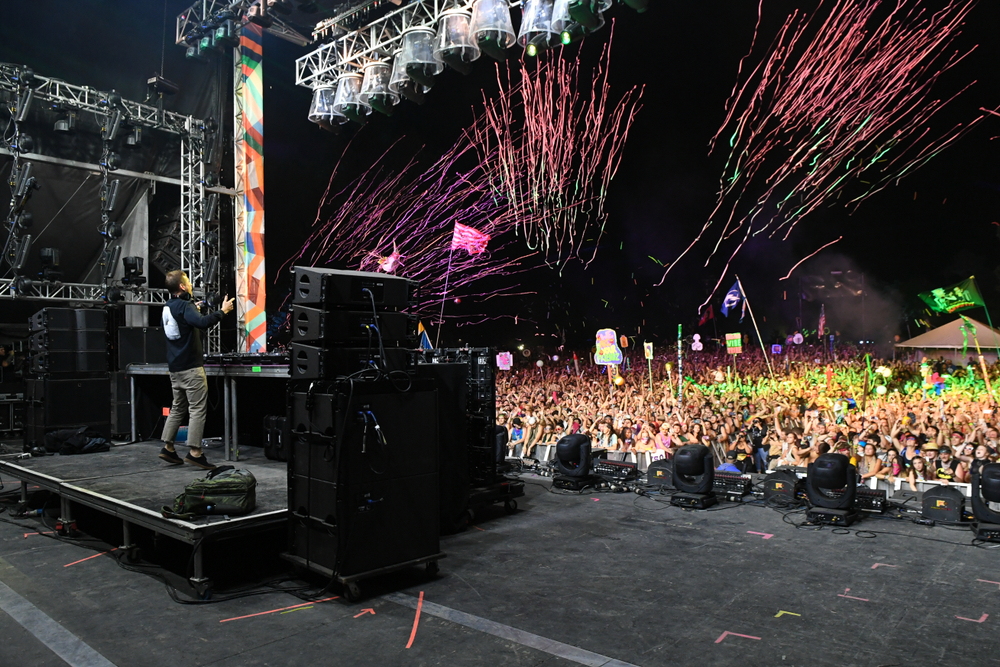 Manchester is renowned for its vibrant nightlife and is home to various popular events and festivals. What Are Some Popular Events and Festivals in Manchester? Here are some of the most well-known:
Manchester International Festival: This biennial festival showcases music, dance, theatre, and visual arts. It attracts both local and international artists and offers a diverse programme of performances and exhibitions.
Pride Manchester: Manchester celebrates Pride with a colourful parade and various citywide events. Pride Manchester is a joyful and inclusive celebration of diversity and equality.
Manchester Jazz Festival: This annual festival brings renowned jazz musicians from around the world. It features indoor and outdoor performances, workshops, and jam sessions.
Manchester Christmas Markets: During the festive season, the city hosts Christmas markets in different locations. Visitors can enjoy food, unique gifts, and live entertainment.
Manchester Literature Festival: This literary event presents readings, talks, and debates featuring acclaimed writers from various genres. It's a great opportunity to engage with the city's vibrant literary scene.
Parklife Festival: Known as a leading music festival, Parklife brings together top artists and DJs from the world of electronic, hip-hop, and alternative music. The festival offers an energetic atmosphere and memorable performances.
Manchester Food and Drink Festival: This event celebrates the city's culinary scene with food stalls, pop-up restaurants, tastings, and cooking demonstrations. It's a great opportunity to sample dishes from local and international cuisines.
These are just a few examples of popular events and festivals in Manchester throughout the year, showcasing the city's cultural diversity and vibrant entertainment scene.
What Are the Safety Tips for Enjoying Manchester Nightlife?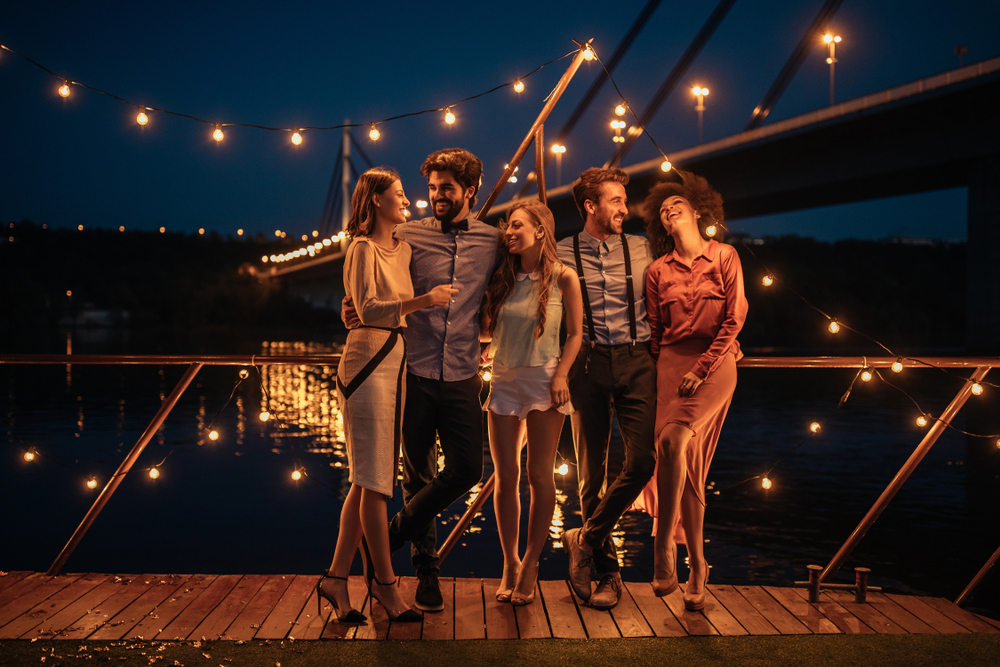 When enjoying Manchester nightlife, it is important to prioritize your safety. Here are some safety tips for enjoying Manchester nightlife:
1. Stay in well-lit areas: Stick to well-populated and well-lit areas during the night. Avoid dark and secluded spots as they are more susceptible to incidents.
2. Travel in groups: It is safer to travel with friends rather than alone. Stick together and look out for one another.
3. Be mindful of your belongings: Keep a close eye on your wallet, phone, and bag at all times. Beware of pickpockets, especially in crowded places.
4. Plan your transportation: Before heading out, make sure you have a safe way to get home. Pre-book a taxi or use a reputable ride-sharing service to avoid uncertainties late at night.
5. Drink responsibly: Know your limits and pace yourself when consuming alcohol. Stay hydrated by alternating alcoholic drinks with water.
6. Trust your instincts: If something or someone feels off, remove yourself from the situation. Your safety should always be a priority.
7. Respect others and their boundaries: Show respect for people's personal space and boundaries. Remember that consent is crucial. Treat others with kindness and respect.
8. Use licensed establishments: Opt for well-known and licensed bars and clubs. They offer a safer environment with proper security measures.
By following these safety tips, you can have an enjoyable and secure experience while enjoying Manchester nightlife.