Manchester is a paradise for food lovers, boasting a diverse culinary scene that caters to all tastes and preferences. From elegant fine-dining establishments to cozy cafes with a relaxed atmosphere, the city offers a plethora of options to satisfy your gastronomic cravings.
In addition to discovering Manchester top restaurants and cafes, it's essential to try the must-try dishes that the city is known for. Delight in traditional British cuisine at its best, or explore international flavors that can be found in Manchester's diverse culinary landscape.
The city also holds a rich connection to the history of cricket, with venues like Sixes Manchester blending the sport's legacy with modern dining experiences. This unique combination offers both locals and visitors a taste of Manchester's deep-rooted cricket heritage while enjoying a meal.
When it comes to dining in Manchester, there are certain areas that are especially renowned for their vibrant food scene. The Northern Quarter, Spinningfields, and Ancoats are just a few examples of popular dining areas where you can find an abundance of restaurants, cafes, and bars.
To fully experience the city's culinary delights, consider timing your visit to coincide with one of Manchester's food festivals or events. These lively celebrations bring together food vendors, chefs, and food enthusiasts to showcase the city's diverse food culture.
Even if you're on a budget, Manchester has plenty of affordable dining options that don't compromise on taste or quality. From budget-friendly cafes to street food markets, you can enjoy delicious meals without breaking the bank.
For a unique and memorable dining experience, consider visiting one of Manchester's restaurants with a view. These establishments offer breathtaking panoramic views of the city skyline, allowing you to savor your meal while enjoying the scenic surroundings.
Manchester truly is a haven for food enthusiasts, with its wide range of restaurants, cafes, and unique dining experiences. Embark on a culinary journey through this vibrant city and indulge in its delectable offerings that will surely leave a lasting impression on your taste buds.
Sixes Manchester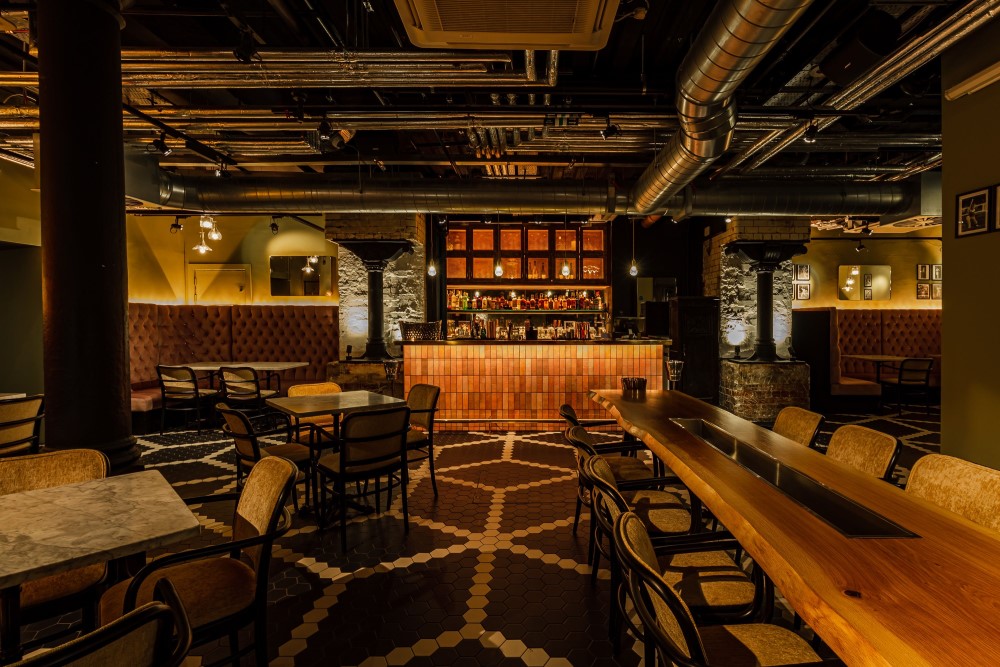 Located at The Corn Exchange on Cathedral St., Sixes Manchester offers a delightful blend of sport and hospitality. This venue is not just about cricket; it's also about good times, shared memories, and mouth-watering food. If you're a foodie visiting Manchester, this place should be on your radar.
Food Offerings at Sixes Manchester
Shakes:
Brunch Hard Shake: Tequila rose strawberry cheesecake with ice cream, strawberries, biscoff, and whipped cream for £6.00. Add Tequila Rose for an additional £2.00.
Hard Shake: Baileys snickers with ice cream, snickers, chocolate fudge, and whipped cream for £6.00. Add Baileys for an additional £2.00.
Birthday Cake Hard Shake: Chambord birthday cake with ice cream, rainbow drops, raspberry, and whipped cream for £6.00. Add Chambord for an additional £2.00.
Burgers:
Beefy Botham: Aged beef with double melted cheese, Sixes burger sauce, shallots, and dill pickles for £12.50. Add bacon for £1.50 or an extra aged beef patty for £2.50.
Brunch Burger: Aged beef burger with bacon, fried egg, melted cheese, tomato, lettuce, and Sixes burger sauce for £10.00. Add skinny fries for £4.00.
Sri Lankan Fielder: Symplicity burger with onion sambol, coronation mayo, and vegan cheese for £15.00.
Sydney Shrimp King: Crispy tempura prawns with a rich buttery chilli and garlic sauce for £15.00.
Delhi Smasher: Crispy fried Delhi chicken with melted cheese, curry mayo, pickled red onion, and smoked yoghurt for £15.00.
Baz-ball Ball Basher: Aged beef with truffle mayo, crispy bacon, melted cheese, tomato, and lettuce for £15.00.
Pizzas:
Buffalo Margherita: House margherita with buffalo mozzarella for £12.95.
Salami: House margherita with thinly sliced salami for £12.95.
Margherita: Mozzarella, tomato, and basil for £9.95.
Nduja: Salami, red pepper, onion, mozzarella with hot and spicy nduja for £12.95.
Vegetarian: Roasted aubergine, peppers, red onion, tomato, and mozzarella for £12.50.
Vegan 'Nduja: Symplicity 'nduja, peppers, onion, and vegan cheese for £12.95.
Desserts:
Warm Cookie Dough Skillet: Chocolate chip cookie dough served with ice cream for £6.50.
Flaming Candy Floss for £5.75.
Ice Cream Bowl: Ask the team for a list of flavors for £6.00.
For a more detailed look into their offerings, you can check out their menu here.
Hawksmoor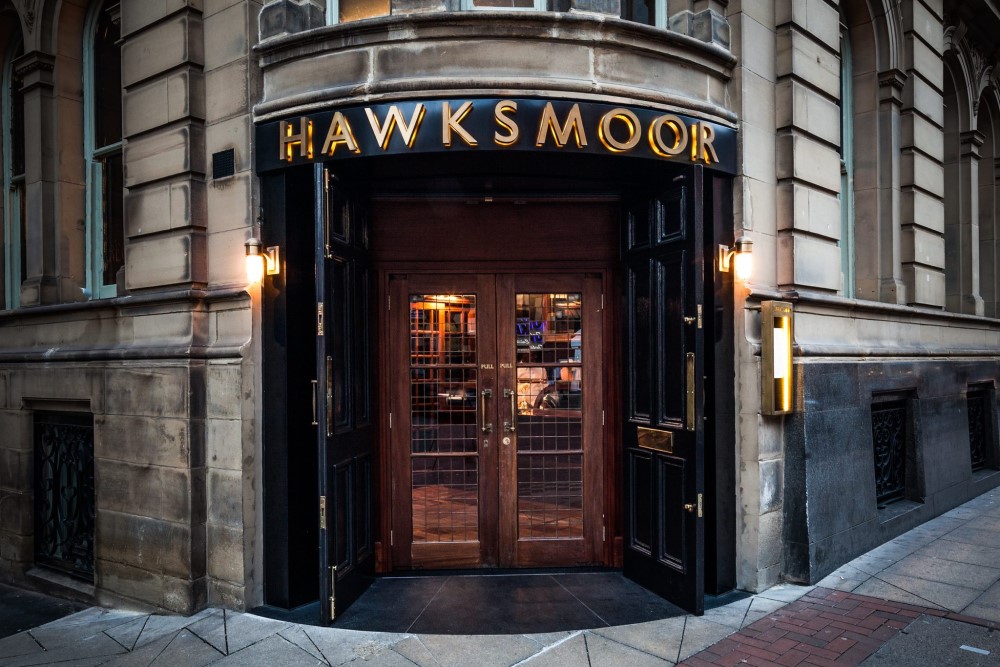 Hawksmoor is a well-known restaurant in Manchester renowned for its excellent steak and cocktails.
Steak: Hawksmoor offers a variety of prime cuts of beef sourced from local farms. The steaks are cooked perfectly, with a juicy and tender texture. The restaurant takes pride in sourcing their meat from trusted suppliers, ensuring high-quality and flavourful steaks.
Cocktails: Hawksmoor is famous for its expertly crafted cocktails. Their skilled mixologists create unique and innovative combinations using top-quality spirits and fresh ingredients. Whether you prefer a classic cocktail or something more adventurous, Hawksmoor's cocktail menu has something for everyone.
Ambience: The restaurant boasts a stylish and sophisticated interior, creating a warm and inviting atmosphere. The dim lighting and comfortable seating make it perfect for a romantic dinner or a night out with friends.
Service: Hawksmoor provides exceptional service to its customers. The staff is attentive, knowledgeable, and always ready to assist with any inquiries or recommendations.
Reservations: Due to its popularity, it is advisable to make a reservation in advance to secure a table at Hawksmoor. This ensures you won't have to wait long to enjoy their delicious dishes and drinks.
The Ivy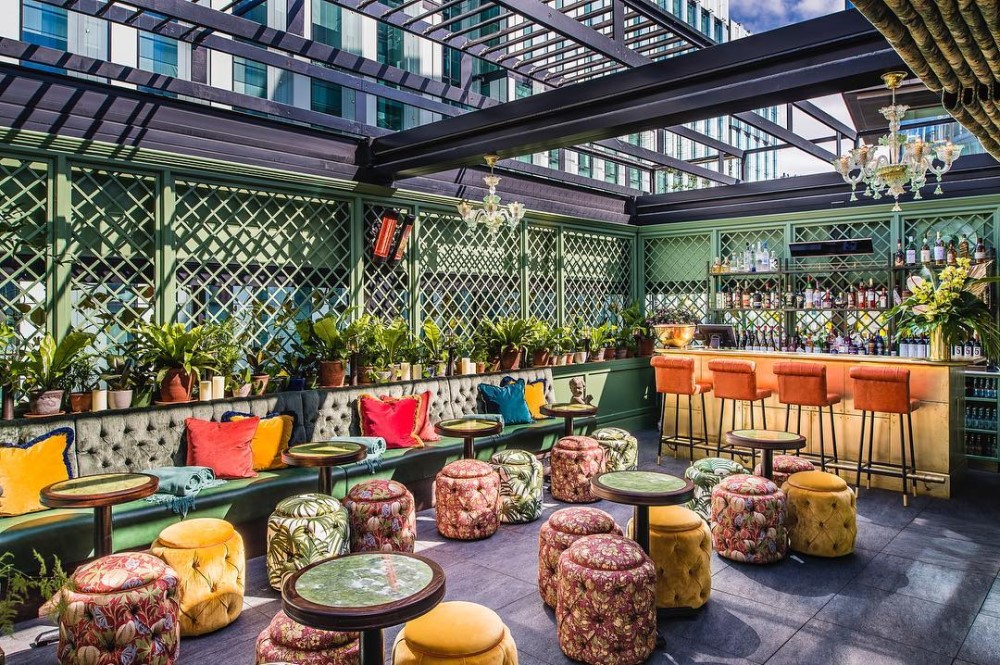 The Ivy is a well-known restaurant in Manchester. It provides a delightful culinary experience with an elegant and sophisticated ambience. The menu is diverse and crafted with the finest ingredients, catering to a variety of tastes.
The Ivy offers British, European, and international dishes, including classics like Shepherd's Pie, fish and chips, and steak. Their commitment to high-quality standards can be seen in every dish they serve.
Indulge in their signature cocktails, expertly crafted by talented mixologists, to complement your dining experience. The Ivy prides itself on exceptional customer service, with attentive and knowledgeable staff providing a personalized experience.
It is recommended to make a reservation in advance to ensure a seamless dining experience without any delays. When in Manchester, include The Ivy in your restaurant itinerary for a memorable experience with exceptional ambience, delicious cuisine, and impeccable service.
Dishoom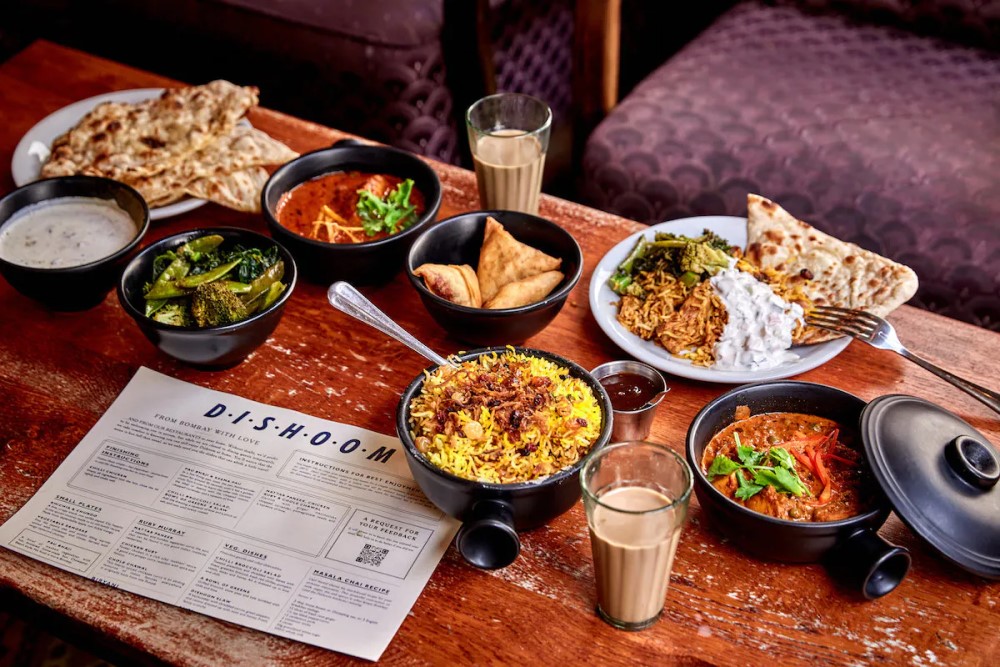 Dishoom is a well-known restaurant in Manchester that is famous for its delightful Indian cuisine and lively atmosphere. There are several reasons why Dishoom stands out among the top establishments in the city:
Authentic Indian cuisine: Dishoom offers a wide variety of Indian dishes, including delicious curries and flavorful biryanis. The chefs take pride in using traditional recipes and high-quality ingredients to achieve an authentic taste.
Sophisticated and welcoming ambiance: Inspired by the old Irani cafes of Bombay, Dishoom's interior design creates a charming and nostalgic atmosphere. With vintage decorations, comfortable seating, and warm lighting, Dishoom provides a cozy space to enjoy your meal.
Outstanding service: Dishoom has friendly, knowledgeable, and attentive staff members who ensure a pleasant dining experience from start to finish.
Vegetarian and vegan options: Dishoom offers an extensive selection of vegetarian and vegan dishes, catering to various dietary preferences.
Great value for money: Despite being a prominent restaurant, Dishoom offers reasonably priced menu options. They also provide special lunch menus and meal deals, allowing you to enjoy a delightful meal without overspending.
Dishoom draws inspiration from the bustling Irani cafes of 20th-century Bombay. These cafes served as social hubs where people from different backgrounds would come together to enjoy good food and engage in conversations. Dishoom aims to recreate that warm and inviting atmosphere, bringing the flavors of Bombay to Manchester.
Mackie Mayor
Mackie Mayor is a food hall in Manchester, UK. It offers a wide range of culinary options to satisfy any foodie's cravings.
Mexican cuisine: At Mackie Mayor, indulge in delicious tacos and guacamole.
Asian street food: Explore the flavours of Japan, Thailand, and China with noodles and skewers.
Artisanal pizzas: Try delectable pizzas crafted using the finest ingredients.
Fresh seafood: Indulge in flavoursome prawns and grilled fish.
Decadent desserts: Satisfy your sweet tooth with gelato, cakes, and pastries.
Mackie Mayor has a rich history as a transformed meat market in the 19th century. Its stunning architecture and vibrant atmosphere make it a popular destination for food enthusiasts in Manchester.
Bundobust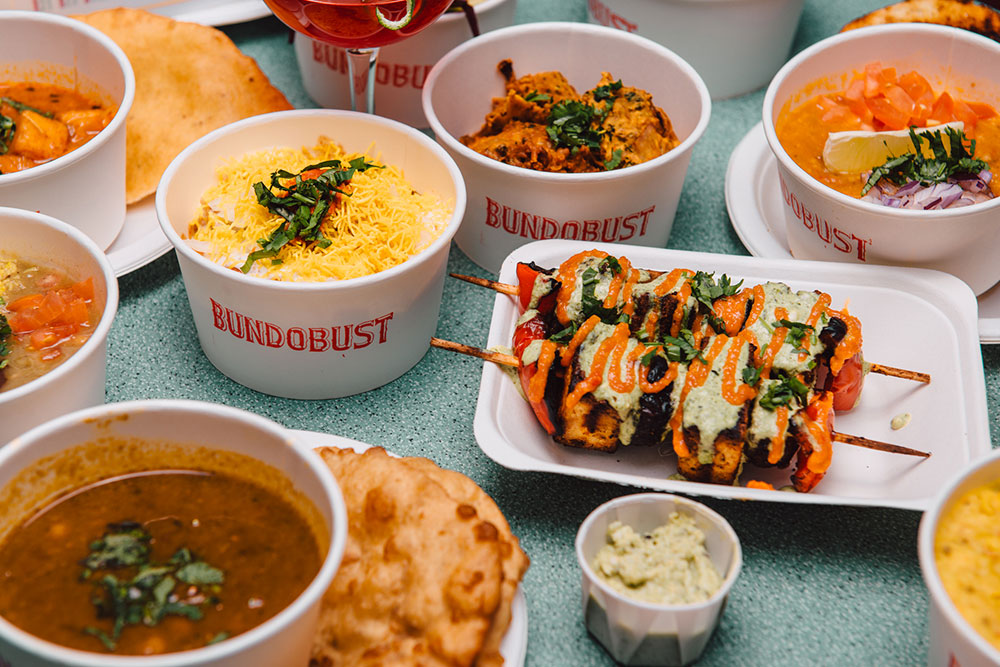 Bundobust is a well-liked restaurant in Manchester. It offers a singular and thrilling dining experience. Here are some key points to consider when visiting:
1. Lively Atmosphere: Bundobust possesses a lively and energetic atmosphere, ideal for enjoying a meal with friends or family.
2. Vegetarian Cuisine: The restaurant specializes in vegetarian cuisine. It provides a wide variety of flavor-packed dishes.
3. Indian Street Food: Bundobust serves mouth-watering Indian street food, including favorites like Bhel Puri, Vada Pav, and Bundo Chaat.
4. Craft Beer Selection: The restaurant has an extensive selection of craft beers. It offers a range of local and international brews to complement your meal.
5. Spice Levels: Each dish at Bundobust has its own unique spice level. There is something for everyone, whether you prefer mild or spicy flavors.
6. Small Plates: The menu at Bundobust consists of small plates. This allows you to try a variety of dishes and share with your dining companions.
7. Quality Ingredients: Bundobust prides itself on utilizing fresh and high-quality ingredients in its dishes. This ensures a remarkable dining experience.
8. Enthusiastic Staff: The staff at Bundobust are passionate about their food and provide exceptional customer service. This enhances your visit even further.
When dining at Bundobust, you can anticipate a vibrant atmosphere, delectable vegetarian Indian street food, a fantastic array of craft beers, and friendly service. It is a must-visit for anyone looking to explore the lively food scene in Manchester.
Federal Cafe & Bar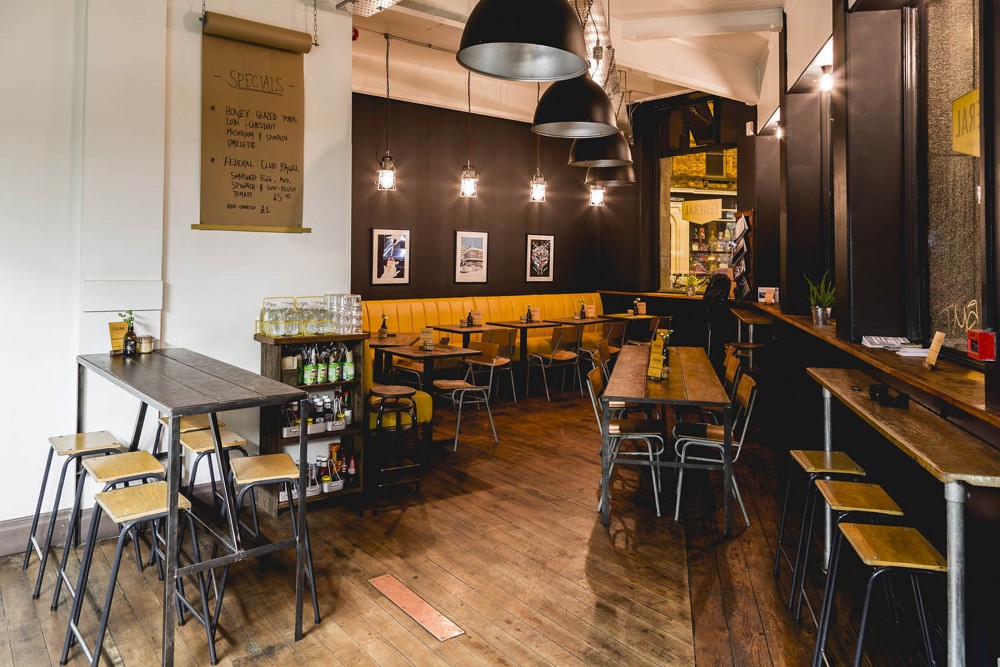 Federal Cafe and Bar is a popular dining establishment in Manchester. Here are some key aspects to consider when visiting this restaurant:
1. Food: The menu features delicious dishes, including breakfast specials like avocado on toast and pancakes, as well as lunch options such as sandwiches and salads. The food is prepared using fresh ingredients, ensuring a satisfying dining experience.
2. Ambience: The restaurant has a fashionable and welcoming atmosphere, with stylish decor and comfortable seating. Whether you're looking for a relaxed brunch or a lively evening out, Federal Cafe & Bar provides the perfect setting.
3. Coffee and Drinks: In addition to their food offerings, Federal Cafe & Bar is known for serving exceptional coffee and refreshing drinks. Their skilled baristas prepare a variety of coffee beverages, from espresso to cappuccino, to satisfy coffee enthusiasts.
4. Service: The staff at Federal Cafe & Bar are attentive and dedicated to providing excellent customer service. They are knowledgeable about the menu and happy to make recommendations based on your preferences.
El Gato Negro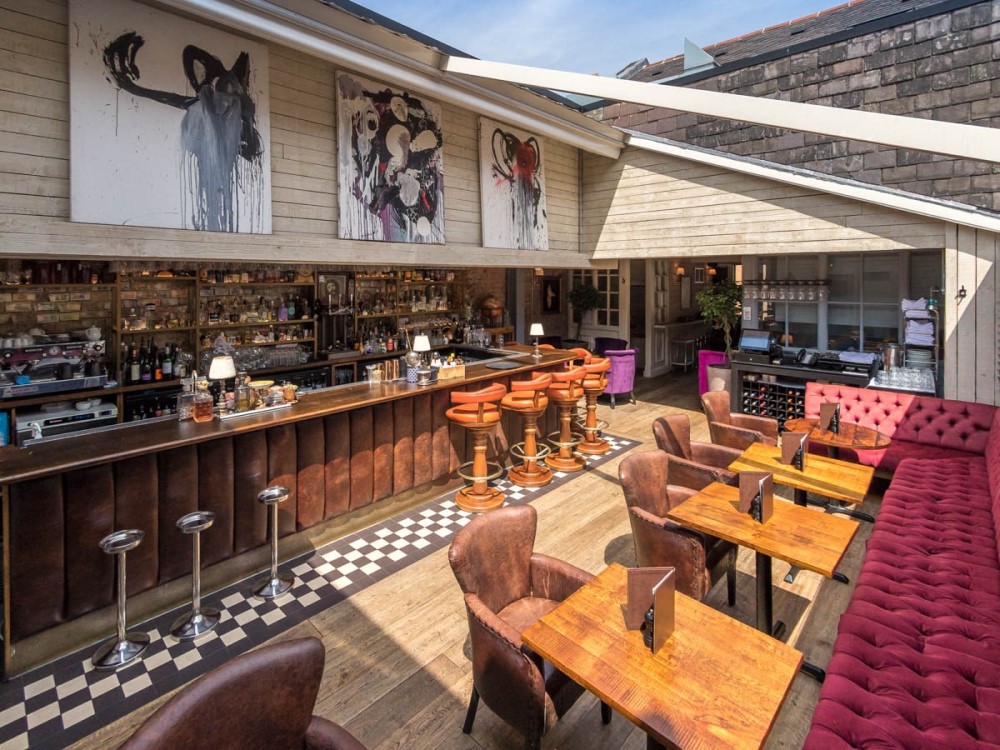 El Gato Negro is a well-known restaurant in Manchester. It provides a delightful dining experience with its Spanish cuisine. The restaurant has a lively atmosphere and stylish interior that complements the delicious dishes. The menu features a variety of traditional Spanish tapas, including patatas bravas, gambas al ajillo, and croquetas. For those who want a larger meal, there are options such as grilled octopus and Iberico pork secreto. These dishes are skillfully prepared using high-quality ingredients for an authentic and tasty flavour.
El Gato Negro is popular among food enthusiasts in Manchester. The restaurant is renowned for its culinary excellence and top-quality service. The talented chefs and attentive staff go the extra mile to provide a memorable dining experience. Whether you are a fan of Spanish cuisine or looking to explore new flavours, El Gato Negro is a restaurant that must not be missed. It offers delicious food, a lively atmosphere, and exceptional service that will leave a long-lasting impression.
Pro-tip: Remember to make a reservation in advance, as El Gato Negro tends to get busy during peak dining hours.
The Wharf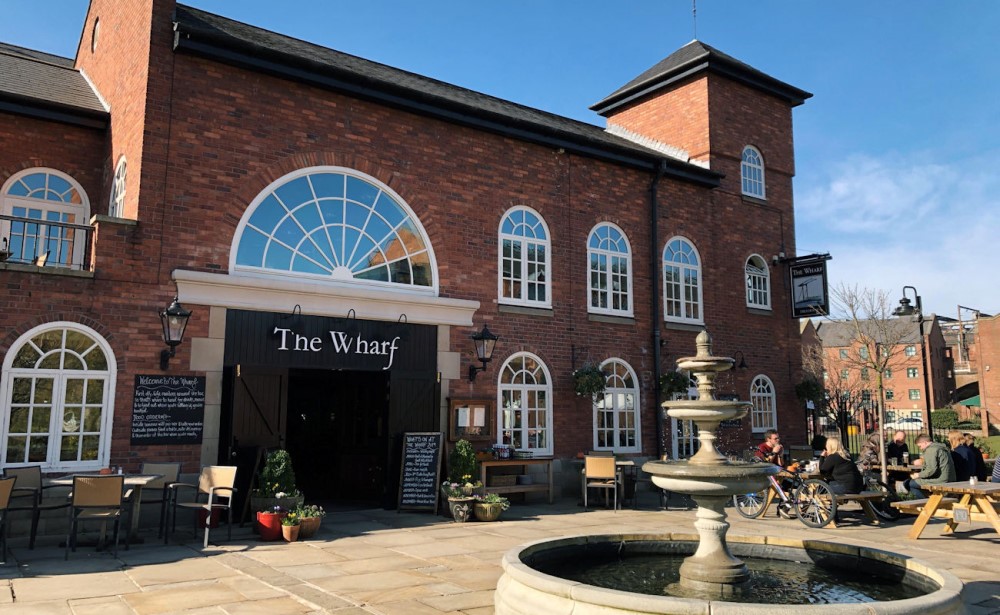 The Wharf is a well-liked restaurant in Manchester that provides a distinct dining experience by the water. When you visit, you should keep in mind the following key points:
1. Location: The Wharf is situated on the water, creating a charming setting for a meal. While you enjoy delectable food, you can also relish in stunning views.
2. Variety in the menu: The Wharf offers a diverse menu that caters to various tastes and preferences. From fresh seafood dishes to juicy steaks, there is something to suit everyone's palate.
3. Ingredient quality: The Wharf utilizes high-quality, locally sourced ingredients whenever possible. This ensures that each dish is prepared with fresh and flavorsome ingredients.
4. Atmosphere: The restaurant has a warm and relaxed atmosphere, making it an ideal choice for a laid-back lunch or dinner. The waterfront location adds to the overall ambiance.
5. Outdoor seating: The Wharf provides outdoor seating options, allowing patrons to enjoy their meal while appreciating the scenic surroundings.
The Wharf offers a wide selection of beverages, including cocktails, wines, and craft beers, that perfectly complement your meal.
Fact: The Wharf has received numerous accolades for its culinary offerings and has been recognized as one of the top waterfront restaurants in Manchester.
What Are the Must-Try Dishes in Manchester Top Restaurants and Cafes?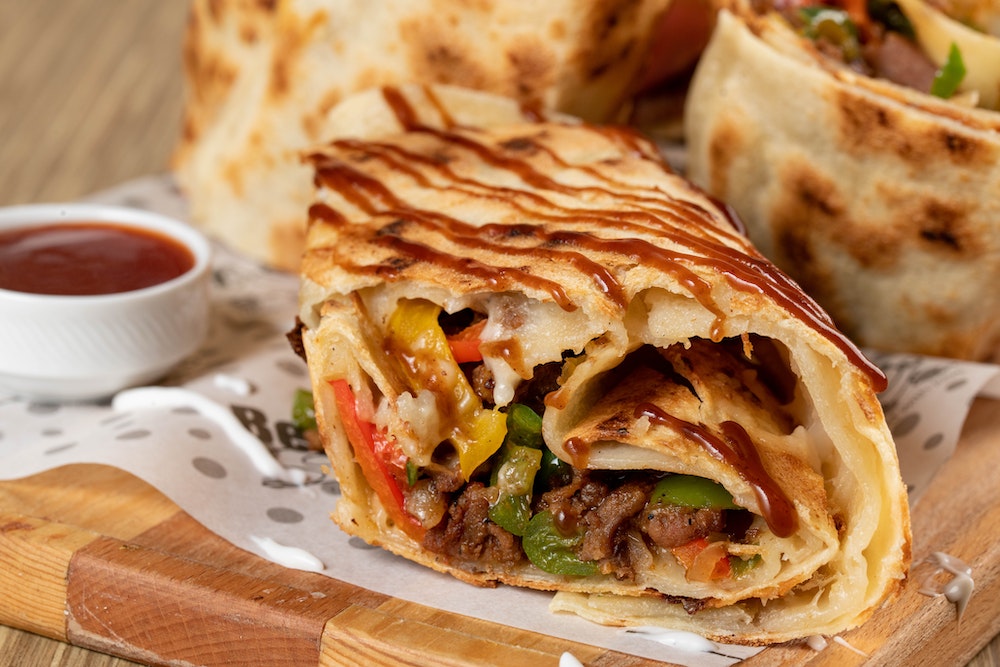 When thou dost visit Manchester, thou must try certain dishes in order to fully experience the city's culinary delights. Hither is a list of dishes that thou should try in Manchester:
1. Jumbo Breakfast Burrito: Beginneth thy day with a hearty breakfast by trying the jumbo breakfast burrito. This dish includeth scrambled eggs, bacon, sausage, hash browns, and cheese wrapped in a warm tortilla.
2. Lancashire Hotpot: A traditional dish from the region, Lancashire hotpot is a slow-cooked stew made with lamb, onions, and potatoes. It is a comforting meal that showcaseth local flavors.
3. Bury Black Pudding: Black pudding is a type of blood sausage popular in the UK. Bury black pudding is known for its rich flavor and balanced spices. It is oft served fried as part of a traditional full English breakfast.
4. Manchester Tart: For dessert, treat thyself to a Manchester tart. This sweet treat hath a shortcrust pastry base filled with raspberry jam, custard, and topped with coconut flakes.
5. Chicken Tikka Masala: Manchester hath a thriving Indian food scene, and one dish thou must try is the chicken tikka masala. This flavorful curry dish featur