The city of Manchester offers a diverse range of attractions that make it an ideal destination for a day out. From shopping centers to museums, iconic stadiums to art galleries, there is something for everyone to enjoy. Here are the top 10 attractions in Manchester, as recommended by local experts.
Sixes Manchester: This venue offers a unique experience for visitors, blending sports entertainment with a relaxed atmosphere.
The Manchester Arndale: This bustling shopping center is perfect for indulging in retail therapy and exploring a wide range of stores.
The Museum of Science and Industry: This fascinating museum showcases the city's rich industrial heritage and offers interactive exhibits for visitors of all ages.
Old Trafford Stadium: Home to Manchester United Football Club, this iconic stadium offers guided tours where fans can explore the grounds and immerse themselves in the team's history.
The John Rylands Library: This stunning Victorian library houses a vast collection of rare books and manuscripts, making it a haven for book lovers and history enthusiasts.
The Manchester Art Gallery: With its impressive collection of art spanning centuries, this gallery showcases both local and international works, providing a visual feast for art lovers.
The National Football Museum: Football fans will appreciate this museum dedicated to the beautiful game, featuring memorabilia, interactive exhibits, and engaging displays.
The Manchester Cathedral: A place of worship and architectural marvel, this stunning cathedral is a must-visit for its historical significance and tranquil atmosphere.
The Manchester Museum: This museum houses a wide range of artifacts and exhibits, including ancient Egyptian relics, natural history specimens, and cultural treasures.
The Etihad Stadium: Home to Manchester City Football Club, this modern stadium offers stadium tours, allowing visitors to experience the club's success and grandeur.
In addition to these attractions, Manchester also offers free attractions for budget-conscious travelers. To make the most of a day out in Manchester, plan your itinerary carefully, considering factors such as opening hours and locations. As a family-friendly city, Manchester offers various activities and attractions suitable for all ages.
For those seeking hidden gems, explore lesser-known neighborhoods and local haunts to discover unique experiences. Don't forget to indulge in some local food specialties, such as Manchester tart, black pudding, and Eccles cakes, to truly immerse yourself in the city's culinary delights.
With its vibrant attractions and rich cultural heritage, Manchester is a city that promises a memorable day out for visitors of all interests and preferences.
Sixes Manchester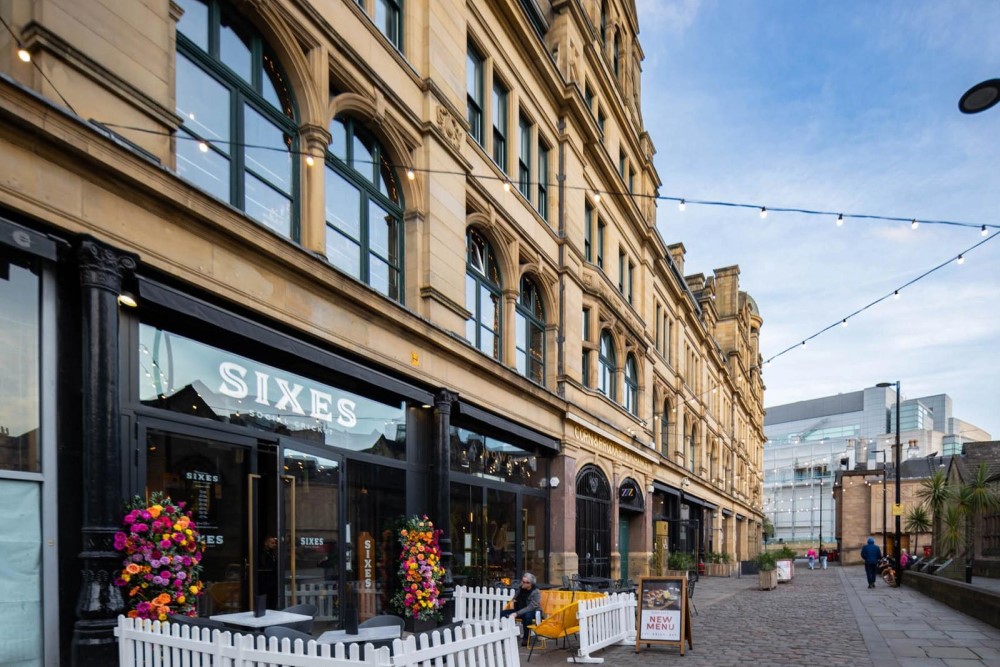 Located in the heart of Manchester at The Corn Exchange on Cathedral Street, Sixes Manchester stands out as a premier destination for both sports enthusiasts and those looking for a unique social experience. This venue seamlessly blends the thrill of cricket with the ambiance of a social gathering, making it an attraction unlike any other in the city.
At its core, Sixes was founded on the belief that sport and hospitality have an unparalleled ability to unite and connect people. This ethos is evident in the way the venue is designed, offering guests the opportunity to engage in cricket while also enjoying delectable food and drinks. From their mouth-watering menus to their diverse drink selections, Sixes ensures that guests are well-catered for, whether they're batting or simply enjoying the atmosphere.
But it's not just about cricket. Sixes Manchester is also a hub for celebrations, from corporate events to birthdays, stags, hens, and more. Their commitment to hosting memorable group gatherings is evident in their tailored packages, ensuring that every celebration is unique. Whether you're a cricket aficionado or just looking for a distinctive day out in Manchester, Sixes offers an experience that promises fun, camaraderie, and unforgettable memories.
The Manchester Arndale
The Manchester Arndale is a well-regarded shopping destination in Manchester, UK. It features over 200 shops, including well-known brands and independent retailers. Within this single location, you can find everything you need, from fashion to electronics. The Manchester Arndale also offers a diverse range of dining options, ranging from quick snacks to sit-down restaurants.
It is easily accessible by public transport and provides wheelchair accessibility. Whether you are a local resident or a visitor, the Manchester Arndale offers a vibrant shopping experience, a variety of dining choices, and convenient accessibility.
The Museum of Science and Industry
The Museum of Science and Industry in Manchester is a prime attraction that demonstrates the industrial heritage of the city. It is located in a former railway station and possesses a substantial collection of displays, such as locomotives, steam engines, and interactive exhibits on steam power.
The museum also presents exhibitions regarding Manchester's textile industry, highlighting information about weaving and the machinery utilized in textile production. Visitors can observe exhibits on printing, electricity, and transportation, including vintage cars and bicycles.
This museum provides a distinctive educational experience that enables visitors to explore Manchester's industrial past and comprehend its cultural significance. It is an essential attraction for individuals with an interest in engineering or the history of Manchester.
Old Trafford Stadium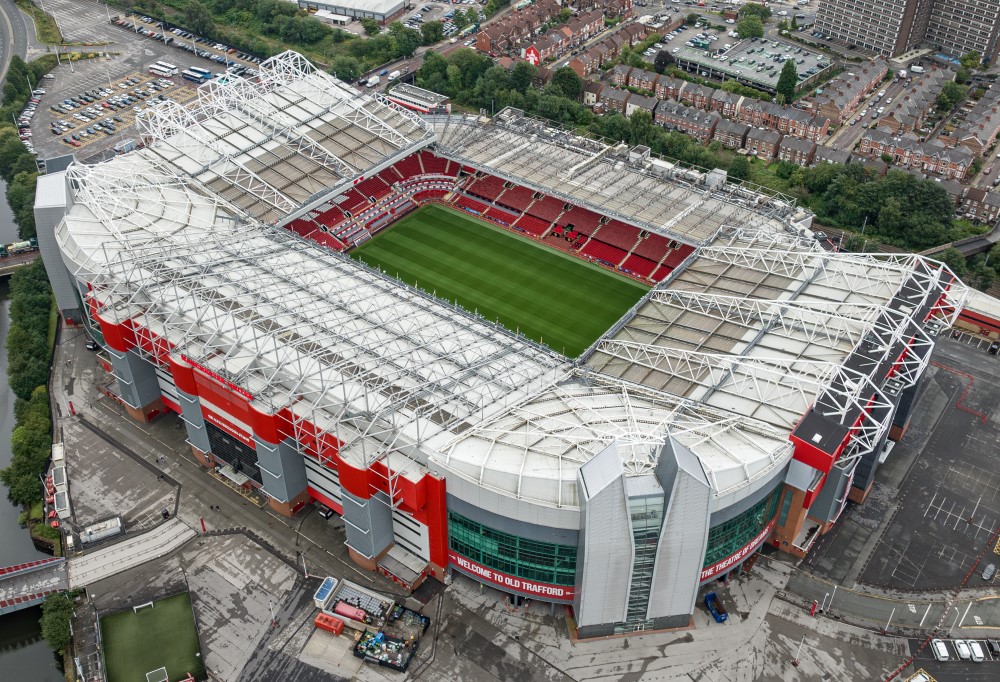 Old Trafford Stadium, which is the home of Manchester United Football Club, was opened in 1910 and has a capacity of approximately 74,000 seats. It has undergone renovations and expansions in order to accommodate a greater number of spectators. The state-of-the-art stadium offers modern seating with excellent views and a range of amenities, including food outlets, toilets, and merchandise shops.
Visitors also have the opportunity to explore the Manchester United Museum and go on a guided tour to learn about the history of the club. Attending a match at Old Trafford Stadium provides an unforgettable experience, with passionate fans creating an electrifying atmosphere. The stadium is renowned for its iconic features, such as the "Theatre of Dreams" sign and the statue of Sir Matt Busby.
In addition to football matches, the stadium hosts various events and concerts, making it a versatile venue. Old Trafford Stadium is a must-visit for football enthusiasts and those interested in the rich football heritage of Manchester United.
The John Rylands Library
The John Rylands Library in Manchester is an attraction that must be visited. This historic library, situated on Deansgate, is renowned for its breathtaking Gothic architecture and impressive collection of rare books and manuscripts. It was established by Enriqueta Augustina Rylands as a tribute to her late husband, John Rylands, in the late 19th century. The building itself is a masterpiece of Gothic architecture, adorned with intricate details and stunning stained glass windows.
Inside, visitors have the opportunity to explore an extensive collection of over 1.4 million printed volumes and more than 40,000 manuscripts. This collection includes ancient Greek and Latin manuscripts as well as early printed books. The library features a magnificent Reading Room where visitors can engage in study and research. Regular exhibitions and events are organised by the library to enhance visitors' learning experiences.
It is worth mentioning that the library is accessible to all individuals, offering facilities and services specifically designed for those with disabilities. Whether one's interests lie in history, literature, or architectural beauty, a visit to the John Rylands Library is a necessary activity when in Manchester.
Fact: The John Rylands Library houses the oldest known fragment of the New Testament, the St. John Fragment, which dates back to the early 2nd century AD.
The Manchester Art Gallery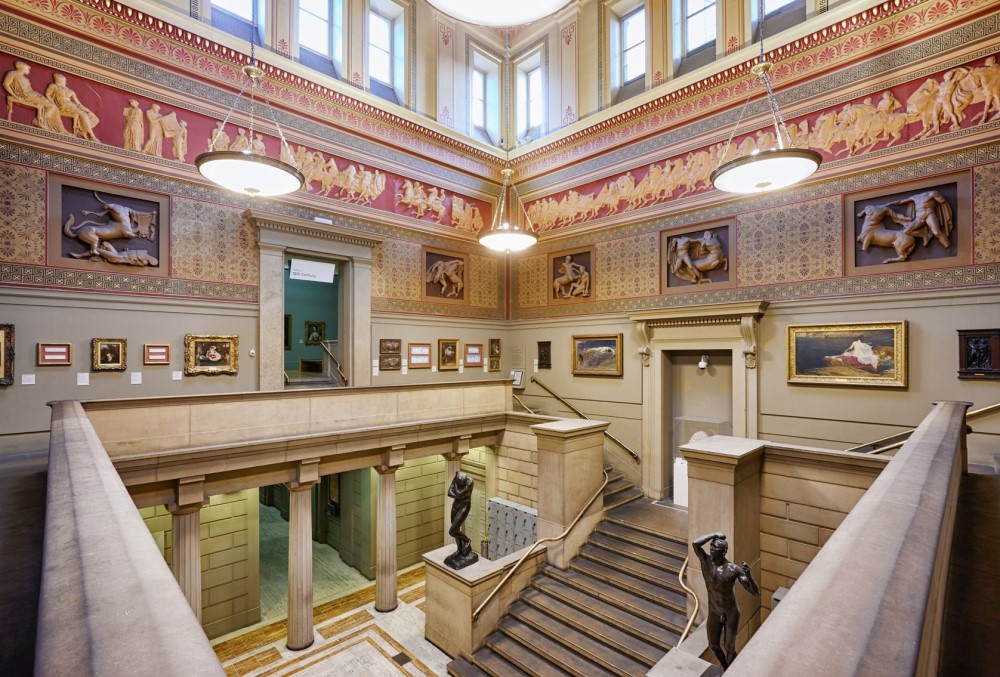 The Manchester Art Gallery is a well-known cultural institution in Manchester, UK. It displays a varied collection of artwork from different periods and genres. The gallery promotes and celebrates both local and international art. It engages visitors through exhibitions, workshops, and events.
The Manchester Art Gallery houses more than 25,000 pieces of art, including paintings, sculptures, and decorative arts. It features works by famous artists such as Turner, Constable, and Monet. The collection also includes contemporary art from emerging artists.
Visiting the Manchester Art Gallery immerses you in the world of art. The exhibitions offer a rich and meaningful experience, making it ideal for art enthusiasts and those seeking inspiration. The diverse art on display allows visitors to explore different styles, perspectives, and narratives.
In addition to the extensive collection, the Manchester Art Gallery offers educational programs for all ages. These programs aim to cultivate appreciation for art, develop creativity, and nurture artistic skills. The gallery also hosts temporary exhibitions, constantly refreshing its offerings and providing new experiences.
A trip to the Manchester Art Gallery is a must for art and culture enthusiasts. Its dynamic exhibitions, diverse collection, and community engagement make it an invaluable resource for the city and beyond. Explore the Manchester Art Gallery and discover the beauty and power of art in all its forms.
The National Football Museum
The National Football Museum in Manchester is a must-visit attraction for football enthusiasts. This museum houses an extensive collection of football memorabilia, exhibits, and interactive displays that celebrate the history of the sport.
One notable feature of the National Football Museum is its collection of football shirts from various teams and eras. Visitors can see the jerseys of legendary players like Pelé, Maradona, and Messi, showcasing the evolution of football fashion.
The museum also allows visitors to learn about the origins and development of the sport. Interactive exhibits let visitors test their skills in a penalty shootout or experience the atmosphere of a football match through multimedia presentations.
For those interested in football history, the National Football Museum provides insight into the game's evolution and iconic moments that have shaped it today.
Visitors can explore exhibitions that delve into specific aspects of football, such as the influence of football on pop culture or the impact of the sport on social change.
If you are a football fan visiting Manchester, a visit to the National Football Museum is a must. Immerse yourself in the world of football history and indulge in the passion that surrounds the game.
Other similar venues to visit in Manchester include the Manchester United Museum and Stadium Tour, where you can explore the rich history of one of the most successful football clubs in the world. Another option is the Etihad Stadium Tour, offering a behind-the-scenes look at Manchester City's home ground.
The Manchester Cathedral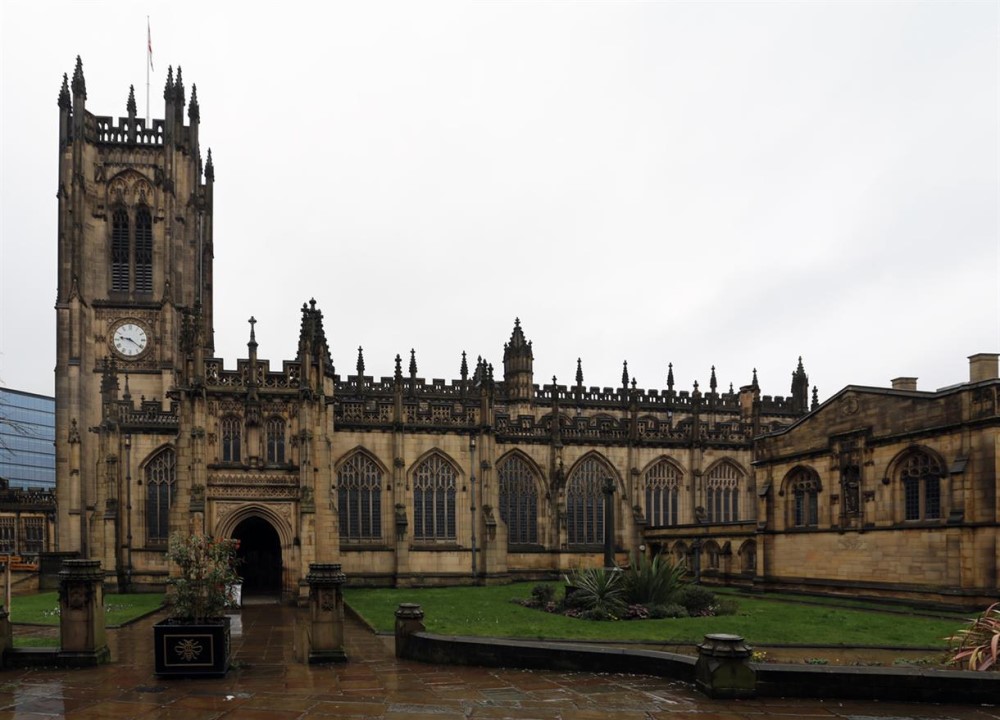 The Manchester Cathedral is a historically significant landmark located in Manchester, UK. It showcases breathtaking Gothic architecture with intricate embellishments and lofty arches. The cathedral boasts a fascinating past that traces back to the 12th century and has served as a place of devotion for numerous centuries.
Upon entering, visitors will be captivated by the exquisite stained glass windows, elaborate carvings, and serene ambiance. The cathedral is also widely recognized for its musical heritage, hosting various concerts, choirs, and organ recitals. It holds a special place in the hearts of many, particularly during moments of commemoration like the Manchester Arena attack in 2017.
To enhance your visit, we recommend attending a choir performance or partaking in a guided tour to delve deeper into its history. Cathedral Gardens is an enchanting place ideal for a tranquil stroll and to appreciate the remarkable exterior of the cathedral. The Manchester Cathedral is an absolute must-see attraction in this vibrant city.
The Manchester Museum
The Manchester Museum is an essential destination for history, culture, and natural science enthusiasts. This educational attraction offers a wide range of activities and displays that are suitable for individuals of all ages. Visitors can explore artifacts from different parts of the world, such as Egyptian mummies and prehistoric fossils, which provide valuable insights into various civilizations and time periods. These displays showcase our rich cultural heritage and the marvels of the natural world.
One of the main attractions of The Manchester Museum is its extensive collection of dinosaur fossils, including the famous Stan the T.rex. Visitors can get close to a real dinosaur and experience the excitement that many others have shared.
The Manchester Museum provides interactive displays and educational programs to engage visitors in learning about scientific concepts and natural history. Guests can participate in hands-on activities and demonstrations to deepen their understanding.
Whether you have a passion for history, dinosaurs, or simply want to learn something new, The Manchester Museum guarantees a captivating experience. Immerse yourself in the past and marvel at the wonders of nature in this esteemed institution. Don't miss the opportunity to expand your knowledge and appreciation for our world by visiting The Manchester Museum.
The Etihad Stadium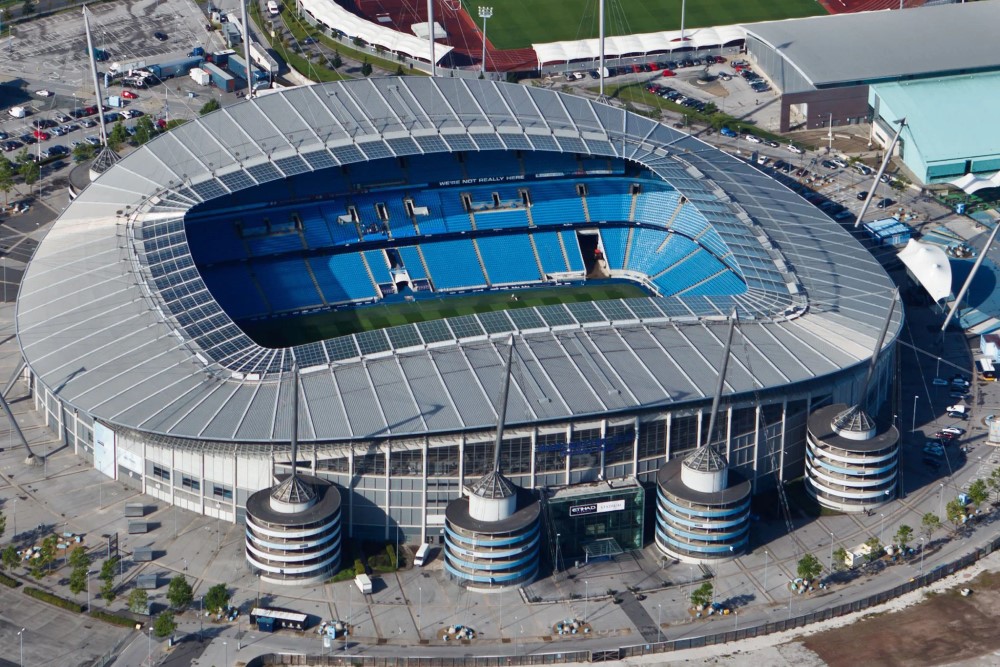 The Etihad Stadium is a respected attraction in Manchester. It serves as the home ground for the Manchester City Football Club and is considered to be one of the most prestigious stadiums in the UK. The stadium offers a variety of experiences for visitors, making it an essential destination to visit.
One notable characteristic of the Etihad Stadium is its impressive seating capacity, accommodating over 55,000 spectators. This allows for a significant number of people to attend matches. The state-of-the-art facilities at the stadium ensure a comfortable and enjoyable experience for fans.
Apart from watching football matches, the Etihad Stadium provides stadium tours. These tours give visitors an exclusive behind-the-scenes look at the stadium and its history. Guests have the opportunity to explore the dressing rooms, walk through the player's tunnel, and even sit in the manager's seat in the dugout. It is a great chance to learn about the club's heritage and fully experience the stadium.
The stadium offers various food and drink outlets, providing a range of culinary options for visitors. From traditional football snacks to international cuisines, there is something to suit every taste.
The Etihad Stadium is not only a destination for football enthusiasts but also an architectural marvel. Its sleek and contemporary design showcases the city's commitment to sports and entertainment. Whether you are a football fan or simply interested in the cultural aspects of the city, a visit to the Etihad Stadium is unquestionably an engaging and unforgettable experience.
What Are Some Free Attractions in Manchester?
When exploring Manchester on a budget, it's natural to wonder: What are some free attractions in Manchester? Fortunately, there are plenty of complimentary attractions that you can enjoy without exceeding your budget. Here is a list of the best complimentary attractions in Manchester:
The Manchester Art Gallery: This gallery houses over 25,000 objects, including paintings, sculptures, and decorative art. It is an excellent place to explore and admire the artwork.
The John Rylands Library: This library is a must-visit for book enthusiasts. It possesses a vast collection of rare books, manuscripts, and archives. The grand architecture and serene atmosphere make it a perfect spot for contemplation.
The People's History Museum: Immerse yourself in Manchester's working-class history at this museum. It showcases the story of democracy and the struggle for equality and social justice in Britain. Admission is complimentary, making it an accessible and educational attraction.
The Manchester Museum: Situated on the University of Manchester campus, this museum offers exhibits on natural history, archaeology, and anthropology. It is an exceptional place to learn and explore, and it is completely complimentary.
The Museum of Science and Industry: Uncover Manchester's industrial heritage at this museum, which showcases the city's contributions to science, technology, and industry. From steam engines to interactive exhibits, this museum has something for everyone.
These are just a few instances of complimentary attractions in Manchester. Whether you are interested in art, history, or science, you will find something to suit your taste without exceeding your budget.
How to Make the Most of a Day Out in Manchester?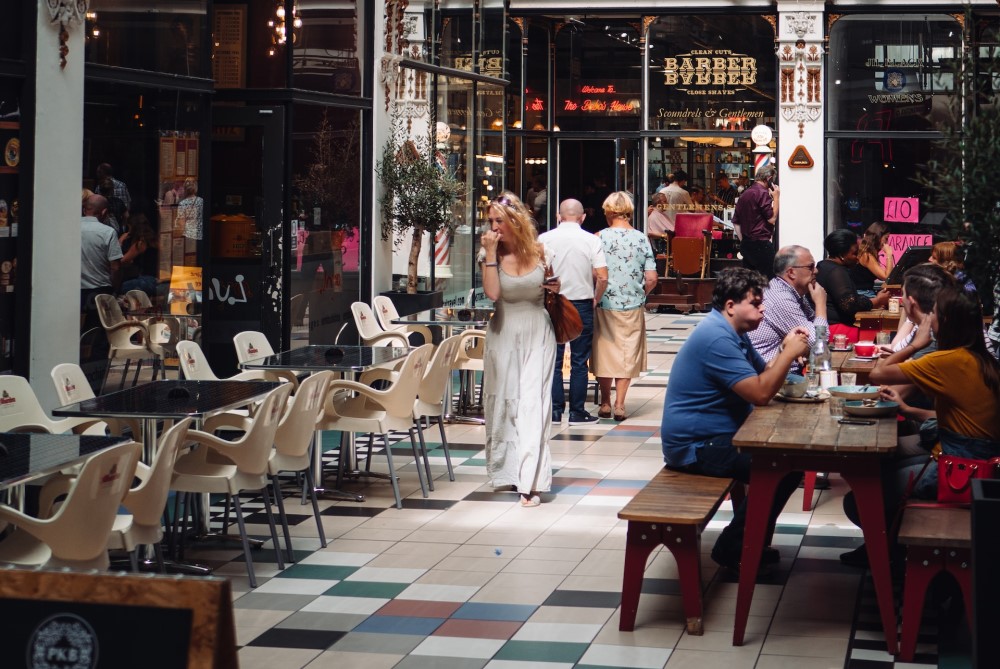 When preparing for a day out in Manchester, follow these steps to maximize your experience:
1.  Begin by conducting research and selecting the attractions and locations in Manchester that align with your interests, such as art, history, sports, or culture.
2. Prioritize the must-see attractions and organize your day around them to ensure you don't miss out on the city's key highlights.
3. A well-developed itinerary and schedule will optimize your time. Consider the opening and closing times of the venues, as well as any special events or exhibitions happening that day.
4. Strike a balance in your itinerary by combining indoor and outdoor activities. Explore museums and historical sites, but also venture into parks, markets, and vibrant neighborhoods.
5. Remain open to unexpected discoveries and be flexible. Allow yourself to wander and uncover hidden gems as you explore the city.
6. Don't forget to sample the local cuisine and indulge in Manchester's culinary specialties, such as the traditional Manchester Tart or locally crafted beers available in pubs and breweries.
7. Engaging with locals is a fantastic way to broaden your knowledge about the city's history and traditions. Consider participating in guided tours or attending cultural events.
8. Capture your memories by taking photos with a camera or smartphone; this will help you document your experiences and create lasting mementos of your time in Manchester.
9. Stay hydrated and energized throughout the day by carrying a water bottle and snacks. This will ensure that you make the most of your time without experiencing fatigue or hunger.
10. Remember to take breaks, relax, and appreciate Manchester's stunning architecture, street art, and lively atmosphere.
Is Manchester a Family-friendly City?
Manchester is a city renowned for being suitable for families, with attractions and activities catering to individuals of all ages. The Museum of Science and Industry, a well-liked attraction, offers interactive exhibits and experiments designed to foster children's knowledge. Meanwhile, the Manchester Art Gallery introduces children to art and encourages their creativity.
For football enthusiasts, Old Trafford Stadium, home to the famous Manchester United Football Club, offers stadium tours and a museum where visitors can delve into the club's rich history.
Heaton Park is a vast outdoor space offering a range of activities, including picnicking, walking, cycling, and even a visit to the animal center.
On the other hand, the Northern Quarter is a vibrant area boasting independent shops, cafés, and mesmerizing street art. With its diverse range of attractions, Manchester truly stands out as an exemplary city for families to explore.
What Are Some Hidden Gems in Manchester?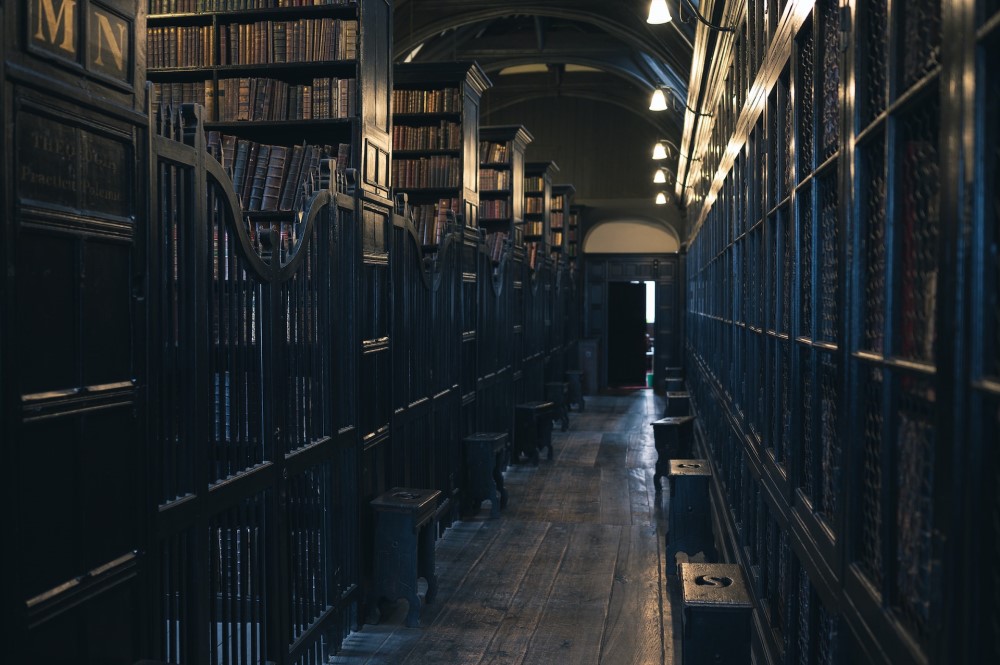 When exploring Manchester, please do not miss its hidden gems. What Are Some Hidden Gems in Manchester? Take a look at these lesser-known attractions:
The Whitworth Art Gallery: It showcases a collection of contemporary art and hosts regular exhibitions.
Chetham's Library: The oldest public library in the English-speaking world, it gives a glimpse into centuries of literary history.
The People's History Museum: Learn about democracy, political movements, and social change in this interactive museum.
Castlefield: Explore the historic area with Roman ruins, canals, and Victorian architecture. It is perfect for a leisurely stroll.
Manchester Craft and Design Centre: A haven for artists and craftspeople, it offers unique handmade goods and artwork.
The Peveril of the Peak: A traditional pub with Victorian-era charm, serving local ale and delicious meals.
Manchester Cathedral Gardens: Relax in the peaceful gardens surrounding Manchester Cathedral, with green spaces and stunning architecture.
John Dalton Street Hidden Gem: An alleyway filled with street art and independent shops, perfect for finding a quirky souvenir.
These hidden gems provide a different perspective on Manchester and offer unique experiences. Venture off the beaten path and discover the hidden treasures that make Manchester truly special.
What Are Some Local Food Specialties to Try in Manchester?
When exploring Manchester's culinary scene, one must try these local food specialties: Bury Black Pudding, Manchester Tart, Piccalilli, Lancashire Hotpot, Manchester Egg, Corned Beef Hash, Lancashire Cheese, Pork Pie, Butter Pie, and Manchester Gin. These dishes showcase the rich and flavorsome delicacies of the region.
From the traditional blood sausage in Bury Black Pudding to the tangy mustard sauce in Piccalilli, each specialty offers a unique taste experience. You can also indulge in the classic Manchester Tart, a sweet treat filled with raspberry jam, custard, and coconut.
For a comforting and hearty meal, try the slow-cooked Lancashire Hotpot made with lamb or mutton, potatoes, onions, and carrots. And if you're in the mood for something fried and flavorful, the Manchester Egg is a must-try, featuring a pickled egg wrapped in black pudding and breadcrumbs.
For those looking to blend the traditional with the contemporary, Sixes Manchester offers a unique culinary experience. Their menu boasts a range of sharing plates, from the crispy Mini Fish & Chips with homemade tartare sauce to the flavorful Crispy Chicken Wings drenched in sticky BBQ sauce.
The burger selection is diverse, with options like the Ozzie Beefy Basher and the vegan-friendly Victoria Veggie. Pizza lovers can indulge in the Buffalo Margherita or the spicy Sausage & Pepperoni.
And for a sweet finish, the Deep Fried Snickers Sundae or the Warm Cookie Dough Skillet are sure to satisfy your dessert cravings.