The city of Manchester, renowned for its rich history and cultural significance, has evolved into a culinary hotspot, boasting a dining scene as vibrant and diverse as its heritage. From traditional British fare to global gastronomic delights, the city's restaurants and eateries offer a myriad of flavors, ensuring that every palate, no matter how discerning, is catered to. This makes Manchester an unparalleled choice for those seeking the perfect backdrop for their office parties or corporate gatherings.
In addition to its culinary offerings, Manchester provides a range of ambiances to suit any occasion. For those seeking sophistication, there are upscale restaurants nestled in historic buildings, offering both a taste of the city's past and its contemporary culinary innovations. If breathtaking views are a priority, rooftop dining options present a panoramic view of the city's skyline.
And for the adventurous, Manchester's innovative cuisine, influenced by cultures from around the world, promises a unique and memorable dining experience. In essence, Manchester is not just a city; it's a culinary journey, making it the ideal locale for any office celebration.
Our Top 5 Manchester Restaurants for your Office Party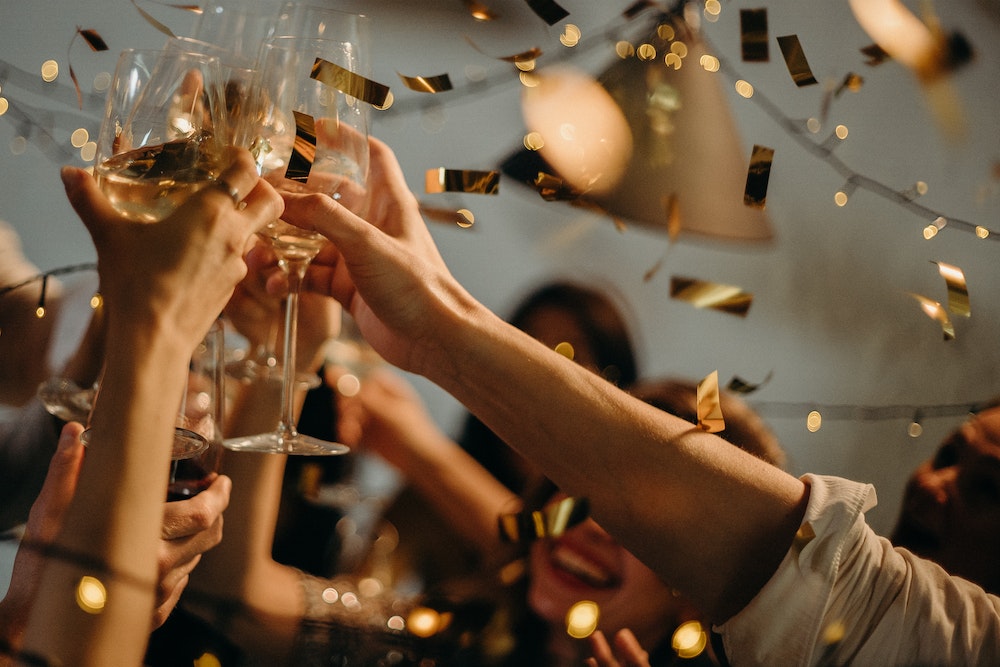 Here are the top 5 restaurants in Manchester that are perfect for your office party:
1. Sixes Manchester: Offers a unique blend of cricket and sophistication, making it an ideal venue for memorable office parties. With an extensive drinks menu, including classic cocktails and Prosecco, attendees are ensured a refreshing experience. Tailored group packages, combining food, drinks, and interactive cricket activities, cater to every party need, guaranteeing a seamless and enjoyable event.
2. 20 Stories: Located on the 19th floor of No.1 Spinningfields, 20 Stories offers breathtaking panoramic views of Manchester. This rooftop restaurant combines stunning aesthetics with exceptional food and cocktails, creating a memorable experience for your office party.
3. The Refuge by Volta: Housed in a historic building, The Refuge is a unique and versatile venue that offers a blend of elegance and laid-back ambiance. Its diverse menu, featuring dishes inspired by global cuisines, caters to all tastes and preferences.
4. Rosso Restaurant and Bar: Situated in a Grade II listed building, Rosso is a luxurious restaurant known for its Italian cuisine and opulent interiors. With its vibrant atmosphere and extensive menu, Rosso provides an immersive dining experience for your office party.
5. The French: Located within the iconic Midland Hotel, The French is a Michelin-starred restaurant offering refined and innovative French cuisine. With its elegant surroundings and impeccable service, The French sets the stage for a truly special office party.
Choosing Manchester as the destination for your office party offers numerous advantages. The city is well-connected, making it easily accessible for all attendees. It also boasts a thriving cultural scene, allowing you to combine your office party with other activities and attractions.
When selecting a restaurant for your office party, several factors should be considered. These include the size and layout of the venue, the menu options and dietary requirements, the availability of private dining areas, and the overall atmosphere and ambiance.
Hosting your office party at a restaurant provides several benefits. It takes the stress of organizing and catering off your hands, allowing you to enjoy the event alongside your colleagues. Restaurants also offer a professional setting, ensuring that your office party is memorable, enjoyable, and hassle-free.
To choose the right restaurant for your office party, consider the preferences and tastes of your colleagues. Take into account the location, amenities, and overall experience offered by different establishments. read reviews and seek recommendations to make an informed decision.
With these top Manchester restaurants and essential tips in mind, you can plan a successful and memorable office party that will leave a lasting impression on your colleagues.
Sixes Manchester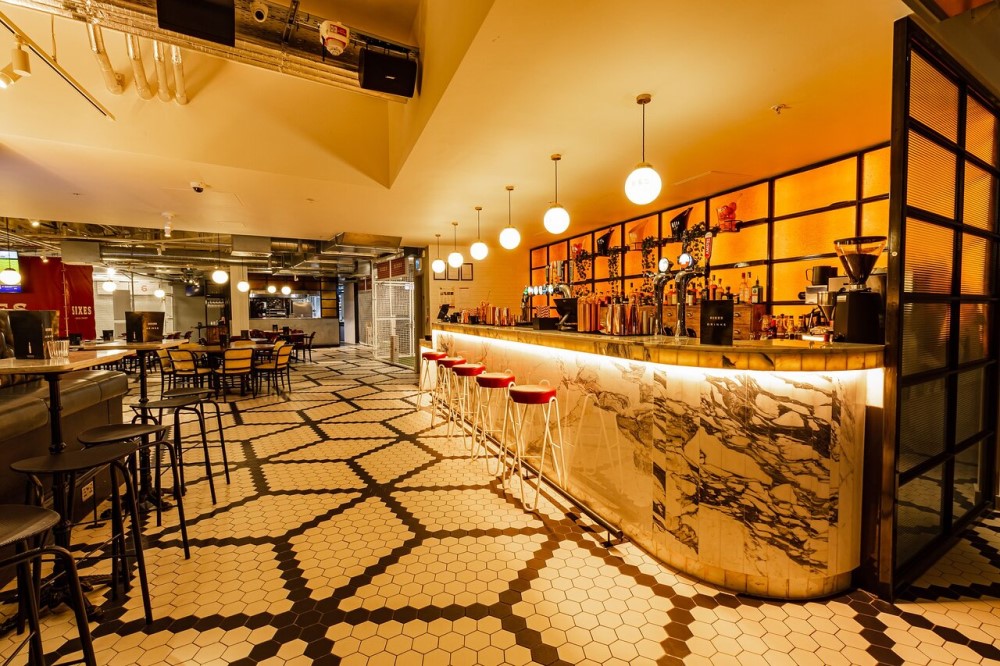 1. A Unique Blend of Sport and Sophistication: Sixes Manchester offers a distinctive experience that seamlessly combines the thrill of cricket with the ambiance of a top-tier bar. This unique setting ensures that attendees, whether cricket enthusiasts or not, have an engaging and memorable time. The interactive cricket nets allow colleagues to bond over friendly matches, fostering team spirit and camaraderie.
2. Extensive Drink Offerings: The drinks menu at Sixes Manchester is nothing short of impressive. From classic cocktails like the "Girl Next Door" and "Mimosa" to a selection of Prosecco, there's something to cater to every palate. Such a diverse range ensures that guests remain refreshed and entertained throughout the event. The inclusion of both alcoholic and non-alcoholic beverages means that everyone's preferences are taken into account.
3. Tailored Group Packages: Sixes Manchester understands the nuances of hosting group events. Their tailored packages, such as "The Out Out" and "The Bowler", are designed to provide a comprehensive experience. These packages include a combination of drinks, food, and cricket activities, ensuring that every aspect of the party is taken care of. The venue's commitment to delivering a top-notch experience, from the quality of food and drinks to the service, makes it the perfect choice for office parties.
Sixes Manchester stands out as an exceptional venue for office parties in Manchester. Its unique cricket theme, combined with an extensive drinks menu and tailored group packages, ensures a fun-filled and unforgettable experience for all attendees.
20 Stories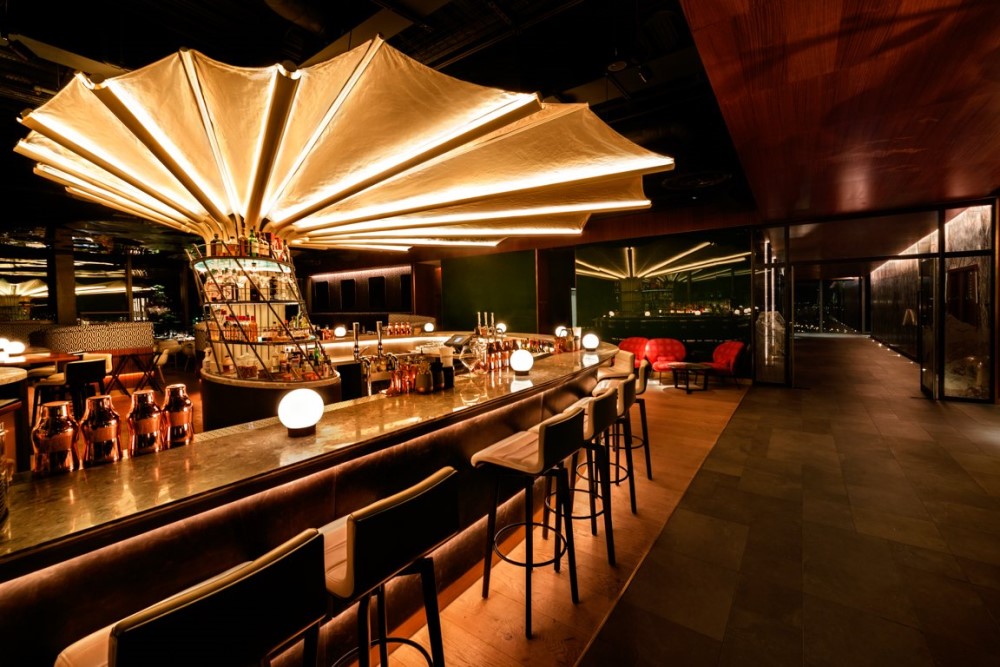 20 Stories is a well-known restaurant in Manchester, UK. It provides stunning views from its rooftop terrace, offering a distinctive dining experience.
The menu showcases a range of dishes, from traditional British favourites to international cuisine. It obtains seasonal ingredients from local suppliers to ensure freshness and quality.
The restaurant has a lively and sophisticated ambience, making it an excellent choice for special occasions or corporate events. It offers an extensive selection of drinks, including expertly crafted cocktails and an impressive wine list.
The staff are experienced and attentive, delivering exceptional service.
Additionally, 20 Stories provides a private space for intimate gatherings or larger parties. It is a highly recommended option in Manchester for romantic dinners, celebrations with friends, or office parties. Reservations are strongly advised due to the restaurant's popularity.
The Refuge by Volta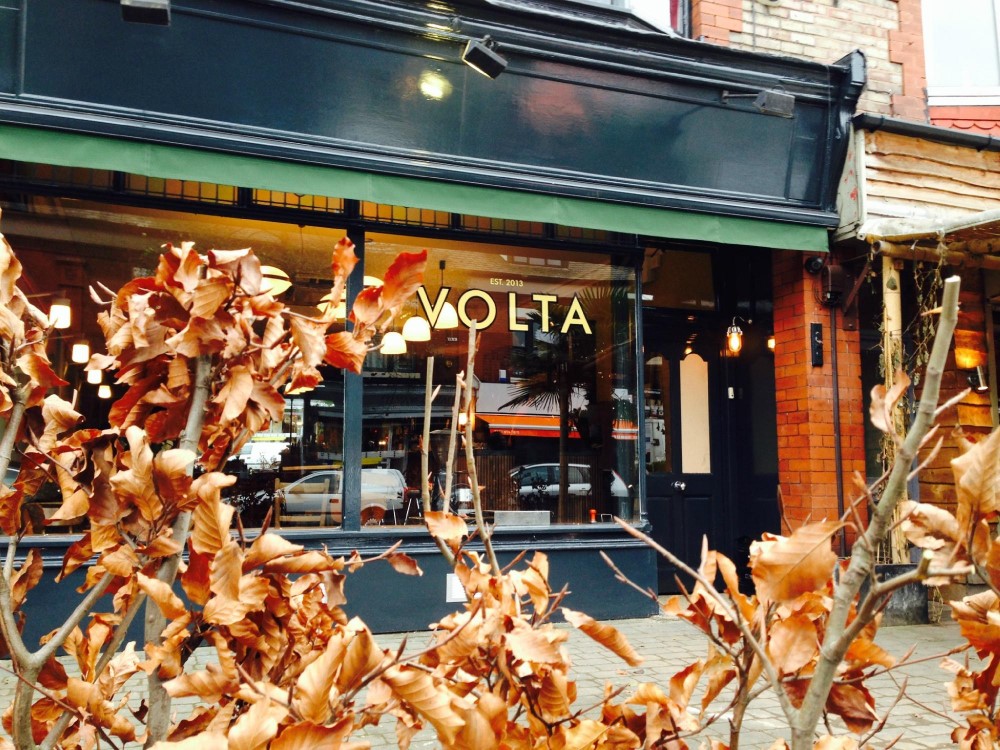 The Refuge by Volta is an excellent choice for corporate gatherings in Manchester because of its unique and stylish atmosphere, diverse selection of cuisine, impressive craft cocktails, private areas that can be rented, and entertainment choices.
The venue combines historic charm with contemporary aesthetics, creating a warm and inviting ambiance. The restaurant offers a variety of menu options to cater to different tastes and preferences. The bar is renowned for its skilled mixologists who craft innovative and refreshing beverages. Private spaces are available to provide an intimate and exclusive setting for corporate gatherings of various sizes.
Live music performances and other entertainment events add excitement to the experience. Consider selecting a pre-set menu or arranging for a customized drinks package to enhance the memorable nature of the event. This will ensure a seamless and enjoyable dining experience, allowing everyone to fully enjoy and create lasting memories with their colleagues.
Rosso Restaurant and Bar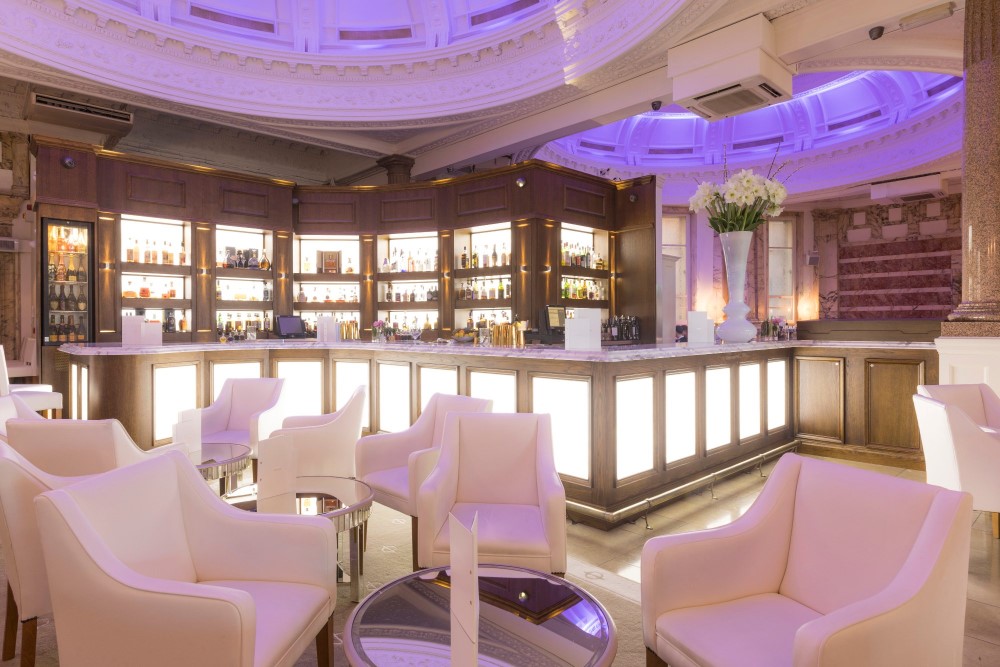 Rosso Restaurant and Bar in Manchester is a highly regarded establishment for corporate gatherings. The restaurant offers a sophisticated atmosphere with an elegant interior and friendly staff. The menu provides a diverse selection of tempting dishes that cater to a range of tastes and dietary preferences, including traditional Italian pasta dishes, delicious steaks, and fresh seafood.
The restaurant offers a wide variety of beverages, such as wines, cocktails, and spirits, which are perfect for celebratory office parties. The attentive and knowledgeable staff are always available to offer recommendations and ensure a memorable dining experience.
In addition, Rosso Restaurant and Bar offers spacious and comfortable spaces specifically designed for office parties. With private dining areas and flexible seating arrangements, the establishment can accommodate both small and large groups. Whether you are hosting an intimate gathering or a grand celebration, Rosso can fulfill your requirements.
An interesting fact about Rosso Restaurant and Bar is that it was co-owned by Rio Ferdinand, a legendary figure in Manchester United football. His passion for food and hospitality is evident in the outstanding service and attention to detail.
Therefore, if you are considering organizing an office party in Manchester, Rosso Restaurant and Bar should be your first choice for an unforgettable dining experience. Whether you desire an elegant setting or delicious Italian cuisine, this venue has everything you need.
The French
The French, located in Manchester, is an epitome of culinary excellence, offering a menu that is a harmonious blend of tradition and innovation. The menu, curated by Adam Reid, showcases a selection of dishes that are not only visually appealing but also tantalizing to the taste buds. Each dish is a testament to the chef's commitment to quality, with ingredients sourced with care and dishes crafted with precision.
For an office party, The French provides an ambiance that is both sophisticated and inviting. The meticulously designed menu offers a range of options, ensuring that there's something for everyone. Whether it's the Pollen Bakery 'French malt' loaf with beef butter & broth or the Tipsy cake with whipped cream & tea, the offerings are sure to leave a lasting impression on your colleagues. The drinks pairing, available in both 'Tipsy' and 'Not so Tipsy' versions, complements the food perfectly, elevating the dining experience.
Choosing The French for an office party means opting for an experience that is memorable. The ambiance, the food, and the impeccable service come together to create an atmosphere that fosters conversation, camaraderie, and celebration. It's not just about dining; it's about celebrating achievements, building relationships, and creating memories. The French, with its commitment to excellence, ensures that your office party is not just an event, but an experience to be cherished.
What Makes a Restaurant Suitable for an Office Party?
Capacity: A restaurant that is ideal for hosting an office party should have ample seating and spacious areas to comfortably accommodate all guests, thereby providing them with the opportunity to socialize.
Private Rooms: It is of utmost importance for office parties to have dedicated private rooms or designated areas where attendees can gather in an exclusive and intimate setting.
Menu Variety: The restaurant should provide a wide range of options to cater to different dietary preferences and restrictions, ensuring that everyone can find something suitable to eat.
Drink Selection: It is crucial for the restaurant to offer an extensive selection of both alcoholic and non-alcoholic beverages, satisfying the varied preferences of the partygoers.
Atmosphere: The ambiance of the restaurant should be lively and festive, creating an enjoyable atmosphere for the office party. There should be the option for background music or entertainment to enhance the overall experience.
Flexible Packages: An ideal restaurant for hosting office parties should offer customizable menus, allowing organizers to tailor the event to their specific needs and budget. This flexibility ensures that the party is personalized and meets the expectations of the attendees.
Location: The location of the restaurant should be convenient and easily accessible, making it hassle-free for guests to attend the office party.
Fact: According to a survey, 82% of employees believe that office parties contribute to a positive work environment and boost employee morale.
How to Plan an Office Party at a Restaurant?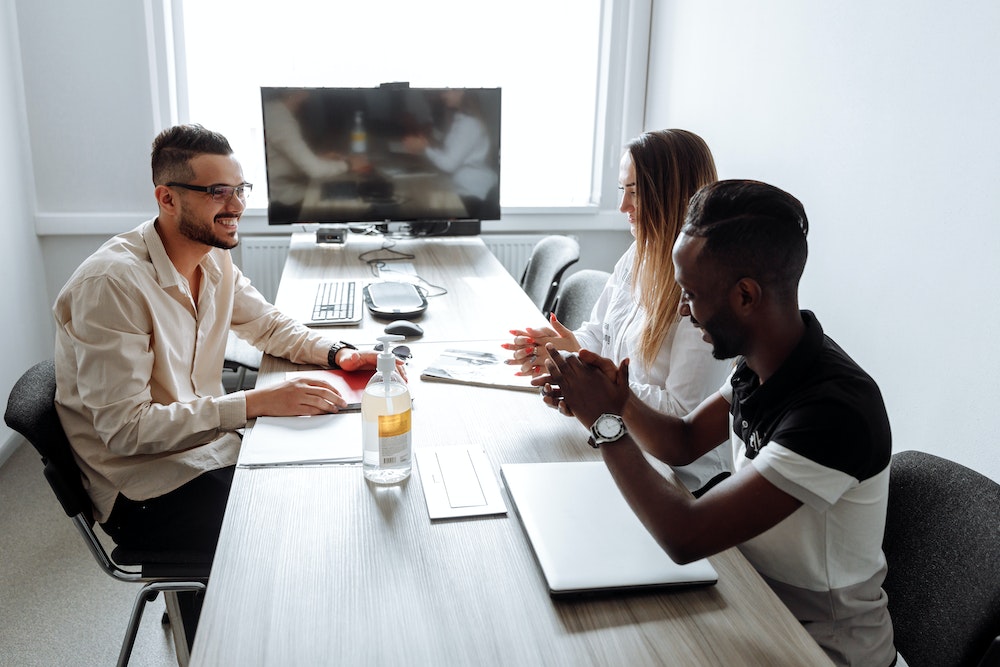 Plan an office party at a restaurant with these steps:
1. Set a budget: Determine your spending limit for the party to assist in narrowing down restaurant options.
2. Select a date and time: Consider the availability and preferences of your colleagues. Avoid conflicts with important events at the company.
3. Choose a restaurant: Research and choose a restaurant that can accommodate the size of your party and offers a suitable atmosphere and cuisine. Read reviews and seek recommendations for a good experience.
4. Make a reservation: Contact the restaurant in advance to book a space for your party. Provide the number of attendees and any specific requirements.
5. Create a menu: Collaborate with the restaurant to create a tailored menu that caters to dietary restrictions and preferences. Offer a variety of options.
6. Plan activities and entertainment: Decide on additional activities such as games, speeches, or music. Coordinate with the restaurant to ensure they can accommodate your plans.
7. Send out invitations: Share all necessary details, including the date, time, location, and any instructions. Keep track of RSVPs to have an accurate number of attendees.
8. Finalize details: Confirm arrangements with the restaurant a few days before the party, including the menu and seating arrangements.
9. Enjoy the party: Arrive early to decorate, relax, and have fun celebrating with your colleagues.
Benefits of Having an Office Party at a Restaurant
Having an office party at a restaurant has several benefits. Here are some advantages of choosing a restaurant for your office party:
1. Convenience: Hosting your office party at a restaurant saves you the hassle of organizing and preparing food. You can choose a restaurant that offers catering services, and they will take care of all the arrangements. This allows you to focus on enjoying the party and socializing with colleagues.
2. Variety of options: Restaurants offer a wide range of menu options to suit different tastes and dietary preferences. They can accommodate everyone, including vegetarian and gluten-free employees. This makes the party more inclusive and enjoyable for all.
3. Professional ambiance: Holding your office party at a restaurant provides a professional and sophisticated atmosphere. It offers a change of scenery from the office, allowing employees to relax and have a good time. This can foster positive relationships among colleagues and boost morale.
4. Time and cost-efficient: Planning an office party from scratch can be time-consuming and expensive. Choosing a restaurant saves time and avoids additional expenses like renting a venue or hiring staff. Restaurants have trained staff experienced in hosting events, ensuring smooth operations.
5. Stress-free clean-up: After the party, the restaurant staff will take care of all the clean-up. This allows you and your colleagues to head home and relax.
Having an office party at a restaurant offers convenience, variety, a professional ambiance, and saves time and costs. It provides an opportunity for colleagues to socialize and bond in a relaxed setting. Office parties at restaurants can enhance team spirit and employee satisfaction. Consider choosing a restaurant for your next office party and enjoy the benefits it offers.
How to Choose the Right Restaurant for Your Office Party?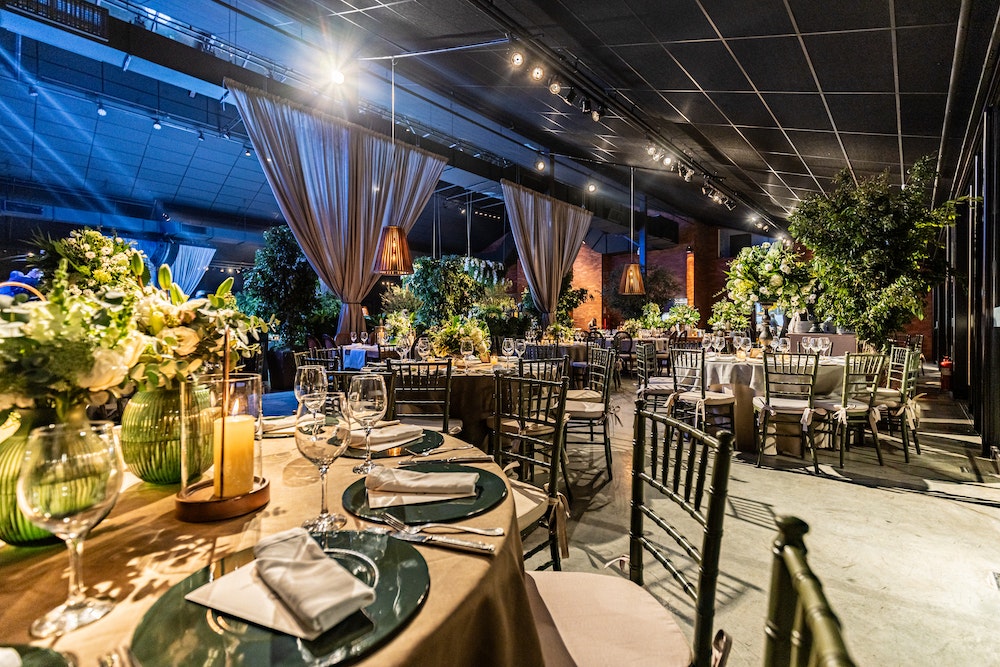 When selecting a restaurant for your office party, please take into consideration the following factors:
1. Location: Choose a restaurant that is conveniently situated for everyone in order to minimise travel time and ensure maximum attendance.
2. Capacity: Verify if the restaurant can accommodate the expected number of guests without overcrowding or requiring individuals to stand.
3. Menu options: Consider dietary preferences and restrictions. Opt for a restaurant that provides a range of dishes, including options for vegetarians, vegans, and those with gluten-free requirements.
4. Atmosphere: Select a restaurant with an ambiance that suits the desired mood for your office party. Choose an elegant venue for a formal setting and a casual or trendy location for a more relaxed vibe.
5. Pricing: Establish a budget and find a restaurant that offers packages or menu options within that range. Make sure to clarify any additional costs, such as service charges or corkage fees.
It is advisable to visit the restaurant in person or check online reviews to assess the quality of service and food. Ask colleagues or friends for recommendations based on their successful office parties.
Pro-tip: Engage in discussions with colleagues to gather their preferences and obtain feedback after the party, which will assist you in choosing the right restaurant for future events.