Brighton, a vibrant and eclectic city nestled by the sea, is a treasure trove of unique and exciting experiences waiting to be discovered. Known for its rich history, artistic spirit, and lively atmosphere, it offers a plethora of attractions in Brighton for a day out, catering to a wide range of preferences and interests.
Whether you're an art aficionado, a history buff, a food lover, a sports fan, or an adventure seeker, Brighton has something special to offer. In this guide, we will navigate through the top 10 best attractions in Brighton for a day out, each promising a memorable experience filled with discovery, enjoyment, and wonder.
From the iconic Brighton Palace Pier to the enchanting Royal Pavilion, these attractions encapsulate the essence of Brighton, making them essential stops for anyone wishing to fully immerse themselves in the vibrant culture and diverse offerings of this seaside gem.
So, get ready to explore, indulge, and create unforgettable memories in the colorful tapestry that is Brighton!
The Royal Pavilion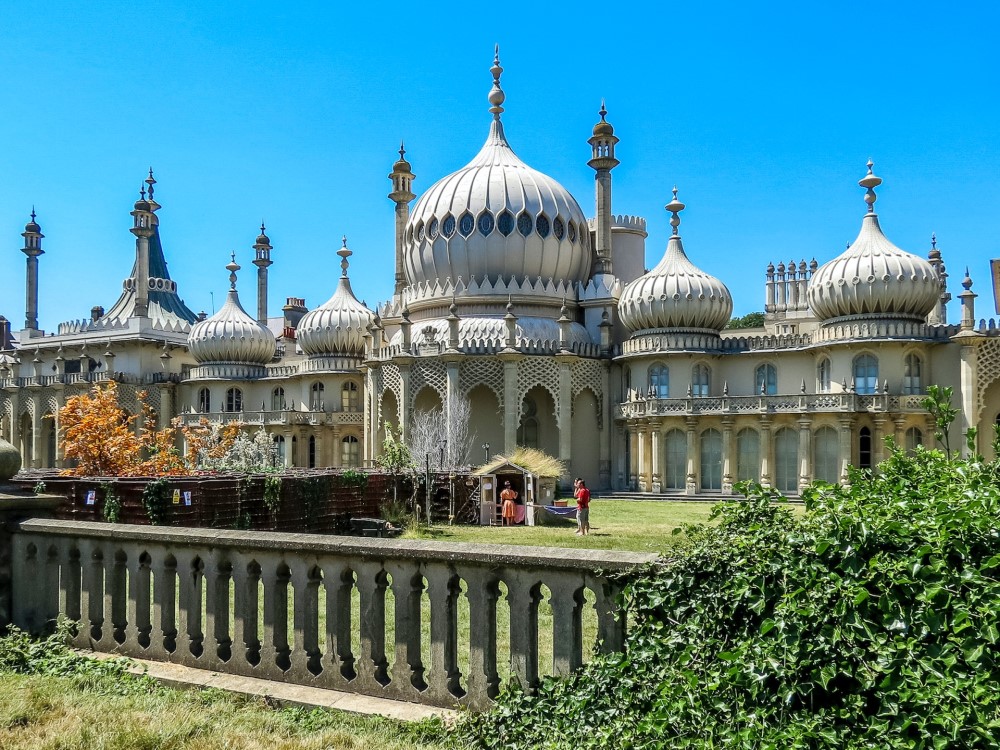 The Royal Pavilion is an architectural gem in Brighton. This historic building, formerly a retreat for the Prince Regent, is now open to the public and offers a glimpse into the past.
Constructed in the early 19th century, the Royal Pavilion showcases a unique Indo-Saracenic design that combines Indian and Oriental influences with British architecture. The domes, minarets, and vibrant interiors make it a remarkable sight.
Visitors can explore the opulent state rooms, including the Banqueting Room and the Music Room. The intricately decorated interiors are awe-inspiring. Remember to take a leisurely walk through the beautiful gardens surrounding the Pavilion, with their colourful blooms and serene atmosphere.
Consider taking a guided tour for an immersive experience. Knowledgeable guides will provide insights into the history, art, and culture that influenced the Pavilion's creation.
Whether you're interested in history, architecture, or seeking a unique cultural experience, the Royal Pavilion is a must-visit attraction in Brighton. Immerse yourself in the grandeur of this iconic landmark and discover its stories and secrets.
When planning your visit, check the opening hours and any guidelines or restrictions. Purchase tickets in advance to avoid queues. Remember to bring your camera to capture the beauty of the building. Also, explore the surrounding area and enjoy Brighton's vibrant atmosphere, known for its beachfront, shops, and arts scene.
Brighton Palace Pier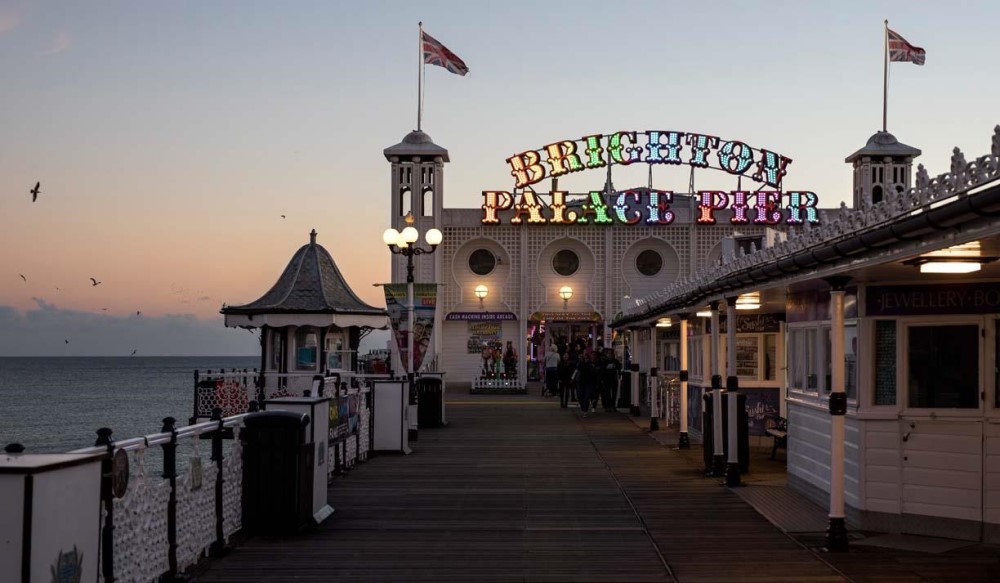 Brighton Palace Pier, also known as the Brighton Pier, is a prominent attraction in Brighton. The pier offers a delightful day for visitors of all ages. It is a vibrant landmark that extends over the English Channel, providing breathtaking views of the sea and coastline.
The pier possesses iconic amusement park rides and attractions, ensuring an exhilarating experience. From thrilling roller coasters to traditional arcade games, there is something for everyone.
There are numerous food stalls and restaurants on the pier where you can indulge in traditional fish and chips or sample a variety of cuisines.
You can take a leisurely stroll along the pier and explore charming shops that offer a range of souvenirs, clothing, and unique gifts.
Brighton Palace Pier is a fantastic place to relax and soak up the sun. You can unwind on deck chairs or enjoy a picnic on the nearby beach.
Adventure enthusiasts can join fishing trips or try angling from designated areas on the pier.
The pier is a hub of entertainment, hosting live music performances, fireworks displays, and seasonal events throughout the year.
Children will particularly enjoy the pier's funfair section, which features rides, arcade games, and attractions designed for younger visitors.
Whether you are seeking an adrenaline rush, local cuisine, or a place to unwind and enjoy the surroundings, Brighton Palace Pier is an essential attraction to visit in Brighton.
When visiting Brighton Palace Pier, check the schedule for any special events or promotions. Consider the weather conditions and plan your visit accordingly to make the most of your experience. Don't forget to capture the stunning coastline views and create lasting memories.
The Lanes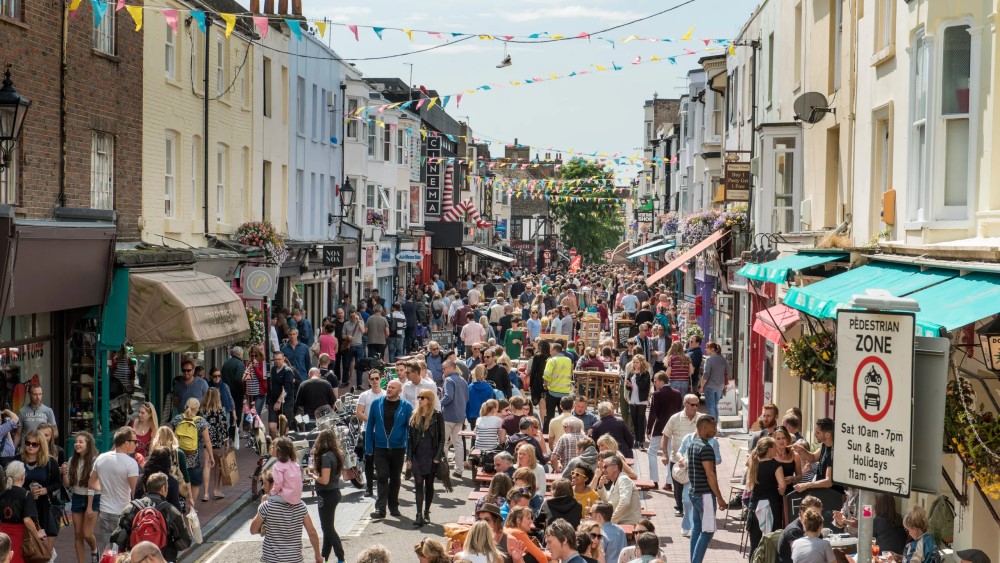 The Lanes in Brighton is a captivating and must-visit attraction for anyone looking to experience the unique and eclectic charm of this seaside town. This intricate maze of narrow, winding alleyways is brimming with a diverse array of shops, making it a haven for those keen to discover one-of-a-kind treasures and trinkets.
The area is steeped in history, originally forming the heart of the fishing town of Brighthelmstone. Visitors can feel the echoes of the past as they wander through the narrow passages lined with flint-walled cottages and quirky, independent shops. It's a living, breathing snapshot of Brighton's rich heritage, offering a delightful journey through time.
Shopping enthusiasts will find themselves lost in a world of possibilities, with boutiques, antique stores, and jewellers offering a plethora of unique and bespoke items. Whether you're on the hunt for vintage clothing, rare collectibles, or custom-made jewellery, The Lanes promises an unparalleled shopping experience that caters to a variety of tastes and preferences.
But The Lanes is not just about shopping and history; it's also a gastronomic paradise. The area is dotted with a multitude of eateries, cafes, and pubs, each serving a smorgasbord of culinary delights, ranging from traditional English dishes to exotic international fare. It's the perfect place to satiate your taste buds and discover new flavours, all while soaking in the vibrant and lively atmosphere of Brighton.
Brighton Beach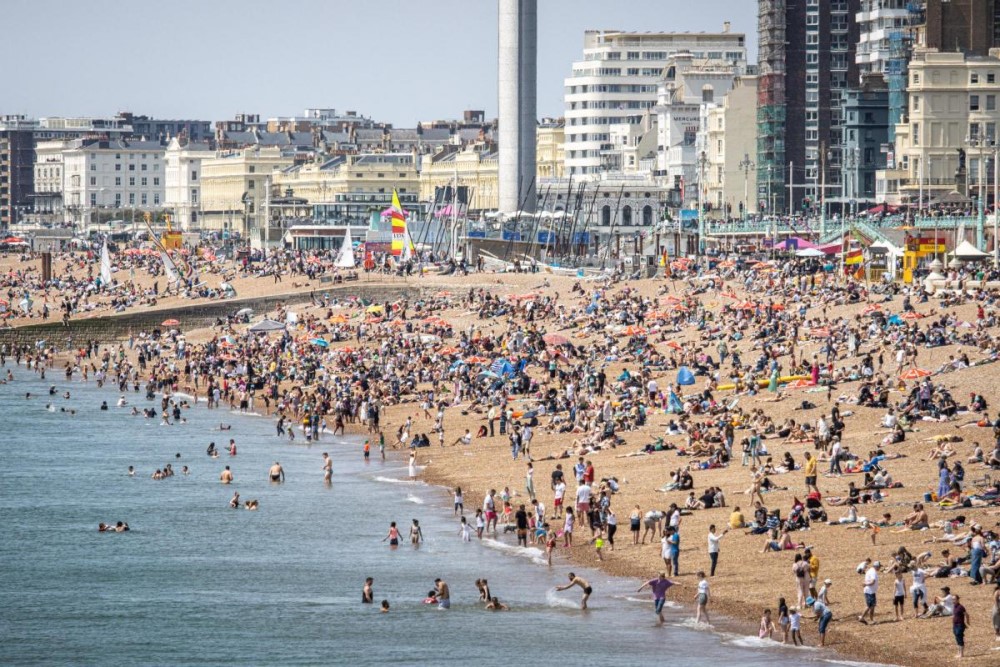 On the southern coast of England, there is a popular attraction for both tourists and locals. Brighton Beach offers a variety of activities and amenities that make it a must-visit destination. It provides a scenic setting for sunbathing and enjoying the sea breeze.
The sandy shoreline is ideal for leisurely walks or building sandcastles. The crystal-clear blue waters of the English Channel are perfect for swimming.
Brighton Beach also offers water sports such as paddleboarding, kayaking, sailing, jet skiing, and boat tours. Visitors can enjoy seaside cuisine at beachfront cafes and restaurants, which serve dishes like fish and chips and ice cream.
In addition to relaxation and enjoyment, Brighton Beach also hosts events and festivals throughout the year, such as beach volleyball tournaments, live music performances, and open-air art exhibitions. The beach's stunning views of Brighton Pier and the historic West Pier add to its appeal.
Whether you want to sunbathe, take part in water activities, or immerse yourself in the lively atmosphere, Brighton Beach is the perfect place to spend a day by the sea.
British Airways i360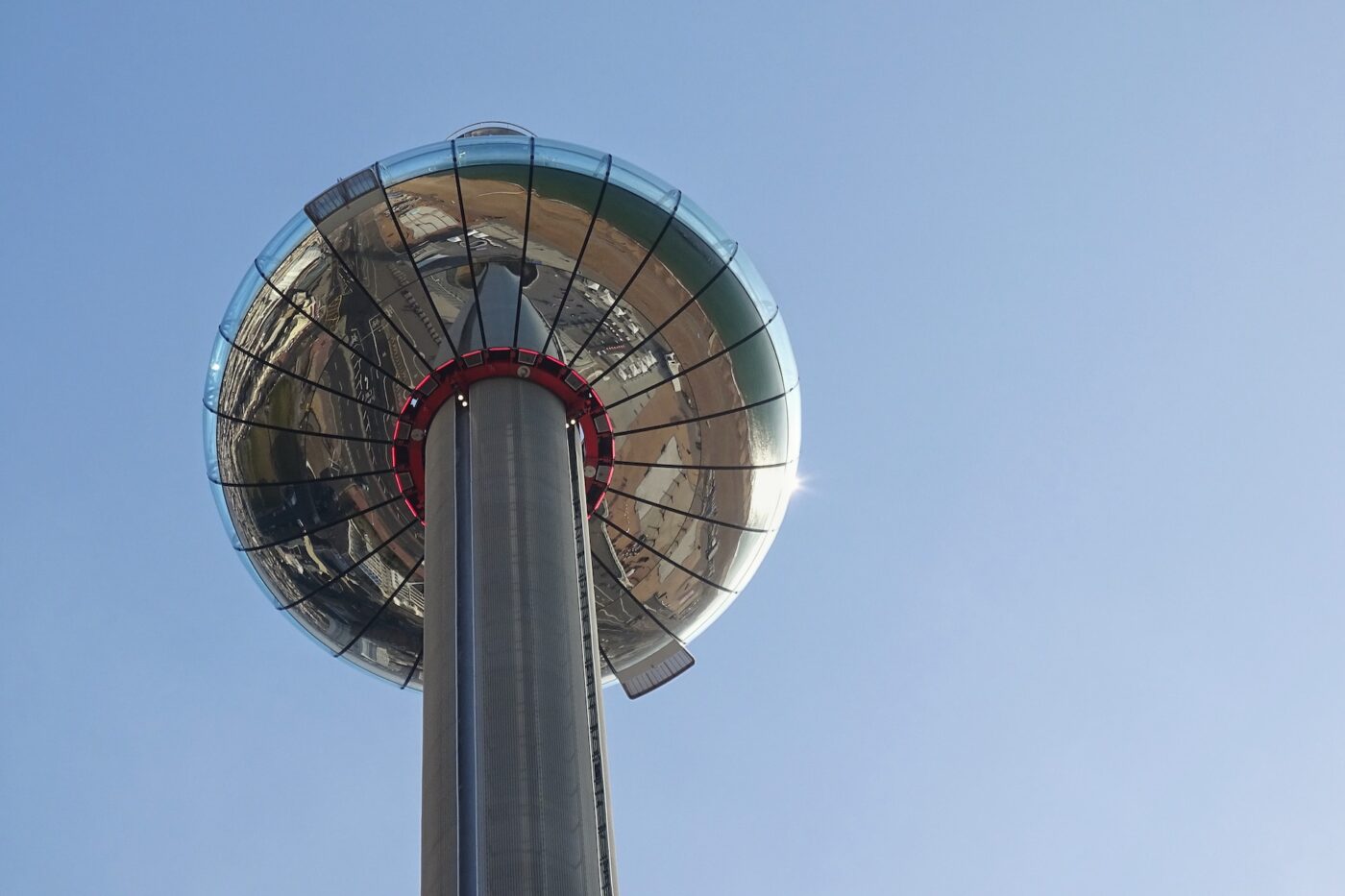 The British Airways i360 in Brighton is a popular attraction. Here are key details about this iconic landmark:
1. Height: The British Airways i360 is a 162-metre tall vertical cable car.
2. Views: Visitors can enjoy breathtaking views of Brighton and its surrounding areas from the observation tower.
3. 360-Degree Panoramic Experience: The i360 offers a unique 360-degree viewing experience, showcasing the beauty of the coastline, the city, and the South Downs.
4. Stability: The structure of the British Airways i360 is designed to withstand winds up to 105 miles per hour.
5. The Pod: Guests ride in a futuristic glass viewing pod that can accommodate up to 200 people at a time.
6. Duration: Each ride on the i360 lasts approximately 20 minutes, allowing ample time to enjoy the views and take memorable photographs.
7. Accessibility: The British Airways i360 is wheelchair accessible, ensuring everyone can enjoy the experience.
8. Photography: Visitors are encouraged to bring cameras to capture the stunning views.
9. Events: The i360 also hosts special events such as live music, yoga classes, and weddings, creating a unique and memorable experience.
10. Gift Shop: There is an on-site gift shop where visitors can purchase souvenirs.
Whether you're a tourist or a local, a visit to the British Airways i360 is a must to enjoy incredible views and create lasting memories in Brighton.
Brighton Museum and Art Gallery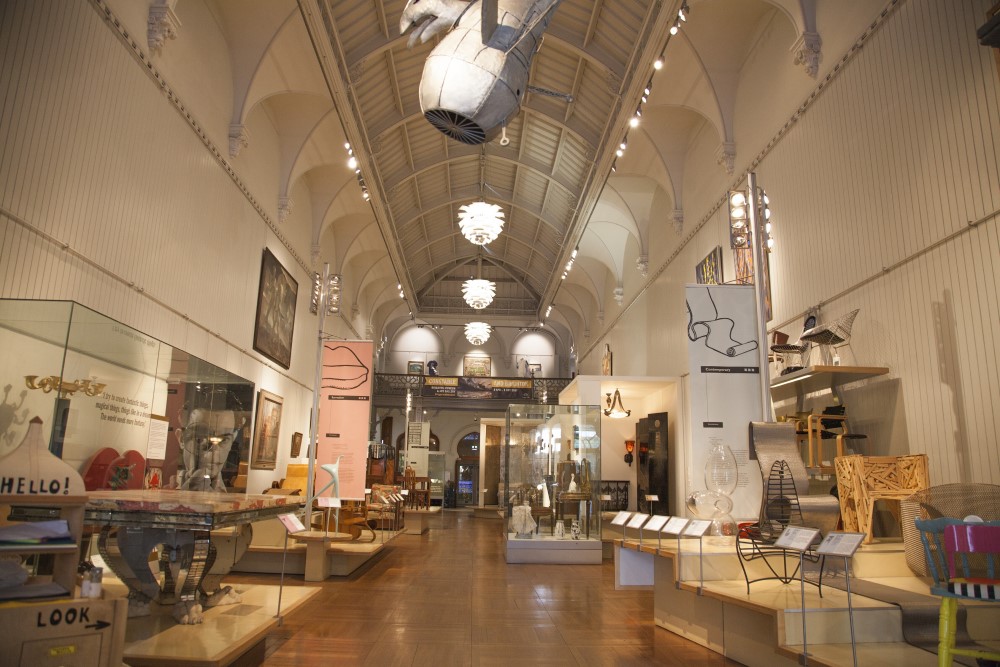 The Brighton Museum and Art Gallery has a wide-ranging collection of artistic works and historical objects. Visitors can explore exhibitions that showcase the cultural heritage and artistic accomplishments of Brighton and beyond.
This museum in Brighton displays paintings, sculptures, and decorative arts, offering a unique opportunity to appreciate Brighton's fascinating history and vibrant artistic scene. Temporary exhibitions also allow visitors to experience different genres and styles.
One particularly notable aspect of the Brighton Museum and Art Gallery is its extensive collection of artefacts relating to local history. It provides insights into Brighton's past, including archaeological discoveries and objects from the Victorian era. Visitors can learn about Brighton's transformation into a seaside resort and its social and cultural significance.
The Brighton Museum and Art Gallery is an excellent destination for art enthusiasts and history buffs alike. With captivating displays and informative narratives, it offers a glimpse into Brighton's artistic and historical heritage. Whether you have an interest in local culture or fine art, a visit to the Brighton Museum and Art Gallery is highly recommended.
So, if you happen to be in Brighton, be sure to visit the Brighton Museum and Art Gallery to immerse yourself in the rich cultural fabric of this vibrant city.
North Laine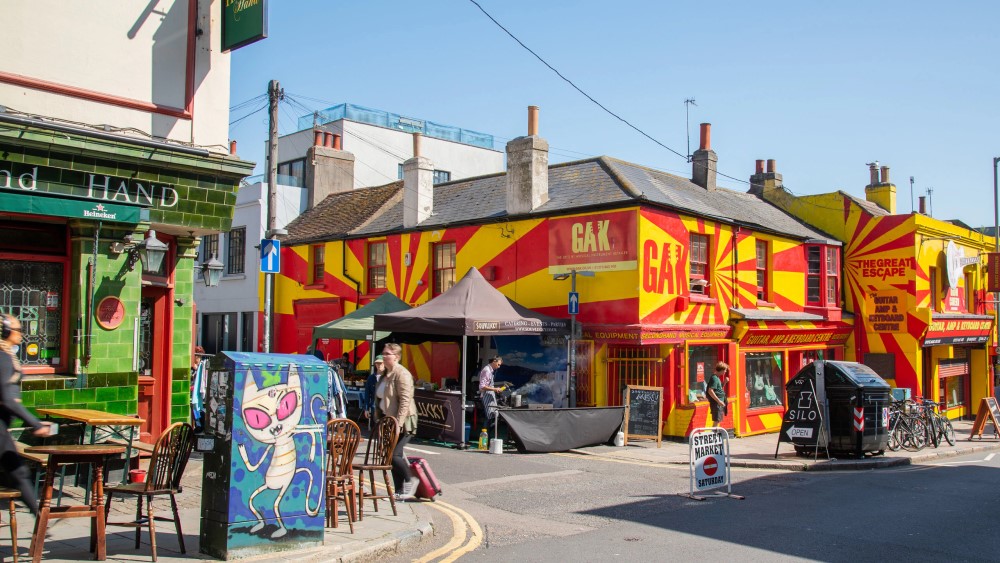 The North Laine area in Brighton is a bustling neighbourhood with distinctive shops, cafes, and entertainment options. Here are a few important attractions to discover:
North Laine is well-known for its wide selection of independent shops, offering vintage clothing, records, crafts, and homeware.
While walking through North Laine, you will come across vibrant street art created by local and international artists.
North Laine is home to small theatres and live music venues, which host intimate performances by local artists and emerging talents.
North Laine offers a variety of dining options, from trendy cafes serving artisanal coffee and homemade pastries to international eateries.
Every Saturday, the North Laine Market showcases unique stalls selling handmade crafts, vintage clothing, and street food.
Explore the lively streets of North Laine and immerse yourself in the creative and diverse atmosphere. Whether you are shopping, dining, or simply enjoying the ambiance, North Laine has something to offer everyone.
Brighton Marina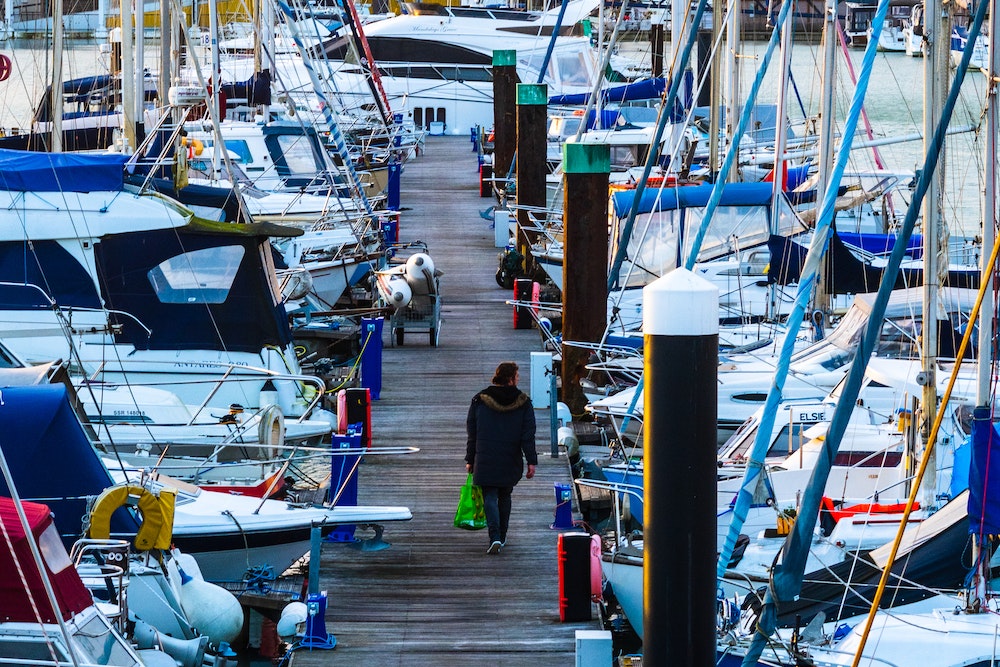 Brighton Marina in Brighton, UK, offers a range of activities and facilities for visitors. Here are some notable features:
Entertainment: Brighton Marina has a cinema, bowling alley, and casino for visitors to enjoy.
Shopping: The marina has a diverse selection of shops, ranging from well-known brands to unique boutiques.
Dining: Brighton Marina offers a variety of restaurants, cafes, and bars with delicious cuisine and views of the waterfront.
Water Sports: The marina is ideal for water sports such as sailing, jet skiing, and paddleboarding.
Boat Trips: Visitors can take boat trips to explore the coastline and appreciate the scenic views.
Before visiting Brighton Marina, it is advisable to check the local weather conditions for water-based activities and any age or height restrictions. Whether you are interested in entertainment, shopping, dining, or water activities, Brighton Marina is a destination that should not be missed in Brighton.
Preston Park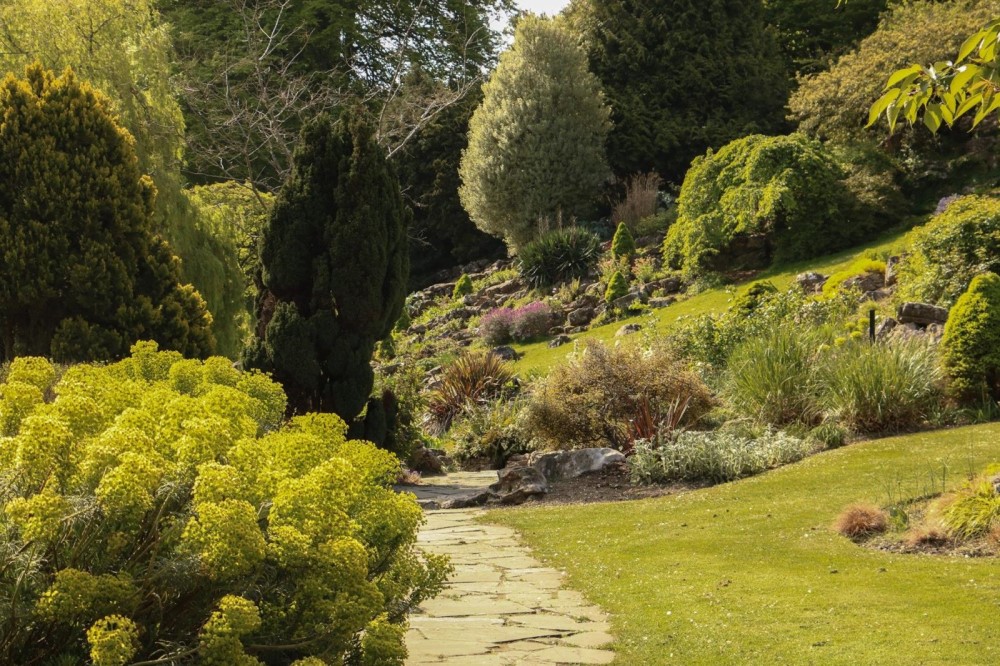 Preston Park in Brighton is a well-liked attraction with a variety of facilities and activities for visitors.
Picnic Area: This wonderful park in Brighton boasts a spacious area for picnics surrounded by lush greenery.
Playground: Families with children can explore and enjoy the park's playground, which is equipped with various play equipment.
Sports Facilities: There are tennis courts and a skate park available for sports enthusiasts.
Gardens and Green Spaces: Preston Park has beautifully maintained gardens and open spaces, perfect for leisurely strolls or picnics.
Historical Features: The park is home to historical attractions such as the Preston Twins, the oldest elm trees in Brighton.
Events and Festivals: Throughout the year, the park hosts music concerts, food festivals, and community gatherings.
Wildlife Spotting: Nature enthusiasts have the opportunity to spot various wildlife, including squirrels, birds, and butterflies, making it an ideal location for photography.
Café: The park offers a café where visitors can enjoy drinks and snacks for refreshments.
Accessibility: Preston Park is accessible to all, with wheelchair ramps and accessible toilets available.
River Adur: The park is situated alongside the picturesque River Adur, providing opportunities for scenic riverside walks.
Whether you are seeking relaxation, outdoor activities, or a place to reconnect with nature, Preston Park is an excellent destination for a day out in Brighton.
Booth Museum of Natural History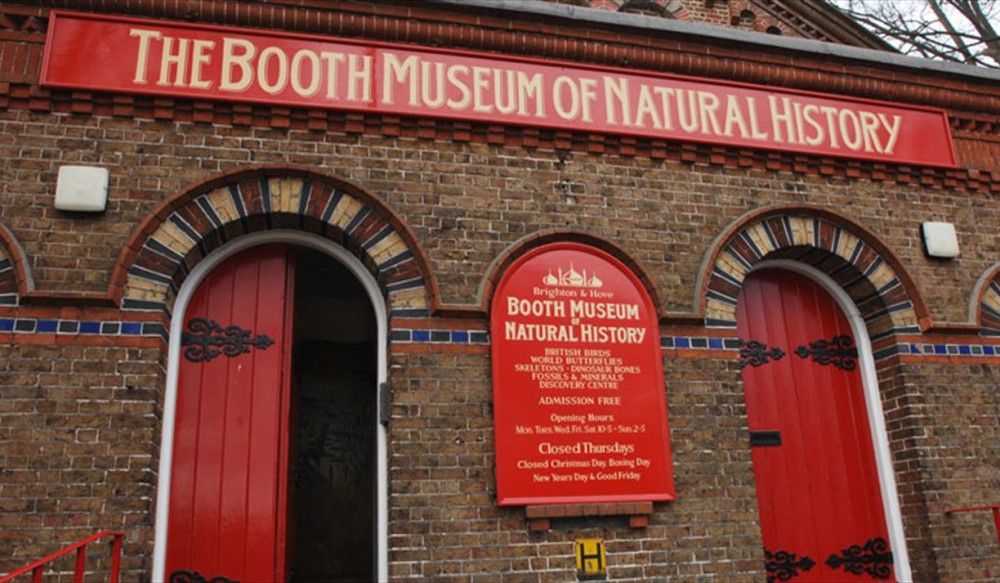 The Booth Museum of Natural History in Brighton is a place that nature enthusiasts and history enthusiasts should definitely visit. Here are the reasons why:
1. Interesting displays: The museum showcases a wide variety of specimens from the natural world, such as birds, mammals, insects, fossils, and skeletons. Visitors can learn about the diversity of the natural world and explore its complexities.
2. Rare and unique exhibits: The museum houses rare and unique specimens, including the extinct dodo bird and beautifully preserved butterflies. There is something intriguing for everyone.
3. Engaging educational experiences: Visitors of all ages can enjoy interactive exhibits, touchable displays, guided tours, and workshops that enhance their understanding of the natural world.
4. Significant historical value: Founded in the 19th century by Edward Booth, the museum originally began as a study collection and eventually evolved into a public museum. Immerse yourself in the historical context and appreciate the efforts made to preserve our natural heritage.
When planning your visit to Brighton, make sure to include the Booth Museum of Natural History on your list of must-see attractions. Explore fascinating exhibits, encounter rare specimens, engage in educational experiences, and appreciate the historical significance of this remarkable museum.
What Makes Brighton a Popular Tourist Destination?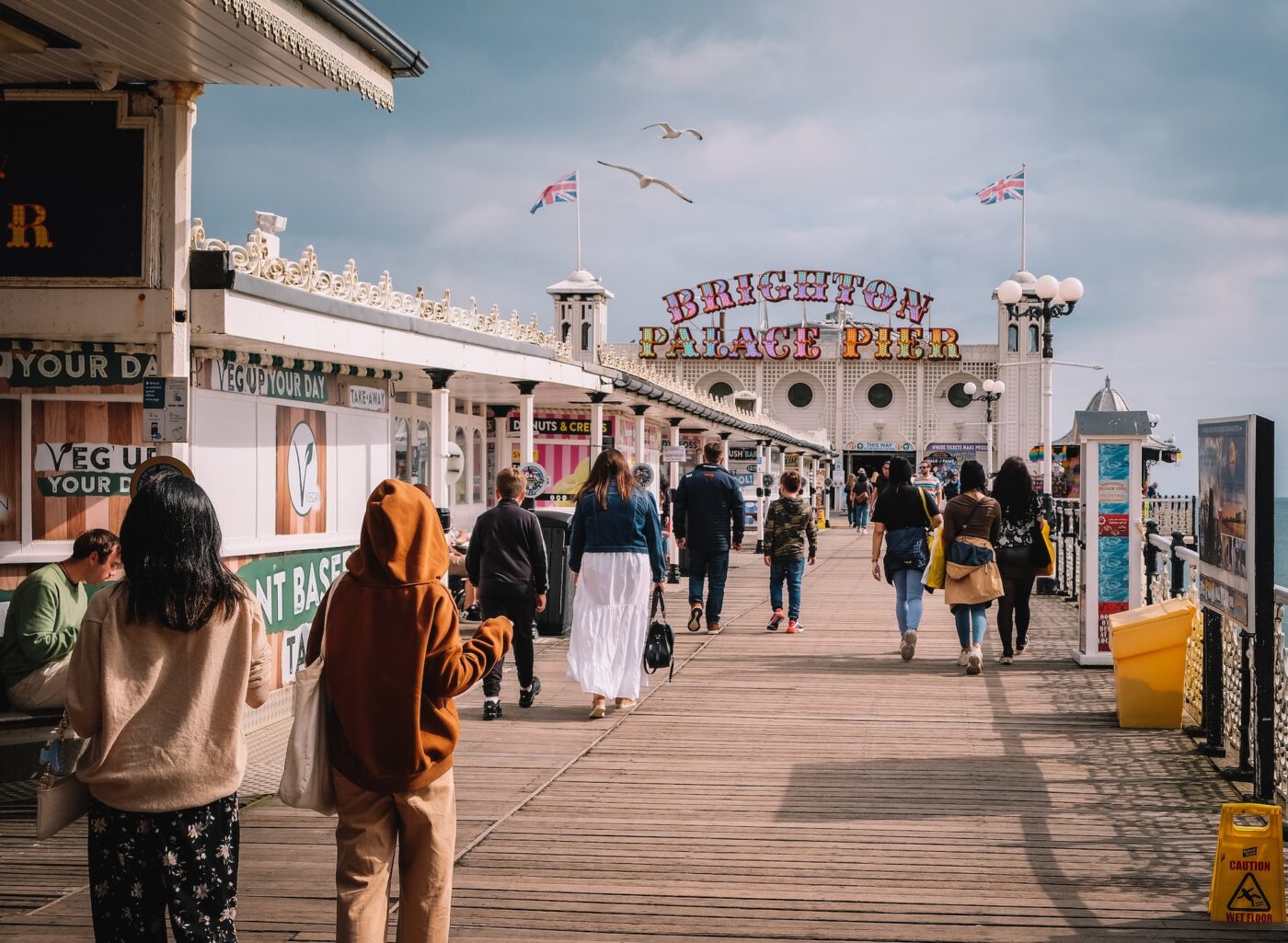 Brighton possesses a noteworthy historical background that dates back centuries. What is the history of Brighton? Initially, it was a small fishing village renowned as Brighthelmstone. In the 18th century, it gained popularity due to its beneficial sea air, which was believed to have positive effects on health. During the early 19th century, King George IV, who was then the Prince Regent, chose Brighton as his summer residence, subsequently enhancing its reputation and attracting the upper class.
Throughout the Victorian era, Brighton witnessed a surge in popularity, leading to the construction of the Brighton Palace Pier in 1899. This pier became a significant attraction, drawing tourists from various locations. The city showcases a combination of architectural styles, including Victorian terraced houses, Regency townhouses, and Edwardian buildings.
In the 20th century, Brighton cultivated a vibrant cultural scene that enticed artists, musicians, and writers. It also played a crucial role in both World Wars, serving as a military base and a hospital for injured soldiers.
Presently, Brighton remains a thriving tourist destination, offering its visitors historic landmarks, a lively nightlife, and a vibrant arts scene. Tourists have the opportunity to explore notable attractions such as the Royal Pavilion, the Victorian architecture along The Lanes, and the Brighton Museum and Art Gallery to delve into its fascinating past. What is the history of Brighton?
What Are Some Family-Friendly Attractions in Brighton for a Day Out?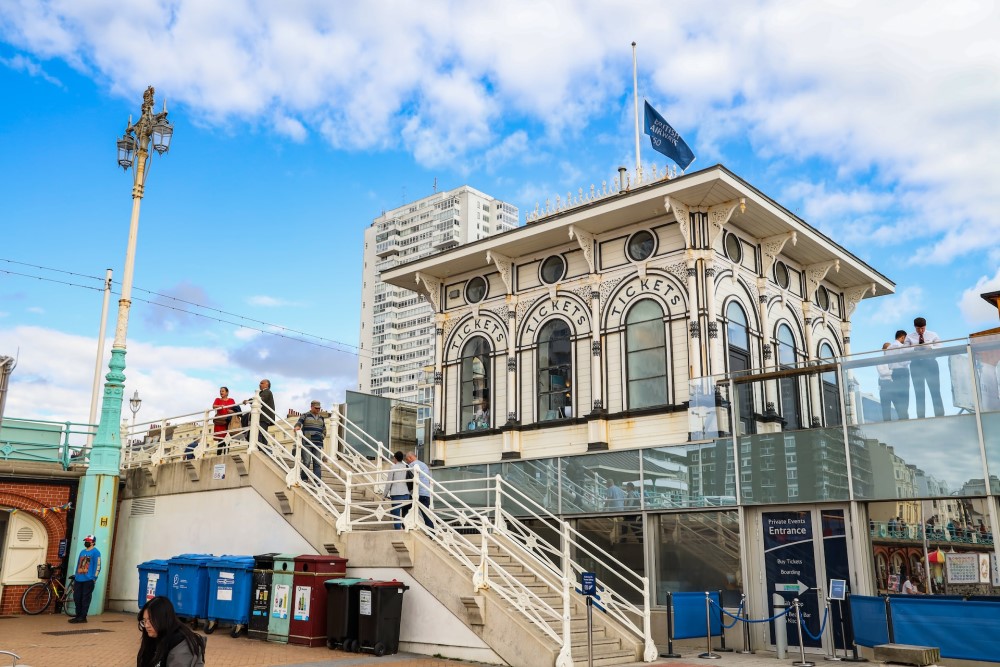 Brighton offers a range of family-friendly attractions for an enjoyable day out. Here are some of the top choices:
Sixes Brighton: For a one-of-a-kind experience, don't miss Sixes Brighton, a Restaurant Bar equipped with a top-of-the-line cricket batting cage. Whether your family consists of cricket enthusiasts or novices, this venue offers an exciting opportunity to test your cricket batting skills. Perfect for groups, Sixes Brighton's cricket experience adds an adrenaline-packed dimension to your day out. Plus, the venue goes beyond sports with a delightful menu of culinary offerings, including burgers, sharing plates, wood-fired pizzas, and a variety of beverages. Each booking ensures a comfortable table for your family to savor their meals and drinks.
Brighton Palace Pier: This traditional attraction offers amusement rides, arcades, and a classic seaside atmosphere.
Preston Park: This extensive park includes playgrounds, picnic areas, a miniature railway, and regular family-friendly events.
The Booth Museum of Natural This fascinating museum displays a comprehensive collection of natural history specimens, including dinosaurs and fossils.
Brighton Beach: Families can enjoy a day out on the picturesque pebble beach, building sandcastles and exploring rock pools.
Brighton Museum and Art Gallery: This family-friendly museum exhibits art, history, and cultural displays, with interactive exhibits and activities for children.
The Lanes: This charming shopping area has narrow, winding streets filled with unique shops, boutiques, and cafes, making it a great place for families to explore and find souvenirs.
Brighton Marina: Families can take a leisurely stroll in this busy marina complex, which offers boat tours, restaurants, cafes, and a spacious cinema.
British Airways i360: This observation tower provides panoramic views of Brighton, offering a unique experience for families.
North Laine: This fashionable and eclectic neighborhood is famous for its independent shops, street art, and lively atmosphere. Families can explore the shops and grab a bite to eat at one of the many cafes.
The Royal Pavilion: This magnificent palace, built in a distinctive Indian architectural style, offers guided tours to learn about its history and beautiful gardens.
Were you aware that Brighton Beach is home to one of the oldest piers in the world, Brighton Palace Pier? Dating back to 1823, it is a testament to the long history and enduring popularity of this family-friendly destination.