Brighton, with its unique charm and lively atmosphere, is the perfect city to host your office party. Known for its vibrant nightlife scene, diverse range of venues, and excellent transportation connections, Brighton offers an array of options to cater to your party needs.
Its endless entertainment options, professional event services, and welcoming atmosphere make it an ideal choice for a memorable and enjoyable office party experience. With a variety of catering and food options, top party venues, and opportunities for team-building activities, Brighton has everything you need to create an unforgettable office party.
Let's explore why Brighton is the perfect city for your office party.
Elevate Your Office Party: Unveiling Brighton's Allure with Sixes Social Cricket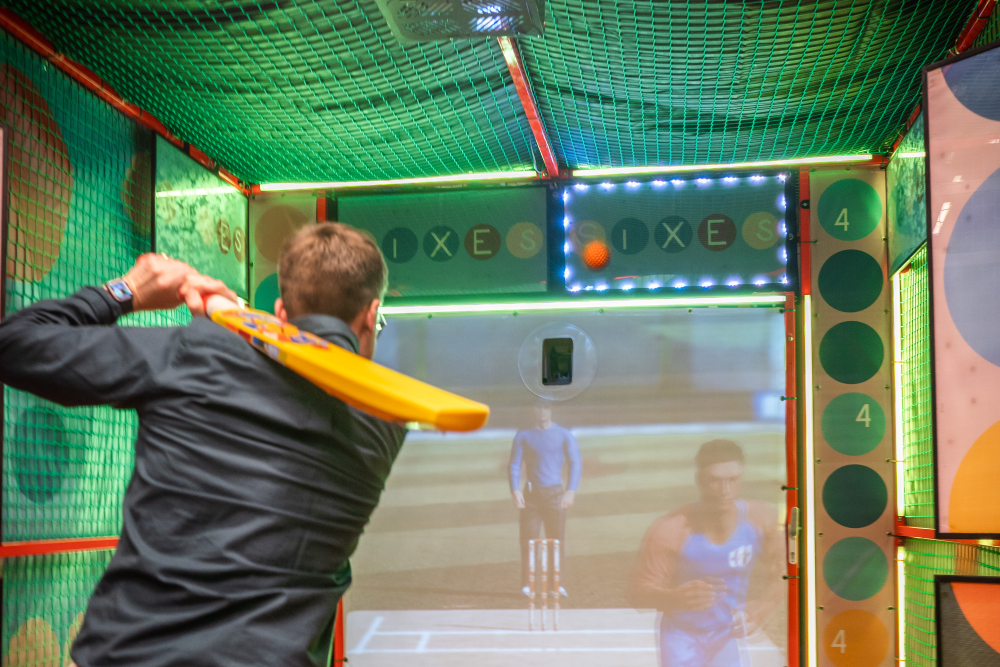 When it comes to hosting an office party that transcends the ordinary, Brighton emerges as the perfect canvas to paint a vibrant celebration. Among the city's unique offerings, Sixes Brighton stands as a distinctive gem, adding a dynamic and thrilling dimension to your office festivities.
1. Vibrant Atmosphere of Brighton: Brighton, with its eclectic culture and lively atmosphere, sets the stage for an office party like no other. From the iconic Brighton Palace Pier to the colorful streets of the North Laine, the city exudes a vibrant energy that adds an extra layer of excitement to your celebration.
2. Unique Venues for Diverse Tastes: Brighton boasts an array of unique venues to suit various preferences. From sophisticated cocktail bars to quirky and intimate spaces, the city offers a diverse selection. And nestled within this diverse landscape is Sixes Brighton—a venue that brings a modern twist to the traditional game of cricket. It's not just a place to dine; it's a hub for a multiplayer batting challenge, where office colleagues can bond over a shared passion for sports and camaraderie.
3. Unconventional Cricket Experience at Sixes: Sixes Brighton, situated in the heart of Brighton, provides an exhilarating and unconventional experience for your office party. It reimagines cricket, blending world-class hospitality with cutting-edge sports technology. Participants of all skill levels can engage in a multiplayer batting challenge against virtual representations of the world's greatest bowlers. The game, suitable for groups ranging from 4 to 400 guests, adds an adrenaline-packed layer to your celebration.
4. Culinary Delights for Every Palate: Brighton is renowned for its diverse culinary scene, and Sixes Brighton seamlessly integrates into this gastronomic tapestry. Beyond the cricketing excitement, Sixes offers a culinary experience with a menu featuring mouthwatering burgers, sharing plates, wood-fired pizzas, and a range of beverages. Each booking ensures a table for guests to relish their meals, making it a perfect destination for a comprehensive office party experience.
5. Multifaceted Entertainment: Brighton offers more than just cricket; it provides a plethora of entertainment options. From the artsy vibes of The Lanes to the bustling Brighton Marina, your office party can seamlessly transition from cricketing excitement to leisurely strolls and exploration, ensuring everyone finds an aspect of Brighton that resonates with their preferences.
6. Central Location and Accessibility: Brighton's central location and excellent transport links make it easily accessible for office colleagues coming from various locations. Whether by train or car, the city welcomes your team with open arms, ready to host an office party that becomes the talk of the workplace.
In conclusion, Brighton's allure as the perfect city for your office party is accentuated by the inclusion of Sixes Brighton. It's a venue that not only embraces the city's vibrant spirit but also offers a unique and engaging experience that transforms an ordinary office gathering into an extraordinary celebration. Cheers to an unforgettable office party in the heart of Brighton!
Vibrant Nightlife Scene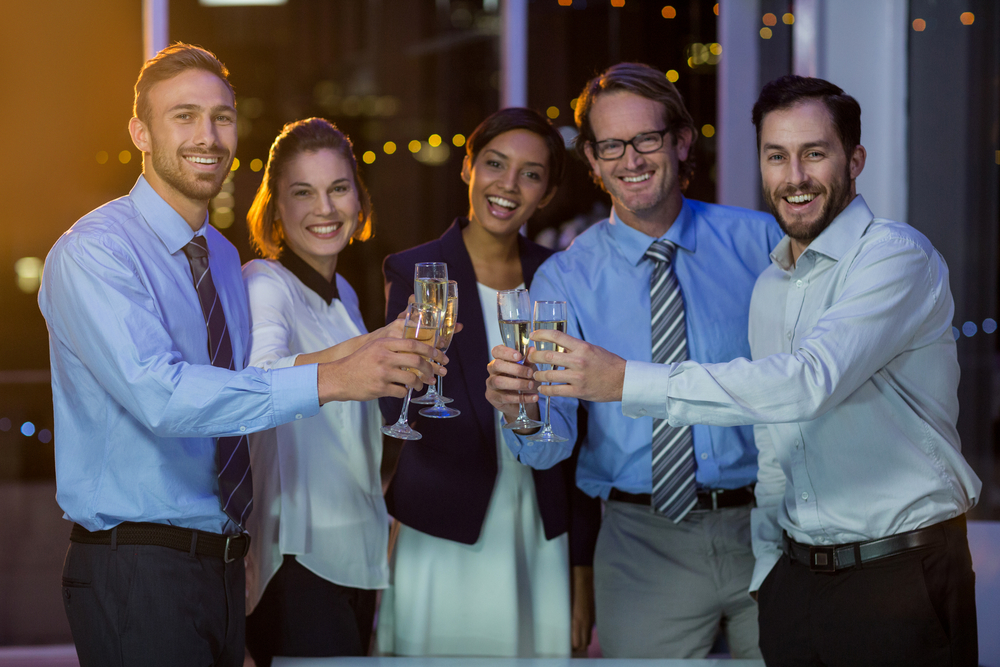 Brighton boasts a vibrant nightlife scene, making it the ideal location for your office celebration. With a plethora of establishments and societies offering late-evening entertainment, you can choose from cozy jazz clubs to lively nightclubs.
The city's exceptional music scene showcases both local bands performing in intimate venues and world-famous artists gracing larger concert arenas. Moreover, Brighton presents a wide array of restaurants and eateries where you can savor a delicious meal before embarking on your night out.
The welcoming atmosphere, coupled with the friendly locals, ensures that both residents and tourists feel right at home. It is renowned for its themed bars and unique drinking experiences, including hidden gems, rooftop bars, and shoreline venues.
Safety is given utmost priority in Brighton, evident through the presence of ample security personnel and well-lit streets. Experience an unparalleled office celebration amidst the vibrancy of Brighton's nightlife scene.
Diverse Range of Venues
Brighton offers a diverse range of venues for office parties. Options include hotels such as The Grand Brighton and the Hilton Brighton Metropole, which provide spacious function rooms for larger parties.
There are pubs, bars, and restaurants that cater to various preferences and budgets. Brighton is widely known for its unique event spaces, including art galleries and warehouses, as well as the iconic Brighton Pier.
For larger-scale events, there are purpose-built conference centers with state-of-the-art facilities available. With such a diverse range of options, finding the perfect venue for a delightful and memorable office party in Brighton is a breeze.
Unique and Iconic Locations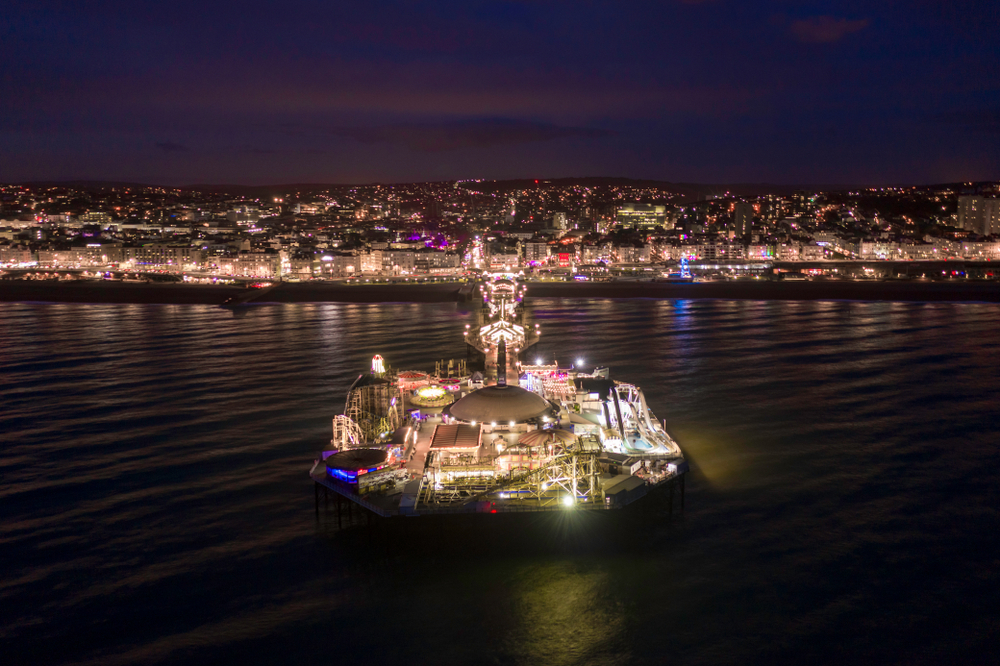 When planning your office party in Brighton, there are numerous exclusive and renowned locations, including unique and iconic landmarks, to choose from. Here are some options that will leave a lasting impression:
The Royal Pavilion: This magnificent palace is a symbolic landmark with distinct architecture and stunning gardens, providing a grand and unforgettable setting for any occasion.
The British Airways i360: Host your office party in this futuristic observation tower for a panoramic view of Brighton and the coastline. The breathtaking views will leave your guests amazed.
Brighton Palace Pier: For a lively and enjoyable atmosphere, choose the pier. It offers thrilling rides, arcade games, and breathtaking views of the sea, creating a distinctive party experience.
The Brighton Dome: This historic concert hall and theatre is a cultural centre and an excellent venue for office parties. Its unique architecture and outstanding acoustics create a memorable ambiance for any event.
The Lanes: Famous for their narrow streets and eccentric shops, the Lanes provide a charming and distinctive backdrop for your office party. You can choose from a variety of restaurants, cafes, and bars to suit your preferences.
Pro-tip: Consider the size of your office party and the specific atmosphere, such as unique and iconic locations, you wish to create before finalizing a location. Each venue offers its own unique ambiance, so it is important to align it with your event objectives.
Excellent Transportation Connections
Brighton's outstanding transportation connections make it the ideal city for your office party. Here's why:
Efficient Train Services: With frequent train connections to major cities like London, Brighton is easily accessible for both local and out-of-town guests.
Convenient Bus Network: The city boasts a well-established bus network that covers various areas, providing convenient transportation options to and from the office party venue.
Accessible Airports: Brighton is conveniently located near several airports, including Gatwick Airport. Guests flying in for the event can easily reach the city with a short train or taxi ride.
Bicycle-Friendly City: Known for its cyclist-friendly infrastructure, Brighton is a popular choice for commuters and leisure cyclists. If guests prefer eco-friendly transportation, they can easily cycle to the office party.
Plentiful Taxis and Ride-Sharing Services: Brighton offers a wide range of taxis and ride-sharing services, ensuring that guests can easily find transportation at any time, whether it's to reach the venue or go back home.
With its excellent transportation connections, Brighton ensures that your office party can be attended by guests from near and far, offering convenience and accessibility for everyone involved.
Endless Entertainment Options
Brighton offers endless entertainment options for business gatherings. The city boasts a variety of venues for live music, such as Concorde 2 and The Hope and Ruin, showcasing a wide range of genres and bands.
In addition, renowned comedians grace the stages of comedy clubs like Komedia and Brighton Comedy Club, providing an evening filled with laughter and amusement. For a more interactive experience, colleagues can partake in gaming arcades and escape rooms together.
After a productive day, Brighton's lively nightlife invites you to unwind in trendy bars and nightclubs where you can dance and celebrate. Choose Brighton for your upcoming corporate event and indulge in a memorable night of enjoyment and excitement with your colleagues.
Catering and Food Options
When it comes to catering and food options for your office party in Brighton, you have many choices. The table below provides an overview of the options available:
Consider your budget, event theme, and guest preferences when selecting the catering and food option. Whether you prefer a diverse buffet, an elegant plated dinner, or the bustling atmosphere of food trucks or street food stalls, Brighton offers a variety of choices to make your office party a memorable culinary experience.
Professional Event Services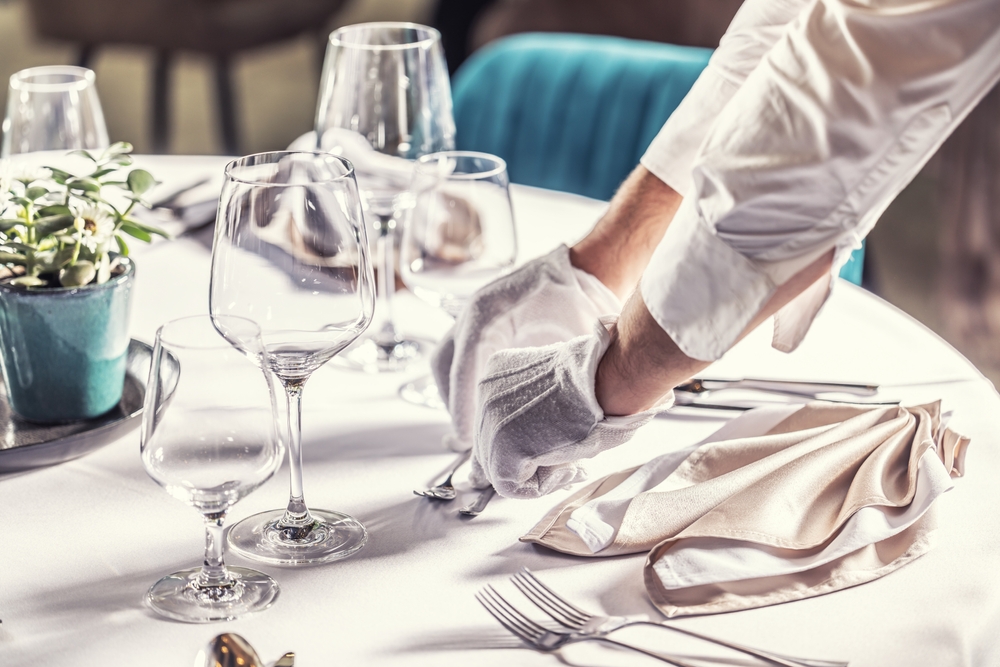 When organizing a professional event, it is crucial to utilize the services provided by professionals in the field. These professional event services offer the expertise of skilled event planners who can handle all the different aspects of event management.
This includes selecting the perfect venue, arranging for catering services, and taking care of audiovisual requirements. These event planners pay meticulous attention to even the smallest details, ensuring that the event runs smoothly and leaves a lasting impression on the attendees.
One of the major advantages of employing professional event services is that it saves both time and money. These experts have established relationships with suppliers, which allows them to negotiate competitive rates and secure the best services within your budget. They also excel at efficiently managing timelines and schedules, ensuring that everything runs on time.
Furthermore, professional event services bring in a fresh and innovative perspective to the table. They can suggest unique and creative themes, decor options, and entertainment choices. With the help of these professionals, you can expect a high level of professionalism in every aspect of your event.
They prioritize professionalism in their communication with you as well as their interactions with the attendees.
Accommodation for Attendees
When organizing an office party in Brighton, it is essential to find suitable accommodation for the attendees. It is recommended to choose accommodation that is centrally located or in close proximity to the party venue. This will make it easier for participants to travel to and from the event.
It is important to consider the budget of the office party and select affordable accommodation options. It is worth looking for deals or discounts to help reduce expenses. It is also beneficial to check if the chosen accommodation offers amenities such as free Wi-Fi, parking, or breakfast to enhance the overall experience for the attendees.
If there is a large number of participants, it is advisable to search for accommodation that provides group booking options as this can simplify the process and may offer reduced rates. Before making a final decision, it is a good idea to read reviews from previous guests to gain an understanding of the quality and service provided by the accommodation.
Pay attention to positive feedback regarding cleanliness, customer service, and location.
For instance, for our most recent office party in Brighton, we decided to book a centrally located hotel that offered group booking options. The accommodation was reasonably priced and provided excellent facilities such as free Wi-Fi and breakfast.
Our attendees expressed satisfaction with the comfortable rooms and appreciated the convenience of being close to the party venue. The positive reviews we had read beforehand proved to be accurate, as the staff was friendly and attentive to our needs.
Memorable Team-Building Activities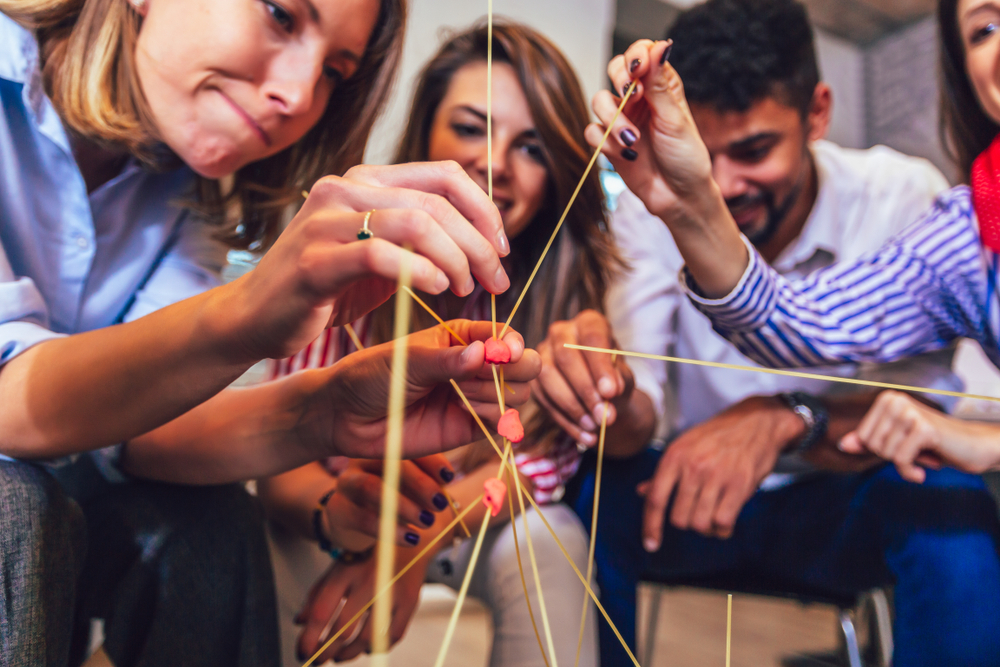 When planning a team-building activity for your office party in Brighton, it is recommended to choose memorable team-building activities that naturally encourage teamwork. Here are some suggestions:
One option is to participate in an escape room challenge, which allows you to assess problem-solving abilities and collaborate as a team to solve puzzles and find clues within a specific time frame.
Engaging in outdoor adventure activities like hiking, kayaking, or a treasure hunt is another great way to promote teamwork and provide an opportunity for the team to bond while appreciating Brighton's natural beauty.
Another idea is to enroll in a practical cooking or mixology class where the team can learn new skills and work together to create delicious dishes or cocktails. This activity not only enhances communication, creativity, and teamwork but also provides a memorable experience.
Arranging a friendly sports tournament such as beach volleyball or football can also be an exciting team-building activity. Divide the team into smaller groups and let them compete, fostering a friendly rivalry and team spirit.
As a way to give back to the local community, organize a volunteering activity. This can involve cleaning up the beach or assisting a local charity. By participating in such activities, the team not only cultivates a sense of social responsibility but also strengthens their teamwork.
Pro-tip: When selecting a team-building activity, prioritize the interests and preferences of your team members. By choosing an activity that aligns with their interests, you are more likely to create a memorable and enjoyable experience for everyone involved.
Positive and Welcoming Atmosphere
The positive and welcoming atmosphere in Brighton makes it ideal for your office party. Here are some reasons why:
Friendly locals: Brighton is renowned for its warm and hospitable locals. They are always ready to assist and make visitors feel at ease, creating a positive and welcoming atmosphere for your office party. This ensures that everyone feels comfortable and included, enhancing the overall experience.
Vibrant and diverse community: Brighton embraces diversity and celebrates different cultures, which adds to the positive and welcoming atmosphere. The diverse community makes everyone feel accepted and valued, contributing to the inclusivity of your office party.
Thriving arts and music scene: Brighton is well-known for its arts and music scene, with numerous art galleries, theatres, and live music venues. This artistic vibe creates a positive and energetic atmosphere that is perfect for celebrating and enjoying your office party.
Beautiful surroundings: Brighton boasts stunning natural scenery, including its iconic pebble beach and picturesque seafront. The beautiful surroundings contribute to a relaxing and pleasant atmosphere, providing a serene backdrop for your office party.
Excellent hospitality and entertainment options: Brighton offers a wide range of high-quality hospitality and entertainment options, such as restaurants, bars, and clubs. These establishments ensure exceptional service and add to the positive and welcoming atmosphere, creating a memorable experience for your office party.
By choosing Brighton for your office party, you can enjoy its positive and welcoming atmosphere, creating a memorable and enjoyable event for your team.
Why Brighton is the Perfect City for Your Office Party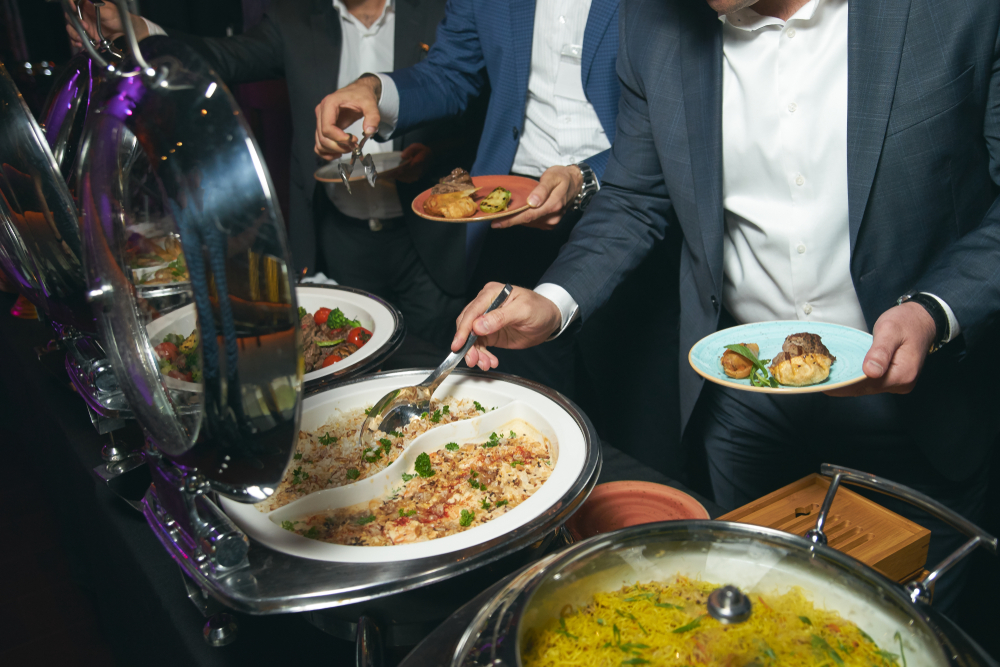 Brighton is the ideal city for your office party due to its lively and energetic atmosphere, convenient location, wide range of activities, variety of dining options, and distinctive setting.
1. Lively atmosphere: Brighton's vibrant and spirited atmosphere makes it the perfect location for office parties. With an abundance of bars, clubs, and restaurants to choose from, you can enjoy a formal dinner, relaxing drinks, or a lively dance party. Brighton offers the ideal venue for your office celebration.
2. Convenient location: Located just a 50-minute train journey away from London, Brighton is easily accessible for employees based in the capital. This convenient location ensures that everyone can travel to and from the event without any difficulties.
3. Wide range of activities: Brighton provides a diverse selection of activities for team-building and bonding experiences. From water sports and beach activities to escape rooms and treasure hunts, there are options available to suit the interests and preferences of your team. These activities foster teamwork, communication, and camaraderie among colleagues.
4. Variety of dining options: Brighton is renowned for its diverse culinary scene. The city offers a range of fine dining establishments, quirky cafes, and street food markets. Whether you prefer a formal dinner or a casual dining experience, Brighton has options to cater to different tastes.
5. Unique and picturesque setting: The seafront in Brighton, along with iconic landmarks such as the Royal Pavilion and Brighton Pier, provides a unique and picturesque backdrop for your office party. The scenic views and historic architecture add charm and create lasting memories and photo opportunities.
So, why not choose Brighton as the perfect city for your office party?
What Are the Top Party Venues in Brighton?
When it comes to hosting an office party in Brighton, you may be wondering, "What are the top party venues in Brighton?" Well, look no further because I have the answer for you! Brighton offers a variety of options that cater to different party preferences.
First up is The Grand Brighton. This elegant Victorian hotel provides stunning event spaces that offer breathtaking sea views. It's the perfect venue for those looking to host a formal office party.
If you're in the mood for a unique and glamorous experience, Proud Cabaret Brighton is the place to be. This cabaret venue combines live entertainment with delicious food and drinks, creating a truly memorable and sophisticated atmosphere.
For those who prefer a more laid-back and quirky setting, The Tempest Inn is ideal. Located right on the beach, this underground cavern offers a charming and casual environment that is perfect for casual office parties.
If you're looking to transform your office party into a truly spectacular event, The Brighton Dome is the venue for you. This historic concert hall and arts venue can be transformed using state-of-the-art sound and lighting systems, creating a truly immersive experience.
Last but not least, we have The Mesmerist. With its vintage decor and lively atmosphere, this bar and music venue is a popular choice for fun and vibrant office parties. Your guests are sure to have a fantastic time here.
In addition to these fantastic venues, Brighton has a thriving nightlife scene with a wide range of party options. Whether you're looking for an iconic building or a beachside cave, Brighton has it all. The city is easily accessible for both local and out-of-town guests, and there are plenty of entertainment options to ensure a memorable party.
When it comes to catering and food options, Brighton has you covered. There is a diverse range of choices available to suit different preferences and dietary requirements. And with the help of professional event services, you can trust that your office party will run smoothly.
Brighton is the perfect city to host your office party. Its positive and welcoming atmosphere, combined with its top-notch venues, make it an ideal choice. So why wait? Start planning your office party in Brighton today and create unforgettable memories for you and your colleagues.
How Can Brighton Help Create Memorable Team-Building Experiences?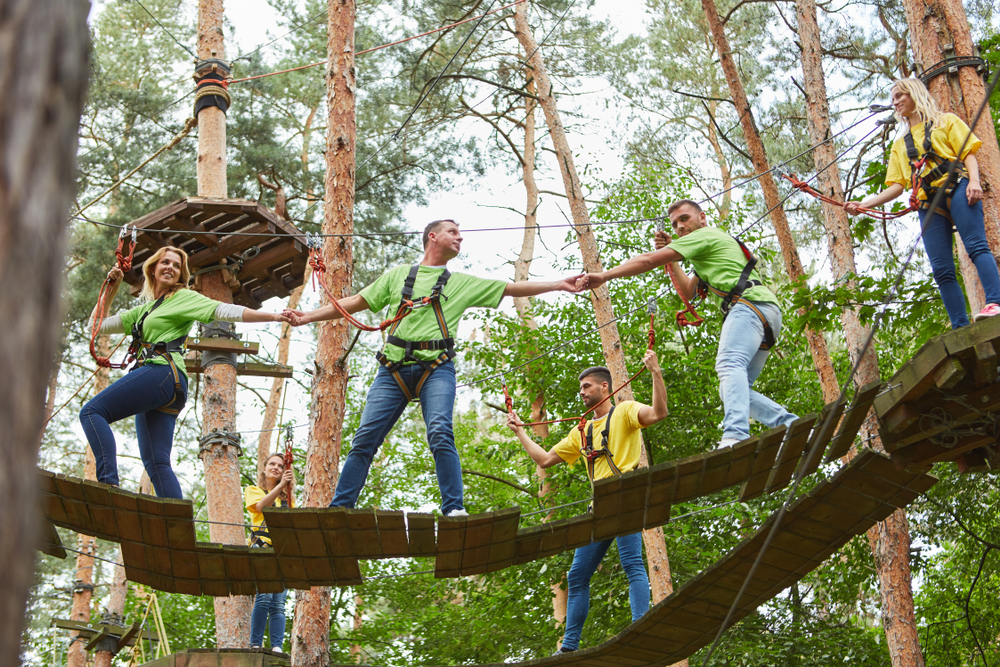 Brighton offers a variety of activities that can be utilized for team-building purposes. These activities encompass a wide range of options, including outdoor adventures such as kayaking and paddleboarding, as well as indoor choices like escape rooms and cooking classes.
The unique locations of Brighton Pier and The Lanes can greatly enhance the overall team-building experience. There are professional event services available, including event planners and team-building facilitators.
The friendly and welcoming atmosphere in Brighton greatly contributes to the development of a positive team environment. There are various accommodation options to cater to different budgets and preferences.
In an authentic account, a Brighton-based company organized a team-building activity focused on cleaning up a beach. This particular activity not only fostered teamwork, but also promoted environmental awareness and community engagement. Through this experience, the team grew closer together and acquired a sense of pride in making a positive impact.