The city of Brighton in the United Kingdom offers family-friendly activities and vibrant dining scene with a variety of restaurants to choose from. When it comes to planning your office party, selecting the right venue is crucial to ensure a memorable and enjoyable experience for everyone. Here are the top 5 Brighton restaurants for your office party:
Sixes Brighton
The Coal Shed
The Set
The Ivy in The Lanes
64 Degrees
Choosing a good venue for an office party involves considering various factors. The restaurant should have the capacity to accommodate your group size comfortably. It should also offer a pleasant and festive atmosphere to create a celebratory vibe. factors such as menu options, dietary restrictions, and pricing should be taken into account to ensure that all attendees are well-catered for.
When selecting a restaurant for your office party, it is important to consider factors such as location, parking facilities, and accessibility for all colleagues. Ensuring the venue can accommodate any dietary restrictions or special requests is also crucial to make sure that everyone can enjoy the dining experience.
To plan a successful office party, it is advisable to start early and make reservations in advance. Providing a variety of menu options to suit different preferences and dietary needs is essential. Other tips include organizing fun activities or entertainment, setting a festive theme, and ensuring clear communication regarding the event details and expectations.
Top 5 Brighton Restaurants for Your Office Party
By selecting one of Brighton's top restaurants for your office party and considering these important factors, you can create a memorable and enjoyable experience for all attendees, fostering a positive and festive atmosphere among colleagues.
Sixes Brighton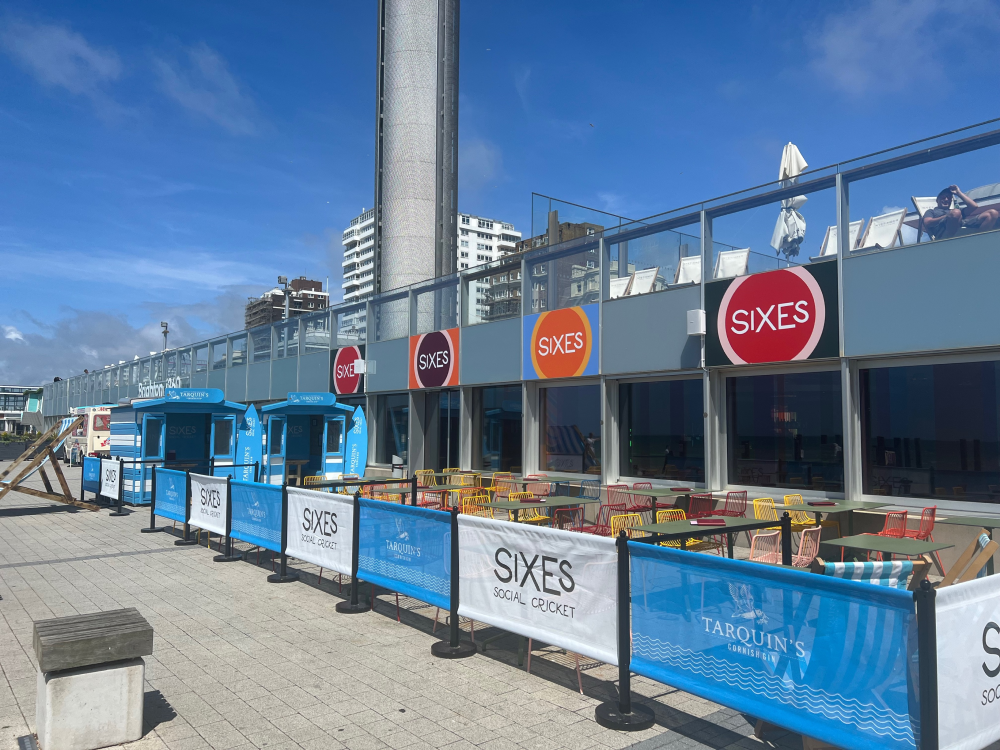 Sixes Brighton is a standout choice for those looking to host an office party in Brighton. Here's why:
Unique Experience: Sixes Brighton offers a fresh take on the traditional game of cricket, making it a fun and engaging experience for modern socialites. This ensures that your office party will be anything but ordinary.
Affordable Fun: With prices starting from just £7.75 per adult and £5.25 per child at Off-Peak times(depending on location), Sixes Brighton provides an affordable yet exciting experience. Whether you're a group of 2 or 100, there's a package to suit your needs.
Diverse Menu: Sixes Brighton is not just about cricket. They are equally passionate about their food and drinks. From burger-topped cricket bats to delectable sharing platters and wood-fired pizzas, there's something for everyone. And let's not forget their theatre-filled cocktails that are sure to be a hit.
Events and Packages: If you're planning for a larger group, Sixes Brighton offers event spaces, packages, and bespoke services tailored to your needs. This ensures that your office party will be a memorable one.
Rave Reviews: The testimonials speak for themselves. Whether it's a team away day, a night out with friends, or a birthday celebration, guests have had a fantastic time at Sixes Brighton, praising the atmosphere, the challenges, and the overall experience.
The Coal Shed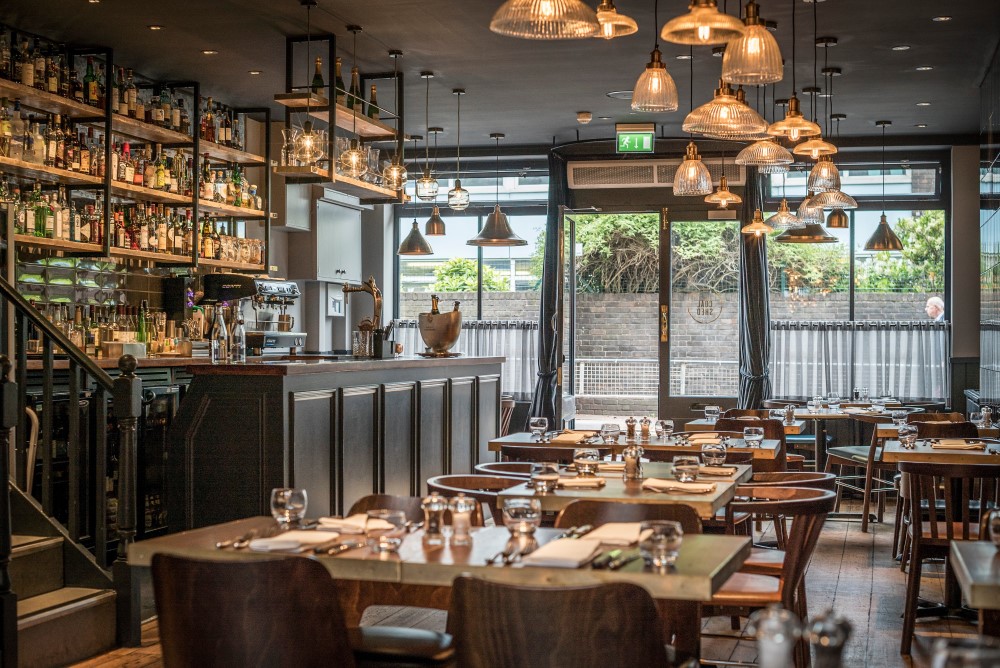 The Coal Shed in Brighton is a top-class restaurant for business events. It offers a unique dining experience with locally sourced, high-quality ingredients cooked with charcoal to achieve a smoky flavour. The restaurant has a pleasant and welcoming atmosphere, making it perfect for an unforgettable business event.
The menu at The Coal Shed offers a wide variety of dishes, including juicy steaks and fresh seafood. Signature dishes include the 35-day dry-aged Scottish sirloin steak and the whole roasted lemon sole. Vegetarian and vegan options are also available.
The Coal Shed has attentive and knowledgeable staff, ensuring excellent service for your business event. It can accommodate both small and large groups, and even has a private dining area for a more intimate setting.
Choose The Coal Shed for your business event to boost team morale and enhance client relationships. The combination of delicious food, a warm atmosphere, and impeccable service guarantees an unforgettable experience. Make a reservation in advance for the best seating options.
The Set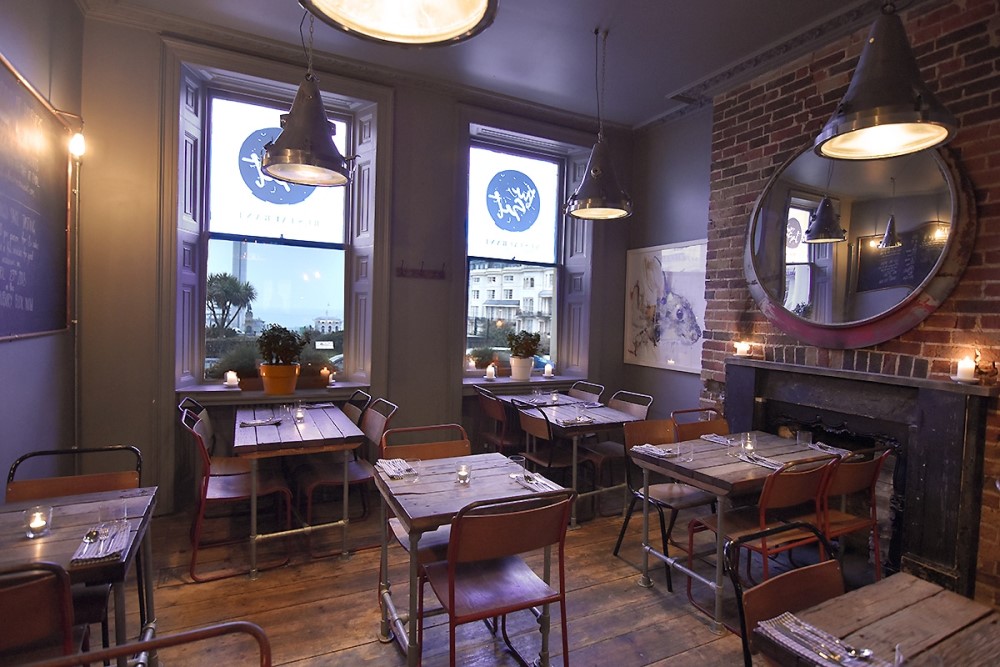 The Set is a well-known restaurant in Brighton that offers a distinct dining experience. Located in a stylish and contemporary setting, The Set presents a menu that showcases locally-sourced ingredients.
The skilled chefs at The Set create innovative and delicious dishes, with a focus on seasonal produce. Each dish highlights the natural flavors of the ingredients. The restaurant offers lunch and dinner options for customers to savor their culinary creations.
One notable feature of The Set is its tasting menu, which allows diners to indulge in a selection of dishes that complement each other perfectly. The tasting menu consists of small plates with unique and delightful flavor profiles. It caters to both meat-eaters and vegetarians.
In addition to the food, The Set also offers an impressive variety of wines. The knowledgeable staff can help guests choose the perfect wine to enhance their dining experience. Whether you prefer red, white, or sparkling, The Set has a wine that will perfectly accompany your meal.
The Ivy in The Lanes
The Ivy in The Lanes is a renowned restaurant in Brighton that offers a luxurious dining experience for office parties. Located in the heart of the city, this restaurant combines elegant decor with a sophisticated menu for a memorable experience.
The Ivy in The Lanes is the perfect choice for hosting office parties. The restaurant can accommodate small and large groups, providing a versatile and spacious setting. Whether you want a sit-down meal or a casual cocktail reception, The Ivy in The Lanes can cater to your needs.
The menu features a range of delicious options, from classic dishes to contemporary creations. The restaurant prides itself on using the finest seasonal ingredients, ensuring high-quality dishes. From their famous shepherd's pie to their delectable desserts, there is something to suit everyone's taste.
One pro-tip when dining at The Ivy in The Lanes is to indulge in their signature cocktails. Crafted with precision and flair, these cocktails perfectly complement your meal. From refreshing spritzers to sophisticated martinis, the mixologists at The Ivy in The Lanes know how to impress.
If you're looking for a stylish venue with exceptional food and drinks for your office party, The Ivy in The Lanes is the best choice. With its elegant atmosphere and delicious menu, it will leave a lasting impression on your colleagues.
64 Degrees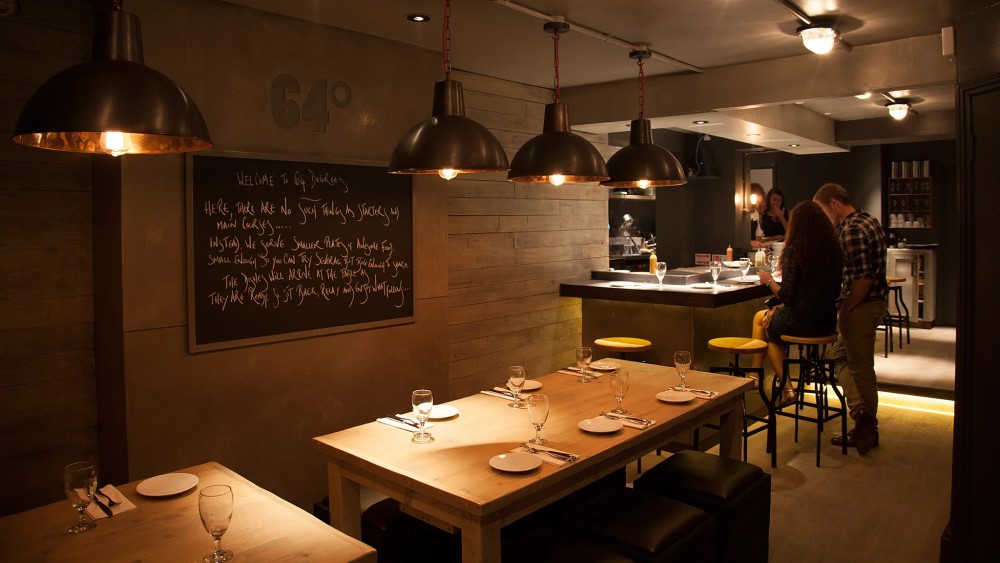 64 Degrees is one of the highest-rated restaurants in Brighton for corporate events. It offers a unique and imaginative dining experience that showcases modern European cuisine.
Here is some important information about the restaurant:
– Name: 64 Degrees
– Cuisine: Modern European
– Location: Brighton
– Price Range: £15 – £40
– Specialty Dish: Sea Trout with Fennel and Dill
– Capacity: Up to 50 guests
– Service Options: Private dining, pre-set menu
With its diverse menu, 64 Degrees caters to different tastes and dietary preferences. Their specialty dish, the Sea Trout with Fennel and Dill, is widely known for its exquisite flavors.
The restaurant can accommodate up to 50 guests, making it the perfect venue for office parties. The option of private dining provides exclusivity and a personalized experience for your team.
Whether you are celebrating a successful project or treating your colleagues to a memorable dining experience, 64 Degrees is an excellent choice. Its innovative menu, stylish atmosphere, and excellent service will impress your colleagues and ensure the success of your office party.
When planning your office party at 64 Degrees, be sure to make a reservation in advance to secure your preferred date and time. The restaurant is very popular and can experience high demand, especially during peak hours. Booking early will help you avoid any inconvenience. Enjoy a delightful culinary experience at 64 Degrees!
What Makes a Good Venue for an Office Party?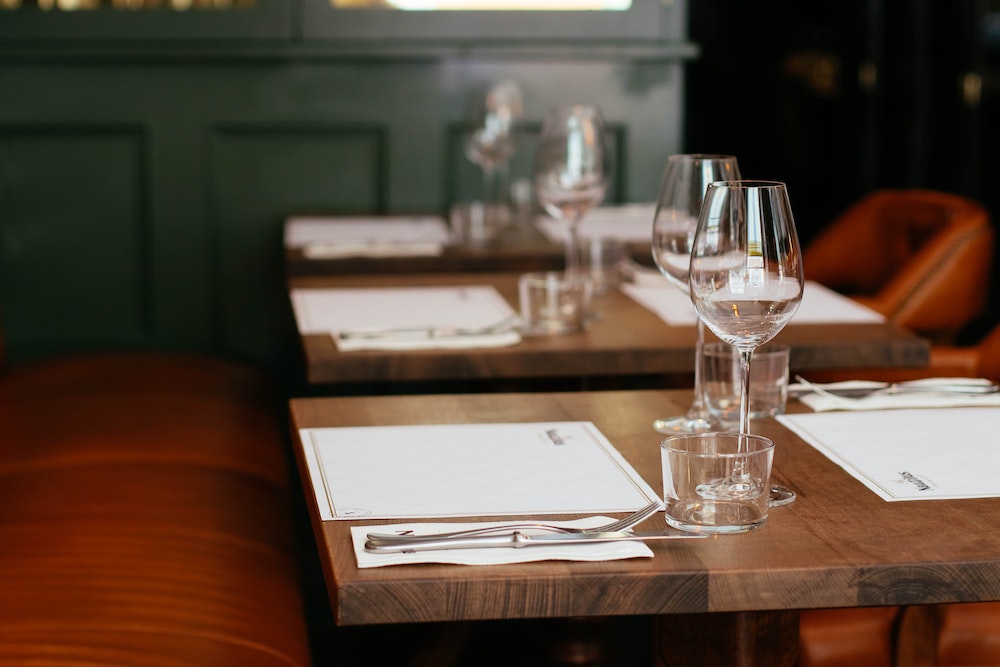 Choosing the correct venue for an office celebration is imperative for a pleasurable and successful occasion. When deciding on a venue, please take into consideration the following factors:
Choosing the correct venue for an office celebration is imperative for a pleasurable and successful occasion. When deciding on a venue, please take into consideration the following factors:
Location: The venue should be conveniently situated for all employees, easily accessible by public transportation, and have nearby parking alternatives. For instance, Sixes Brighton is strategically located, making it a prime choice for office gatherings in the Brighton area.
Capacity: The venue should be capable of accommodating the number of guests attending, considering both seated and standing capacity to ensure comfort and freedom of movement. With its spacious interiors, Sixes Brighton can host both intimate gatherings and larger office parties.
Ambience: The venue should possess a pleasant and welcoming atmosphere that aligns with the theme or purpose of the celebration, providing a comfortable setting for socializing and mingling. Sixes Brighton offers a unique blend of sporty vibes with a modern touch, ensuring a lively and engaging environment.
Amenities: Take into account the venue's facilities, such as a dance floor, audiovisual equipment, or outdoor space, which can enhance the overall experience and enjoyment of the event. Sixes Brighton boasts state-of-the-art cricketing facilities, adding a fun and interactive element to any party.
Menu and Catering: Ensure that the venue provides a diverse and delectable menu that caters to varying dietary preferences and restrictions, offering ample food and beverage options for all attendees. With its extensive menu ranging from burger-topped cricket bats to wood-fired pizzas, Sixes Brighton promises a culinary delight for every guest.
Fact: Research indicates that well-planned and enjoyable office parties enhance employee morale and cultivate a positive working environment.