Nestled in the heart of Auckland, Eden Park stands as more than just a sports venue; it's a symbol of New Zealand's rich sporting heritage and a testament to the nation's undying passion for the games. As the sun sets and the floodlights take over, the stadium comes alive, echoing with the roars of thousands, each heartbeat synchronized with the rhythm of the game.
From the haka that sends shivers down the spine to the thrilling last-minute tries and boundaries, Eden Park is where memories are made and legends are born. This article delves into the electric ambiance of this iconic stadium, exploring what makes Eden Park a pulsating epicenter of sports, emotions, and unforgettable experiences.
Join us as we journey through the aisles, stands, and pitches of New Zealand's most celebrated sporting arena.
The Natural Beauty of Eden Park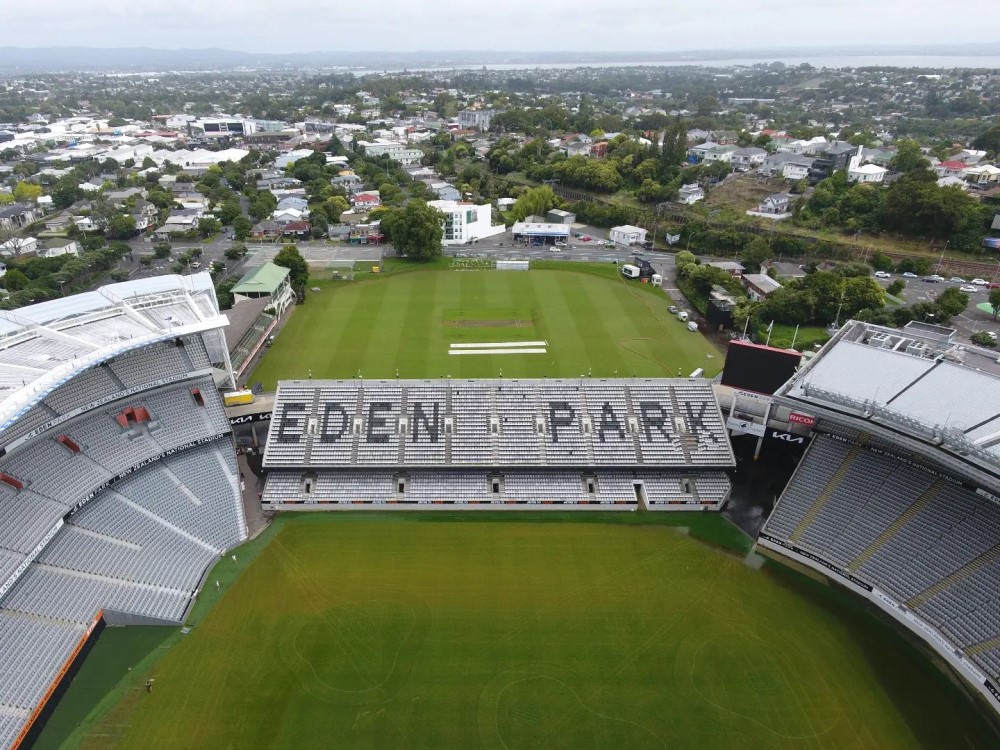 While Eden Park is globally renowned as a sporting coliseum, its allure extends beyond the boundaries of the pitch. Situated amidst the urban landscape of Auckland, the stadium offers a unique juxtaposition of architectural marvel and natural splendor.
The lush green outfield, meticulously maintained, stands in stark contrast to the concrete jungle surrounding it, offering a refreshing oasis in the heart of the city. As the sun sets, the stadium's lights cast a gentle glow on the turf, creating a mesmerizing spectacle that's both serene and electrifying.
The backdrop of the Mount Eden volcanic peak adds to the venue's charm, with its silhouette often visible during day games, reminding spectators of New Zealand's rich natural heritage. Moreover, the design of the stadium ensures that the breeze, carrying the scent of the nearby trees and flowers, wafts through the stands, enhancing the sensory experience of every visitor.
In essence, Eden Park is not just a testament to New Zealand's sporting legacy but also a celebration of its inherent natural beauty, seamlessly blending the thrill of the game with the tranquility of nature.
The Rich History of Eden Park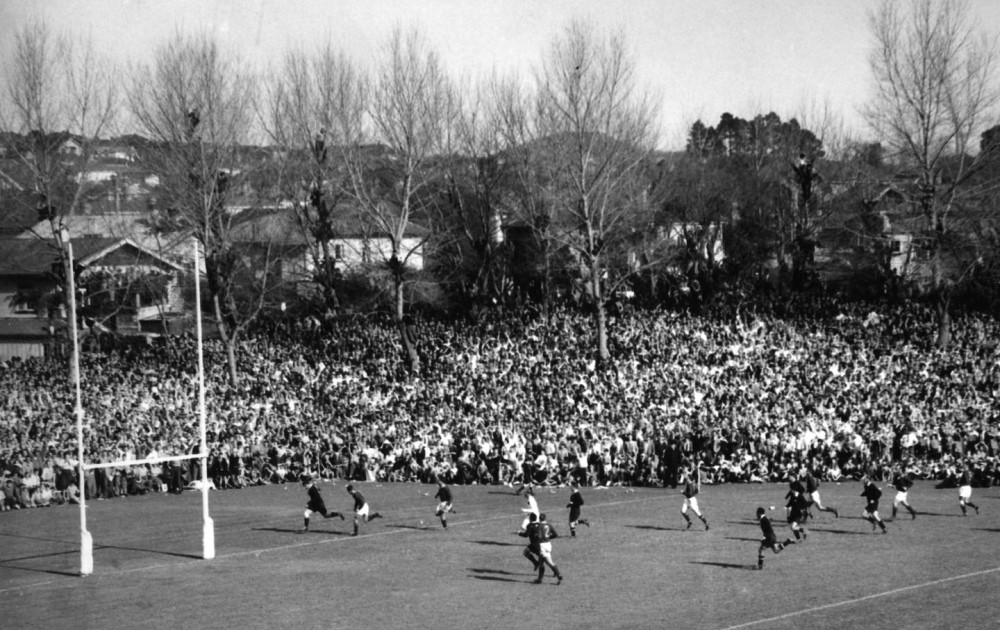 The rich history of Eden Park is of utmost importance in creating its vibrant atmosphere. Since its establishment in 1900, the stadium has borne witness to countless unforgettable moments in the history of sports.
Eden Park proudly stands as the host of numerous iconic sporting events, including the inaugural Rugby World Cup in 1987. The stadium has been enlightened by many exhilarating rugby matches, cricket games, and music concerts.
Throughout the years, Eden Park has undergone historic renovations to improve its facilities, capacity, and overall experience for spectators. These renovations have successfully preserved the stadium's charming history while meeting modern standards.
Not only has the stadium been an architectural gem, but it has also served as a home ground for New Zealand's national rugby and cricket teams. The beloved All Blacks, New Zealand's rugby team, have achieved remarkable victories on this revered ground.
Eden Park has witnessed many memorable matches, etching them forever into the annals of sports history. One such example is the 1981 Springbok tour protests, where politics, sport, and human rights converged, creating a profound impact on the nation.
A true testament to the rich history of Eden Park is the 1956 cricket Test match between New Zealand and the West Indies. It marked the first time New Zealand emerged triumphant over the West Indies in a Test match, representing a significant milestone in the nation's cricket history.
This victory brought immeasurable joy to the spectators and served as an inspiration for future generations of New Zealand cricketers. It remains an enduring memory for cricket enthusiasts, shining a light on the pivotal role the stadium has played in shaping sporting history.
The Iconic Events Held at Eden Park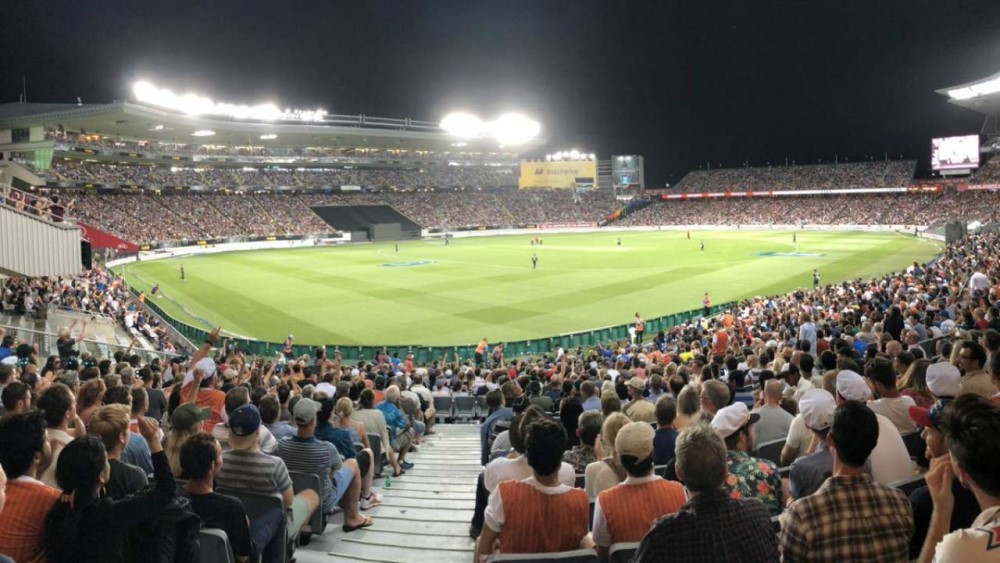 Eden Park, situated in Auckland, New Zealand, is the venue for a range of renowned events that attract spectators from around the globe. Below are some notable events that take place at this exceptional stadium:
Rugby World Cup Finals: Eden Park has hosted two Rugby World Cup Finals, in 1987 and 2011. These matches showcased the top teams in the world.
Cricket Matches: The stadium has witnessed unforgettable cricket matches, including One Day Internationals and Test Matches.
Music Concerts: Eden Park has become a popular destination for electrifying music concerts. Artists such as U2, Coldplay, and Adele have captivated the audience with their performances.
International Rugby Matches: Eden Park regularly holds international rugby matches featuring the All Blacks. Fans fervently support their national team.
Special Events: Eden Park hosts cultural festivals, charity matches, and movie premieres. Its versatile facilities make it an ideal location for diverse gatherings.
If you are planning to visit Eden Park and experience one of these iconic events, it is advisable to book tickets well in advance as they tend to sell out quickly. To stay updated on upcoming events, please check the official Eden Park website for the event schedule. Immerse yourself in the vibrant atmosphere of Eden Park and create lasting memories at one of the world's most iconic sporting and entertainment venues.
The Sporting Legacy of Eden Park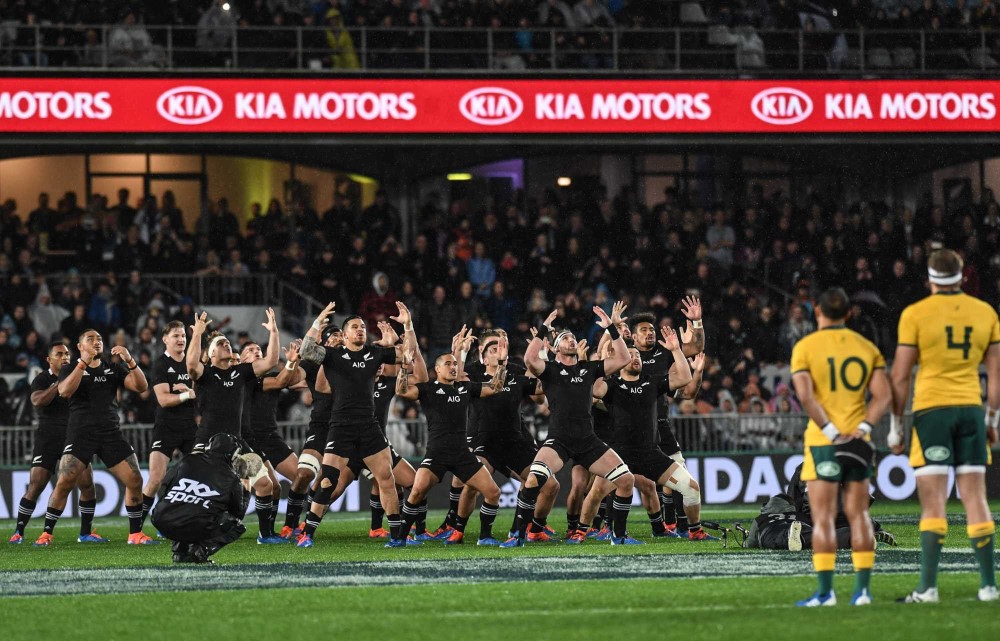 In the annals of global sports, few venues resonate as deeply as Eden Park. Situated in Auckland, this iconic ground has been the heartbeat of New Zealand's sporting culture for over a century. It's not just a stadium; it's a repository of memories, emotions, and unparalleled sporting drama.
From its early days as a cricket ground in 1903 to its evolution into a rugby fortress, Eden Park has witnessed countless historic moments. The ground has been the stage for the All Blacks' haka, a dance that embodies the spirit of the nation, and has seen the team's unbeaten streaks that have left opponents in awe.
But it's not just rugby; cricketing legends have also graced its pitches, leaving behind tales of unmatched prowess and skill. Beyond the games, the stadium stands as a testament to New Zealand's commitment to sports, having undergone numerous renovations to offer world-class facilities and experiences.
Every corner of Eden Park echoes with stories of triumphs, heartbreaks, and the sheer passion of both players and fans. In essence, Eden Park isn't just a venue; it's the soul of New Zealand sports, a legacy that continues to inspire and captivate generations.
The Lively Atmosphere during Matches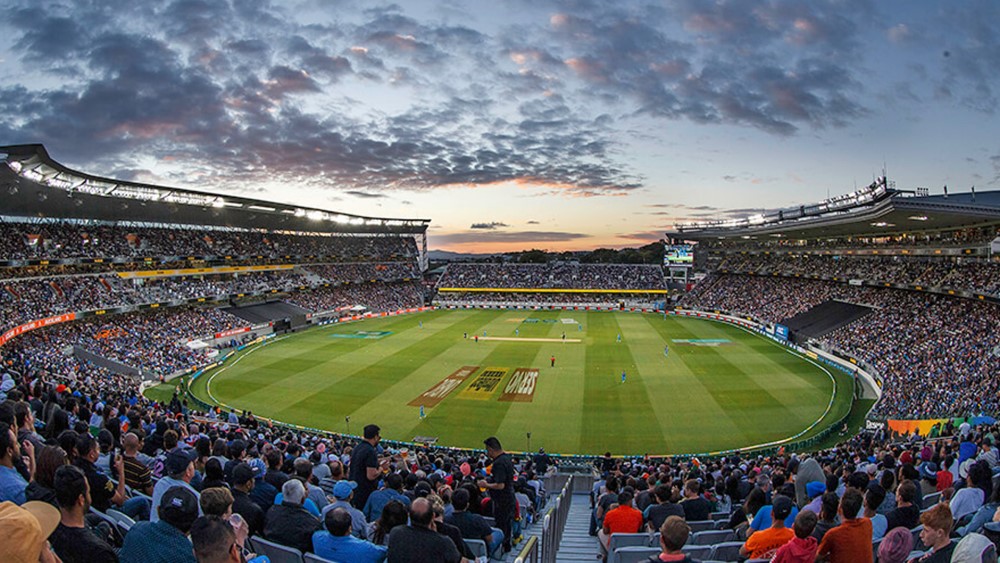 The lively atmosphere at Eden Park in New Zealand during matches is truly incomparable. Several key factors contribute to this vibrant ambiance, making it a memorable experience for all spectators.
One of the primary factors is the enthusiasm of the crowd. Dedicated fans can be seen cheering and chanting, creating an electrifying atmosphere that resonates throughout the stadium. This energy is fueled by the intense team rivalries, which add a level of excitement and anticipation to the matches.
Supporters actively contribute to the lively atmosphere by waving flags, donning their team colors, and singing team chants. This involvement promotes unity and camaraderie among the fans, further enhancing the overall experience.
The pre-match entertainment at Eden Park is also worth mentioning. With live music performances and cultural exhibitions, the stadium sets the stage for a celebration. These festivities generate excitement among the spectators, adding to the anticipation of the game.
Spectacular displays such as pyrotechnics, dazzling light shows, and dynamic visual effects during player entrances and halftime performances captivate the audience. These mesmerizing elements contribute to the lively atmosphere, making the experience even more immersive and unforgettable.
To fully embrace the animated atmosphere at Eden Park during matches, it is advisable to arrive early. This allows fans to enjoy the pre-match excitement and interact with fellow supporters. Remember to cheer for your team and immerse yourself in the passionate spirit of the game. Make sure to capture and cherish the unforgettable moments created in this lively ambiance.
10 Interesting Facts about Eden Park
Historical Significance: Eden Park is a sports venue located in Auckland, New Zealand. It stands on the boundary between the suburbs of Mount Eden and Kingsland and is sometimes referred to as New Zealand's national stadium. The main stadium has a nominal capacity of 50,000.
Rugby Fortress: Eden Park is considered one of international rugby union's most challenging grounds for visiting teams. The All Blacks, New Zealand's national rugby union team, have been unbeaten at this venue in 48 consecutive test matches stretching back to 1994.
Diverse Events: The stadium has hosted a variety of events, from the 2021 Te Matatini and the 2022 Women's Cricket World Cup to the final of the 2021 Women's Rugby World Cup and the opening match of the 2023 FIFA Women's World Cup.
World Cup Venue: In 2011, Eden Park became the first stadium in the world to host two Rugby World Cup finals. It held the inaugural final in 1987 and was a venue for the 2015 Cricket World Cup.
Origins: The land where Eden Park stands was originally a swampland, used by the Tāmaki Māori to collect food and materials. It became a sports ground in 1900 and started as a cricket ground in 1903.
Rugby and Cricket: The park began hosting rugby matches in 1913, making it both a summer and winter sporting venue. The first international cricket match at the venue was in 1914, with Auckland hosting Australia.
Historic Matches: The first rugby test at Eden Park was held in 1921 when South Africa defeated New Zealand. The ground also hosted its inaugural British and Irish Lions matches in 1930.
Major Redevelopment: In 2007, the New Zealand Government confirmed Eden Park as the venue for the 2011 Rugby World Cup final, leading to significant redevelopment. The redeveloped stadium was officially opened in 2010.
Unique Events: In 1981, during the Springbok Tour, a low-flying Cessna 172 piloted by Marx Jones and Grant Cole dropped flour-bombs on the pitch as a form of protest. In 2021, after 117 years, Eden Park hosted a concert by the band Six60 to a sold-out crowd of about 50,000 attendees.
Cricket Highlights: Eden Park has been a significant venue for cricket, hosting numerous international fixtures, including Tests, ODIs, and Twenty20 Internationals. It was the site for the 2022 Women's Cricket World Cup and has seen memorable performances from cricket legends.
Historical Evolution and Recent Developments of Eden Park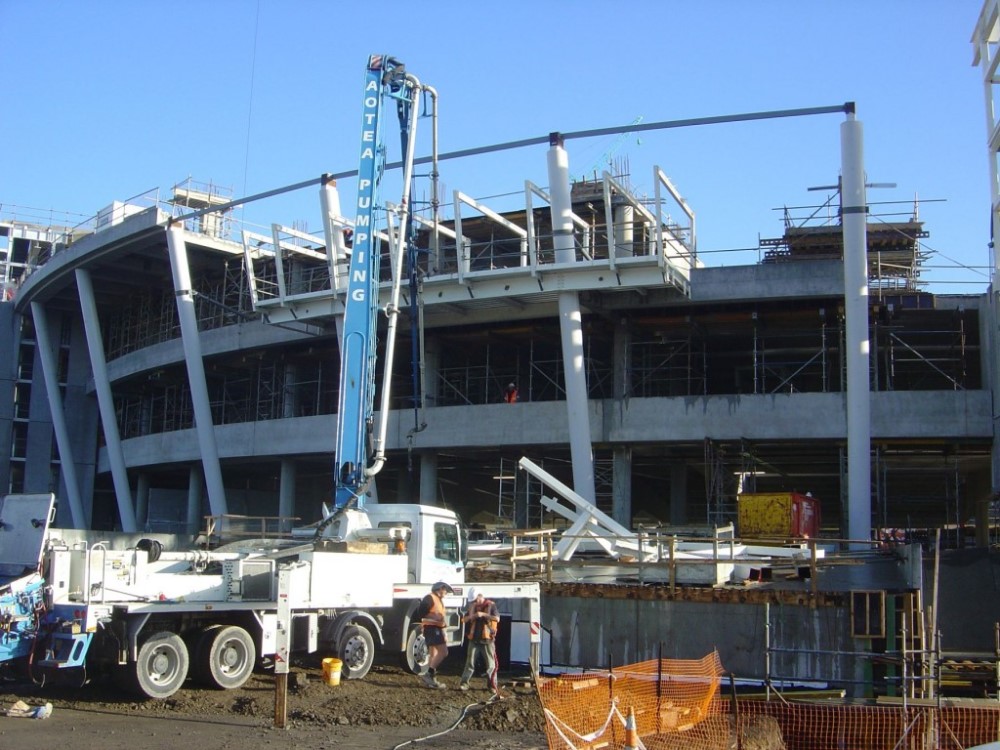 Eden Park, located in Auckland, New Zealand, has been a significant sports venue with a rich history of hosting various international events. Over the years, the stadium has witnessed numerous changes and developments. Here are some of the future developments and notable mentions related to Eden Park:
2011 Rugby World Cup and Redevelopment: In 2007, Eden Park was confirmed as the venue for the final of the 2011 Rugby World Cup. The redevelopment began in 2008, and the redeveloped stadium was officially opened by New Zealand Prime Minister John Key in 2010. The redevelopment project provided a permanent capacity of 50,000 with an additional 10,000 temporary seats for the World Cup games.
Redevelopment and Expansion: The redevelopment project included a three-tier South stand and a three-tier East stand. The number of covered seats increased from 23,000 to 38,000. The redeveloped Eden Park has an internal concourse, world-class facilities, and has become more publicly accessible.
Possible Alternative Stadium for the 2011 Rugby World Cup: In 2006, there was a debate on whether the 2011 Rugby World Cup should be hosted at Eden Park or a new city center stadium. However, after deliberations, the government decided to support the redevelopment of Eden Park.
Cricket: Eden Park has been a prominent venue for cricket matches. In 2018, the stadium hosted its first day-night test match against England. However, in May 2018, New Zealand Cricket mentioned that Eden Park was no longer cost-effective for hosting cricket matches and considered hosting fixtures at the Western Springs Stadium.
Concerts and Events: In 2021, after a long gap since 1975, Eden Park hosted a concert by the band Six60 to a sold-out crowd of about 50,000 attendees. This concert was significant, especially during the COVID-19 times.
What Makes Eden Park a Popular Tourist Destination?
Eden Park, located in Auckland, New Zealand, is not just a sports venue; it's an iconic landmark that has captured the hearts of both locals and tourists alike. Here's what makes it a must-visit:
Versatility in Events: Eden Park is not just about rugby or cricket. The stadium has been a host to a diverse range of events, from the Qatar Airways Hole in One Challenge to the Freestyle Kings event. Such a variety ensures that there's always something happening at Eden Park, catering to a wide range of interests.
Historical Significance: As New Zealand's national stadium, Eden Park has witnessed numerous significant sports events, making it a place of historical importance. It has been the backdrop for many memorable moments in sports history, further enhancing its allure.
Unique Experiences: The stadium offers unique experiences like the SKY SPORT Rooftop Tour and STAYDIUM GLAMPING. Such offerings provide visitors with a chance to experience the stadium in ways beyond just attending a sports match.
World-Class Facilities: Eden Park boasts state-of-the-art facilities, from unmatched picture quality and strong network connections to surround sound. Whether you're there for a rugby match, a cricket game, or a concert, the experience is enhanced by the world-class amenities.
News and Updates: The park is always buzzing with news, from hosting New Zealand's biggest weekend of T20 cricket in history to collaborating with renowned brands like Eden Park Paris. Such collaborations and events keep the venue in the limelight, attracting tourists and locals alike.
Accessibility and Amenities: With clear directions, parking facilities, and a range of eating and drinking options, Eden Park ensures a hassle-free experience for its visitors. The ease of access and the amenities provided make it a convenient destination for tourists.
Community and Sustainability: Eden Park is not just about sports and entertainment; it's also about community and sustainability. The park's initiatives in these areas show its commitment to being more than just a sports venue.
Shop and Merchandise: For those looking to take a piece of Eden Park home, there's a shop offering a range of merchandise. This allows tourists to have a tangible memory of their visit.
Milestones and Past Events: The stadium has a rich history of milestones and past events that intrigue history buffs and sports enthusiasts alike. Learning about these events gives visitors a deeper appreciation of the venue.
Plan Your Visit: Eden Park ensures that visitors have all the information they need to plan their visit. From getting there to finding their seat, every detail is taken care of, making the visit smooth and enjoyable.
What Other Attractions Are Near Eden Park?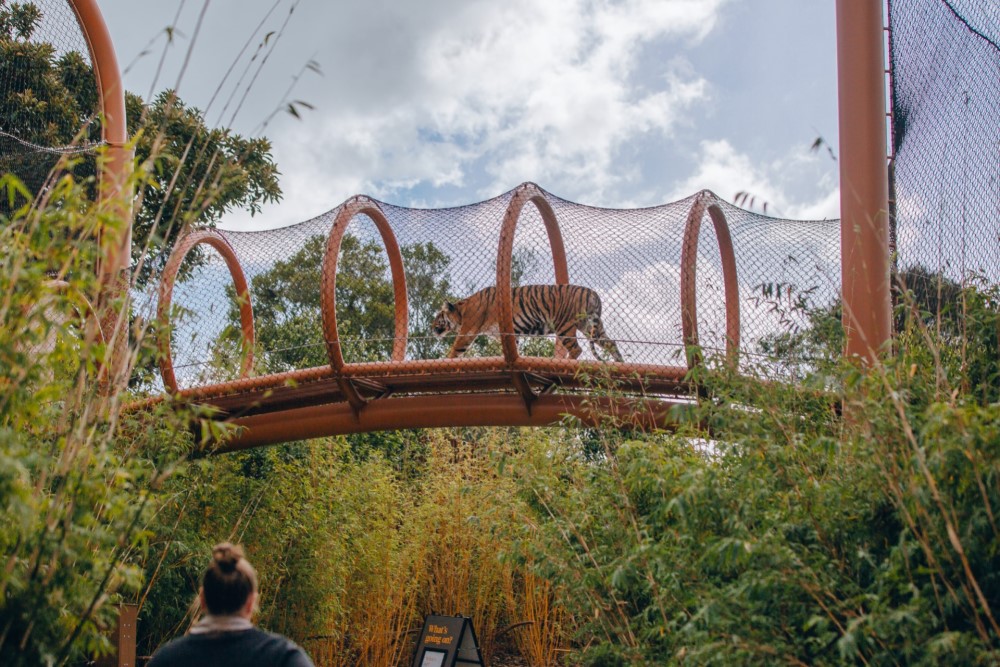 When one visits Eden Park, they may wonder: what other attractions are near Eden Park? Fortunately, there are several nearby attractions that can be explored. The following are some attractions near Eden Park:
Auckland Zoo: Situated in close proximity to Eden Park, it is a popular destination for animal enthusiasts. Visitors can observe a wide variety of animals and learn about their habitats and conservation efforts.
Mount Eden: A dormant volcano that offers breathtaking panoramic views of Auckland City. It is well-suited for hiking or enjoying a picnic, providing a unique perspective of the city.
Western Springs Park: Famous for its picturesque lake and lush surroundings. It is an ideal place for a relaxed stroll, a picnic, or enjoying the company of ducks.
Auckland Museum: Located in the Auckland Domain, it is a must-visit for history and culture enthusiasts. The museum houses an extensive collection of artifacts and exhibits that showcase New Zealand's rich heritage.
One Tree Hill: Another volcanic cone with a significant Maori history, it provides stunning views of the city. It is a popular spot for outdoor activities such as walking, running, or biking.
These nearby attractions offer a range of experiences, catering to varying interests in wildlife, nature, history, or cultural heritage. Exploring them can enhance your visit to Eden Park and create even more memorable experiences during your trip.