Welcome to Frisco, a city where modern urban charm meets the vibrant spirit of North Texas. This guide, "Top 10 Things to Do in Frisco," is your passport to exploring the city's eclectic mix of attractions, each offering its own unique flavor and experience.
Frisco is a city that continually reinvents itself while cherishing its roots, making it a destination filled with surprises and delights. Frisco's journey is one of diversity and discovery. Here, sports enthusiasts can revel in world-class facilities, while art lovers immerse themselves in the city's thriving arts scene.
The city is a haven for shoppers and diners alike, boasting a plethora of options from upscale boutiques to local culinary delights. For families, Frisco presents an array of fun-filled activities and educational experiences, ensuring that visitors of all ages find something to love.
The heart of Frisco's appeal lies in its ability to blend the past with the present. Historical sites provide a glimpse into the city's rich heritage, while contemporary architecture and technology-driven attractions point to its forward-thinking nature.
This seamless blend makes Frisco a city of contrasts and conveniences, where traditional Texas hospitality meets modern-day sophistication.
In Frisco, every corner offers a new adventure. Whether it's exploring lush parks and trails, experiencing the thrill of high-energy sports games, or enjoying a serene evening at a local jazz bar, the city caters to a wide range of interests and tastes.
Frisco's commitment to providing diverse and engaging experiences makes it a city that never ceases to amaze. As you embark on this journey through Frisco's top 10 attractions, prepare to be captivated by the city's dynamic spirit. From the allure of its natural beauty to the buzz of its bustling streets, Frisco invites you to explore, engage, and create memories that will last a lifetime.
This guide not only highlights the must-visit spots but also reveals the lesser-known gems that give Frisco its unique character. So, get ready to delve into the heart of North Texas. Discover the charm, energy, and soul of Frisco – a city that promises an unforgettable experience with every visit.
Things To Do in Frisco: Visit Sixes Dallas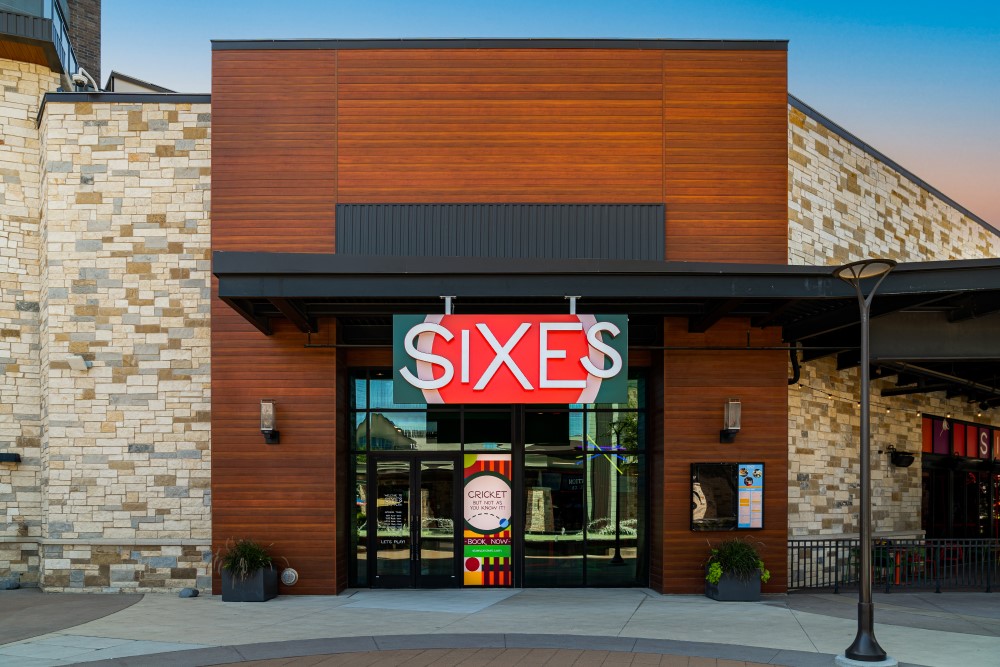 Sixes Dallas in Frisco is revolutionizing how we think about cricket. It's not just a game; it's a social event, a chance to get together, have fun, and experience the excitement of cricket in a completely new way. They've taken this age-old sport and infused it with modern technology and a playful spirit.
This isn't your typical sports venue; it's a lively, energetic place where anyone, regardless of their cricket knowledge, can join in and have a great time.
What sets Sixes Dallas apart is its unique blend of precision sports technology and top-quality hospitality. The game is presented in an easy-to-understand format, making it accessible to everyone. Whether you're a cricket enthusiast or new to the game, you'll find the experience thrilling and enjoyable. Plus, with a global leaderboard, there's a competitive edge that adds to the fun.
The venue caters to a diverse crowd. Whether you're planning a family outing, a night out with friends, or looking for a novel location for hen dos or stag dos, Sixes Dallas fits the bill. They accommodate groups ranging from 2 to 300 people, ensuring that everyone, regardless of the size of their party, can enjoy the excitement of batting.
Speaking of batting, the rates are incredibly reasonable, starting at just $15 per person. They offer special pricing for children, and there are off-peak rates that make it even more affordable. The venue is particularly family-friendly during their weekend family hours, making it an ideal destination for a day out with the kids.
But it's not just about cricket. After 8 pm from Monday to Saturday, Sixes Dallas transforms into an adults-only zone, offering a unique night out experience. The atmosphere is electrifying, perfect for those looking to add some excitement to their evenings. On Sundays, they allow under 21s after 8 pm, making it a versatile venue for various occasions.
In addition to the cricketing fun, the world-class hospitality ensures that every visit is memorable. From the food to the service, everything is designed to provide guests with an enjoyable and comfortable experience.
In conclusion, Sixes Dallas in Frisco is more than just a cricket venue; it's a destination where fun, technology, and sport merge to create an unforgettable experience. It's a place where you can challenge your friends, enjoy a day out with the family, or celebrate special occasions in a unique and lively setting.
With its easy-to-understand format, affordable rates, and fantastic atmosphere, Sixes Dallas is a must-visit for anyone looking for fun things to do in Frisco.
Frisco Heritage Museum
Exploring the Frisco Heritage Museum is like taking a step back in time, a journey through the rich tapestry of Frisco and North Texas history. Spanning 16,000 square feet, this museum is packed with exhibits and artifacts that tell the story of the region's development.
It's a place where history comes alive, offering a glimpse into the past that's both educational and entertaining​​.
One of the museum's standout exhibits is "Woven Together: Exploring South Asian Textiles." This exhibit showcases the intricate and vibrant handwoven textiles of South Asia, focusing on the cultural fabrics and materials from Pakistan, India, and Bangladesh.
It's an exploration of exquisite craftsmanship and artistry, highlighting the diverse community and vibrant culture of South Asia in Frisco.
The museum doesn't just display these beautiful textiles; it brings them to life with presentations and demonstrations throughout the year, offering a deeper understanding and appreciation of this rich cultural heritage​​.
The Frisco Heritage Museum also hosts a variety of events and micro-exhibits that further delve into diverse topics. From learning about South Asian wedding customs in the "Wedding Adornments" event to exploring the history of kites in the "Makar Sankranti" exhibit, there's always something new and fascinating to discover.
These events and exhibits, like "Life in Frisco," "Food Fest," and "Sari Wrap Up," provide unique insights into different aspects of South Asian culture and its influence in Frisco​​.
But the experience at the Frisco Heritage Museum extends beyond its walls. After touring the museum, visitors can take a stroll through the Frisco Heritage Village.
This four-acre historical park is home to various historical buildings and structures, including a steam locomotive, a wooden caboose, Gaby's Blacksmith Shop, and the Frisco Railroad Depot.
Visitors can also explore the Smith-Muse House, Crozier-Covington-Sickles House, Lebanon Church, and a traditional schoolhouse. This outdoor extension of the museum provides a tangible connection to the past, allowing visitors to walk through history in a literal sense​​.
In summary, the Frisco Heritage Museum offers a dynamic and engaging look into the history and culture of Frisco and the North Texas region. With its diverse exhibits, interactive experiences, and historical park, it's a destination that educates, entertains, and connects visitors to Frisco's rich heritage.
Whether you're a history buff, a cultural enthusiast, or simply looking for an interesting day out in Frisco, the Frisco Heritage Museum is a must-visit destination.
Enjoy the Texas Sculpture Garden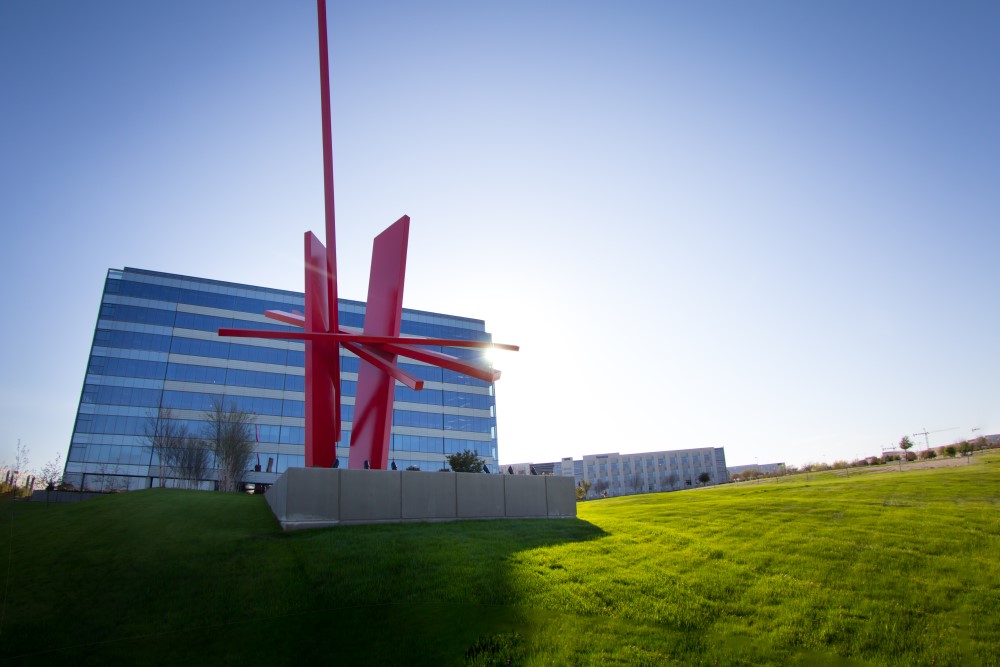 The Texas Sculpture Garden in Frisco is a celebration of art and nature, marking its 20th anniversary as a haven for art enthusiasts and casual visitors alike. Located in HALL Park, a sprawling 162-acre development, the garden is home to the largest private collection of contemporary Texas sculpture available to the public.
This collection is more than just a display of art; it's a tribute to the talent of local artists, showcasing over 40 contemporary sculptures across four acres​​.
The garden's design is a thoughtful blend of artistic and natural beauty. Specialty contractors and craftsmen were brought in to create unique spaces and pedestals for each sculpture, ensuring that these works of art are displayed prominently.
The surrounding environment is equally impressive, featuring lakes, fountains, lush landscaping, and seating areas. This setting is not just a backdrop for the sculptures; it's an integral part of the experience, enhancing the art and providing a serene atmosphere for visitors.
The brainchild of Craig Hall and curated by Patricia Meadows, the garden represents a diversity of materials and styles, with works from artists hailing from both large cities and small rural towns across Texas. The park's winding walking trails and beautiful landscaping are specially designed to complement the art, making it a perfect place for leisurely walks and photography​​.
For the best experience, visitors should plan their trip considering the garden's hours. The exterior collection is open daily from dawn to dusk, allowing for visits during the golden hours of sunrise and sunset, perfect for capturing the art in the most beautiful light.
The interior art, which includes additional works, is open on weekdays from 9:00 am to 5:00 pm. This schedule offers flexibility for those who want to explore the garden at different times of the day, whether it's a tranquil morning walk or an evening stroll​​.
The Texas Sculpture Garden in Frisco is a unique destination where art and nature coexist harmoniously. It's a place where the creativity of Texas artists is celebrated and made accessible to everyone. The careful design of the garden ensures that each visit is not only an opportunity to appreciate art but also to enjoy the beauty of the natural surroundings.
Whether you're a serious art aficionado or just looking for a peaceful place to unwind, the Texas Sculpture Garden is a must-visit spot in Frisco, offering an experience that is both visually stunning and deeply relaxing.
Shop at Stonebriar Centre
Stonebriar Centre in Frisco is a shopper's haven, where shopping, dining, and entertainment converge to create a vibrant atmosphere. This elegant and modern setting is the perfect backdrop for a day packed with fun.
Whether you're in the mood to splurge on the latest fashion trends, looking for something special for the little ones, or simply want to update your wardrobe with the hottest trends, Stonebriar Centre has it all​​.
The shopping options at Stonebriar Centre are diverse and extensive. With over 200 stores, the centre caters to a wide range of shopping needs and preferences.
You'll find everything from well-known department stores to specialized boutiques offering accessories, children's clothing, electronics, entertainment, health and beauty products, home and housewares, jewelry, men's and women's clothing, and so much more.
This extensive selection makes Stonebriar Centre not just a shopping destination but a lifestyle hub, where you can find almost anything you're looking for​​.
When it comes to dining, Stonebriar Centre is equally impressive. Whether you're craving a quick afternoon snack, a hot cup of coffee, or a relaxing meal with friends or family, the centre has a variety of dining options to satisfy any palate.
From sit-down restaurants like Estilo Gaucho Brazilian Steak and Bazille inside Nordstrom, offering an array of cuisines in a cozy setting, to fast casual restaurants like Chick-fil-A and Sonic Drive-In in the food court, there's something for everyone.
The diversity of the dining options ensures that you can find the perfect place to refuel and indulge, no matter what your taste or mood​​.
For entertainment, Stonebriar Centre boasts the AMC DINE-IN Stonebriar 24. This movie theatre is a state-of-the-art facility offering a wide selection of movies in various formats. From the latest blockbusters to independent films, there's always something playing to suit your cinematic tastes.
The theatre's dine-in service, signature recliners, and reserved seating enhance the movie-going experience, making it a perfect way to unwind after a day of shopping and dining​​​​​​​​​​​​​​​​.
Stonebriar Centre in Frisco is more than just a shopping mall; it's a lifestyle destination offering a comprehensive shopping, dining, and entertainment experience. With its wide array of stores, diverse dining options, and top-notch entertainment facilities, it's a one-stop destination for anyone looking to spend a fun and fulfilling day out in Frisco.
Whether you're a local resident or a visitor, Stonebriar Centre is a must-visit for an enjoyable and memorable experience.
Experience the Frisco Discovery Center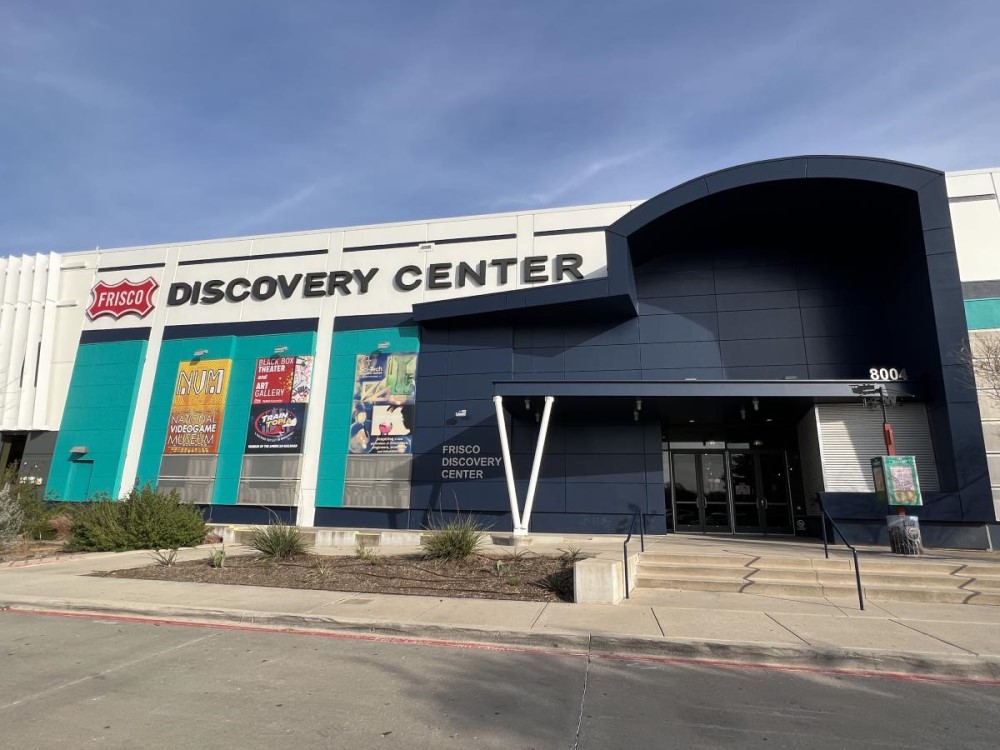 The Frisco Discovery Center, located in Frisco, Texas, is a hub of creativity and discovery, perfect for families and individuals interested in art, science, history, and imagination.
This unique facility, developed by the Frisco Community Development Corporation and supported by the City of Frisco, has undergone a transformation worth $3 million. This investment has turned a former warehouse space into a vibrant center for art, science, and culture​​.
The center operates from Tuesday to Thursday from 10 a.m. to 5 p.m., Fridays and Saturdays from 10 a.m. to 6 p.m., and on Sundays from 12 p.m. to 5 p.m., ensuring ample time for visitors to explore its diverse offerings​​. One of the main attractions is the Frisco Art Gallery, which hosts rotating exhibits by local, regional, national, and international artists.
These exhibitions range from solo to group shows, featuring a wide array of artistic expressions. This diversity in artwork, from places as far as Venezuela to local talents like the Visual Arts Guild of Frisco, offers visitors a chance to witness a broad spectrum of artistic creativity​​.
For theatre enthusiasts, the Frisco Discovery Center houses the Black Box Theater, a cozy venue that seats around 100 guests. This space is ideal for local theater productions and provides an intimate setting for performances. Visitors can check the center's calendar for upcoming events or even book the venue for their own productions​​.
Additionally, the center is home to the Sci-Tech Discovery Center. This hands-on learning environment is dedicated to inspiring discovery and innovation through the exploration of science, math, and technology. It's a place that encourages active learning and engagement, making it an excellent destination for families and anyone interested in science and technology​​.
For video game lovers, the National Videogame Museum also finds its home within the Frisco Discovery Center. This museum allows visitors to delve into the history of the videogame industry and to play games from the past and present. It's an interactive experience that both educates and entertains, providing insight into the evolution of video games over the years​​.
Lastly, TrainTopia, a part of the Museum of the American Railroad, is located at the Frisco Discovery Center. This exhibit showcases over 2,500 feet of G-scale model trains, offering an immersive experience into a miniature world of trains and scenery from across the United States. For train enthusiasts and families, this is a must-visit, as it provides a unique perspective on railroad history and model train craftsmanship​​.
The Frisco Discovery Center is a versatile and engaging destination that caters to a wide range of interests. From art and theater to science and video games, it provides an enriching experience for all age groups. It's a place where imagination and learning come together, making it one of the top things to do in Frisco.
Whether you're a local resident or a visitor, the Frisco Discovery Center offers something unique and exciting for everyone.
Attend a Game at Toyota Stadium
In the heart of Frisco, Texas, the Toyota Stadium stands as a beacon for soccer enthusiasts and event-goers alike. Established in 2005, this 20,500-seat arena, home to Major League Soccer's FC Dallas, is more than just a sports venue​​.
The stadium's story is one of evolution and versatility. Initially opened as a soccer-specific stadium, Toyota Stadium was one of the earliest of its kind in the MLS.
Over the years, it has seen a notable $55 million renovation, notably housing the National Soccer Hall of Fame, bringing a unique cultural layer to its soccer legacy​​. This renovation included updates like a new multi-tiered stand and improved facilities, catering to a wide range of events beyond soccer​​.
The stadium's use extends well beyond professional soccer. Its additional 17 fields host a range of activities, from FC Dallas practices to youth tournaments and other sports events, making it a hub for local and national sports enthusiasts​​.
Moreover, its historical role as a venue for college football, including the NCAA Division I Football Championship and the Frisco Bowl, adds to its stature as a multi-purpose sports destination​​.
As for getting the best seats and tickets, early planning is crucial. Considering the stadium's popularity, especially during high-profile matches or events like concerts, securing tickets in advance is advisable.
For a superior experience, the stadium's luxury suites and the NSHOF Club offer exclusive seating and amenities, enhancing the viewing experience​​.
Speaking of concerts, Toyota Stadium is not just about sports. It's a cultural venue too, having hosted various concerts and events, including performances by renowned artists and bands, adding to its appeal as a multi-faceted entertainment destination​​.
Toyota Stadium is a cornerstone of Frisco's vibrant community, offering a plethora of activities ranging from high-octane soccer matches to cultural events.
It's a place where sports and entertainment intersect, providing visitors with an array of experiences. Whether you're a soccer fan, a music enthusiast, or just looking for a lively outing, Toyota Stadium is a must-visit destination in Frisco.
Visit the National Videogame Museum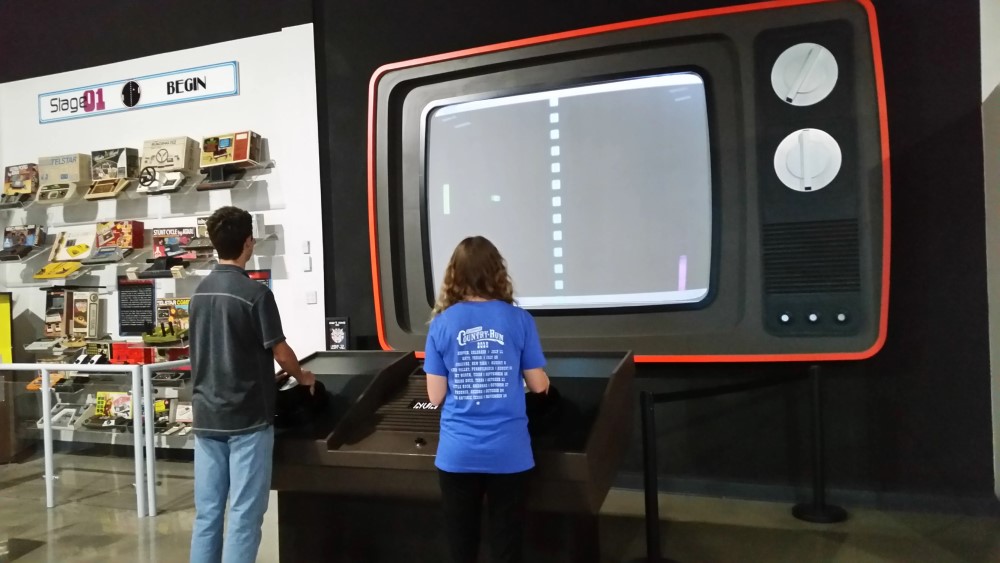 Frisco, Texas, offers a unique experience for gaming fans and history buffs alike: the National Videogame Museum. This museum isn't just about looking at old consoles and games; it's an interactive dive into the evolution of gaming.
Interactive Exhibits: The museum thrives on its hands-on approach. At the Head to Head Wall, you can play classic and modern video games side-by-side, literally seeing the progression of gaming technology​​​​. Then, there's the Giant Pong exhibit – imagine playing Pong, but with paddles that are over 12 feet tall! It's an epic scale version of the game that started it all​​​​.
A Nostalgic Journey: The Timeline of Consoles is a dream for any gaming enthusiast. Here, you can navigate through a vast database of gaming systems, using a giant SNES controller. This exhibit is more than just a visual treat; it's a trip down memory lane for those who grew up gaming and an eye-opener for the newer generation​​.
A Blast from the Past: The 1980s Bedroom exhibit is like stepping into a time machine. The room is decked out with vibrant colors, retro decor, and memorabilia that capture the essence of the gaming culture of the 80s. Think Dungeons & Dragons, vinyl records, and the early days of home gaming​​​​.
Rise of Computers: This part of the museum highlights the significant milestones in personal computing. It features legendary machines like the Apple II, Commodore 64, and the IBM PC. This exhibit is a tribute to the early days of computing and the classic games and applications that came with these machines​​.
Virtual Reality Adventure: The Virtual Reality exhibit showcases the progression of VR technology, from its early experiments in the 1960s to the sophisticated headsets of today. It's an exploration of how VR has transformed gaming and even training, such as the US Army using BattleZone to train tank pilots​​.
Pixel Dreams Arcade: Finally, immerse yourself in the Pixel Dreams Arcade. This space is filled with vintage arcade cabinets, each restored to their original glory. It's a trip back to the golden age of arcades, complete with the sounds of buttons clattering and the glow of CRT monitors. Here, you can compete for high scores just like the old days​​.
The National Videogame Museum in Frisco is more than a museum; it's an interactive playground for gamers of all ages. It offers a unique blend of history, nostalgia, and hands-on fun, making it a must-visit destination for anyone looking for things to do in Frisco.
Enjoy Local Cuisine at Frisco Square
When it comes to things to do in Frisco, indulging in the diverse culinary scene at Frisco Square is a must. This bustling area offers a variety of dining options that cater to all tastes and preferences.
For a taste of traditional Mexican cuisine, Chito's Authentic Mexican Restaurant is the place to be. They serve up spicy, scratch-made dishes from family recipes, ensuring an authentic experience. Their menu goes beyond simple quesadillas and tacos, offering dishes like tamales and chimichangas. Chito's aims to deliver the best Tex-Mex food north of Dallas, making it a top choice for Mexican food aficionados​​​​​​.
Nerdvana Frisco brings together food and gaming culture in a unique way. This gaming-themed restaurant and bar features a scratch kitchen and custom cocktails, all under one roof. With every dish made to order, Nerdvana offers a contemporary dining experience.
They also serve creative cocktails, freshly roasted coffee, and a range of craft beers and spirits. It's an ideal spot for those looking to enjoy good food in a playful, gaming-inspired environment​​​​.
Frisco Square is home to various other dining establishments, each offering its unique flavor and atmosphere. Options include Best Thai, Jake's Uptown, and Pizzeria Testa, among others, providing a wide range of cuisines to satisfy different palates​​.
Frisco Square presents an eclectic mix of dining options that cater to a variety of tastes. Whether you're in the mood for authentic Mexican dishes, want to enjoy a meal in a gaming-themed environment, or simply wish to explore different culinary offerings, Frisco Square has something for everyone.
It's a key destination for anyone looking for things to do in Frisco, especially for those eager to explore the local cuisine.
Explore the Frisco Rail Yard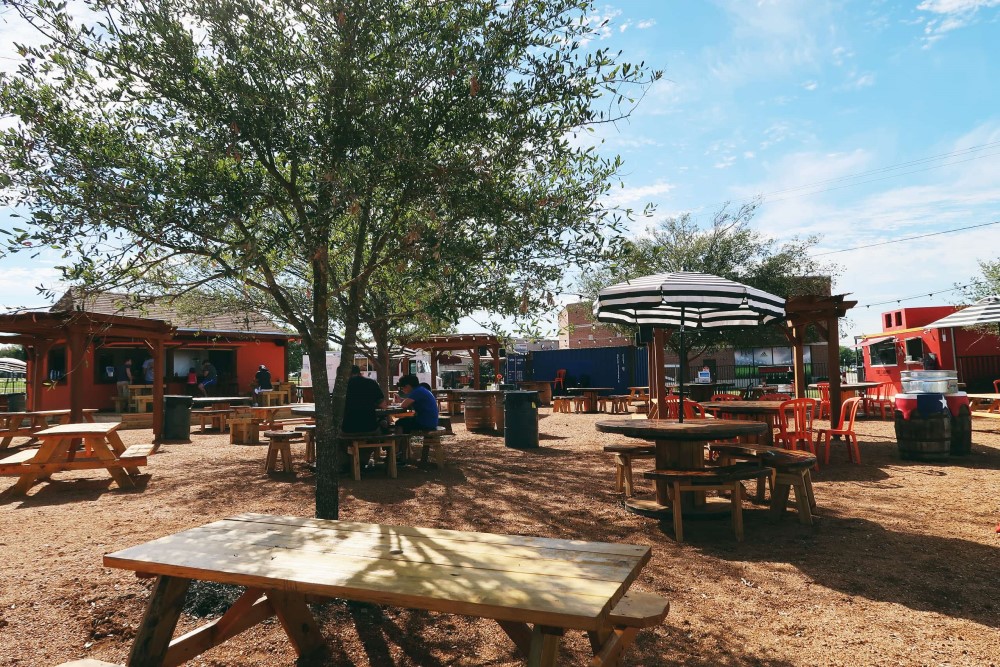 When searching for things to do in Frisco, the Frisco Rail Yard is a standout destination. This spot is more than just a food truck park; it's a vibrant hub of entertainment and gourmet cuisine, perfect for a fun day out or a relaxed evening.
Frisco Rail Yard is the first and finest park for food trucks in the heart of Frisco. Here, you'll find an array of gourmet dishes served by some of the top local chefs. The variety is impressive, offering something for every taste bud. It's a spot where food enthusiasts can revel in a diverse culinary experience​​.
This isn't just about food; it's about the experience. The park features outdoor games, live music, and special events, making it a lively spot for family and friends. It's a place where you can enjoy good food while soaking in the vibrant atmosphere.
Live music events, like performances by the Bobby De La Rosa Band or the band Razzmatazz, add to the lively ambiance of the Rail Yard, making it a great place to unwind and enjoy the local culture​​​​.
The Rail Yard is open from Tuesday to Sunday, with varying hours. From Tuesday to Thursday, it's open from 4:00 PM to 10:00 PM.
Fridays extend a bit later, until midnight. Saturdays are a full day affair, from noon to midnight, and Sundays wrap up a bit earlier at 9:00 PM. These flexible hours make it easy to plan a visit whether you're looking for an afternoon snack or an evening out​​.
Looking to celebrate a special occasion? The Frisco Rail Yard also accommodates private parties. With an option to reserve tables for groups of eight or more, it's a unique venue for birthdays, family gatherings, or just a fun night out with a larger group.
The lively environment of the Rail Yard, combined with great food and entertainment, makes it an ideal location for memorable celebrations​​.
Frisco Rail Yard stands out for its combination of diverse food options, entertainment, and a friendly, lively atmosphere. It's a place where each visit can offer a new experience, from trying different food trucks to enjoying various live music acts.
For those looking for things to do in Frisco, the Rail Yard offers a unique blend of dining and entertainment that's hard to find elsewhere.
The Frisco Rail Yard is a gem in Frisco's vibrant scene, offering an eclectic mix of gourmet food truck fare, live entertainment, and a lively atmosphere. Whether you're planning a casual outing, a night out with friends, or a special celebration, the Rail Yard caters to all kinds of occasions, making it a must-visit destination in Frisco.
Take a Stroll in Frisco Commons Park
Frisco Commons Park, located at 8000 McKinney Road in Frisco, TX, is a haven for those seeking a blend of relaxation and outdoor activity. The park is open every day from 6:00 AM to 8:00 PM, offering ample time for visitors to enjoy its vast array of amenities. This facility, while not yet rated, has quickly become a favorite spot among locals and visitors alike​​.
The park is equipped with a variety of features that cater to all ages and interests. Among its most notable attractions is the amphitheater, which serves as a perfect venue for community events and performances.
BBQ grills are available for those looking to cook up a meal, and there are plenty of benches throughout the park for visitors to sit and enjoy the surroundings. A bike trail winds through the park, offering a scenic route for cyclists and walkers alike.
For fishing enthusiasts, the park includes a pond that adds to its tranquil ambiance. Hope Park, a notable feature within the park, is a playground designed to be accessible for all abilities, ensuring that children of various needs can play and explore safely. The park also provides ample parking, making it convenient for families to spend a day out.
Picnic enthusiasts will find the Picnic Shelters and Picnic Tables perfect for family gatherings or casual outings with friends. The playground is a hit with the younger visitors, offering a safe and fun environment for children to play. Additionally, the park is equipped with restrooms, making it a comfortable destination for extended stays​​.
The park's "Picnic Alley," "Big Kid Lot," and "Tot Lot" are specially designed areas that cater to different age groups and preferences, ensuring that every visitor, regardless of age, can find a spot that suits their needs.
The "Tot Lot" is ideal for younger children, while the "Big Kid Lot" caters to older children who are looking for more adventurous play equipment. "Picnic Alley" is the perfect spot for families and groups to gather and enjoy a meal outdoors in a picturesque setting​​.
Frisco Commons Park is a multifaceted destination that offers something for everyone. From serene fishing spots and scenic bike trails to dynamic playgrounds and comfortable picnic areas, the park is a versatile outdoor space that caters to a wide range of activities and interests.
Whether you're planning a family day out, looking for a place to exercise, or simply seeking a peaceful spot to relax, Frisco Commons Park is one of the top things to do in Frisco. Its combination of natural beauty, well-thought-out amenities, and accessibility makes it a must-visit destination for anyone looking to enjoy the outdoors in Frisco.