Sixes Dallas is not just a cricket-centric venue; it's a culinary haven offering a diverse and delectable menu that caters to a variety of palates. The menu at Sixes Dallas is meticulously crafted, ensuring that every visitor, whether a cricket enthusiast or a food lover, has an unforgettable experience. This establishment is not only making cricket accessible to everyone but is also playing a pivotal role in growing cricket in the USA, by reimagining cricket and integrating it with exceptional hospitality services.
Sixes Dallas is more than just a sports venue; it's a place where the story of Sixes Dallas unfolds, showcasing its commitment to promoting cricket and providing an inclusive and entertaining environment for all. Whether you are here to take a batting challenge at Sixes Dallas or to relax and enjoy the vibrant atmosphere, the extensive menu at Sixes Dallas is sure to enhance your experience, offering a range of delicious options, which is perfectly suited for  birthday and office parties that go beyond the conventional sports bar fare.
This introduction aims to give you a glimpse into the world of Sixes Dallas, where the love for cricket and gourmet food intertwines, creating a unique and enjoyable experience for everyone. Whether you are a cricket aficionado or a culinary explorer, the menu at Sixes Dallas promises a journey of flavors, complementing the exhilarating cricketing adventure that awaits you.
The Essence of Social Cricket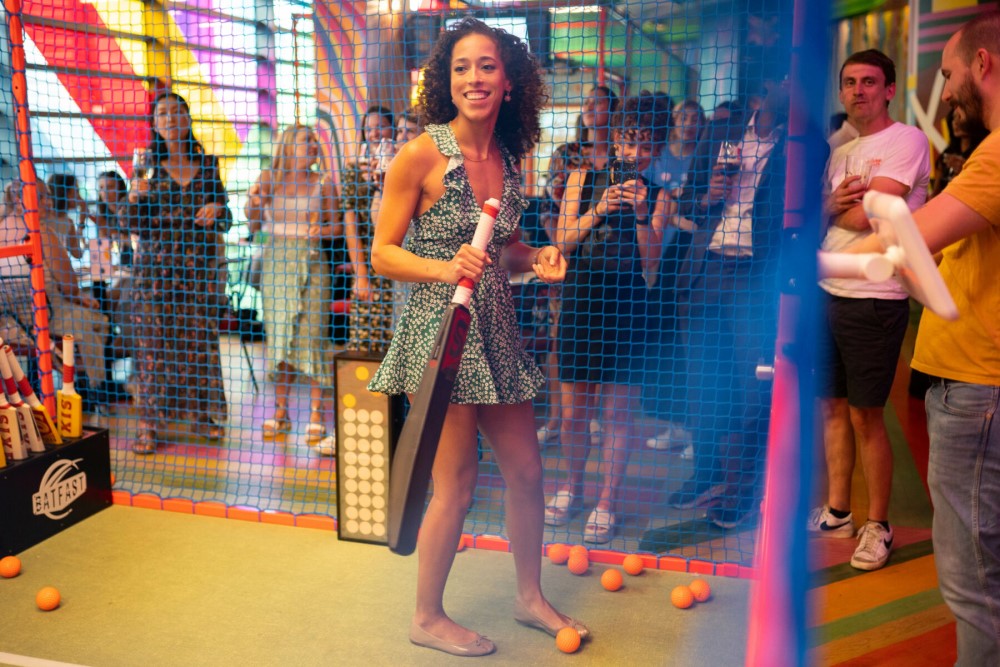 Cricket, a sport deeply entrenched in tradition, has been a beloved pastime for centuries. It has evoked passion, camaraderie, and a sense of belonging among its enthusiasts. But what if this age-old game could be reimagined for the modern era, making it more accessible and engaging for everyone, regardless of their familiarity with the sport? Enter Sixes Social Cricket, a groundbreaking concept that brings the thrill of cricket to the heart of Dallas in an entirely new and exhilarating way.
At Sixes, cricket is not just a game; it's an experience. Gone are the days of long matches under the scorching sun. Instead, Sixes offers an adrenaline-fueled multiplayer batting challenge that is both competitive and inclusive.
Whether you're a seasoned cricketer or someone who has never held a bat, Sixes ensures that everyone can partake in the excitement. The format is designed to be fast-paced, ensuring that players remain engaged and entertained throughout.
But what truly sets Sixes apart is its ability to transform cricket into a social event. It's not just about scoring runs or taking wickets; it's about coming together with friends, family, or colleagues and sharing memorable moments. The ambiance is electric, with the rhythmic sound of the ball meeting the bat, cheers from the onlookers, and the spirit of friendly competition filling the air.
Moreover, Sixes has seamlessly integrated technology into the experience. Digital scoreboards, instant replays, and state-of-the-art equipment ensure that players get a taste of professional cricket, all while enjoying the comforts of an urban setting.
Packages Offered by Sixes Dallas
At Sixes Dallas, the experience is not just about the thrill of the game or the delectable culinary offerings; it's about crafting memories tailored to every guest's preference. Recognizing the diverse needs of its guests, Sixes has curated an array of packages, each designed to offer a unique blend of food, drinks, and entertainment.
The Boundary: Perfect for those who crave simplicity with a touch of indulgence. At just $23.00 per person, this package offers any burger (with the exception of the Sixes Stacker) paired with crispy fries. To sweeten the deal, guests can choose any dessert from the menu and enjoy unlimited refills of soft drinks. It's a balanced blend of savory and sweet, ensuring satisfaction for every palate.
The Fielder: A step up, this package, priced at $33.00 per person, is for those who love variety. Dive into a selection of mouth-watering tacos and sliders, followed by your choice of burgers and pizzas. And of course, any meal at Sixes isn't complete without a dessert and unlimited soft drink refills.
The Bowler: For those looking to elevate their experience, The Bowler, at $44.00 per person, brings in the allure of drinks. Enjoy three house drinks, be it a 6oz wine or any draught beer of your choice. Complement this with a selection of burgers & pizzas and a dessert to round off the experience.
The Out Out: The ultimate package for the connoisseurs. At $74.00, indulge in five drinks, which include cocktails, 6oz wines, draught beers, or a single house spirit with a mixer. Pair this with a selection of burgers & pizzas and a dessert. Note: Top Shelf Cocktails are exclusive of this package.
Kids Meal & Drink: Sixes ensures that the younger guests aren't left out. For just $14.00, kids can enjoy a main meal from the special kids' menu, a dessert, and a soft drink.
Each package at Sixes Dallas is more than just a meal; it's an experience, a journey, and a celebration.
Dive into the Food Menu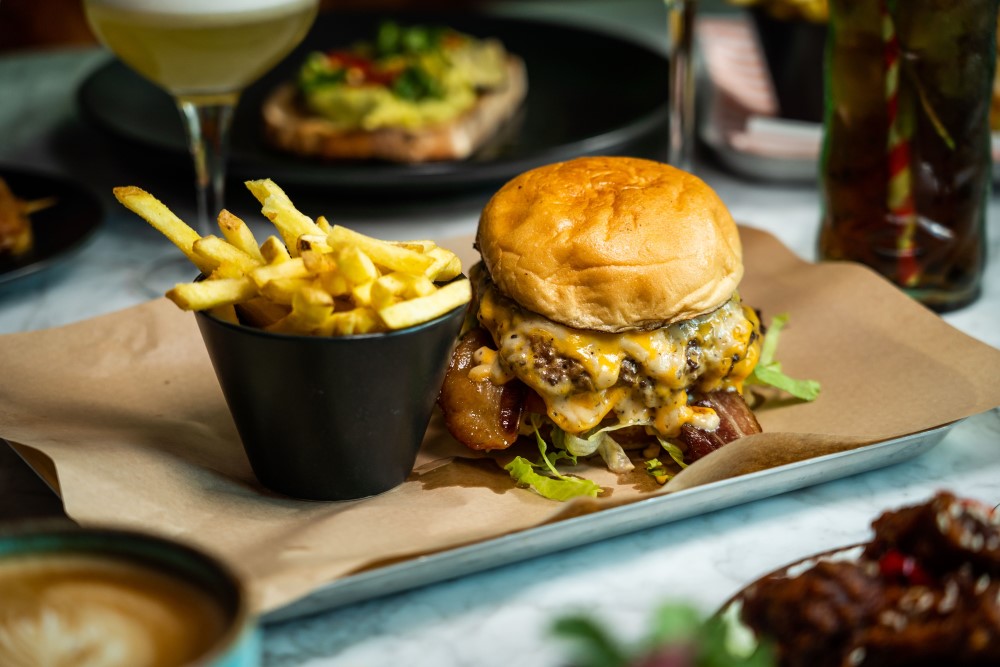 Sixes Dallas is not just a hub for cricket enthusiasts; it's a gastronomic paradise for food lovers. The menu, carefully curated, promises a culinary journey that tantalizes the taste buds and leaves one craving for more. Let's embark on this flavorful expedition.
Sharing Plates: The essence of any memorable dining experience is the joy of sharing. Sixes understands this and offers a range of dishes perfect for communal enjoyment. The Mini Fish & Chips is a delightful miniature version of the classic, ensuring every bite is as crispy and flavorful as the last.
The Crispy Chicken Wings, golden and succulent, are a testament to the perfect balance of crunch and tenderness. And for those who love a fusion of flavors, the Big Hitter Nachos are a home run, layered with ingredients that dance on the palate.
Burgers: From the land down under comes the Ozzie Beefy Basher, a hearty burger that packs a punch with every bite. For those seeking a vegetarian delight, the Victoria Veggie stands tall, offering a medley of fresh ingredients sandwiched between perfectly toasted buns.
Pizzas: The pizzas at Sixes are not just food; they're an experience. The Buffalo Margherita is a twist on the classic, with buffalo mozzarella elevating its taste profile. For the adventurous, the Vegan Spicy Sausage promises a burst of flavors, challenging the notion that vegan dishes are bland.
Sides: What's a main course without its trusty sidekicks? The Skinny Fries with Ashes Seasoning are moreish, making them the perfect companion to any dish. For those seeking a touch of luxury, the Truffle & Parmesan Fries are nothing short of culinary gold.
Desserts: To round off the meal, the desserts at Sixes are a dream. The Warm Cookie Dough Skillet is comfort in a dish, while the Deep Fried Snickers Sundae is an indulgent treat that promises a delightful end to a perfect meal.
At Sixes Dallas, every dish tells a story, and every bite is a chapter in that tale.
Quenching the Thirst: The Drinks Menu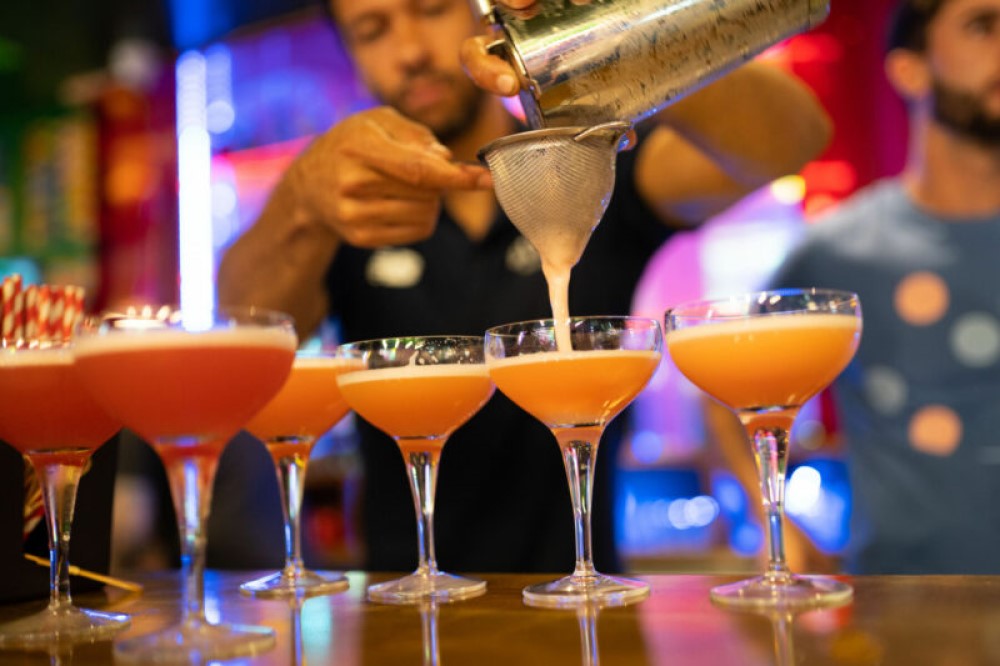 Sixes Dallas, while renowned for its cricketing experience and culinary delights, also boasts a drinks menu that is both extensive and exquisite. Whether you're celebrating a win, toasting to good times, or simply unwinding after a game, the beverage offerings promise to elevate every moment.
Signature Cocktails: Sixes takes pride in its unique concoctions that are both visually appealing and tantalizing to the taste buds. The "Girl Next Door" is a refreshing blend, perfect for those who appreciate a subtle sweetness with a hint of zest. On the other hand, "Tea Time" is a nod to the classic afternoon ritual, but with a twist that's sure to intrigue and delight.
Classic Cocktails: For the purists, Sixes offers timeless favorites that have stood the test of time. The Daiquiri, with its perfect balance of sweetness, sourness, and strength, is a testament to simplicity done right. The Negroni, with its rich hue and complex flavors, is a drink that commands respect and is best enjoyed slowly.
Beers & Ciders: Catering to both the casual drinker and the connoisseur, the selection ranges from the light and crisp Miller Lite to the robust flavors of Austin Eastciders Classic. Each brew promises a unique flavor profile, ensuring there's something for everyone.
Wines & Champagnes: The wine list at Sixes is a journey through vineyards from around the world. From the full-bodied Silvergate Cabernet Sauvignon to the delicate bubbles of Nicholas Feuillatte Champagne, every sip is an exploration of terroir and craftsmanship.
Non-Alcoholic Choices: Recognizing that not everyone indulges in alcohol, Sixes offers refreshing alternatives. The "Girl on a Drive" is a vibrant blend that dances on the palate, while the "Ginger + Mint Collins" is a rejuvenating mix that's perfect for a warm day.
At Sixes Dallas, every drink is crafted with care, ensuring that whether you're raising a glass or sipping slowly, the experience is nothing short of exceptional.
The Complete Sixes Experience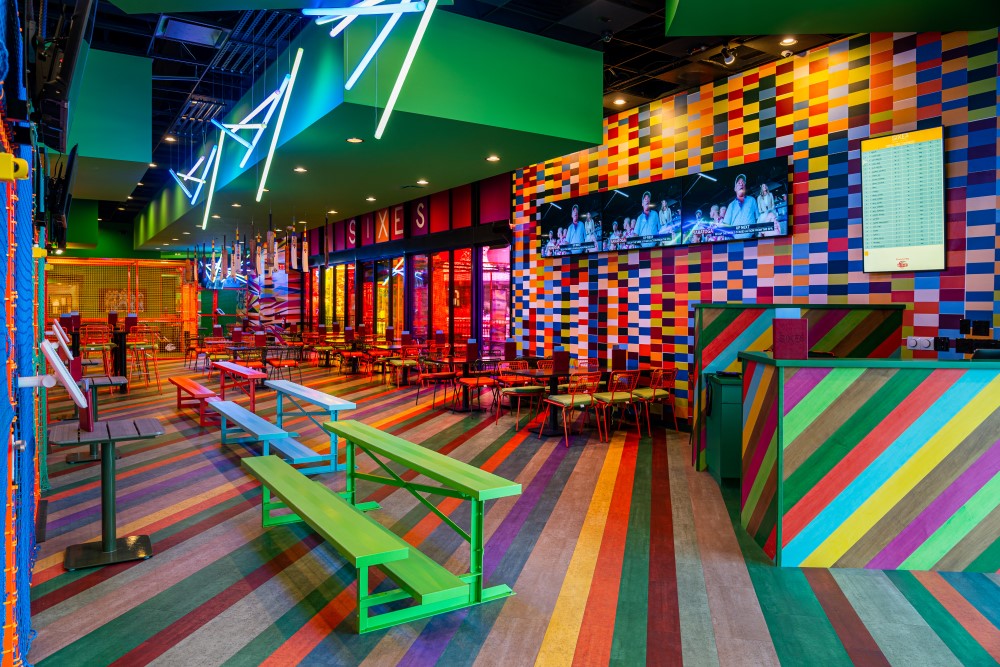 Sixes emerges as a beacon of unparalleled entertainment, seamlessly blending the thrill of cricket with gourmet culinary offerings and a diverse drinks menu. But what truly sets Sixes apart is the holistic experience it promises, where every element, from the swing of the bat to the last sip of a cocktail, is meticulously curated to ensure an unforgettable time.
Imagine stepping into Sixes on a bustling evening. The rhythmic thud of the cricket ball, the cheers of teams competing in friendly rivalry, and the clinking of glasses set the ambiance. As you settle into your seat, the aroma of freshly prepared dishes wafts through the air, teasing your senses and promising a culinary journey like no other. Whether you're diving into a plate of Mini Fish & Chips or sipping on the signature "Girl Next Door" cocktail, every bite and sip is a testament to Sixes' commitment to excellence.
But don't just take our word for it. The testimonials and feedback from visitors paint a vivid picture of the Sixes experience. Sarah, a local from Dallas, shares, "I came for the cricket but stayed for the food and drinks. It's a perfect place for a fun evening out with friends." Another visitor, Mike, echoes the sentiment, stating,
"Never thought I'd enjoy cricket this much! The atmosphere is electric, and the food is just the cherry on top."
Such glowing reviews are a testament to the magic of Sixes. It's not just a place; it's an emotion, a memory in the making. Whether you're celebrating a special occasion, looking for a unique date night, or simply wanting to try something new, Sixes promises an experience that lingers long after the night is over.
Embracing the Sixes Dallas Saga: A Call to Experience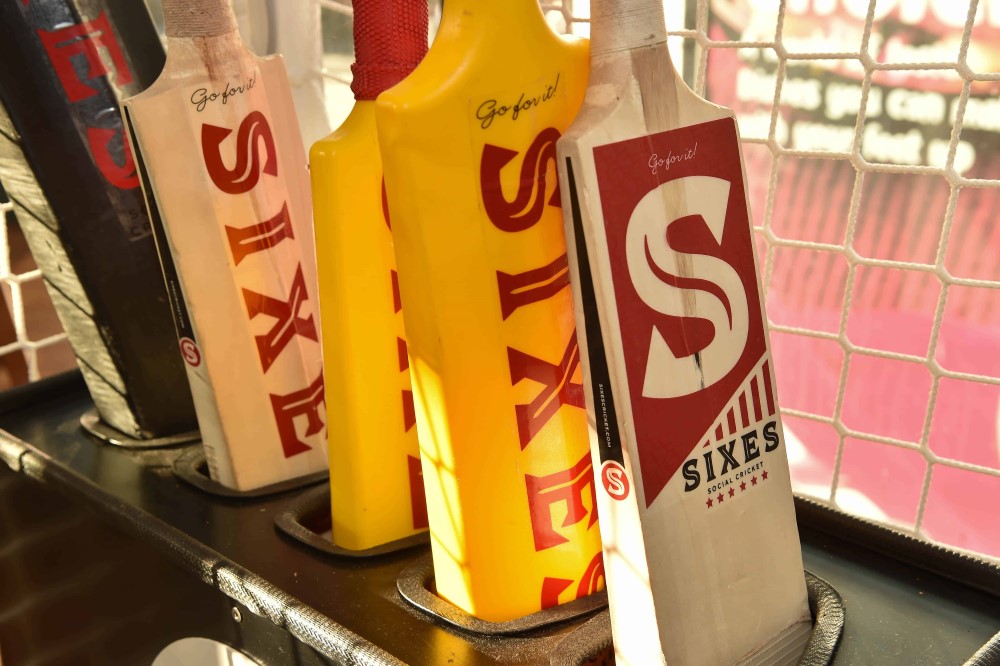 In a world where experiences are increasingly becoming the currency of memories, Sixes Dallas stands out as a beacon of innovation and delight. It's not just a venue; it's a tapestry of moments, flavors, and emotions, woven together to create an ambiance that's both exhilarating and comforting. From the rhythmic thuds of cricket balls to the symphony of flavors that dance on the palate, every element at Sixes is designed to captivate and enchant.
But reading about it, while evocative, is just a mere glimpse into the magic that awaits. The true essence of Sixes Dallas can only be felt when you're there, bat in hand, with a plate of gourmet delights before you and a crafted drink to toast to the moments. Whether you're a cricket aficionado, a food lover, or someone simply seeking a novel experience, Sixes promises a journey that caters to all.
As we wrap up this exploration, a gentle nudge to the readers: Don't let this be just another article you read and set aside. Let it be an invitation, a call to action. Venture out and immerse yourself in the unique blend of sports and culinary artistry that is Sixes Dallas. Discover the packages tailored to every preference, ensuring that your time there is both memorable and value-driven.
In the end, life is but a collection of moments, and at Sixes Dallas, every moment is crafted to perfection. So, why wait? Step into a world where tradition meets modernity, where every swing, sip, and bite is a celebration. Experience Sixes Dallas, and let the stories unfold.