London, a city renowned for its rich history and diverse cultural tapestry, transforms into a vibrant paradise when the sun sets, revealing a nightlife scene that is both eclectic and exhilarating. Welcome to the dynamic realm of London Nightlife, where every street echoes with the melody of celebration and every venue offers a unique taste of the city's nocturnal charm. Whether you're a lover of sophisticated bars, high-energy clubs, or cozy, intimate pubs, London's nightlife has something to cater to every predilection and mood.
In this comprehensive guide, we will navigate through the multifaceted nightlife of London, exploring the best bars and clubs that the city has to offer. From the hidden gems nestled in the city's historic lanes to the iconic, bustling venues, we aim to provide you with an insider's look into the myriad of nocturnal options available, ensuring your evenings in the city are as enchanting as the days.
For those who are eager to delve deeper into what the city has to offer after dark, this guide is your passport to discovering the diverse London Nightlife, where the experiences are as varied as the city's culinary landscape, including its renowned restaurants, enticing street foods, night attractions, and flavorful craft beers.
So, immerse yourself in this guide and explore the myriad ways to experience the city at its most vibrant, where the music is infectious, the ambiance is captivating, and every night is a new adventure waiting to be discovered. Whether you're a local rediscovering the city's nocturnal delights or a visitor keen to experience London's after-dark allure, this guide is your gateway to unforgettable nights in a city where every moment is a celebration.
The Best Bars in London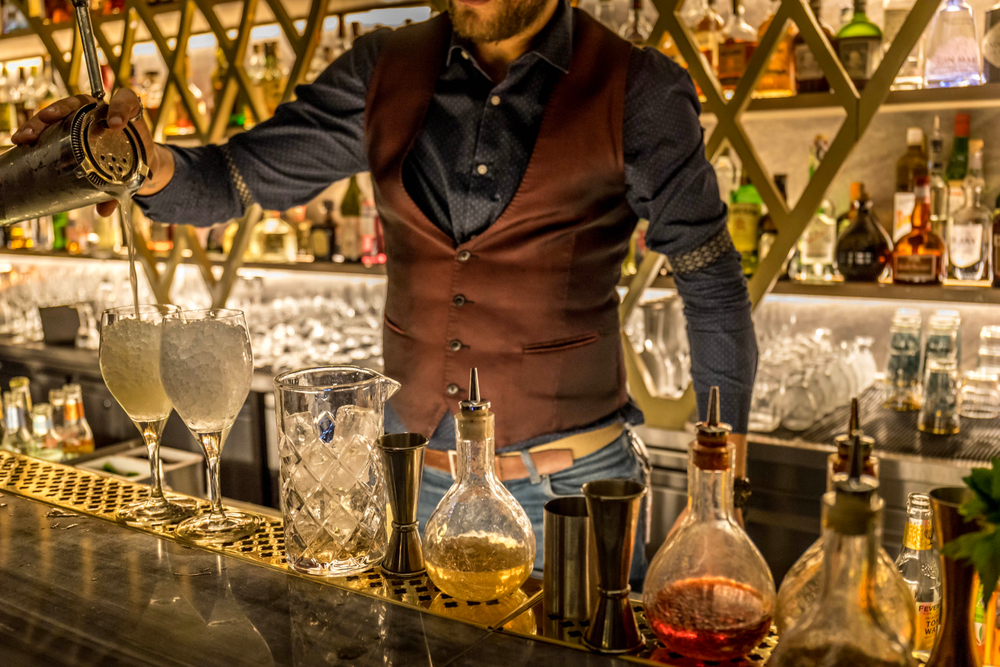 London, with its vibrant nightlife, boasts an impressive array of options for the best bars. From trendy cocktail bars to cozy traditional pubs, there is something to cater to every taste.
The Connaught Bar, situated in Mayfair, is renowned for its exquisite cocktails and luxurious ambiance. With a selection of both classic and innovative drinks, this bar has become a favorite among cocktail enthusiasts.
For those seeking a taste of history, The American Bar at The Savoy is the perfect choice. As one of London's oldest cocktail bars, it has a rich heritage dating back to the late 19th century. Locals and tourists alike are drawn to its elegant decor and extensive cocktail menu.
Nestled away in Soho, The Blind Pig is a hidden gem known for its creative cocktails and intimate atmosphere. Inspired by literature and nostalgia, this bar offers a unique drinking experience with its secretive ambiance.
In the trendy Shoreditch neighborhood, The Shoreditch bar is a popular choice for its lively atmosphere and diverse drink menu. From craft beers to signature cocktails, this bar caters to the tastes of young professionals and artists alike. Live music adds to the vibrant energy of this establishment.
The Churchill Arms, an iconic pub in Kensington, is famous for its stunning flower displays and quintessential British charm. With a wide selection of beers, ales, and classic pub food, it remains a beloved spot for locals and tourists.
When looking for the best bars in London, consider the ambiance, drink selection, and unique offerings. Whether you seek a sophisticated cocktail experience or a cozy pub atmosphere, London truly has something special to offer.
Top Nightclubs in the City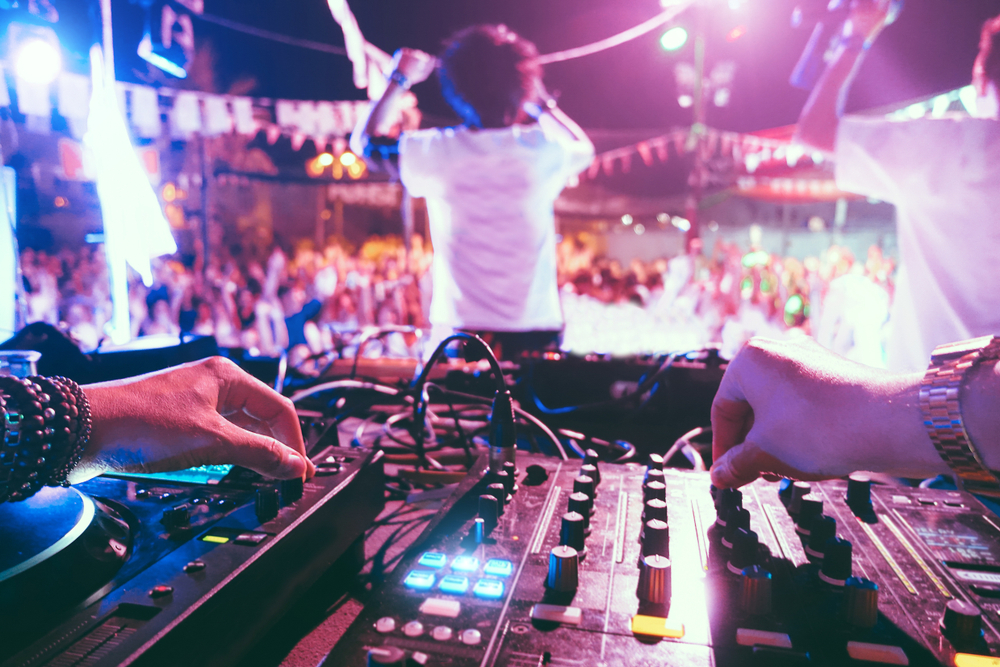 When it comes to the top nightclubs in London, there is a diverse and vibrant nightlife scene catering to different tastes. You can find something that suits your style, whether you want to dance to house music, enjoy live performances, or mingle with other party-goers. Here are some of the top nightclubs in the city:
Fabric: Known for its cutting-edge electronic music, Fabric is one of London's most iconic nightclubs. It has a state-of-the-art sound system and renowned DJs, providing an immersive experience for electronic music lovers.
Ministry of Sound: This legendary nightclub has been at the forefront of London's clubbing scene for many years. It has multiple rooms with different music genres, ensuring there is something for everyone.
Printworks: Housed in a former printing press, Printworks is a unique and industrial-themed venue. It hosts some of the city's biggest club nights and live music events. The venue has an impressive sound system and immersive lighting, creating an unforgettable experience.
XOYO: Located in the heart of Shoreditch, XOYO is known for its eclectic lineup of DJs and live acts across various genres, including electronic and indie. It is a go-to spot for those seeking an alternative and underground vibe.
With these top nightclubs, London's nightlife scene offers something for everyone, from electronic music lovers to fans of live performances and alternative sounds. Whether you are a local or a visitor, these venues promise an unforgettable night out.
Hidden Gems for a Unique Night Out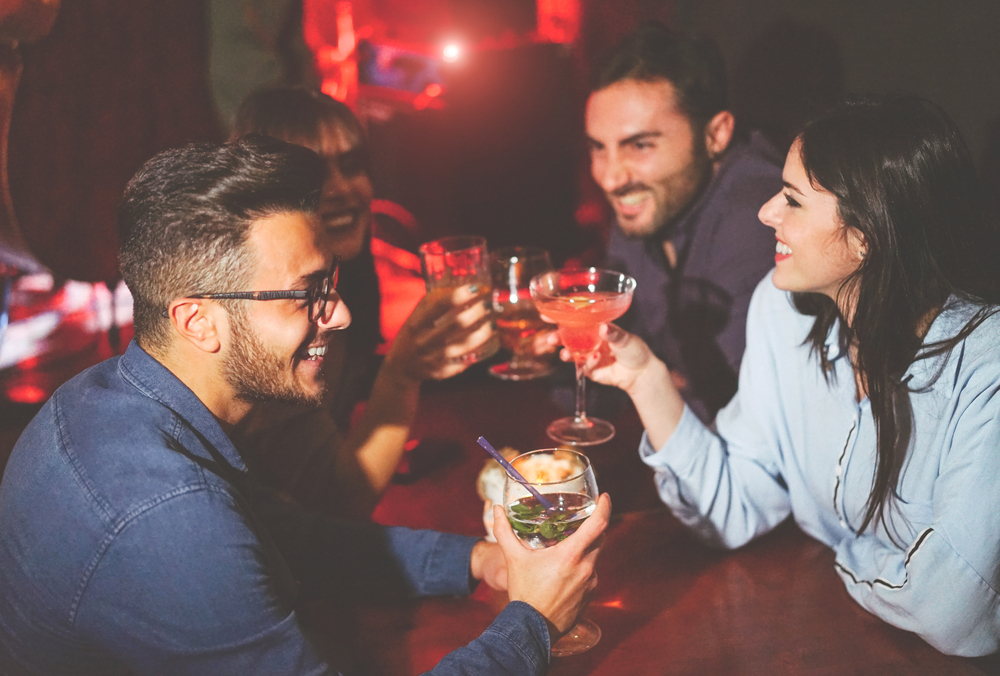 When exploring the nightlife of London, you will be thrilled to stumble upon hidden gems that guarantee a unique and unforgettable night out experience. Here are a few lesser-known places that epitomize this:
Sixes Social Cricket: A unique venue that combines the thrill of cricket with a delightful dining experience. With venues in London (Fitzrovia, Fulham and on Sheperd's Bush), Sixes offers both locals and visitors a chance to immerse themselves in the world of cricket while enjoying delectable dishes.
The Magic Garden: A haven for music enthusiasts, this hidden gem in Battersea features a diverse and imaginative bar and live music venue. With its enchanting garden, lively atmosphere, and a lineup of talented artists, it is the perfect spot to indulge in great music and dancing.
Opium Cocktail & Dim Sum Parlour: Tucked away in Chinatown, this secret underground bar is a true treasure, offering delectable dim sum and meticulously crafted cocktails. The vintage Chinese decor and cozy booths only add to its charm.
Evans & Peel Detective Agency: Step into a world of intrigue and fascination at this speakeasy-style bar in Kensington. Disguised as a detective agency, you must solve a case to gain entry. Inside, you'll discover expertly crafted cocktails and a nostalgic ambiance reminiscent of the 1920s.
Mr Fogg's Gin Parlour: Immerse yourself in the era of Queen Victoria at this hidden gem in Covent Garden. Renowned for its vast selection of gin, this delightful bar exudes a warm parlour atmosphere adorned with antique furniture and artifacts from the Victorian era.
The Mayor of Scaredy Cat Town: Embark on a whimsical adventure by entering through a hidden doorway in The Breakfast Club's Spitalfields branch. This peculiar underground bar offers inventive cocktails and a playful atmosphere, making it the perfect destination for an extraordinary night out.
Pro-tip: To truly uncover the hidden gems of London, stray from the well-trodden path. Explore different neighborhoods and keep an eye out for inconspicuous entrances or unusual signs – you never know what unique experiences await you!
Rooftop Bars with Stunning Views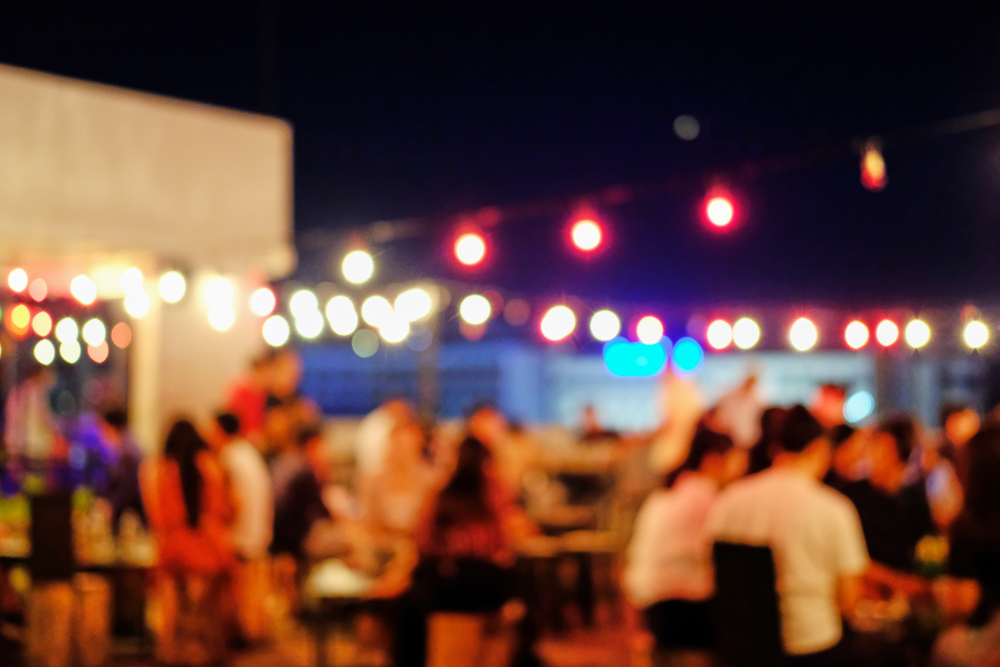 Rooftop bars with stunning views are the perfect choice for enjoying a drink with a view. Here are some of the best rooftop bars in London that offer breathtaking views:
Radio Rooftop Bar: Situated on the 10th floor of the ME London Hotel, it offers panoramic views of London's iconic landmarks, including the River Thames, St. Paul's Cathedral, and the London Eye.
Madison Rooftop Terrace: Located on the top floor of One New Change, it boasts stunning views of St. Paul's Cathedral and the London skyline. It is a popular spot for after-work drinks or a night out with friends.
Aviary: Positioned in the heart of the City, it offers mesmerizing views of the London skyline, including the famous Gherkin building. With stylish decor and an extensive cocktail menu, it is the perfect place to relax and enjoy the scenery.
The Culpeper Roof Garden: Found in the trendy area of Spitalfields, it provides a tranquil oasis away from the busy city below. It offers stunning views of the surrounding rooftops and is renowned for its vibrant atmosphere and delicious cocktails.
Speakeasies: London's Secret Drinking Spots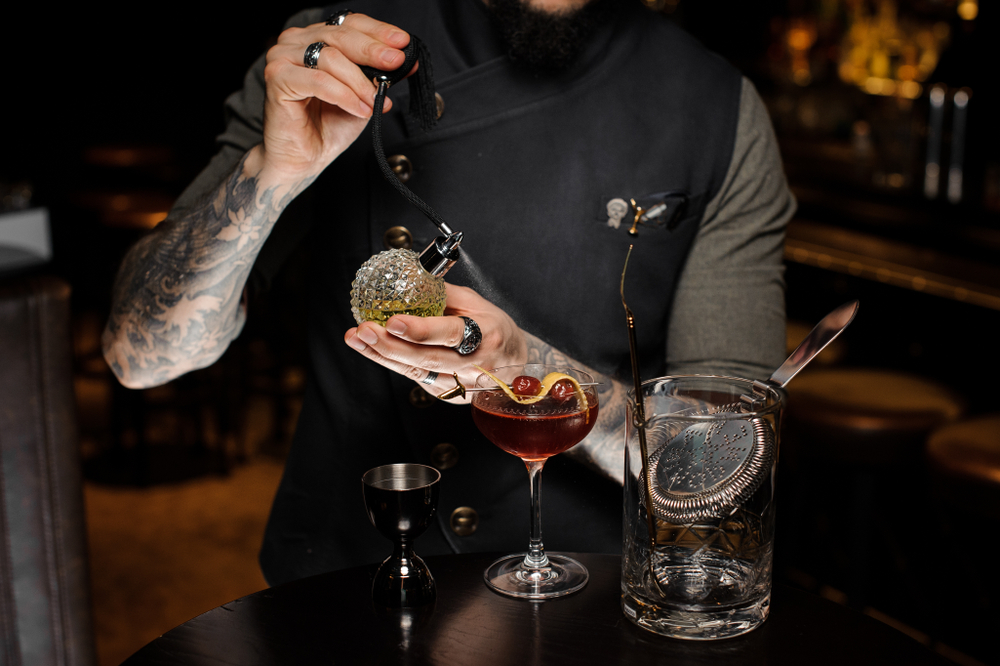 London's secret drinking spots, also known as speakeasies, offer a distinctive and privileged night out.
When venturing into these covert watering holes, there are several aspects to take into consideration:
1. Location: Speakeasies are cleverly concealed in inconspicuous places, enhancing their allure and transforming the search into an exciting adventure.
2. Ambience: Speakeasies exude an intimate and nostalgia-filled atmosphere, characterized by low lighting, vintage embellishments, and live jazz melodies.
3. Signature Cocktails: Highly skilled mixologists craft unparalleled beverages using high-quality spirits and unique ingredients. The menus showcase classic cocktails with a contemporary twist.
4. Exclusive Entrance: Often, reservations or a secret code are necessary for admittance, generating an air of intrigue and anticipation.
5. Knowledgeable Staff: Bartenders are passionate and well-informed, adept at guiding patrons through the menu while sharing captivating tales.
6. Hidden Extras: Certain speakeasies possess concealed rooms, secretive entrances, or immersive experiences, contributing to the thrill and individuality of each visit.
By exploring London's secret drinking spots, you can uncover hidden gems and indulge in an exceptional evening. These intimate establishments hold the city's best-kept secrets, waiting to be discovered.
Historic Pubs with Character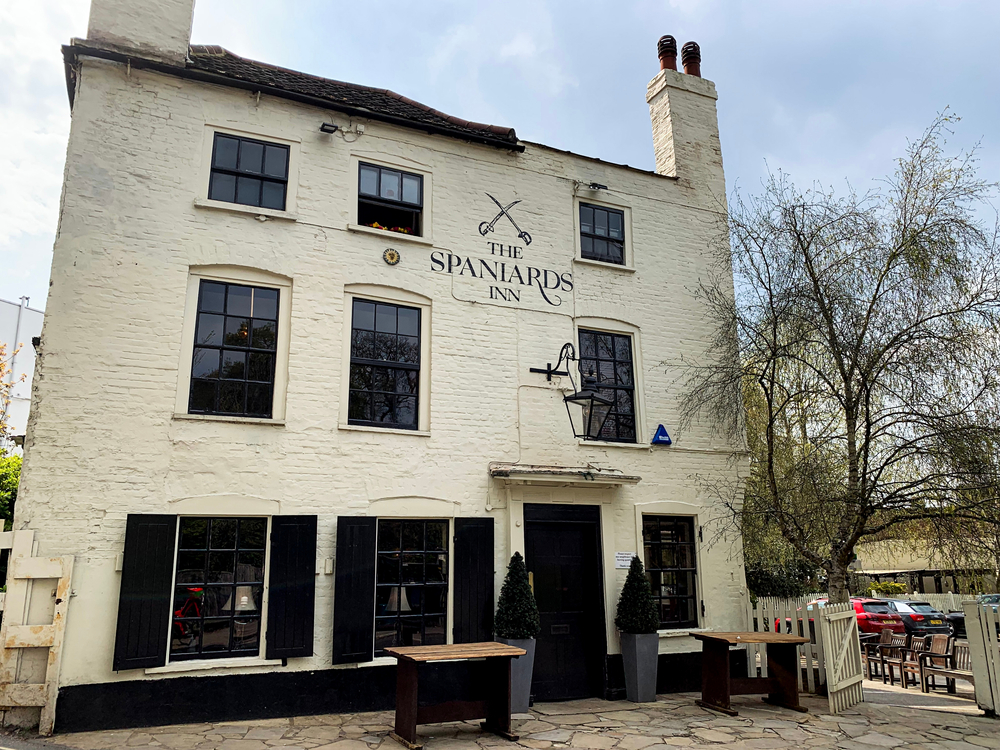 When exploring the nightlife of London, one should consider visiting historic pubs with character that possess unique character. These establishments have withstood the test of time and offer a distinctive atmosphere that seamlessly blends rich history with a vibrant social scene.
The Spaniards Inn: This delightful pub, located on the outskirts of Hampstead Heath, has been serving locals since 1585. It exudes an authentic historic charm with its low ceilings, wooden beams, and open fireplaces.
The Ye Olde Cheshire Cheese: Dating back to 1667, this pub near Fleet Street is renowned for its dark and cosy interiors. It was a favored gathering spot for literary figures like Charles Dickens and Sir Arthur Conan Doyle.
The Lamb and Flag: As one of London's oldest pubs, this establishment has been welcoming patrons since 1772. Situated in Covent Garden, it provides a rustic ambiance that transports visitors back in time.
The George Inn: Positioned near London Bridge, this pub from the 17th century boasts a beautiful courtyard. It has long served as a popular meeting place for both travelers and locals.
Fun fact: The Ye Olde Cheshire Cheese has remained virtually unchanged since the Great Fire of London in 1666. It serves as a true testament to the historic character of these pubs.
Trendy Bars for a Hip Nightlife Experience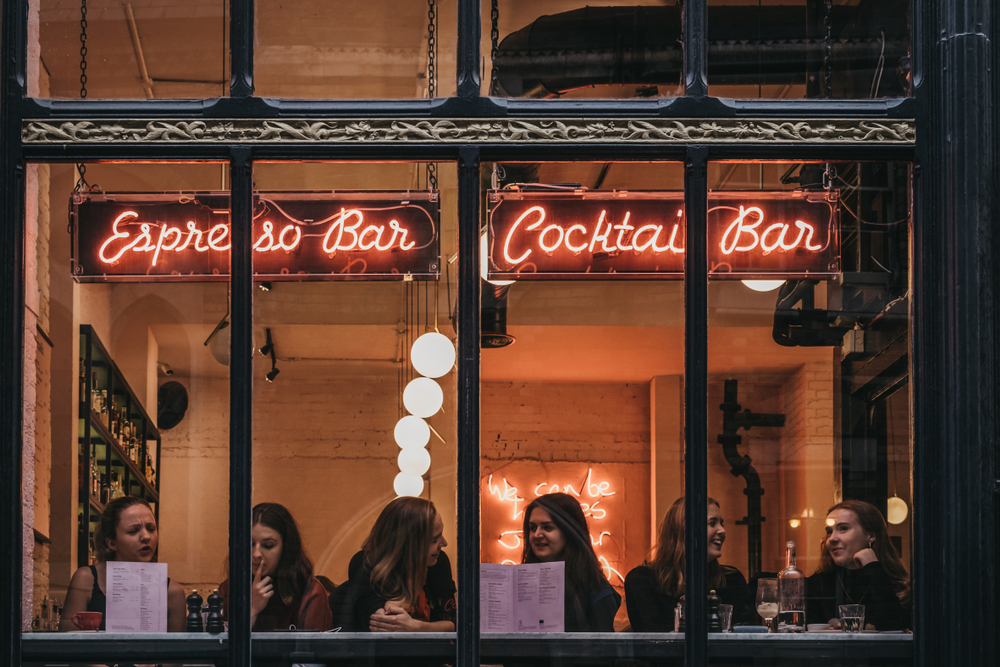 If you're looking for a fashionable nightlife experience in London, there are some bars that you must visit:
The Cocktail Trading Co.: This bar is renowned for its imaginative cocktails. The mixologists at this establishment create unique drinks that impress even the most experienced cocktail enthusiasts.
Experimental Cocktail Club: This hidden treasure is a favourite among locals and tourists alike. It exudes a speakeasy atmosphere and serves expertly crafted cocktails, making it the ideal location for a sophisticated night on the town.
Sketch: Not just a bar, but an immersive art installation experience. The bar at Sketch is a visual delight, with each room designed to transport you to a different world. Enjoy your drinks in the futuristic white pods or the vibrant pink bar area.
Nightjar: Step back in time to the era of prohibition at Nightjar, a speakeasy-style bar featuring live jazz music and an extensive cocktail menu. The dimly lit ambience and vintage decor contribute to the allure of this trendy establishment.
The Ned: Located in a former bank building, The Ned is a fashionable venue with multiple bars and restaurants to choose from. Whether you prefer a classic martini or a craft beer, The Ned caters to everyone's preferences.
Pro-tip: Be adventurous and experiment with different cocktails or drink selections. London's trendy bars often offer unique and innovative options that can enhance your nightlife experience.
Late-Night Food and Drink Options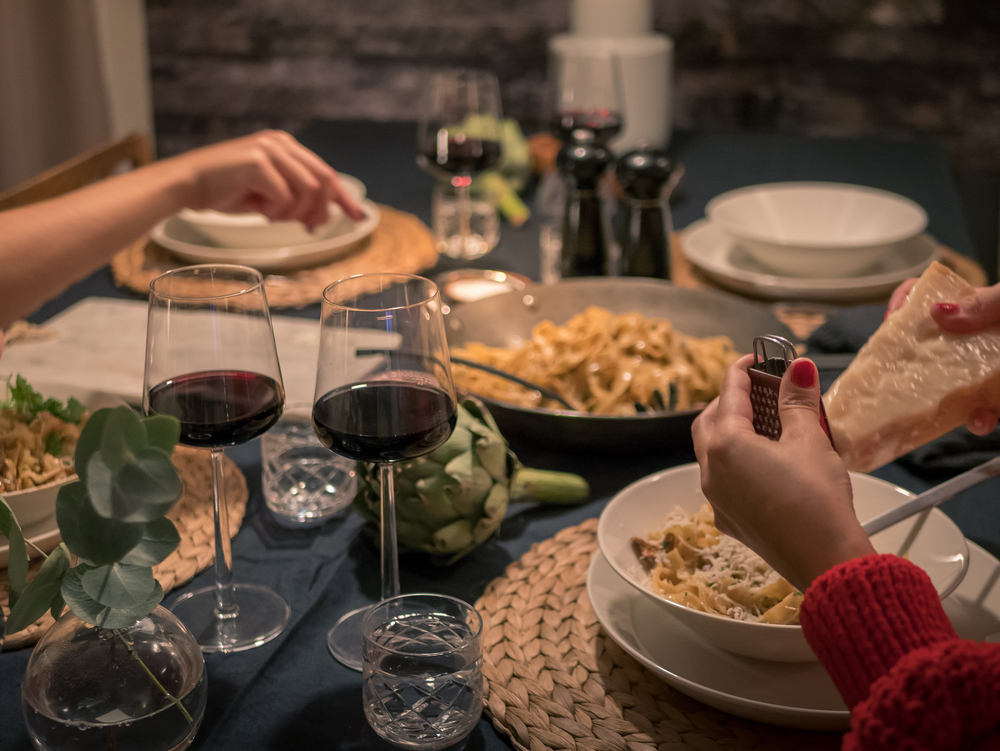 London has a lively and diverse late-night food and drink scene, offering a multitude of delightful options to satisfy your cravings. Whether you're looking for a quick bite or a complete meal, there are numerous choices available.
If you're in the mood for street food, London's renowned food truck culture has got you covered. Open late into the night, these food trucks offer a variety of cuisines including burgers, tacos, kebabs, and Asian fusion dishes. You can find them in popular locations such as Camden Market, Southbank Centre, and Boxpark Shoreditch.
For a more relaxed ambiance, there are several late-night cafes that remain open. These cafes offer a range of options including sandwiches, salads, pastries, and hot beverages. They are perfect for a late-night snack or a leisurely meal with friends.
If you prefer a sit-down meal, London also has a number of 24-hour restaurants. These establishments serve a variety of cuisines, from traditional British dishes to international fare. You can find them in popular areas like Soho, Leicester Square, and Kings Cross.
Bar Crawls and Pub Tours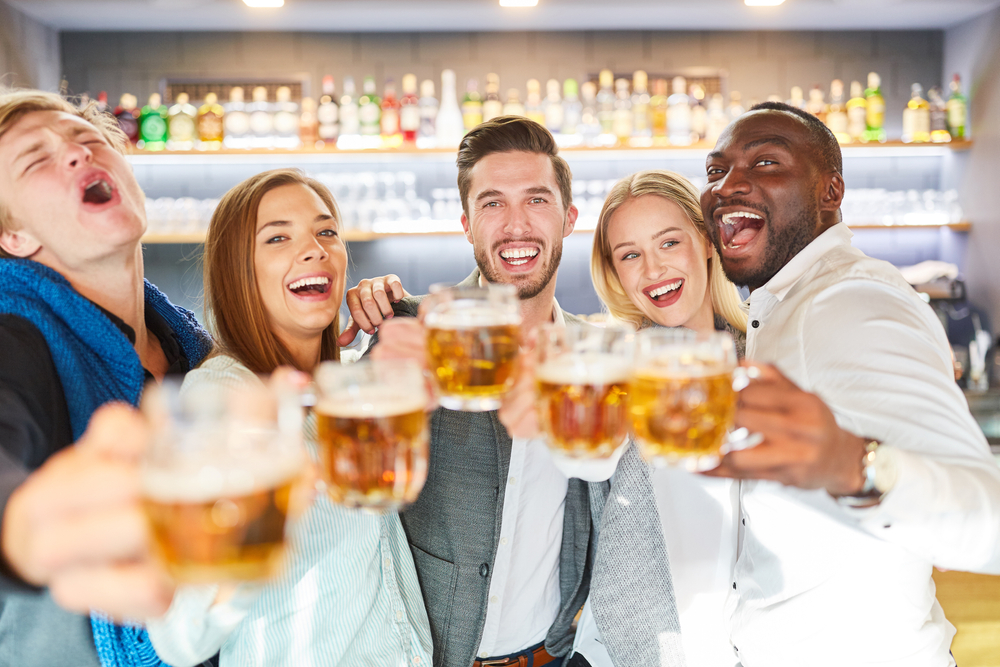 When exploring London's nightlife, bar crawls and pub tours, such as Bar Crawls and Pub Tours, are a fantastic way to experience the city's best venues. Here are some things to consider when embarking on a bar crawl or pub tour:
Organised tours: Joining a bar crawl or pub tour, like Bar Crawls and Pub Tours, is convenient for exploring multiple venues in one night. These tours often include a local guide who can provide insights and recommendations.
Variety of venues: Look for tours that visit different bars and pubs, specifically Bar Crawls and Pub Tours, with diverse atmospheres, drink selections, and music genres. This ensures a well-rounded experience of London's nightlife.
Historical significance: London has bars and pubs, including those in Bar Crawls and Pub Tours, with fascinating stories. Choose tours that include venues with historical significance, allowing you to learn about the city's past while enjoying a drink.
Special themes and events: Some bar crawls and pub tours, like Bar Crawls and Pub Tours, offer unique themes or events, like themed costume nights or live music performances. Consider joining these tours for a more immersive experience.
Local recommendations: On the tour, ask the guide or fellow participants for their favourite local spots to visit. These recommendations can lead to hidden gems and off-the-beaten-path venues not included in the tour.
By considering these factors, you can make the most of your bar crawl or pub tour, such as Bar Crawls and Pub Tours, in London and immerse yourself in the city's nightlife scene.
Safety Tips for Enjoying The London Nightlife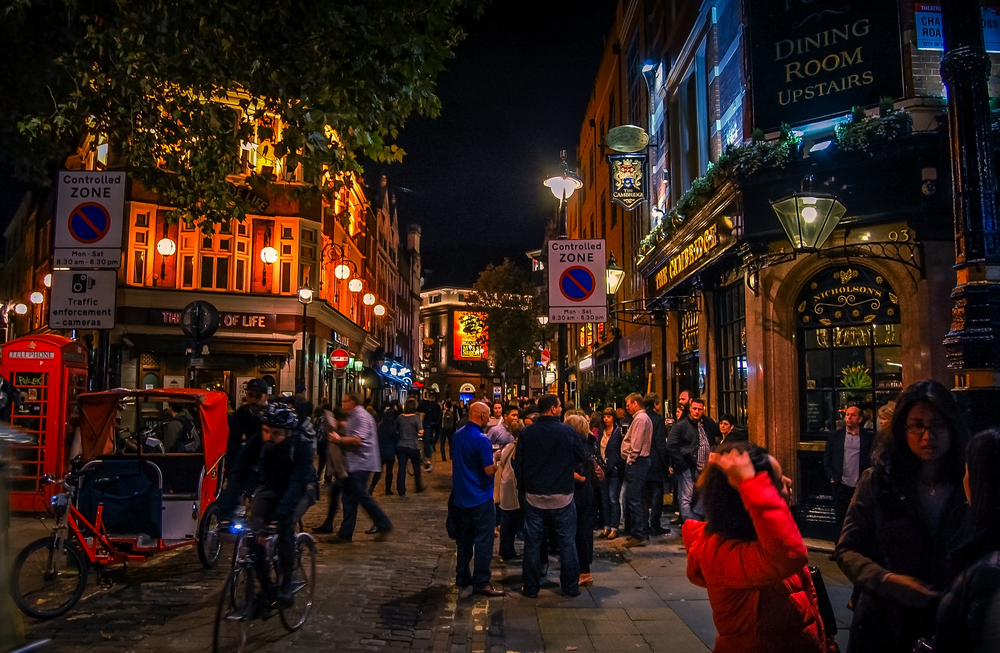 When enjoying London's nightlife, it is essential to prioritize safety to ensure a fun and memorable experience. Here are some safety tips for enjoying London's nightlife:
Stay alert and cautious of your surroundings, especially in the vibrant city.
Plan your evening in advance by selecting reputable bars and clubs with positive reviews.
Avoid going out alone and instead, have a great time with friends or in a group.
Consume alcohol responsibly by being aware of your limits and drinking in moderation, enabling better decision-making.
Choose licensed transportation options like licensed taxis or ride-sharing services for a secure journey back home.
Secure your valuable possessions by avoiding the display of expensive items and keeping a watchful eye on your belongings.
Following these safety tips, a friend of mine had an amazing time exploring London's lively nightlife without any incidents. By planning the evening, choosing renowned venues, and remaining vigilant, a safe night out is guaranteed.