When it comes to culinary delights, London is a food lover's paradise. With a diverse and vibrant food scene, the city offers a plethora of top-notch restaurants and cafes for every palate. Whether you're seeking fine dining experiences, exploring traditional British dishes, or diving into the London top restaurants and cafes, the city has it all.
One such unique dining experience that combines sport and gastronomy is Sixes Social Cricket. With venues in Shepherd's Bush, Fulham, and Fitzrovia, Sixes offers a delightful blend of cricket and dining. Patrons can indulge in delicious burgers, sharing plates, and wood-fired pizzas while enjoying a game of cricket. It's a one-of-a-kind experience that seamlessly merges the thrill of sport with the pleasure of dining.
Alongside discovering these exceptional dining spots, you can delve into the rich British culinary heritage. Explore traditional British dishes such as Fish and Chips, Yorkshire Pudding, Beef Wellington, Full English Breakfast, and Sticky Toffee Pudding. British cuisine holds a special place in the hearts and taste buds of locals and visitors alike.
If you're craving the quintessential Fish and Chips experience, London boasts some of the best spots to satisfy your taste buds. From the historical Rock & Sole Plaice in Covent Garden to the trendy Poppies in Spitalfields, you'll find a range of options to indulge in this classic British dish.
For food enthusiasts who enjoy the bustling and vibrant street food scene, London's street food markets are a must-visit. Explore iconic locations like Borough Market, where you can sample a wide array of fresh produce, local specialties, and international cuisines. Other popular street food markets include Camden Market, Old Spitalfields Market, and Maltby Street Market.
London offers unique dining experiences that go beyond the traditional restaurant setting. From dining in the dark at Dans Le Noir to immersive dining experiences like The Murdér Express and Dinner Time Story, the city provides a range of unforgettable encounters that combine food, entertainment, and storytelling.
No visit to London is complete without experiencing the famous British tradition of afternoon tea. Indulge in a delightful selection of sandwiches, scones with clotted cream and jam, and an assortment of pastries and cakes. Some of the best spots for afternoon tea in London include The Ritz, Claridge's, and Sketch.
With this foodie's guide to London, you'll have an incredible gastronomic adventure, exploring the city's top restaurants, traditional British dishes, street food markets, unique dining experiences, and indulging in the quintessential afternoon tea spots. Enjoy the culinary delights that London has to offer!
Sixes Social Cricket: A Unique Fusion of Sport and Gastronomy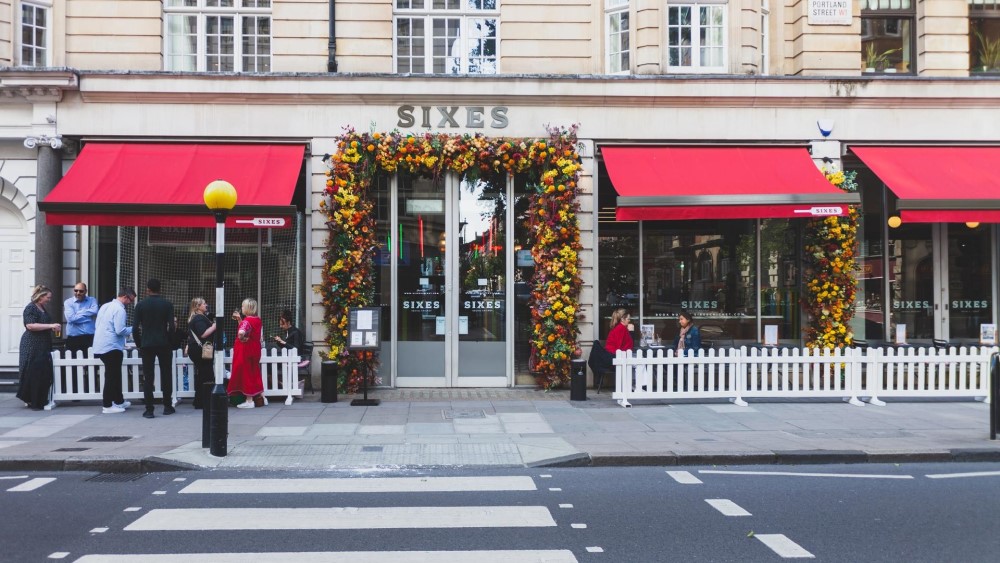 In the heart of London, amidst its bustling culinary scene, lies a unique dining experience that seamlessly merges the thrill of sport with the pleasure of dining – Sixes Social Cricket. This innovative concept stands out among the London top restaurants and cafes, offering patrons a delightful blend of cricket and gastronomy.
Venues to Experience:
Shepherd's Bush: Located in one of London's most vibrant neighborhoods, the Shepherd's Bush venue offers patrons the chance to indulge in delicious burgers, sharing plates, and wood-fired pizzas. As you savor the flavors, you can also immerse yourself in a game of cricket, making it a one-of-a-kind dining experience.
Fulham: Nestled in the heart of Fulham, this Sixes venue promises a blend of sport and culinary delights. Whether you're a cricket enthusiast or a newbie to the game, the combination of mouth-watering dishes and the thrill of the sport ensures an unforgettable experience.
Fitzrovia: Situated in the trendy district of Fitzrovia, this venue offers a perfect escape from the city's hustle and bustle. Dive into a plate of sumptuous food while enjoying a game of cricket with friends or family. The ambiance, combined with the unique concept, makes it a must-visit spot in London.
Why Sixes Stands Out: Sixes Social Cricket isn't just about cricket and food; it's about reimagining the age-old game in a modern, social setting. The venues offer an adrenaline-fueled batting challenge that even the world's greatest cricketers find captivating. Beyond the cricket experience, guests can indulge in a diverse menu that promises to tantalize the taste buds. From delicious burgers to wood-fired pizzas and an array of show-stopping cocktails, Sixes ensures a gastronomic adventure like no other.
The Ivy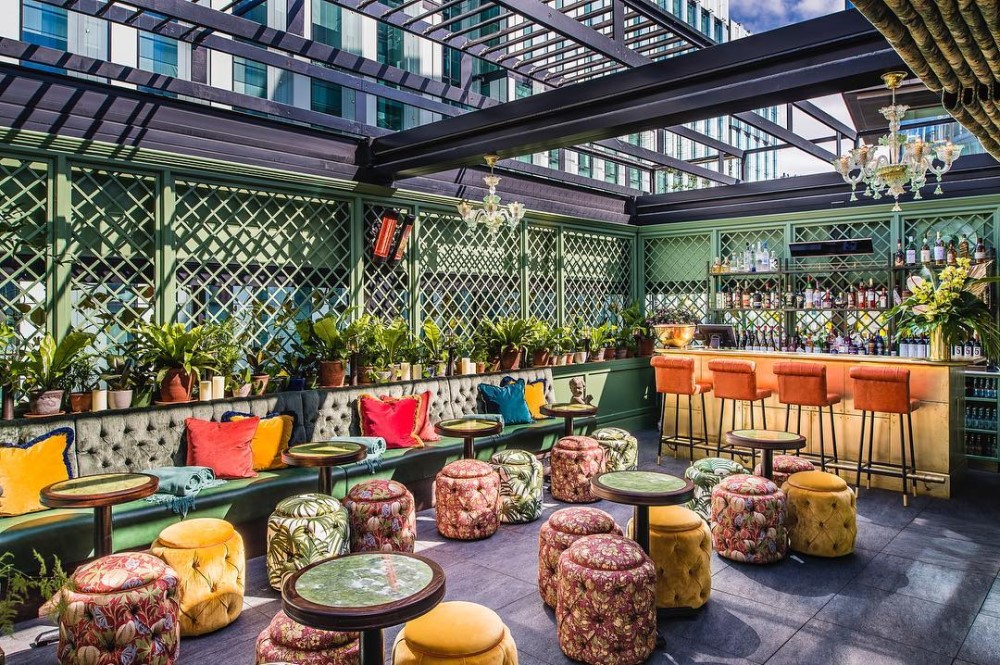 The Ivy is a well-known London restaurant that offers a delightful dining experience. Here are some reasons to visit:
Impeccable service: The Ivy provides excellent service from the moment you arrive. The staff is attentive, friendly, and devoted to ensuring a memorable experience.
Stunning ambiance: The restaurant has a sophisticated and stylish interior with lovely decorations and a warm atmosphere. It is perfect for a romantic dinner or a special celebration.
Delectable cuisine: The Ivy offers a diverse menu featuring traditional British dishes and international flavors. Each dish is a true culinary delight thanks to their meticulous attention to detail and high-quality ingredients.
Signature cocktails: The Ivy is renowned for its imaginative and expertly crafted cocktails. The bar staff always delivers, whether you desire a classic martini or a unique mixology creation.
Celebrity sightings: The Ivy is a popular spot for celebrities, so you may have the opportunity to spot a famous individual while enjoying your meal.
A friend recently dined at The Ivy and was incredibly impressed by the experience. The service was flawless, and the food was exceptional. They were particularly amazed by the meticulous attention to detail in each dish and the skillfully combined flavors. The ambiance enhanced the overall enjoyment of the evening, creating a truly memorable dining experience. My friend highly recommends The Ivy to anyone seeking a special dining experience in London.
Sketch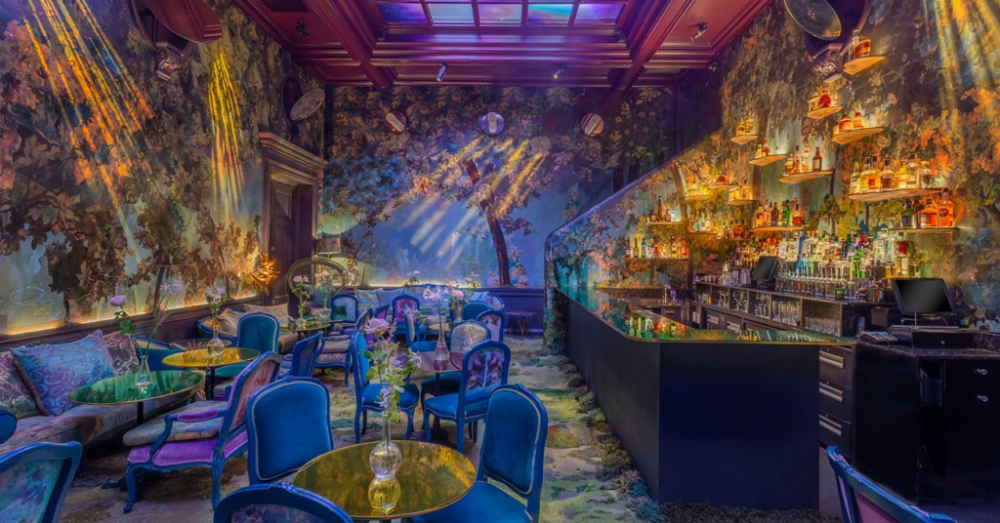 Sketch has a unique and artistic interior design. Each room has its own theme, from the futuristic Pods to the playful Gallery adorned with David Shrigley's artwork. Sketch is renowned for its delicious and beautifully presented afternoon tea. Enjoy finger sandwiches, warm scones with clotted cream and jam, and a variety of pastries and cakes.
The Lecture Room & Library is Sketch's Michelin-starred restaurant, offering a fine dining experience. The menu features innovative and artistic dishes inspired by traditional and modern culinary techniques. The restaurant also features an art gallery displaying contemporary art installations.
Explore the different rooms and appreciate the unique artworks.The Glade area of Sketch has an enchanting forest theme. With tree-like structures, lush greenery, and soft lighting, it creates a magical and romantic atmosphere.
FACT: Sketch has become an Instagram hotspot due to its visually stunning interior design. Visitors are encouraged to share their experiences on social media, making Sketch one of the most popular and photographed restaurants in London.
Dishoom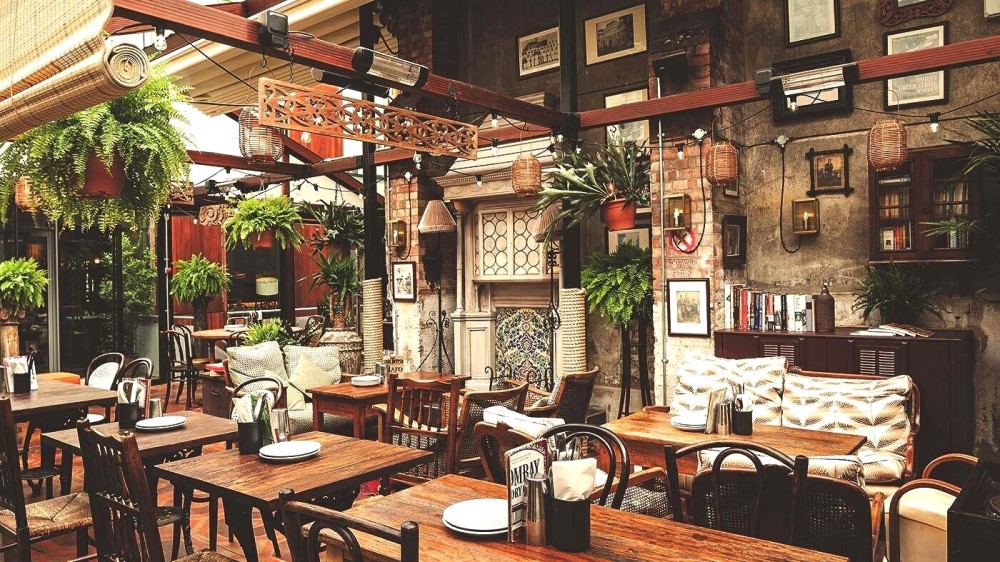 Dishoom is a renowned restaurant in London that offers a distinct dining experience. Here are some key points to take into account:
1. Ambiance: Dishoom boasts a vibrant atmosphere that transports you back to the bygone era of Bombay. The restaurant is tastefully adorned with vintage elements and exudes a warm ambiance.
2. Cuisine: The menu at Dishoom showcases tantalizing dishes that draw inspiration from the flavors of Bombay. From their famous breakfast naan rolls to their delectable biryanis and curries, each dish is brimming with authentic Indian flavors.
3. Taste: The food at Dishoom is renowned for its exceptional taste. The chefs utilize high-quality ingredients and traditional cooking techniques to ensure that each dish is bursting with flavor. Expect a harmonious blend of spices with every bite.
4. Service: The staff at Dishoom delivers attentive and amiable service. They are readily available to assist with menu recommendations or accommodate any dietary requirements.
5. Popularity: Dishoom is a hugely popular restaurant in London, often leading to long waiting times. It is advisable to make a reservation in advance to secure your desired dining time.
When you visit Dishoom, you can anticipate a memorable dining experience with an ambiance reminiscent of old Bombay, an extensive menu, outstanding taste, and excellent service. Keep in mind the restaurant's popularity and make a reservation to guarantee a table at this bustling eatery."
Borough Market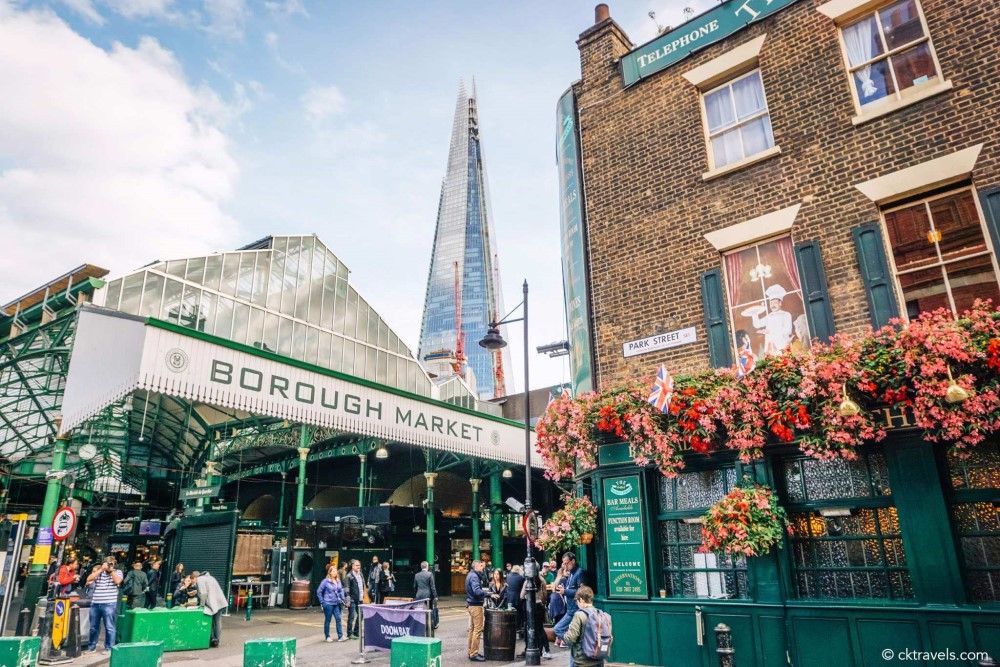 Borough Market is a food market in London which offers fresh produce, artisanal products, and delicious food options. Situated in Southwark, this market boasts a 1,000-year history. The market comprises over 100 stalls, each providing a unique culinary delight, ranging from fruits and vegetables to cheeses, charcuterie, and bread.
The market offers a diverse selection of international cuisines, including Mexican street food and authentic Indian curries. Numerous vendors at the market locally source their produce, thereby reducing the carbon footprint and supporting local farmers and producers. Whether you are a local resident or a tourist, a visit to Borough Market is necessary. Immerse yourself in the ambiance, indulge in the gastronomic delights, and appreciate the rich history of this iconic market.
Borough Market has a profound historical background dating back to the 11th century, transitioning from being solely a grain market to encompassing fruits, vegetables, and meat. Despite facing challenges, it remains one of the most cherished food markets in London. Its historical significance is acknowledged by its Grade II listed status, ensuring its preservation. Visiting Borough Market is akin to traveling back in time and experiencing the rich heritage of London's food culture.
Duck & Waffle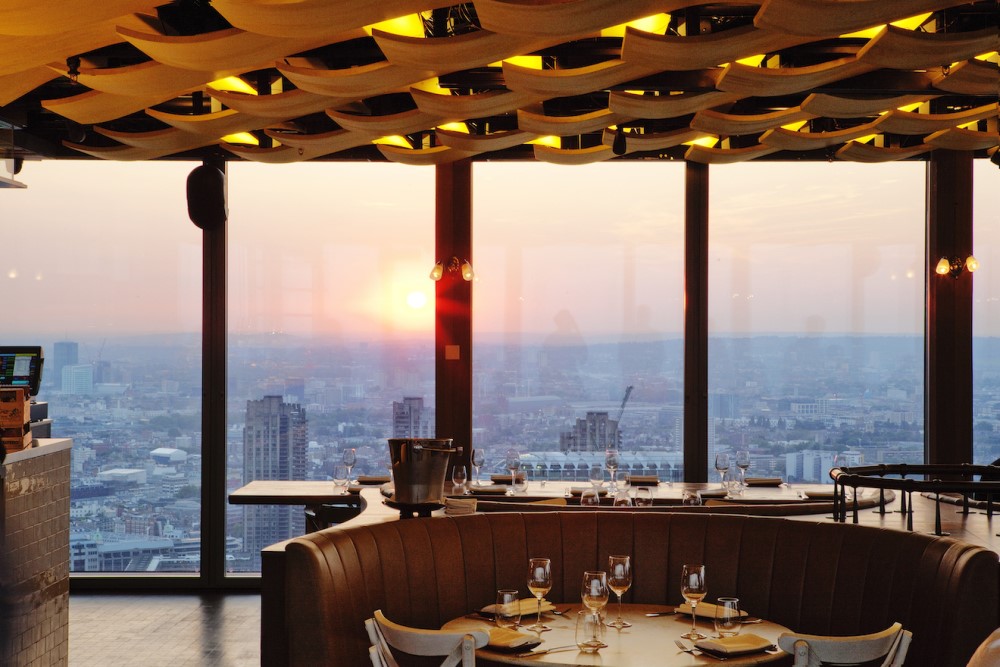 Duck & Waffle is a popular restaurant in London. It offers a unique dining experience with an enticing menu and magnificent views. When planning a visit, please consider the following important aspects:
Location: Duck & Waffle is located on the 40th floor of the Heron Tower, providing breathtaking views of the city skyline.
Signature Dish: The restaurant's signature dish is the Duck & Waffle. It consists of a crispy confit duck leg, a fried duck egg, and a fluffy waffle with mustard maple syrup.
Other Dishes: In addition to the famous Duck & Waffle, you can enjoy delights such as the Spicy Ox Cheek Doughnut, Lobster Cocktail, and Burrata with Heritage Tomatoes.
Opening Hours: Duck & Waffle is open 24/7, making it perfect for breakfast, late-night cravings, or a special dining experience at any time.
Reservations: Due to its popularity, it is advisable to make a reservation well in advance, especially during peak times and weekends.
If you are planning a visit to Duck & Waffle, here are some additional recommendations:
Enjoy the splendid views of London by requesting a window table.
Try their unique cocktails, including the signature Duck & Waffle Cocktail with vodka, cherry, and infused maple.
Share a variety of dishes with your dining companions to explore the diverse menu.
Make sure to save room for dessert! Treat yourself to indulgent options such as Chocolate Fondant, Pineapple and Coconut Crumble, and Spiced Apples with Salted Caramel.
St. John
St. John is a renowned restaurant in London that offers a distinctive dining experience. Here is some vital information regarding this esteemed establishment:
Name: St. John
Cuisine: British
Location: 26 St John St, London EC1M 4AY
Specialty: Nose-to-tail dining
Menu: Seasonal, innovative, and sustainable dishes
Signature Dish: Roast bone marrow and parsley salad
Atmosphere: Rustic, inviting, and welcoming
Reservations: Recommended, especially for dinner
Price Range: Moderate to Expensive
Local Favorite: Braised rabbit with mustard sauce
St. John is a beloved restaurant that serves British cuisine and is known for its dedication to nose-to-tail dining. It is situated at 26 St John St, London EC1M 4AY and offers innovative and sustainable dishes. One of its signature dishes is the roast bone marrow and parsley salad.
The restaurant has a rustic and inviting atmosphere, creating a welcoming ambiance. Reservations are recommended, particularly for dinner. The price range at St. John varies from moderate to expensive, catering to different budgets.
A local favorite at St. John is the braised rabbit with mustard sauce, highlighting the restaurant's commitment to utilizing every part of the animal. Whether you are a devoted food enthusiast or simply interested in exploring British cuisine, St. John is a must-visit destination in London.
Ottolenghi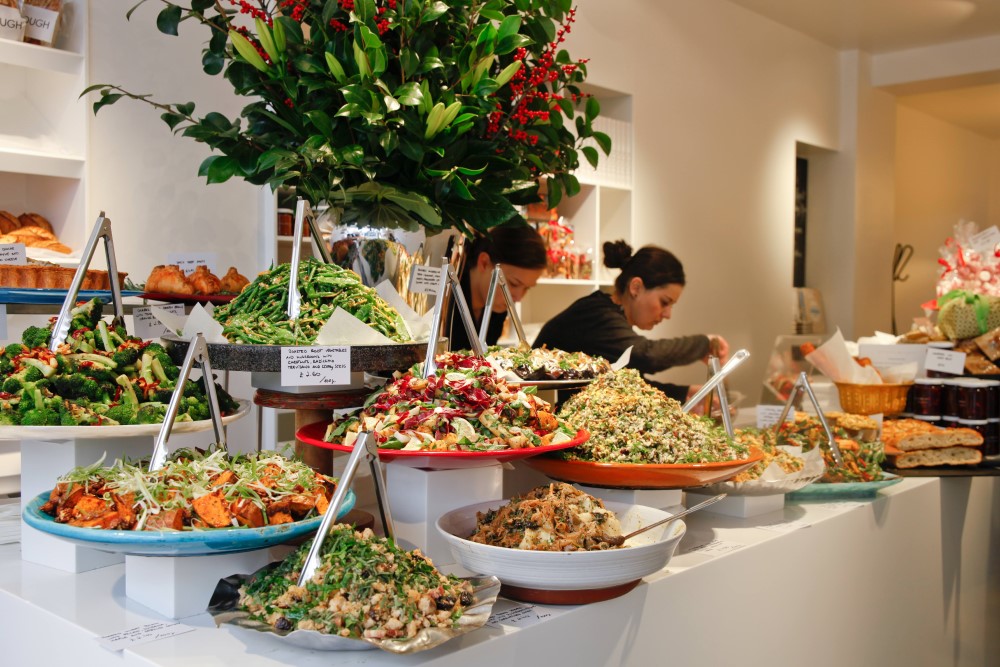 Ottolenghi is a very well-known series of restaurants in London offering exceptionally fine dining of Middle Eastern origin. With several branches located throughout the city, Ottolenghi is an absolute must for individuals who are passionate about food and desire a lively and full-flavored dining experience.
At Ottolenghi Spitalfields, which is situated in the bustling Spitalfields Market, guests have the opportunity to indulge themselves in a varied menu inspired by the Mediterranean region. The restaurant's bold flavors and utilization of fresh ingredients create a delightful feast for the taste buds.
For those in Islington, Ottolenghi Islington on Upper Street is the ideal location to experience Middle Eastern cuisine at its finest. The restaurant's talented chefs skillfully craft innovative dishes that beautifully highlight the culinary excellence of the region.
Located in the sophisticated neighborhood of Belgravia, Ottolenghi Belgravia on Motcomb Street offers an elegant and refined dining experience. Guests can savor the fusion of Middle Eastern and European flavors, resulting in a harmonious blend of tantalizing tastes.
In the vibrant district of Notting Hill, Ottolenghi Notting Hill on Ledbury Road is a delightful culinary destination. The menu celebrates the use of seasonal ingredients and inventive combinations of flavors, making this location a true hidden gem for food enthusiasts.
Whether you are seeking a taste of the Middle East or are simply looking to explore new and exciting flavors, Ottolenghi is the perfect choice. With their diverse menu and stylish, inviting locations, Ottolenghi delivers an unforgettable dining experience that caters to everyone's tastes and preferences.
The Ledbury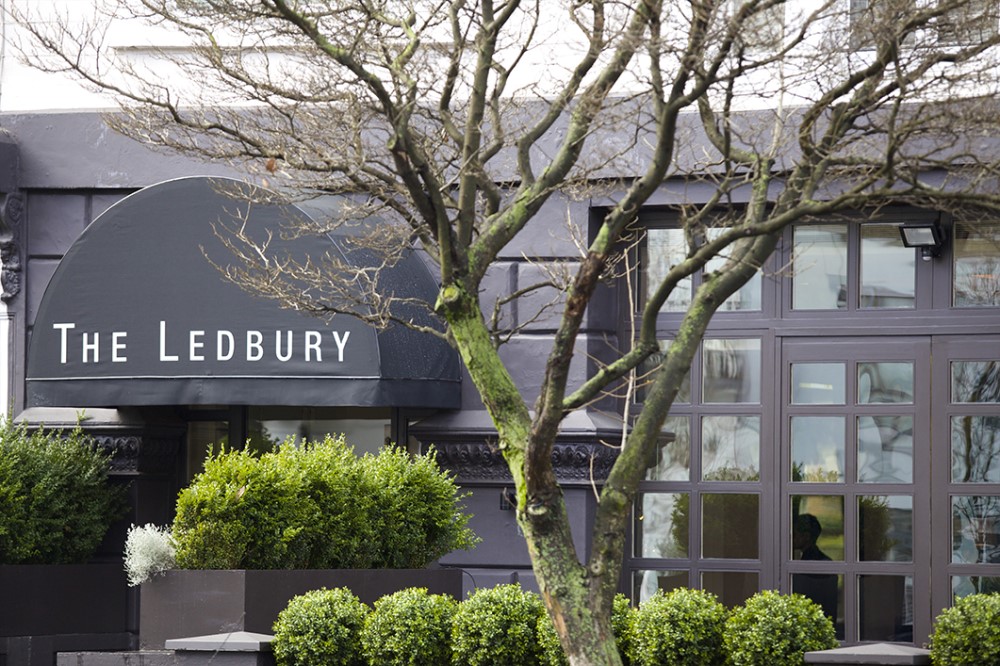 The Ledbury is a well-known restaurant in London, renowned for its exceptional culinary offerings and elegant atmosphere. It offers a diverse and innovative menu curated by talented chefs, featuring flavours from around the world.
The restaurant takes pride in using fresh, locally sourced ingredients to ensure dishes of the highest quality. The Ledbury also has an extensive wine selection that enhances the dining experience.
The attentive and knowledgeable staff provide impeccable service, creating a delightful atmosphere. Whether you are a local or a tourist, The Ledbury is a must-visit for food enthusiasts in London.
Treat yourself to their culinary delights and enjoy the outstanding flavours offered at this exquisite dining establishment.
Nopi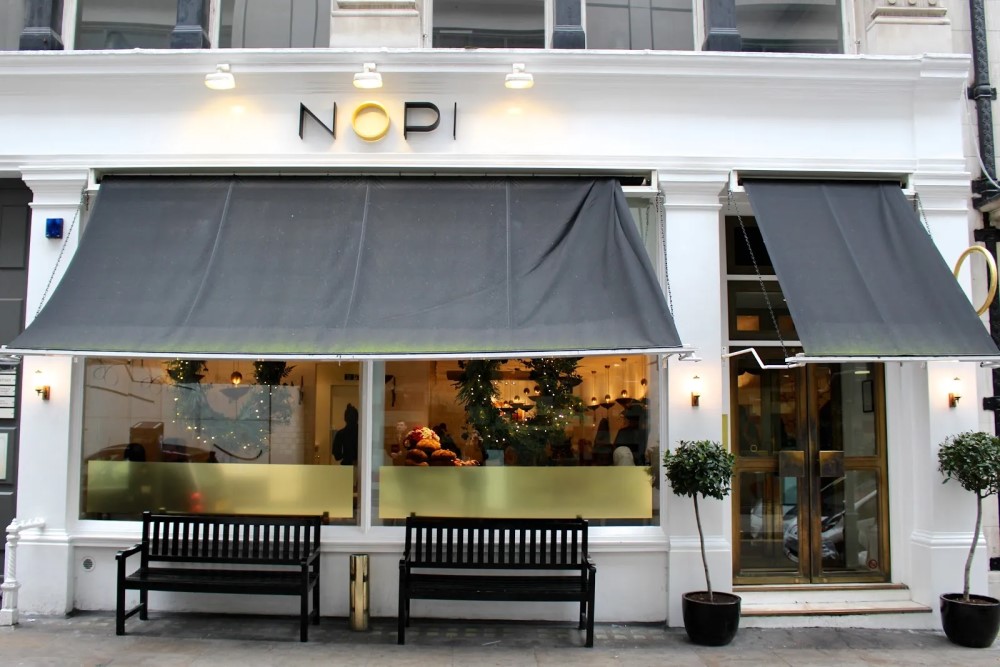 Nopi is a well-known London restaurant that offers a unique dining experience with its combination of Middle Eastern and Mediterranean flavors. The restaurant has a modern and stylish interior, making it a popular choice among food connoisseurs.
Nopi's menu presents innovative dishes that combine bold flavors and unique ingredients. From their famous Rose Harissa Octopus to the delicious Lamb with Beetroot and Rhubarb, each dish is meticulously prepared to ensure a delightful dining experience.
The restaurant maintains a lively atmosphere and attentive staff, creating a welcoming environment for guests. Whether you desire a romantic dinner or a gathering with friends and family, Nopi provides a versatile space suitable for any occasion.
Nopi is a must-visit for food enthusiasts seeking a culinary journey that blends cultural influences and contemporary techniques. The restaurant's commitment to delivering exceptional food and an unforgettable dining experience has firmly established it as a favorite among both locals and tourists.
To illustrate, let me share a true story. Last year, my partner and I celebrated our anniversary at Nopi. From the moment we entered, we were greeted with warm hospitality. The Rose Harissa Octopus was outstanding, cooked to perfection and bursting with flavor. The attentive staff ensured we had a splendid evening, enhancing the overall experience. It was an unforgettable evening and solidified Nopi as one of our preferred dining destinations in London.
What Are the Must-Try Traditional British Dishes on London top restaurants and cafes?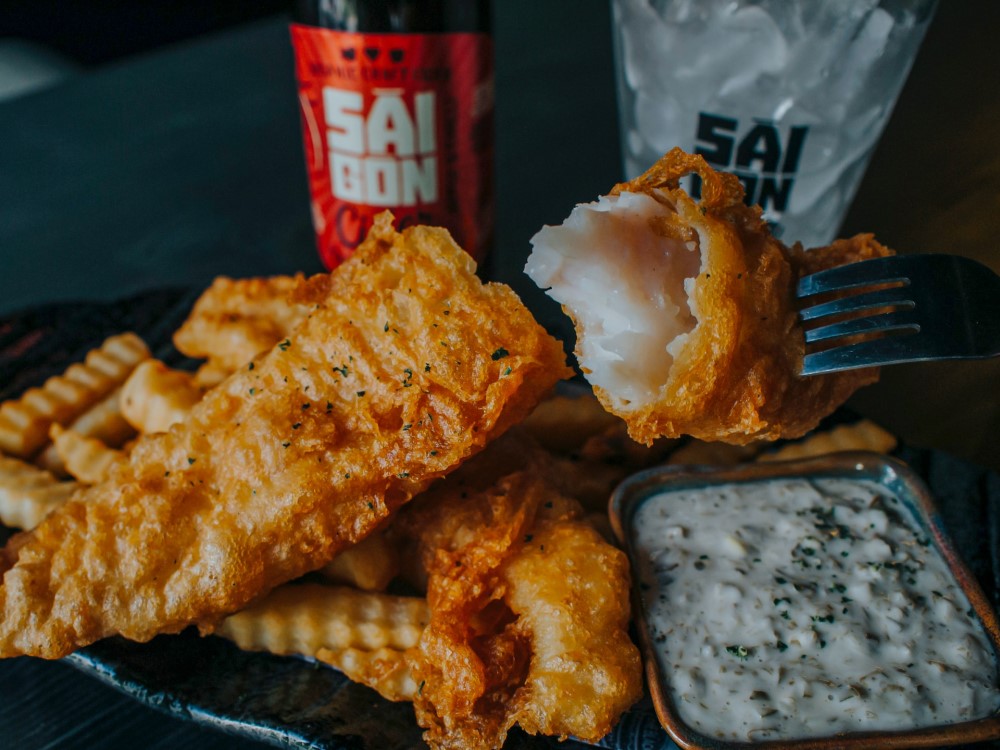 When you visit London, it is highly recommended that you sample the traditional British dishes available to truly immerse yourself in the local cuisine. There are several dishes that you simply must try during your stay:
1. Fish and Chips: This iconic British dish consists of deep-fried cod or haddock served with thick-cut fries. It is a staple of British cuisine and can be found in pubs and fish and chip shops throughout the city.
2. Sunday Roast: Originating in the 15th century, the Sunday Roast is a delectable meal that typically includes roasted meat like beef, lamb, or chicken, accompanied by roast potatoes, Yorkshire pudding, vegetables, and gravy. It is a hearty and satisfying dish that is best enjoyed in the company of loved ones.
3. Full English Breakfast: A substantial meal that will keep you energized, the Full English Breakfast features a variety of components including eggs, bacon, sausages, baked beans, tomatoes, mushrooms, and toast. This traditional dish has its roots in the hearty breakfasts enjoyed by the working class during the industrial revolution.
4. Shepherd's Pie: This comforting and satisfying dish consists of minced lamb or beef, topped with creamy mashed potatoes and baked to golden perfection. It is a true classic of British cuisine that showcases the culinary skills of British miners and farmers.
5. Cornish Pasty: Perfect for a quick and convenient snack on the go, the Cornish Pasty is a baked pastry filled with a delightful mixture of meat, potatoes, onions, and vegetables. It is a delicious and portable option that has become a beloved part of British culinary tradition.
British cuisine has a long and rich history, with traditional dishes that reflect various regional influences. For example, fish and chips gained popularity in the 19th century when Jewish immigrants introduced frying techniques to the British culinary scene.
So, while in London, make it a point to explore and indulge in these scrumptious and must-try traditional British dishes.