The city of Dallas is known for its vibrant culinary scene, offering a plethora of dining options for various occasions. When it comes to hosting an office party, choosing perfect Dallas restaurants can elevate the experience and leave a lasting impression on your colleagues.
Opting for a restaurant for your office party comes with a range of benefits. It provides a change of scenery from the office environment, creating a more relaxed and enjoyable atmosphere. Hosting your party at a restaurant also alleviates the burden of planning and coordinating the event logistics, as the venue takes care of the setup and catering.
Selecting the perfect restaurant for your office party involves considering factors such as the ambiance, menu options, and location. It is important to choose a restaurant that aligns with the preferences and dietary restrictions of your colleagues, ensuring everyone can find something they enjoy.
When making a reservation for your office party, it is essential to communicate the number of attendees and any special requests in advance. This allows the restaurant to accommodate your party seamlessly and provide a smooth dining experience.
Selecting a menu that caters to different tastes and dietary needs is crucial. Offering a variety of options, including vegetarian, vegan, and gluten-free dishes, ensures that everyone can indulge in the culinary delights provided.
To make your office party at a restaurant memorable, consider personalizing the event with decorations or incorporating team-building activities. Encourage networking and interaction among colleagues, fostering a sense of camaraderie and celebration.
By choosing one of the top Dallas restaurants for your office party, you can create a memorable experience that combines delicious cuisine, a welcoming ambiance, and an opportunity for your team to bond outside of the workplace.
Sixes Dallas
Sixes Dallas is not just about the thrill of the game; it's a culinary journey, making it one of the top 5 Dallas restaurants to spend your day off. Here, sport and hospitality intertwine, creating an atmosphere of camaraderie and enjoyment. Whether you are a cricket enthusiast or a food lover, the extensive and diverse food menu at Sixes Dallas is designed to reimagine modern cricket, elevate your experience, making every moment spent here a delightful one.
Sixes Dallas offers a plethora of dining options, ranging from sharing plates and burgers to pizzas, sides, and desserts. The menu is a harmonious blend of flavors and cuisines, ensuring there is something for everyone. Signature dishes like the Major League Six Stacker and the Victoria Veggie are highlights of the menu, promising a burst of flavors with every bite.
The sharing plates at Sixes Dallas are perfect for those looking to enjoy a variety of flavors. Options like Mini Fish & Chips, Crispy Chicken Wings, and Big Hitter Nachos are not only delicious but also perfect for enjoying with friends and family, adding to the communal and social vibe of the place.
The burger options at Sixes Dallas are a treat for the palate. With choices like Ozzie Beefy Basher, Big Ben Batter, and Delhi Smasher, every burger is a unique culinary experience, promising a symphony of flavors and textures, making them a must-try for everyone visiting.
The pizzas at Sixes Dallas are a fusion of classic and innovative. Varieties like Buffalo Margherita and Spicy Sausage & Pepperoni are a testament to the culinary creativity of the chefs, offering a delightful twist to the traditional pizza experience.
The sides and desserts at Sixes Dallas complement the main courses perfectly. Sides like Skinny Fries and Cheesy Garlic Bread are the perfect accompaniments, while desserts like Warm Cookie Dough Skillet and Deep Fried Snickers Sundae are the sweet endings to a gastronomic journey.
Sixes Dallas stands out as one of the top 5 Dallas restaurants for your day off due to its unique combination of sport and gourmet cuisine. The extensive and diverse menu, coupled with the vibrant and social atmosphere, makes it the perfect place to relax, enjoy delicious food, and experience the thrill of cricket.
Whether you are here for the food, the cricket, or both, Sixes Dallas promises a memorable experience, making it a must-visit destination in Dallas.
The Ivy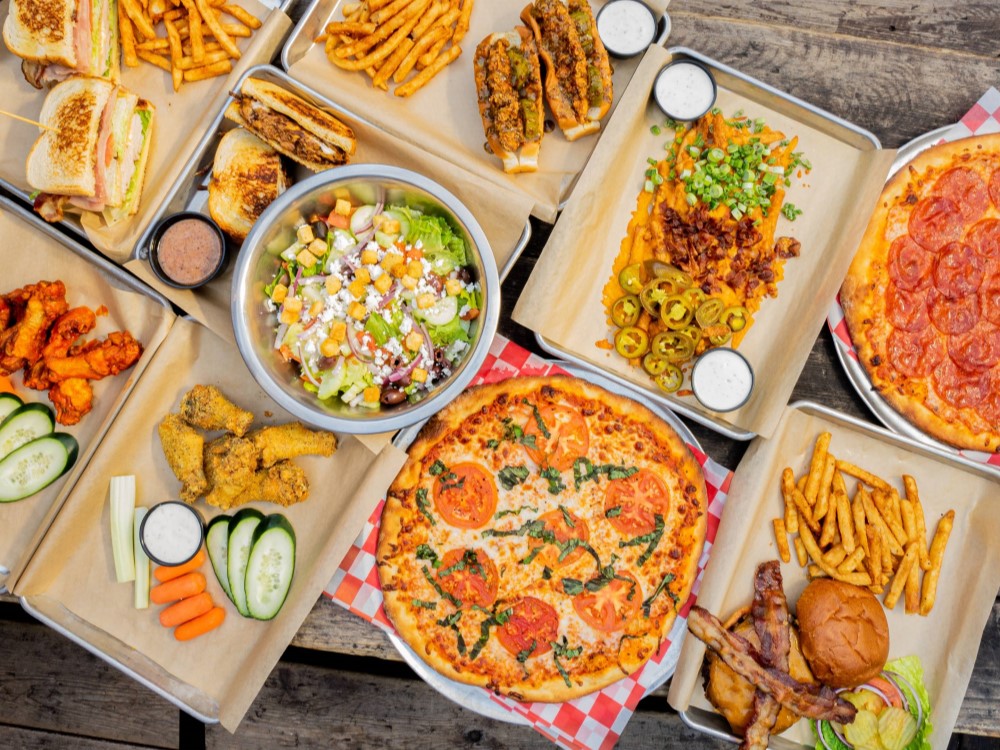 The Ivy is one of the top restaurants in Dallas for hosting office parties. Here is why:
The Ivy offers a diverse menu with dishes made from the finest ingredients. They have succulent steaks and delicious seafood to satisfy every taste.
The restaurant has sophisticated and stylish decor, creating an elegant atmosphere for your office party. The Ivy's contemporary design and tasteful furnishings provide a luxurious setting for your event.
The staff at The Ivy is highly professional and attentive, ensuring a seamless office party. They provide exceptional service, making your guests feel spoiled throughout the evening.
The Ivy offers dedicated private dining spaces for office parties, regardless of the size. They can accommodate both small team gatherings and larger corporate events.
The Ivy understands that every office party is unique. They collaborate with you to create a customized menu that suits your preferences and dietary needs. Their culinary team creates impressive menus that leave a lasting impression.
When it comes to hosting an office party, The Ivy is the perfect choice. With its exquisite cuisine, elegant ambiance, impeccable service, private dining options, and customized menus, your event is guaranteed to be a success. Whether you are celebrating a milestone or rewarding your team, The Ivy provides an exceptional dining experience that everyone will remember.
The Clove Club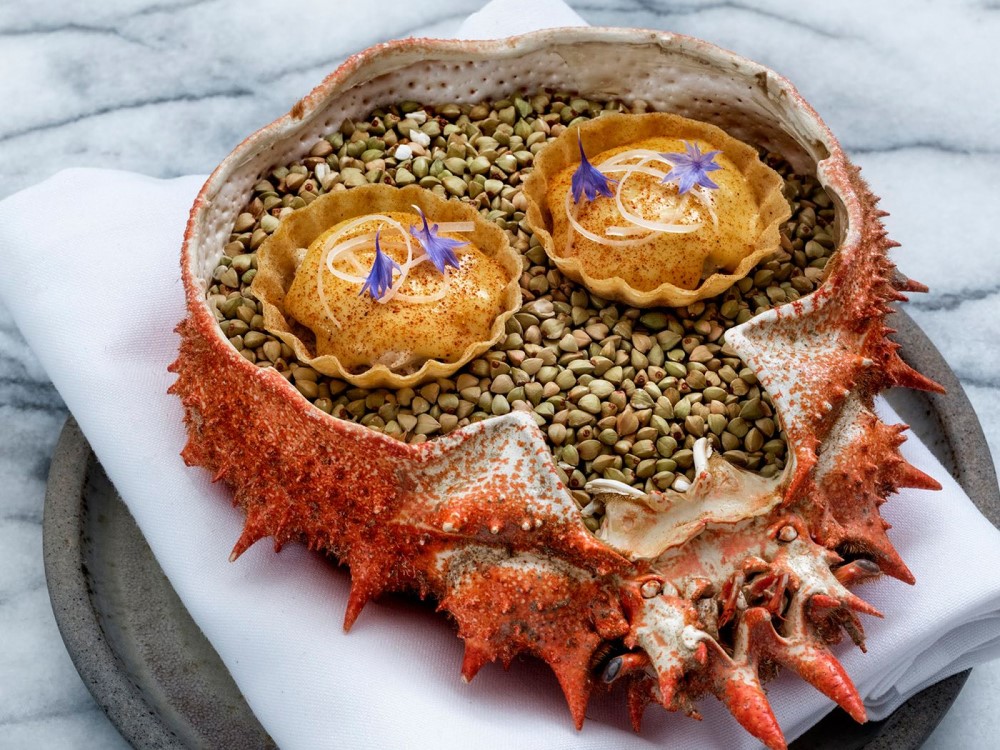 The Clover Club in Dallas is a premier destination for those seeking a blend of live music, fine dining, and a vibrant atmosphere. Located in the heart of Uptown, it offers a throwback vibe reminiscent of the sophisticated clubs of the 50s and 60s, where big bands and great entertainers were the norms. The Clover Club is not just a place to dine; it's an experience, offering prime steaks, market-fresh seafood, and rare wines, all complemented by the tunes of Dallas's finest musicians.
The Clover Club provides a luxurious rooftop patio, a craft cocktail lounge, and an event space, making it a versatile venue for various occasions. It opens for late-night entertainment from Monday to Wednesday at 9:00 pm, with live music starting at 9:30 pm. On Thursdays, Fridays, and Saturdays, it offers a supper club dinner show starting at 6:30 pm, followed by a late-night show performing from 10:30 pm to 2:00 am.
The menu at The Clover Club is diverse, featuring starters like Jumbo Shrimp Cocktail and Lobster Potstickers, specialties like Grilled Atlantic Salmon and Braised Wagyu Shortrib, and a variety of options from the grill including Prime Filet of Beef and Prime Cowboy Ribeye. The culinary capabilities of The Clover Club rival those of Dallas's finest restaurants, ensuring guests have a memorable dining experience.
The Clover Club places a strong emphasis on its beverage program, offering composed cocktails and a selection of rare wines. Whether you prefer a classic cocktail or wish to try something new and innovative, the advanced mixology beverage program can cater to your preferences.
The Clover Club can accommodate private parties of up to 200 guests, offering several unique amenities including a full-size stage for entertainment or keynote speakers, full music capabilities, a luxurious rooftop patio with a full bar, and spacious seating. It's an ideal location for hosting special events, promising a memorable experience for all attendees.
Original ChopShop
Original ChopShop is not just another eatery in Dallas; it's a place where flavors come to life, making it one of the top 5 restaurants in Dallas for an office party. With its diverse menu and lively atmosphere, it offers a unique dining experience that is both enjoyable and refreshing. Here's why Original ChopShop is a preferred choice for those looking to host an unforgettable office party in Dallas:
Original ChopShop is renowned for its diverse menu that features a range of healthy and flavorful options. From salads and protein bowls to sandwiches and fresh juices, the menu is designed to cater to varied dietary preferences and needs. The emphasis on fresh and nutritious ingredients ensures that guests can indulge without any guilt, making it a hit among health-conscious individuals.
The atmosphere at Original ChopShop is characterized by vibrancy and casualness. The colorful and inviting interiors create a relaxed and friendly environment, making it an ideal venue for casual office gatherings. The laid-back vibe encourages guests to unwind and enjoy their time, fostering a sense of camaraderie among colleagues.
Original ChopShop is known for its spacious and clean setting. The ample seating arrangements and well-maintained interiors make it a comfortable place for groups. The cleanliness and organization of the space add to the overall dining experience, ensuring guests can focus on enjoying their meal and company.
The staff at Original ChopShop are known for their efficiency and friendliness. They are attentive to the needs of the guests and strive to provide prompt and courteous service. The friendly demeanor of the staff creates a welcoming atmosphere, enhancing the overall experience for guests.
Original ChopShop opens early, making it a versatile option for office parties. Whether it's a breakfast gathering or a lunch celebration, the convenient opening hours allow for flexibility in planning office events. The adaptability in timing makes it a popular choice among office-goers looking to organize gatherings at different times of the day.
Rosewood Mansion on Turtle Creek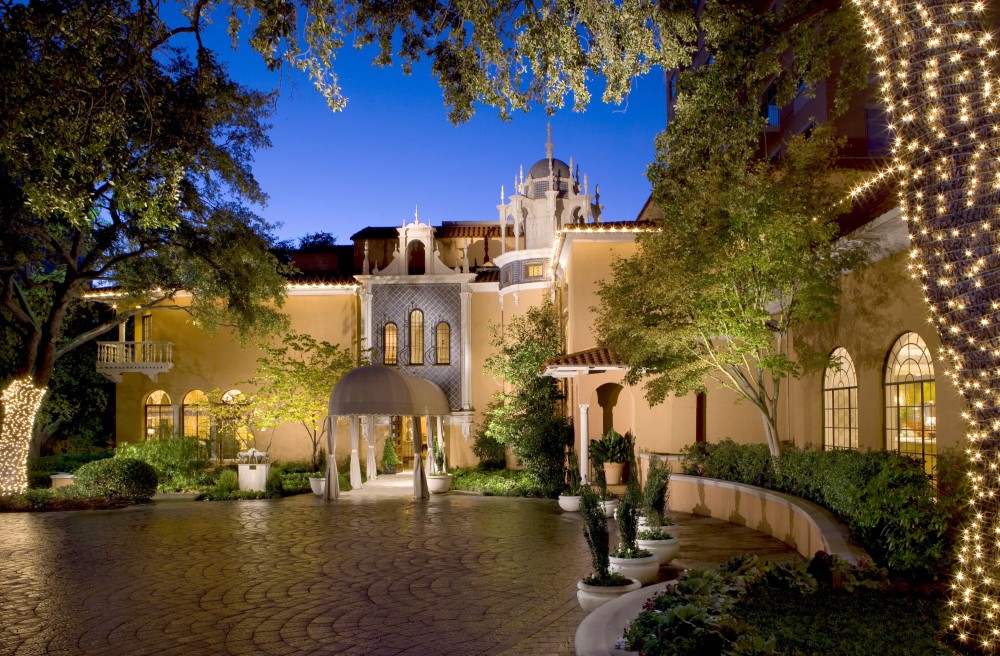 Rosewood Mansion on Turtle Creek holds a distinguished place among Dallas restaurants, making it one of the top choices for hosting an office party. This restaurant is not just about fine dining; it's about experiencing culinary excellence in an ambiance that is both elegant and inviting. Here's why Rosewood Mansion on Turtle Creek stands out as one of the top 5 restaurants in Dallas for an office party:
Rosewood Mansion on Turtle Creek offers a menu that is a harmonious blend of innovation and tradition, featuring American cuisine with a touch of international flair. The culinary creations here are crafted with precision and care, ensuring every dish is a masterpiece. Whether it's a casual gathering or a formal dinner, the diverse menu caters to varied palates, making it a hit among guests.
The ambiance at Rosewood Mansion is characterized by sophistication and warmth. The tastefully decorated interiors, coupled with the serene surroundings, create a setting that is conducive to relaxation and enjoyment. The elegant atmosphere makes it an ideal venue for office parties where guests can unwind and socialize in style.
The restaurant offers a range of dining options to suit different preferences and needs. Whether it's a cozy indoor setting or a refreshing outdoor experience, guests can choose their preferred dining environment. The versatile dining spaces make it easy to accommodate groups, ensuring a comfortable and enjoyable experience for everyone.
The staff at Rosewood Mansion is known for their professionalism and attentiveness. They go above and beyond to meet the needs of the guests, ensuring a seamless dining experience. The exceptional service adds a touch of luxury to the dining experience, making guests feel valued and well-taken care of.
Situated in the Oak Lawn area of Dallas, Rosewood Mansion on Turtle Creek is easily accessible. Its prime location is a significant advantage, allowing guests to reach the venue with ease. The convenience of the location makes it a preferred choice for office parties, where accessibility is often a key consideration.
Why Choose a Restaurant for Your Office Party?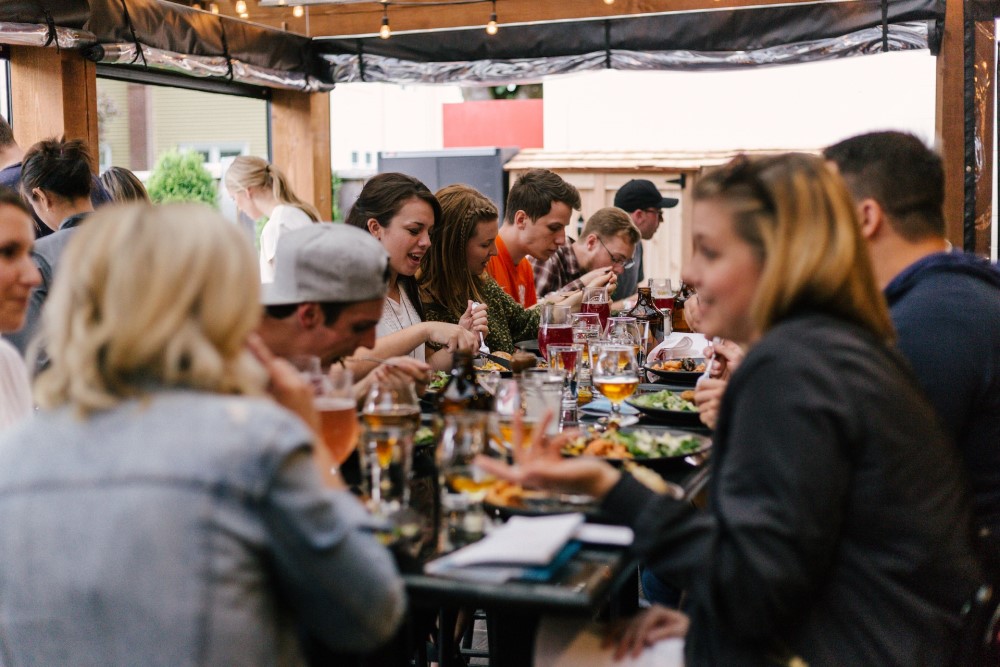 Choosing a restaurant for an office party has multiple advantages. A restaurant offers a vibrant atmosphere that enhances the overall experience. The lively ambience and professional service enhance the enjoyment and satisfaction of employees and guests.
Opting for a restaurant eliminates the need to organise and arrange the party yourself. With the restaurant's expertise in event planning and management, everything from decorations to food and beverages is taken care of. This allows you to focus on other important aspects of the office party.
Restaurants provide a wide variety of culinary options to cater to different taste preferences. Whether you prefer traditional cuisine or exotic dishes, there is something for everyone. The menu can be customised to accommodate dietary restrictions or preferences, ensuring satisfaction for all attendees.
Choosing a restaurant for an office party offers convenient logistics. Most restaurants are centrally located, making them easily accessible for employees and guests. This eliminates the need for extensive travel arrangements and ensures hassle-free attendance.
Restaurants provide a professional and polished environment, adding sophistication to your office party. This helps cultivate a positive image for your company and enhances the event's overall professionalism.
Considering these factors, it is clear why choosing a restaurant for your office party is an excellent choice. The vibrant atmosphere, convenient logistics, and culinary options ensure a memorable and enjoyable experience for all.
What Are the Benefits of Hosting an Office Party at a Restaurant?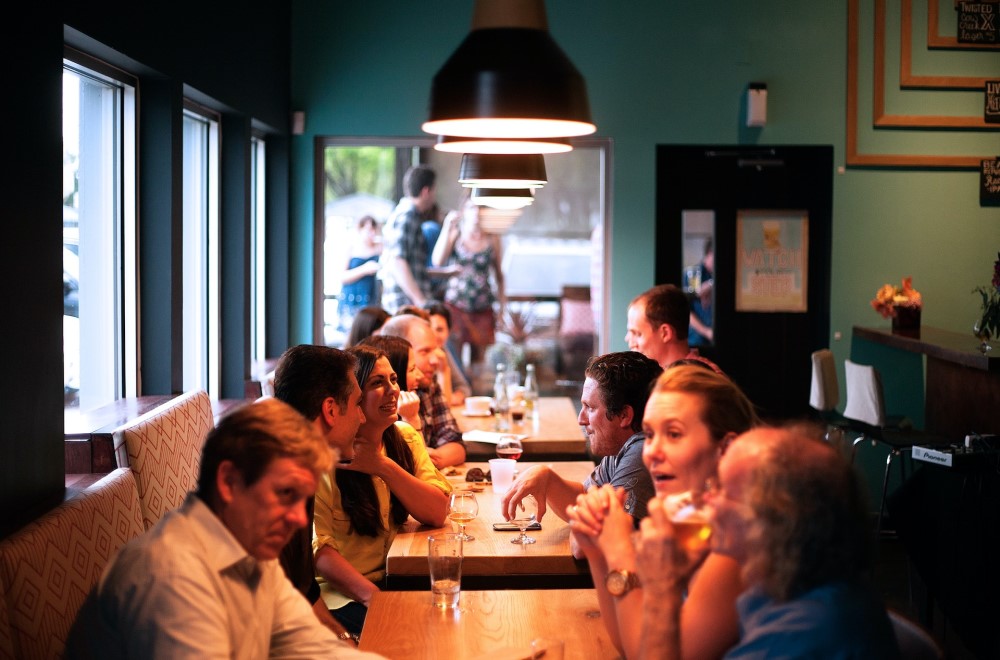 Convenience: Hosting an office party at a restaurant provides the convenience of not having to plan and organise everything. The restaurant staff will take care of all the details, from setting up the venue to serving the food and drinks.
Professional Atmosphere: Restaurants offer a polished environment for your office party, creating a positive impression for colleagues and clients and enhancing the overall image of your company.
Variety of Options: Restaurants provide a wide range of cuisine to cater to diverse tastes and dietary preferences. Whether you prefer Italian, Mexican, or Asian cuisine, you can easily find a restaurant that suits your party needs.
No Cleanup Required: One of the biggest benefits of hosting an office party at a restaurant is that you don't have to worry about cleaning up afterwards. The restaurant staff will handle all the cleaning and tidying, allowing you to enjoy the event without any additional responsibilities.
Networking Opportunities: Having an office party at a restaurant offers an excellent opportunity for networking and socializing with colleagues and clients in a relaxed setting. It encourages mingling and fosters better relationships among team members and with external stakeholders.
Consider hosting your next office party at a restaurant to enjoy these benefits and create a memorable and hassle-free event for your team."
How to Choose the Perfect Restaurant for Your Office Party?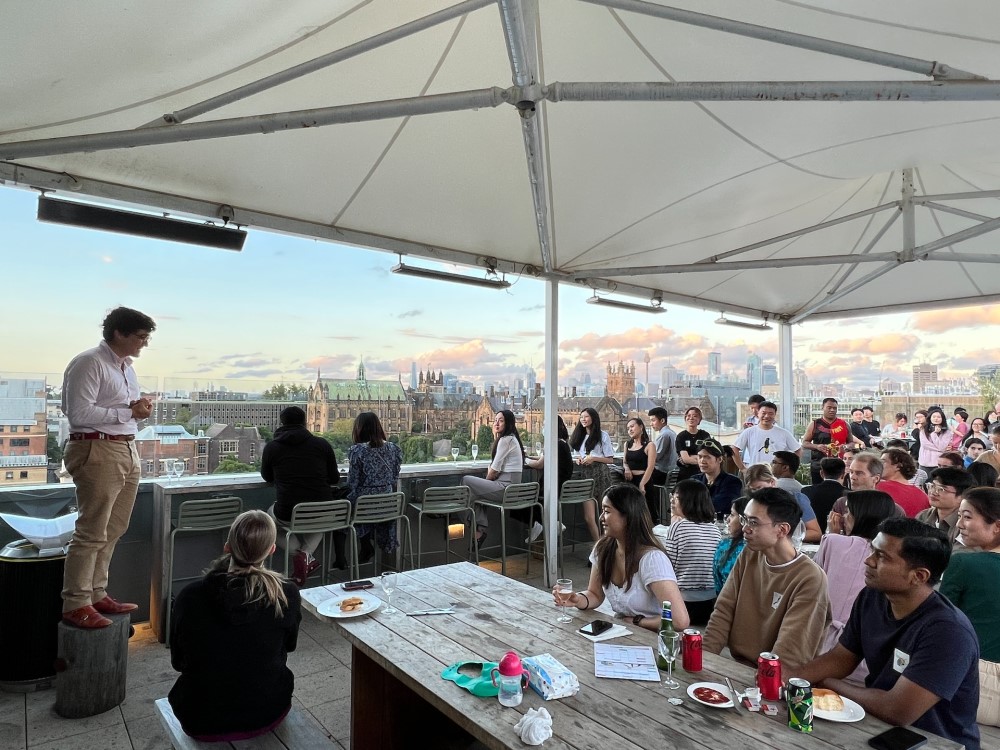 Choosing the perfect restaurant for your office party is vital for a prosperous event. So, how do you make the correct choice? Consider the following factors:
1. Location: It is important to choose a restaurant that is convenient for all guests. Take into account its proximity to the office and accessibility to public transportation.
2. Ambience: The atmosphere of the restaurant should complement the type of party you desire. Some restaurants have a formal setting, while others offer a more casual atmosphere.
3. Capacity: Make sure that the restaurant has enough space to comfortably accommodate all attendees. Check if they can provide a private room or section for your office party, allowing for privacy.
4. Menu: Look for a restaurant that offers a diverse menu, catering to different dietary preferences and restrictions. It is advisable to discuss menu options in advance to ensure that everyone's preferences are taken into account.
5. Pricing: Establish a budget for the office party and choose a restaurant that fits within it. Consider the cost of food, drinks, and additional services or amenities.
Considering these factors will assist you in selecting the perfect restaurant for your office party, creating a memorable and enjoyable experience for all guests.