Dubai, the dazzling jewel of the Middle East, seamlessly marries its rich heritage with modern aspirations. As its majestic skyscrapers reach for the clouds, they cast shadows over the timeless deserts that sprawl endlessly.
Yet, beyond its architectural wonders, luxury havens, and vibrant bazaars, there's a rhythm in Dubai that resonates with the spirit of sports. In recent times, the history of cricket in Dubai  has become more than just a phrase; it's a phenomenon.
While the Middle East isn't traditionally associated with cricket, Dubai has rewritten this narrative. Drawn by the city's allure, a vast expatriate community from cricket-enthusiastic countries like India, Pakistan, Bangladesh, and Sri Lanka has sown the seeds of the sport here.
This passion for cricket has grown from casual weekend matches in local parks to an integral part of Dubai's sporting culture, with individuals donning their cricket gear and diving into spirited games.
Dubai's dedication to positioning itself as a cricketing nexus is evident. The Dubai International Cricket Stadium, an epitome of modern design, has been the venue for countless unforgettable matches, attracting global viewership. Additionally, the rise of indoor cricket venues signifies the city's determination to let the game thrive, undisturbed by the desert's intense heat.
Dubai Cricket is not just about the facilities; it's about the events that fill the city's calendar. From hosting segments of the renowned Indian Premier League (IPL) to the Pakistan Super League (PSL) and various international fixtures, Dubai stands as a testament to cricket's global appeal.
Its role as a neutral ground for teams that can't play on their home turf adds to its strategic importance in the cricketing world.
At its core, it's the diverse populace of Dubai, both Emiratis and expatriates, that fuels the city's cricketing passion. Their fervent support, whether for a local league match or an international showdown, showcases an enduring love for the sport, a sentiment that bridges cultural and linguistic divides.
This guide aims to navigate you through the world of Cricket in Dubai, from the iconic arenas that have become landmarks to the intimate indoor spaces that provide a haven from the desert sun. Whether you're a cricket connoisseur or someone just stepping into this captivating world, prepare for a deep dive into Dubai's thriving cricket scene.
Dubai Cricket Stadium: The Heartbeat of Cricket in Dubai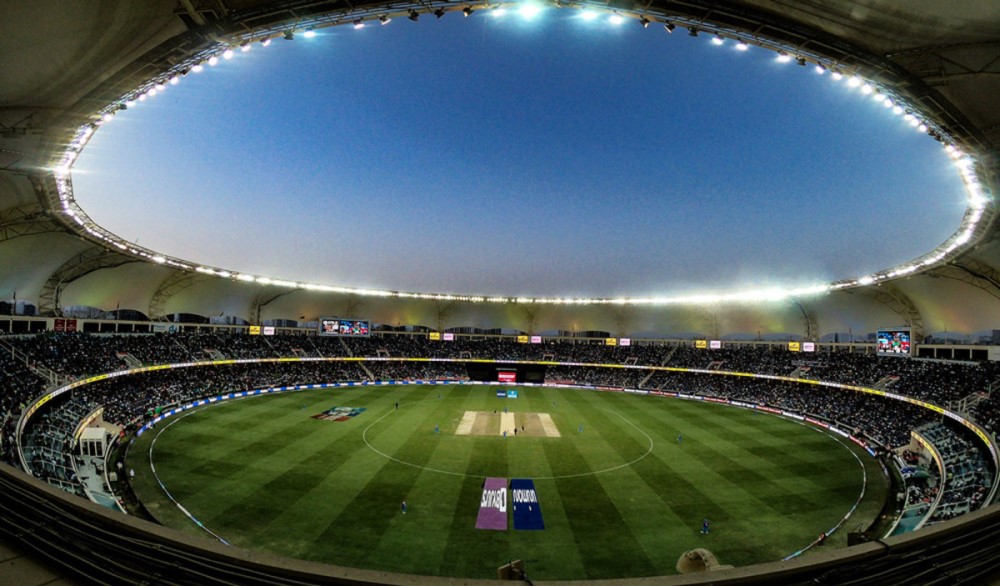 The Dubai International Cricket Stadium, an emblem of Dubai's passion for the sport, stands tall in Dubai Sports City. This sprawling sporting enclave, located along the Sheikh Mohammed Bin Zayed Road, is a testament to the city's commitment to fostering global sports.
With its strategic positioning, the stadium is not just accessible to the residents of Dubai but also serves as a magnet for cricket enthusiasts visiting from neighboring emirates and countries. The vicinity boasts excellent connectivity via road and public transport, ensuring that fans can reach the venue with ease, regardless of where they're coming from.
Architectural Marvel
In a city renowned for its architectural wonders, the Dubai International Cricket Stadium holds its own with its futuristic design and state-of-the-art facilities. The stadium has a seating capacity of 25,000, ensuring it can host matches of significant magnitude.
One feature that distinctly sets it apart from other stadiums is its unique lighting system. Traditional cricket stadiums rely on flood lights mounted on towering pillars. However, the Dubai stadium boasts an innovative "ring of lights" around its circumference.
This design not only provides consistent lighting across the field but also ensures that spectators have an unobstructed view of the match, free from the shadows cast by pillars.
The stadium's design also prioritizes the comfort of its spectators. With spacious seating, numerous food and beverage outlets, and state-of-the-art acoustics, every match becomes an experience to remember. For those seeking a touch of luxury, the stadium offers plush VIP and corporate suites. These exclusive spaces provide not just a panoramic view of the game but also come with premium amenities, ensuring a match-viewing experience par excellence.
Booking Tickets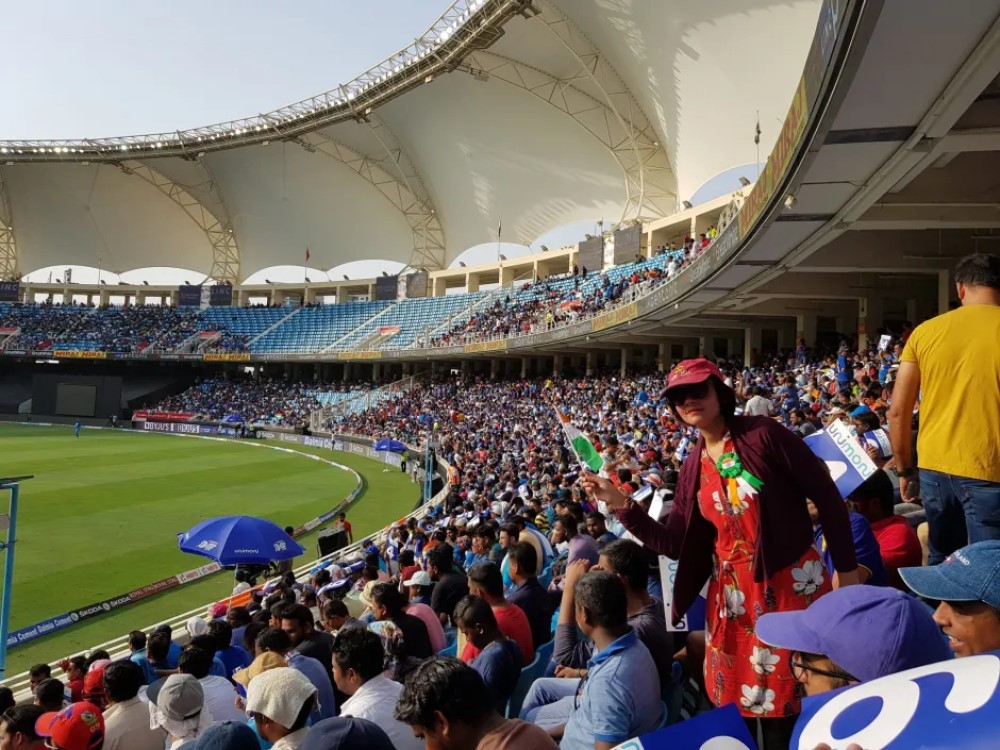 Given the stadium's popularity and the high-profile matches it hosts, procuring tickets, especially for marquee events, can be a race against time. Fortunately, the ticketing process is streamlined and user-friendly.
Tickets can be purchased online through the stadium's official website or other authorized ticketing platforms. These platforms often provide detailed seat maps, allowing fans to choose their preferred vantage point. For those who prefer a more traditional approach, the stadium's box office, located at its premises, is open during business hours and provides direct ticket sales.
It's worth noting that for major tournaments and popular fixtures, tickets tend to sell out rapidly. Early bird offers, special discounts for group bookings, and exclusive deals for credit card users are some of the perks that fans can avail of. To ensure you don't miss out, it's advisable to keep an eye on ticket release dates and book well in advance.
Events and Highlights
The Dubai International Cricket Stadium has been a witness to cricketing history on multiple occasions. Its world-class pitch and facilities make it a preferred choice for international cricketing boards.
The Indian Premier League (IPL), one of the most-watched cricket tournaments globally, has had several of its matches hosted here. Teams comprising international cricketing stars battling it out under the Dubai sky have provided moments that are etched in the memories of fans. The Pakistan Super League (PSL) too has made the stadium its home, bringing in a wave of enthusiastic supporters.
Apart from these leagues, the stadium has been a venue for numerous ICC tournaments. From nail-biting T20 matches to intense One Day Internationals, the ground has seen it all. The balanced nature of the pitch ensures both batsmen and bowlers have their moments, making for exciting contests.
It's not just the international fixtures that the stadium is known for. Local leagues, corporate matches, and even friendly fixtures find a place in its calendar. These events, though not as grand as international matches, are a testament to the stadium's commitment to promoting the sport at all levels.
Indoor Cricket in Dubai: Where Rain Never Stops Play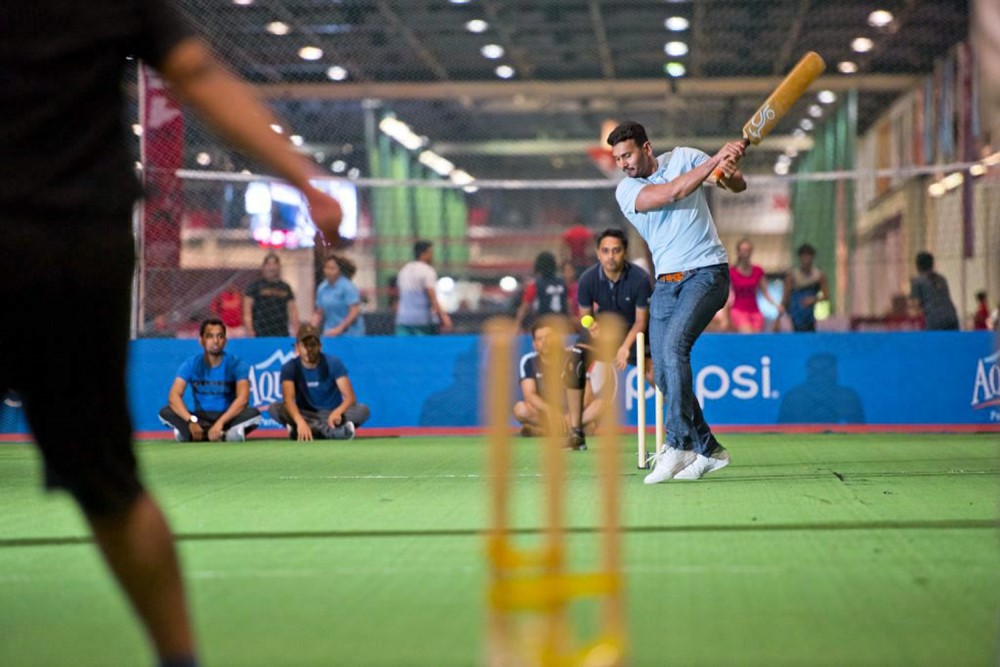 Dubai, with its sweltering heat and desert landscape, may not be the first place that comes to mind when you think of cricket. But this dynamic city has always been about defying expectations.
Indoor cricket, a variant of the traditional game adapted for smaller, covered venues, has seen a surge in popularity in Dubai, ensuring that neither scorching sun nor rare desert rain can halt the passion for the sport.
Insportz Club
Location: At the heart of Dubai's Al Quoz lies Insportz Club, a facility that has become synonymous with indoor cricket in the region.
Facilities: Equipped with international standard pitches, the club offers a playing experience that rivals any top-tier venue. The ground uses high-quality turf, ensuring consistent bounce and turn, and the lighting system is designed to mimic daylight conditions.
Offerings: Beyond casual matches, Insportz Club is a hub for tournaments, coaching sessions, and league games. It's a favorite haunt for corporate teams looking for team-building activities and amateur cricketers eager to hone their skills.
Ahdaaf Sports Club
Location: Another gem located in Al Quoz, Ahdaaf Sports Club, is a multipurpose sports facility that caters to various sports, with cricket being a prime attraction.
Facilities: Ahdaaf offers well-maintained pitches that are ideal for both casual games and competitive matches. The venue's acoustics and lighting create an immersive atmosphere, making every game feel like a grand event.
Offerings: Apart from booking slots for games, Ahdaaf frequently hosts tournaments, attracting local talent and providing a platform for cricketers to showcase their skills. Their competitive pricing and top-notch facilities make it a preferred choice for many.
ICC Academy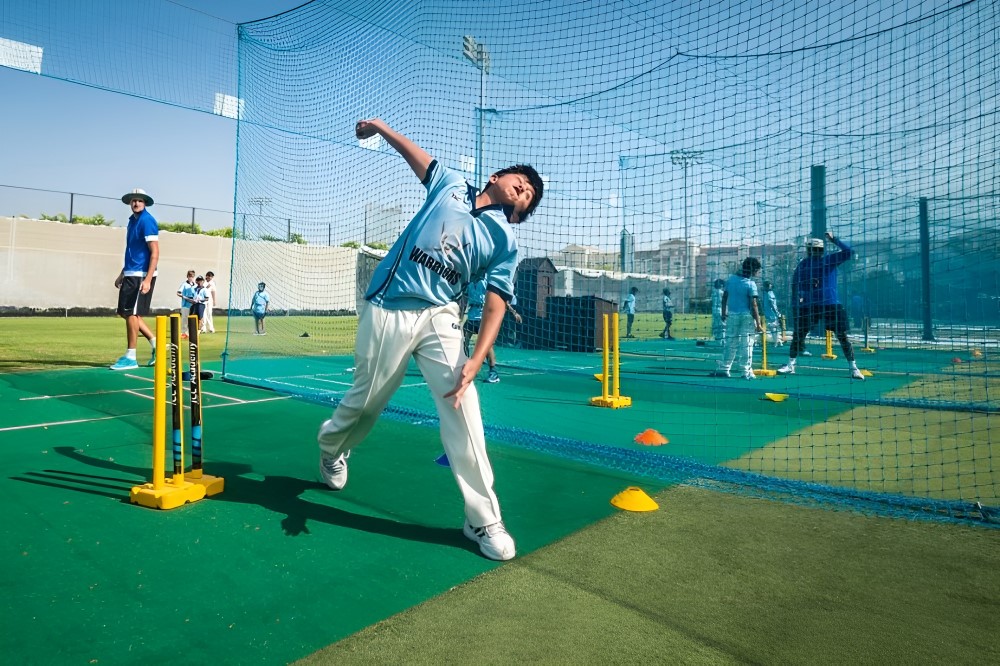 Location: Situated in Dubai Sports City, adjacent to the Dubai International Cricket Stadium, the ICC Academy is a testament to Dubai's commitment to cricket.
Facilities: As expected from an establishment associated with the International Cricket Council (ICC), the academy boasts world-class facilities. The indoor pitches are of international standards, and advanced technologies like bowling machines and video analysis are available for training.
Offerings: The ICC Academy is more than just a venue for playing. It's a hub for learning and development. With coaching programs curated by international experts and training methodologies that incorporate the latest in sports science, the academy is a dream destination for aspiring cricketers.
Dome@Rawdhat
Location: Strategically located on Airport Road, Dome@Rawdhat stands out with its expansive indoor cricket ground.
Facilities: What sets Dome@Rawdhat apart is its sheer size. The venue offers a playing experience that closely mirrors outdoor cricket, with spacious outfields and long boundaries. The lighting system is calibrated to ensure no shadows on the pitch, and the turf is of the highest quality.
Offerings: Dome@Rawdhat caters to both professionals and amateurs. Whether you're an established cricketer looking for serious practice or a group of friends seeking a fun game, this facility meets all needs. They also have coaching programs for budding cricketers.
Booking and Availability
With the increasing demand for indoor cricket venues, it's always advisable to book your slots in advance. Most facilities offer online booking options, allowing players to choose their preferred timings and even select specific pitches.
Rates can vary based on the day of the week, with weekends generally being pricier due to higher demand. Special discounts and packages are available for group bookings and long-term memberships.
Cricket Academies in Dubai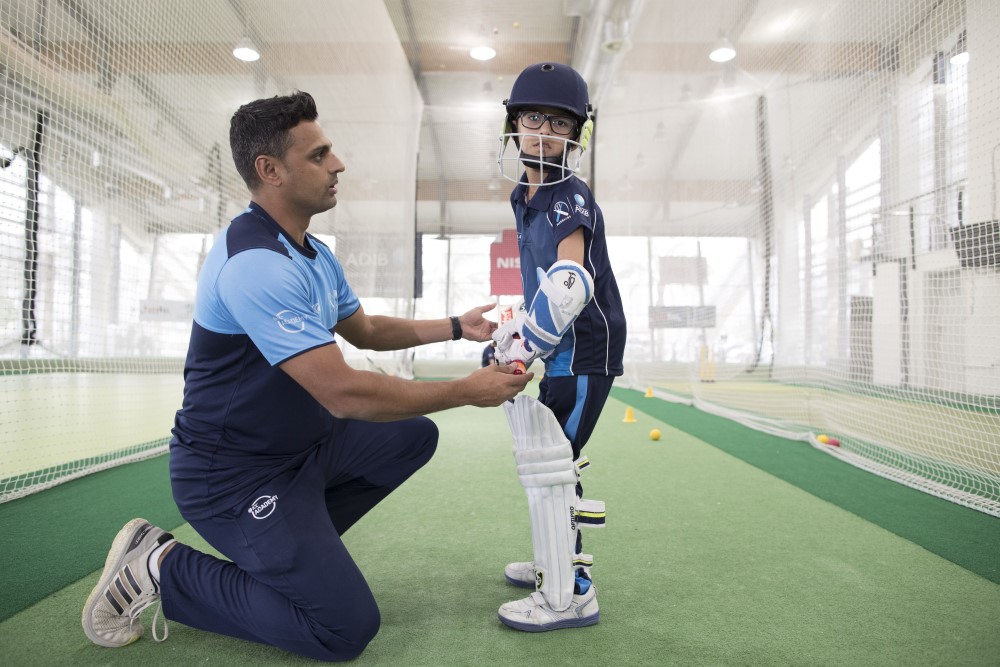 Dubai, with its multicultural populace and a strategic geographical position, has become a hub for various sports, including cricket. Recognizing the sport's growing popularity in the region, several cricket academies have sprouted across Dubai, offering top-notch training facilities and coaching programs for budding cricketers. Here's a look at some of the prominent cricket academies in Dubai:
ICC Academy
Location

: Dubai Sports City

Highlights

: Arguably the most renowned cricket academy in Dubai, the ICC Academy is affiliated with the International Cricket Council. It boasts world-class facilities, including various types of pitches that replicate international playing conditions. The academy offers programs for all age groups and skill levels, and its coaching staff includes certified professionals with international experience.
G-Force Cricket Academy
Location

: Al Sufouh

Highlights: Established by former Indian cricketer, Gopal Jasapara, G-Force Cricket Academy emphasizes technical skills, fitness, and the mental aspect of the game. With personalized coaching plans and regular matches, students get a comprehensive cricketing education.
Desert Cubs Cricket Academy
Location

: Multiple branches including Sharjah, Ajman, and Dubai

Highlights: Founded in 2007, Desert Cubs offers training in cricket (and other sports) for kids and adults. They focus on holistic development and frequently organize tours, tournaments, and camps to give students practical match experience.
Young Talents Cricket Academy (YTCA)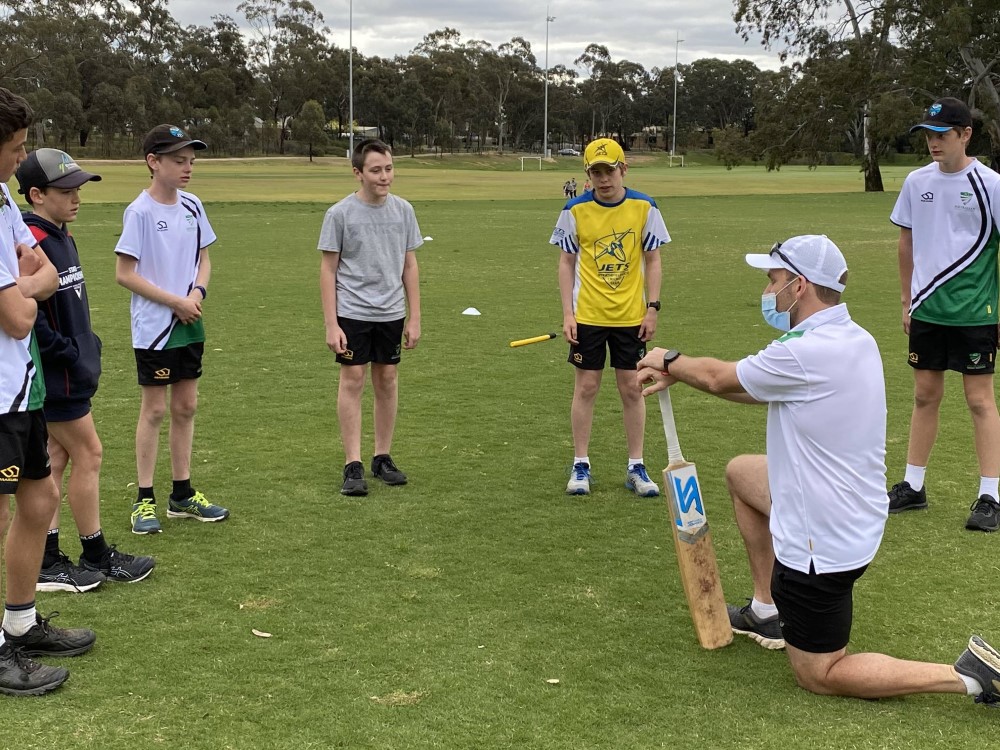 Location

: The Indian High School, Oud Metha

Highlights: YTCA has been nurturing young cricketers since 1989. Under the guidance of former cricketer Shahzad Altaf, the academy has produced players who've represented UAE at various levels. They offer specialized training programs and host regular inter-academy tournaments.
Victoria Cricket Academy
Location

: Al Qusais

Highlights

: This academy emphasizes physical fitness alongside cricketing skills. With modern training equipment and certified coaches, Victoria Cricket Academy provides a balanced training regimen for its students. They also have tie-ups with international cricket schools for exchange programs.
Max Talent Global Sports
Location

: Multiple venues across Dubai

Highlights: More than just a cricket academy, Max Talent focuses on molding players' characters alongside their cricketing skills. They've been known to emphasize life skills, discipline, and sportsmanship. The academy also organizes the popular 'Passion Cup' – a cricket tournament for its students.
Warriors Sports
Location

: Al Twar

Highlights: Catering to the grassroots level, Warriors Sports offers programs for children as young as four. Their training sessions are designed to be fun and engaging, ensuring that young students develop a genuine love for the game.
Elite Cricket Academy
Location

: Al Quoz

Highlights: Elite Cricket Academy offers training programs for various age groups, from kids to adults. They focus on individual strengths and areas of improvement, ensuring personalized attention for each student.
Conclusion
As we wrap up our journey through the dynamic world of Cricket in Dubai, it's evident that this bustling metropolis offers far more than its iconic skyscrapers and golden dunes. Its vibrant cricketing scene stands as a testament to the city's adaptability and its embrace of global cultures.
From state-of-the-art stadiums that host international spectacles to local parks where enthusiasts gather for a friendly match, cricket has found a thriving home in Dubai. The sport's growth here is not just a result of world-class infrastructure but also the passion of its diverse populace, whose love for the game knows no bounds.
Whether you're an ardent cricket fan or a curious observer, Dubai promises a rich tapestry of cricketing experiences. This guide was crafted to offer you a window into this fascinating world. As the sun sets over the Dubai skyline, casting its golden hue over the cricket grounds, one thing is clear: the spirit of cricket in Dubai is here to stay, and its future looks brighter than ever.